If you don't know the name Kath Cizeika then chances are you know her label, Empire Rose. Celebrating 22 years in business this year, Kath has managed to grow a cult following in Perth thanks to Empire Rose's signature pants, jaw-dropping collections and her passion for sustainable, locally made fashion.
Every single piece in any given Empire Rose collection is designed, made and sold in their North Fremantle studio and store. Kath has always been an advocate of the slow fashion movement as it means she can listen to her clientele and adapt based on their feedback, all while supporting the next generation of WA's fashion superstars.
We took five with Kath to chat confidence, careers and clothes, so settle in and get ready to be inspired.
WHAT DID YOU DREAM OF BEING WHEN YOU WERE YOUNG?
Lots of things! I had a very vivid imagination so I often dreamt of what I might be. However, there were a few things that stuck:
A ballerina. I danced for many years and absolutely loved it.
A designer like my Aunt. She was a young and fabulous couturier in the 70's.
An actress. I was (and still am) obsessed with movies!
A zoologist. My love of animals runs deep and always has.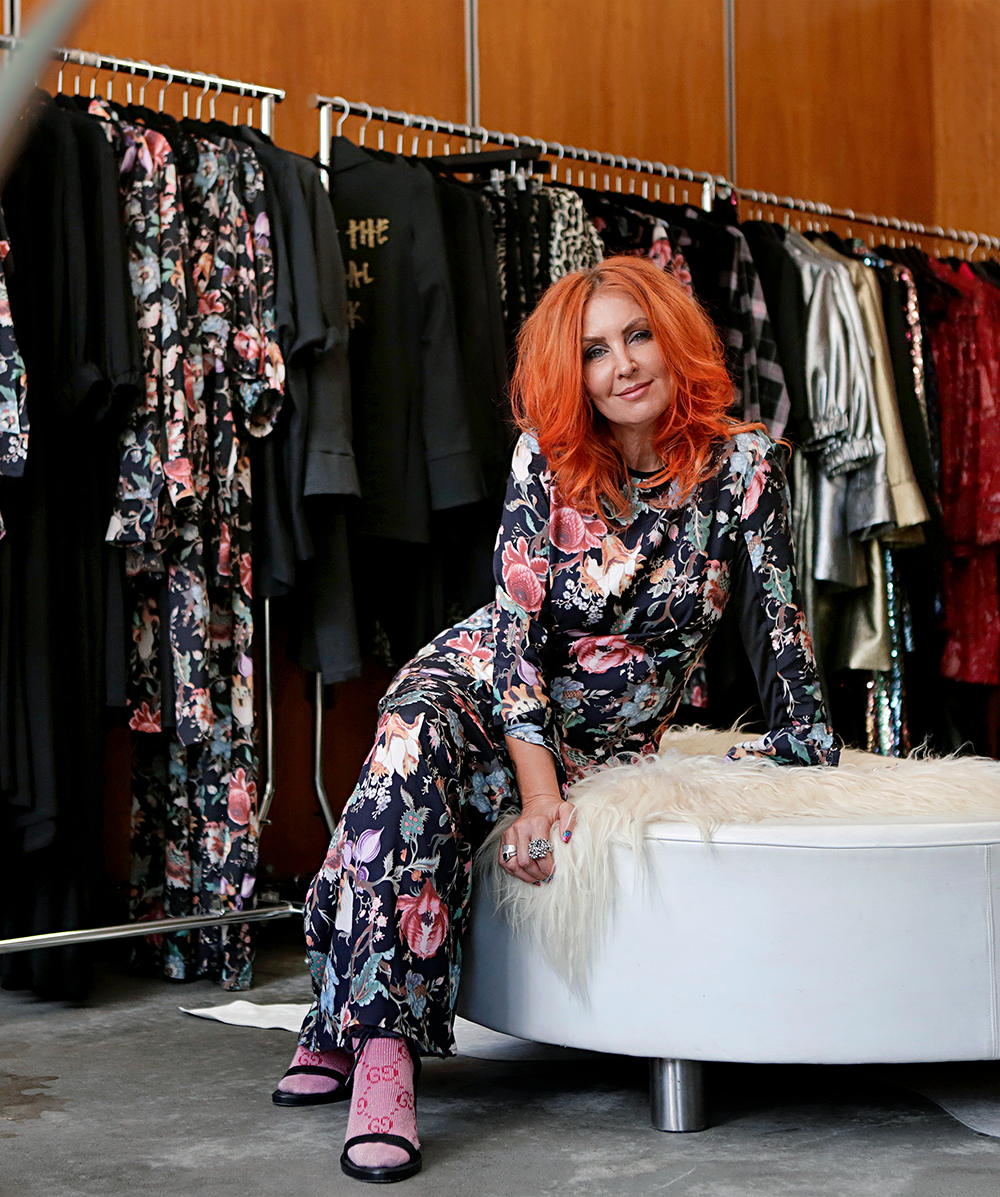 WHAT WAS IT THAT SET YOUR SIGHTS ON THE FASHION INDUSTRY?
I've always loved fashion from when I was very young. My aunt, the couturier, was very glamorous and extravagant; all about the false lashes, feathers and glomesh in her daily outfits. My earliest memories are of dressing up in her divine velvet gowns, sashaying around in her killer heels. She was very much my inspiration from an early age.
HOW DID YOU CRACK INTO THE INDUSTRY?
It all started at our little boutique in London Court as I spoke to so many women on a daily basis, I began to realise that there was a niche in the market that wasn't being filled: The perfect pair of pants. As they say, the rest is history and 22 years on, we are still best known for our fabulous signature pants.
WHO OR WHAT GAVE YOU THE CONFIDENCE TO LAUNCH empire rose?
The genesis of the label was simply solving a common problem: women generally find pants notoriously hard to buy. We couldn't find pants to buy [from other suppliers/labels] for our store that fit a woman's body and made them look and feel cool and edgy. We had an idea to put a wide pull-on waistband (that acted as a control band) on our pants, so it would flatten tummies and slim down hips, making the woman feel flattered and comfortable. It happened quite organically, just like that.
It seemed other retailers were experiencing the same problems not being able to find easy fit pants that would work on everyone. Once their customers fell in love with them, they'd want more. The business took off.
We set about working on different styles to meet the objections that we had been confronted with by our own customers, listened to other retailers and pretty soon came up with a solid collection of the best pants ever. We became the go-to pants people for women of all sizes and ages; almost everyone that has bought a pair actually owns multiple pairs of our pants and they all say they don't wear any pants that make them look and feel as good. More than two decades later we still continue to work hard on getting the fit right. It's not unusual for us to go through a dozen trials before we go ahead with any given style!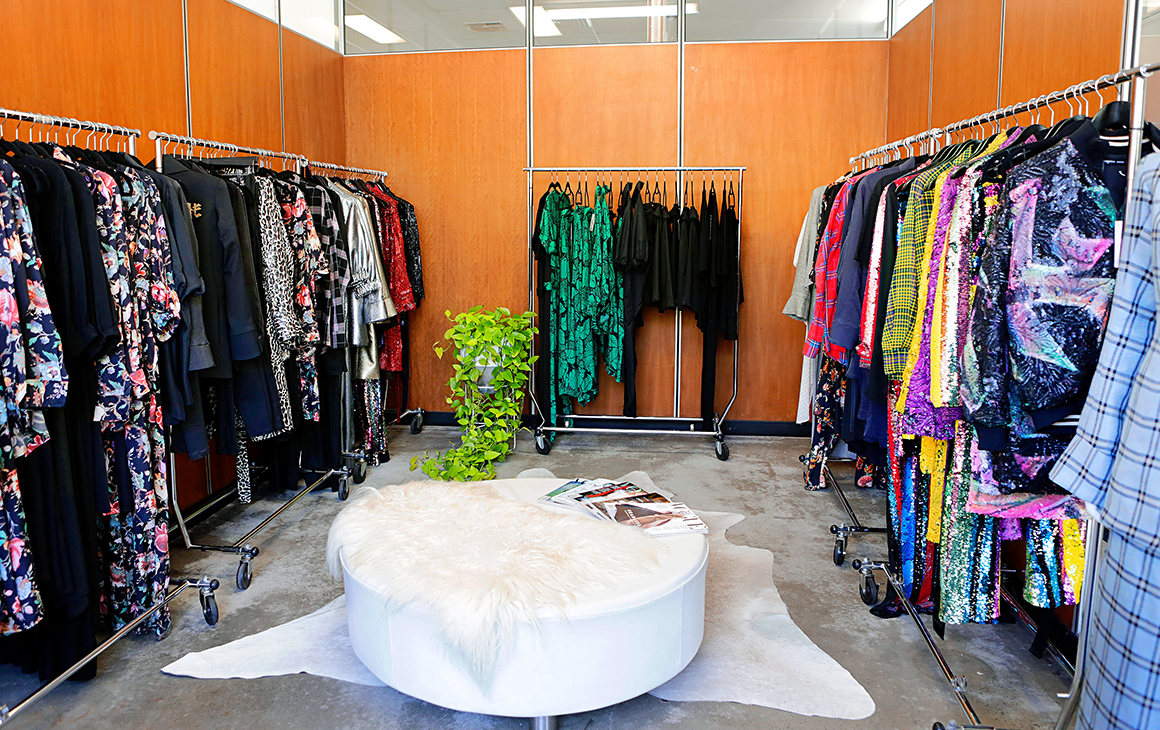 WHAT'S THE BIGGEST HURDLE YOU'VE OVERCOME IN YOUR CAREER?
The introduction of e-commerce was huge. It changed the retail landscape forever because it broke down the barriers of what it meant to SHOP and the sheer accessibility of fashion became unlimited. It's difficult to compete with global brands on a global stage. The competition is greater and the world is smaller. Having something from overseas delivered to your door in days has been a game-changer and it's forced me to ensure the service we offer is up to those 'big brand' standards.
The introduction of social media. Trying to navigate these new platforms, stay relevant and still be seen whilst adding this to my daily task list has been challenging, but it's also showcased my brand to a wider audience and for that, I'm very grateful.
The increase in off-shore production has resulted in many local, national and international suppliers and fabric mills closing down. It is more challenging than ever to produce in Australia, but I am committed to ensuring the future of not only my own business but also the life of the local industry.
WHAT HAS THE WHOLE PROCESS OF STARTING empire rose TAUGHT YOU ABOUT CONFIDENCE AND BACKING YOURSELF?
Looking back, I really did sideline dreams of starting up my own label back in the day and now I don't really know why that was.
I think we all carry fears, fear of failure and a fear of putting ourselves out there. But if you don't try, you will never know. I think my retail background was invaluable in giving me the confidence to take that leap. I worked in retail right through high school and university; styling, merchandising, dressing windows and working with customers.
I'm still learning from our gorgeous customers; women of all ages and sizes, what they want, and what makes them feel good. I'm also always trying to be open to learning from the other people around me that bring so much knowledge, creativity and experience with them.
The process has taught me to believe in myself and it's given me the confidence to back what I do, in the tough times as well as the good. Part of being a creative person is to question yourself and your process continuously. I'm definitely the hardest on myself, and I'm really trying to ease up on that as I get older.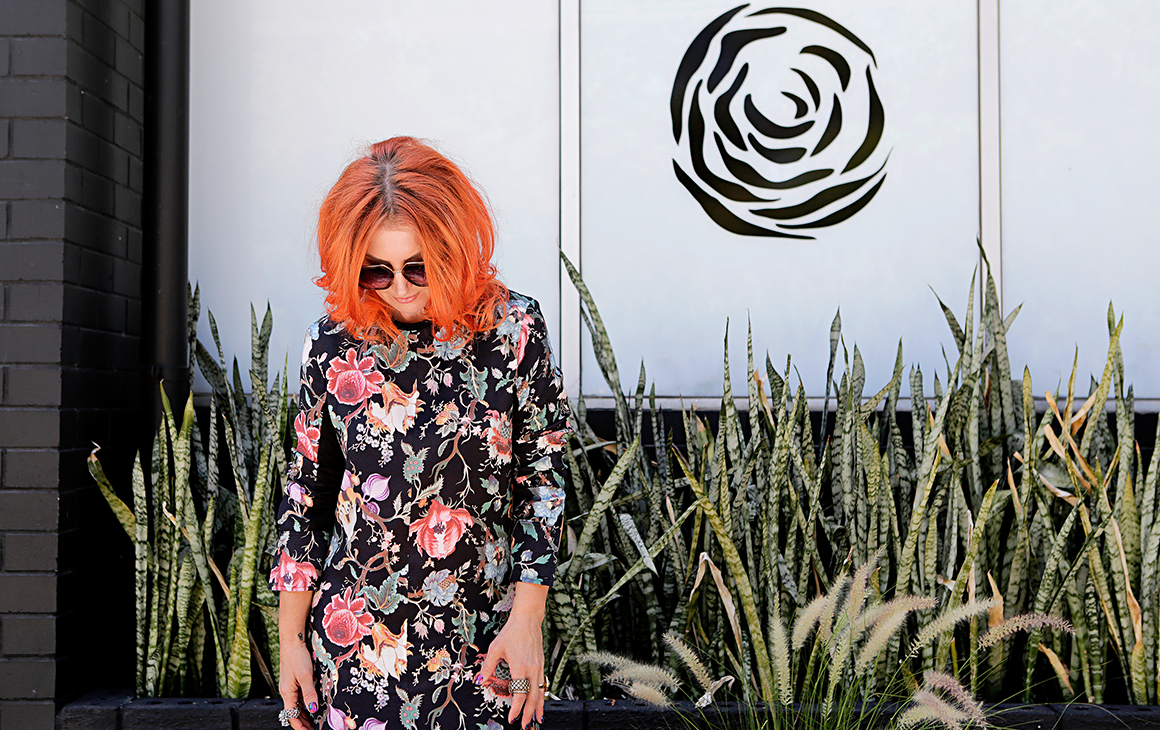 What Led To The Decision to MENTOR THE NEXT GENERATION?
We've been offering internships to students from the various TAFES and universities across WA for 10/15 years. We have employed many of the students that have come through the system (including some of our current team members) and as such have been strong advocates for the introduction of apprenticeships that do not currently exist in this industry.
We are extremely lucky to still have a business that's thriving and to be producing everything out of Western Australia. We feel strongly in the responsibility to keep the industry alive here, providing opportunities where we can. There are not many working studios still in Australia and we are committed to offering students the opportunity to come and be involved in the day to day running of a working studio.
You've kept ALL YOUR DESIGN AND CRAFTSMANSHIP IN HOUSE WHEN PEERS AND COMPETITORS HAVE gone OFFSHORE TO FIND CHEAPER ALTERNATIVES. WHAT HAS HELPED YOU TO STICK TO YOUR GUNS?
The option has always been there and we've looked into it many times but always we have come back to what is important to us. We have always believed in slow sustainable fashion and have been committed to the design process of in-house production. It has enabled us to listen to our feedback, adapt what we're doing to meet the demands of the clientele. We believe in the design process, and having a cup of tea while solving our clients' problems and developing the styles that we love and believe in.
I'm passionately committed to designing and producing my label in Australia to support and sustain the local fashion industry. It's an ethos that has paid dividends by engendering a loyal following both here and overseas.
I'd like to see us returning to a place where we treasure our investment pieces rather than throw dollars away on disposable fashion that becomes nothing more than landfill. The tide is definitely changing. Consumers are becoming more accountable and making the conscious decision to be more informed about what they're purchasing.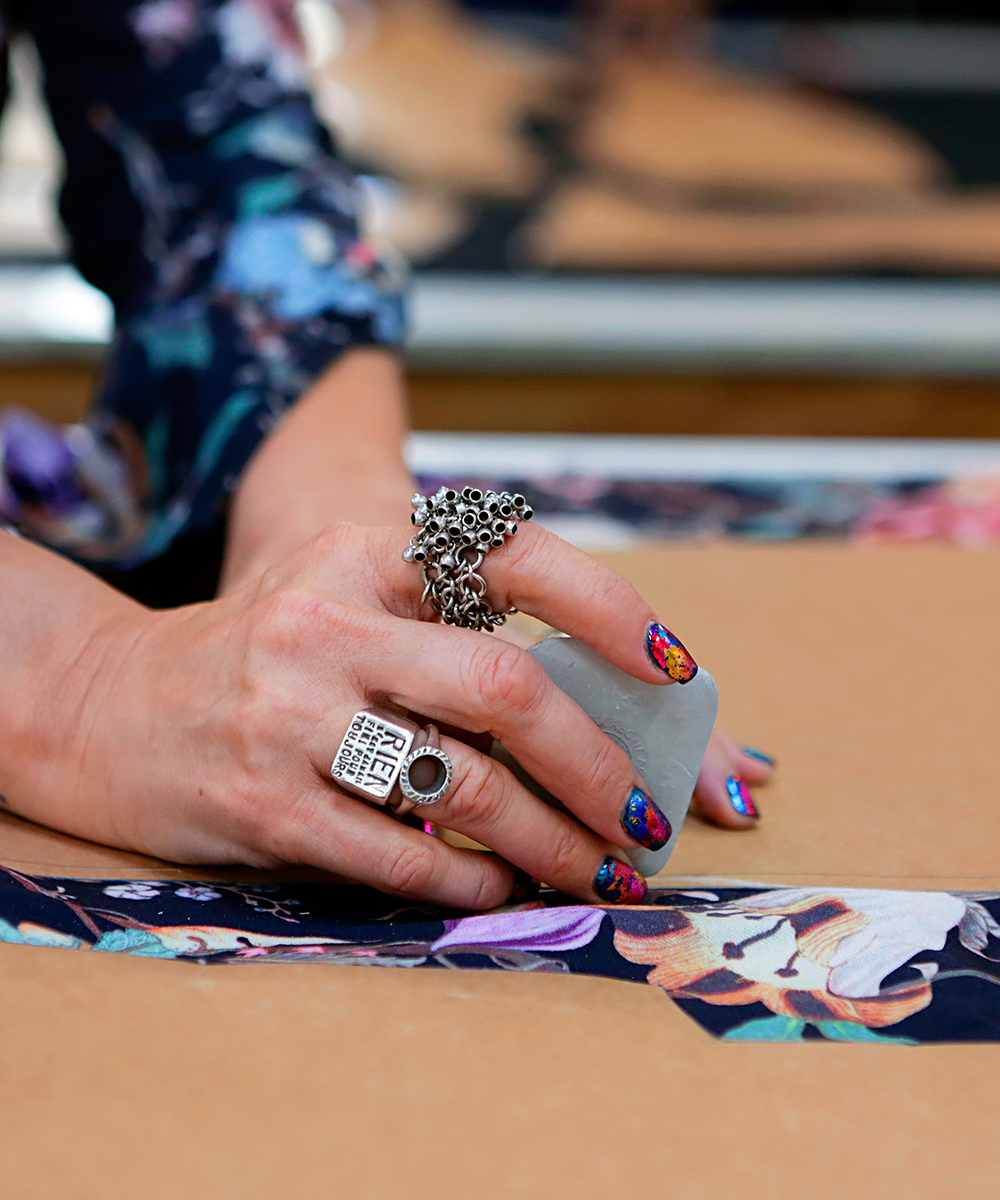 WHAT'S BEEN YOUR BIGGEST 'PINCH ME' MOMENT SO FAR?
It's not one big moment for me, it's all about the journey and the little moments.
The moments where our clients look in the mirror and see themselves looking amazing! The moments where our retailers sell out of our styles and ask for more! The moments where our team members shine and are bolstered by their own achievements and believe in their talents; it's a collection of pinch me moments.
If you're looking for a celebrity moment, a great moment was when Beyoncé closed one of our stores for three hours and took loads of my own personal stuff that adorned the store. So hey, Beyoncé if you're reading this, could you get that back to me?
LOOKING BACK, IS THERE ANYTHING YOU'D SAY TO YOUR YOUNGER SELF?
Yes, lots of things. Firstly, calm down!
Secondly, I'd say you need to surrender to the journey and don't try to over-control it. I'd be much kinder to myself. I'd believe in myself more.
The advice that I would give my younger self—and what I want to heed going forward—is to try and find the balance
WHAT'S THE BEST PIECE OF ADVICE YOU'VE RECEIVED AND WHO WAS IT FROM?
My lifelong friend Leith Groves, the superstar retailer from Varga Girl, said to me once: "Keep youth around you" and that has been something I really adhere to. I love to work collaboratively with young artists, DJ's, musicians, photographers and of course my amazing team! It's so refreshing to get a fresh perspective to inspire and propel you forward.
My son Samuel recently said to me "no one ever died saying they wish they'd worked more". I have always been a multitasker and thrive on being busy, but there is ultimately a price to pay.
One of my most important recent goals is to really try and find the balance in life and take time out with my family and friends. In small business, it's much easier said than done, but its a work in progress that I'm very committed to.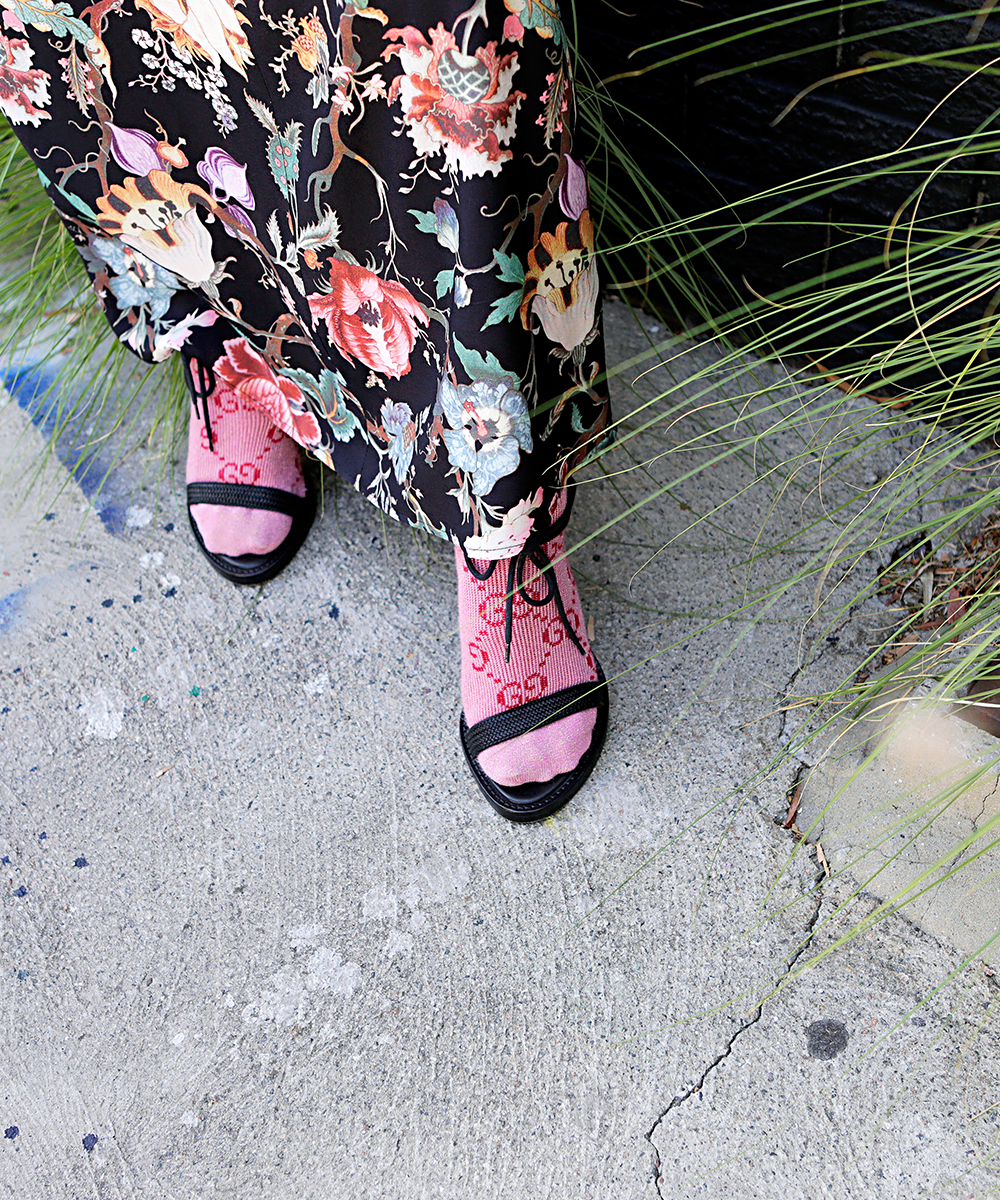 WHAT'S SOME ADVICE YOU'D GIVE TO PEOPLE STRUGGLING WITH SELF CONFIDENCE?
Don't be so hard on yourself, keep it real and above all else, believe in yourself.
The lives you see other people living on social media is always going to be their highlight reel, remember that. Things are never what they seem, everyone has a story to tell and everyone, at some point in their lives, has gone through something that has brought them to their knees.
I believe more focus needs to be placed on failures and the joy found in recovering from them. We need to celebrate stories of the courage it takes to pick yourself back up, forgive yourself of your mistakes, and ultimately get back out there and have another go.
Help others; listen to what you can do to make someone else's time easier. Making other people feel good comes back around and makes you feel good about yourself.
WHICH WOMAN OR WOMEN INSPIRE YOU THE MOST AND WHY?
The women around me inspire me. The women facing life in all its glory and taking it on with fierce love, compassion and commitment to their families, to one another and to their passion/careers. Women on their own journeys, kicking goals and kicking hardships in the ass.
My daughter, my mother, my six sisters, my grandmother, the women in my family, my girl gang, my team of women both young and young-at-heart, the women that wear our clothes. All at different, challenging stages of life, embracing it all and still shining in spite of everything.
The women that tell me that they have never felt better about themselves than they do when they have been wearing my clothes, that raises me up. Fashion is your armour; it's how you dress to take on the world. Your armour should be a true reflection of yourself, unafraid and brave.
It's a really exciting time in fashion because I feel that for a long time it's been somewhat cautionary. For the past couple of years, I've been noticing the explosion of style. People are becoming more adventurous and it's an exciting time to be involved in fashion. People are more ready to take chances with their own looks, Exploring their personalities through their wardrobe in the way they present themselves. That's what excites me not only as a designer, just personally.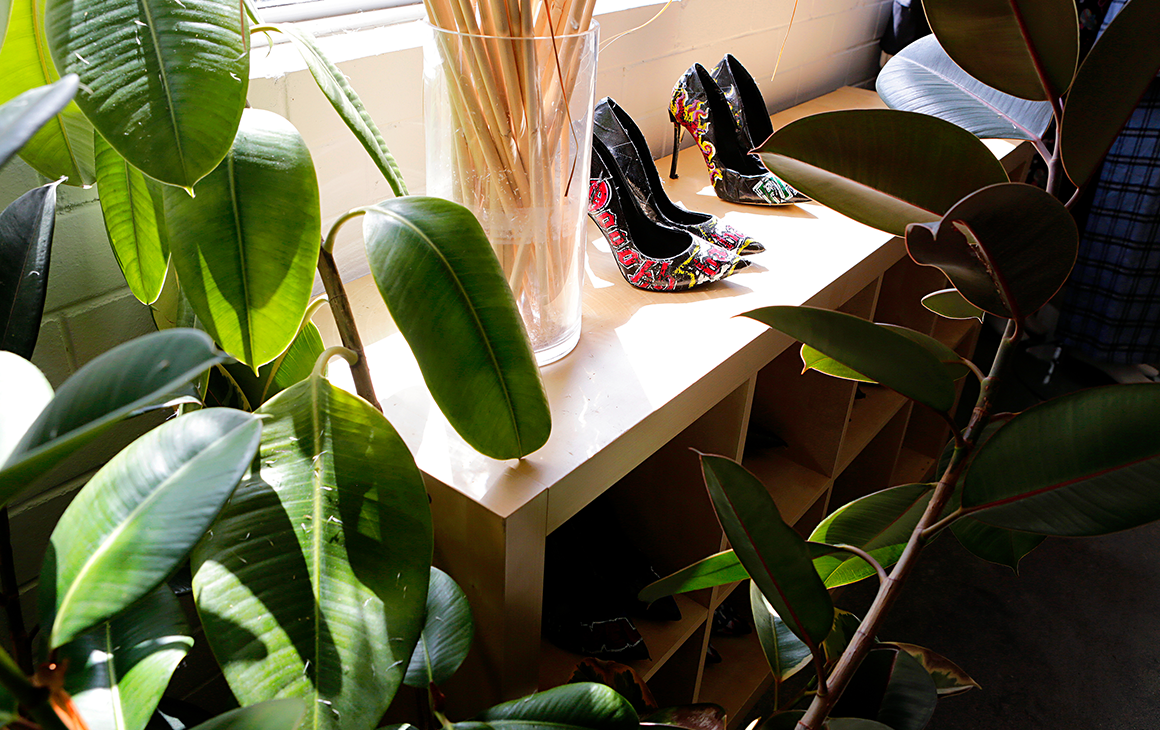 WHAT'S SOMETHING YOU COUNT ON TO OVERCOME THOSE MOMENTS WHEN YOU DON'T FEEL TOTALLY CONFIDENT?
Breathe. Take 5.
Shoot the shit with one of my awesome friends.
Get a different perspective from someone that I trust. Talking out loud diminishes the obstacle looming large in your head, fear is the biggest inhibitor. I'm always trying to learn to be better at this.
Get dressed. Do my hair and put my face on... maybe add a bit of glitter and a shoulder pad for good measure.
GO!!
Run back inside and get my best girl; my emotional support animal, Olive the Labradoodle.
GO!!
If you're after a pair of those signature pants or you're just crushing on Kath as hard as we are, check out Empire Rose online, on Facebook or Instagram or, for the real life experience, head to the North Fremantle studio at 38 Pearse Street.
Looking for more inspiration? Check out these Perth boss babes and their incredible businesses.
Image credit: Elle Borgward