There are a few ways to tackle a hangover, depending on your intestinal fortitude.
You can go all out grease-fest and a Berocca the size of your head; a rejuvenating salad and vitamin-filled wheatgrass shot; or (horror of horrors) the hair of the dog. Personally, we reckon anyone who busts out the tequila the next morning deserves a statue cast in bronze.
We decided to ask some of the best chefs in the country what THEY eat when they're feeling dusty. If you were expecting gourmet, you were expecting wrong...
The Caesar
Jordan Clay | Ôter
"If I'm perfectly honest, the hangover cure I use most often is a drink, especially on new years day, when you're just going to go to a day party/kick-on. It's basically a Bloody Mary with clam juice in it. We drink it a lot in Canada. It's called a 'Caesar'. Sounds kinda disgusting, but is suuuuuuper delicious."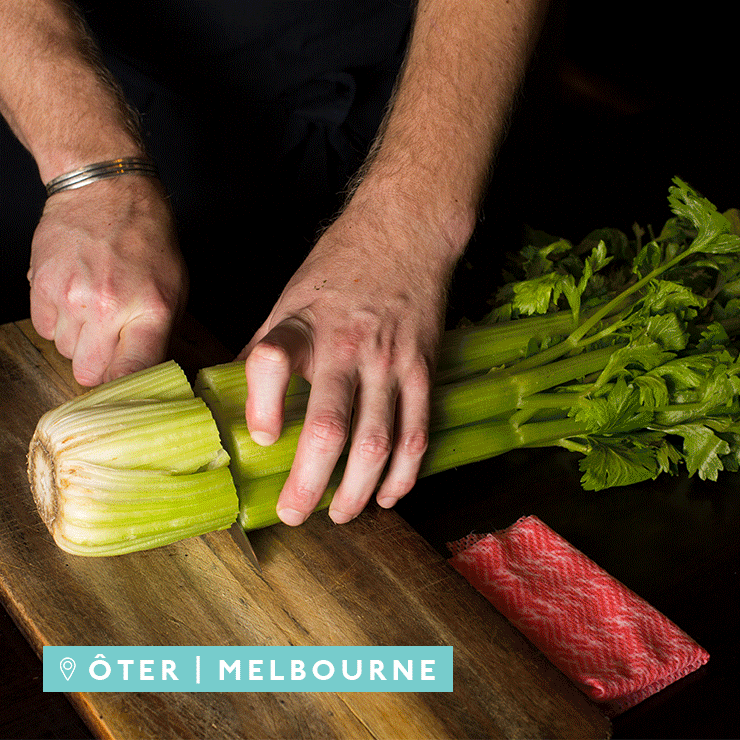 Ingredients
1/2 fresh lemon, for rub on glass rim
1teaspoon celery salt, for glass rim rub
2 lugs of good quality vodka (more depending on your hangover)
1/2 teaspoon Worcestershire sauce
1 teaspoon lemon juice, freshly squeezed
1 teaspoon finely grated fresh horseradish
177ml Mott's Clamato juice (or just mix tomato juice and clam juice together)
2 dashes Tabasco sauce
1 piece of young celery rib, including the leaves (from the middle of the stock)
Method
First things first, rub lemon juice around the rim of your glass. Tip the celery salt into a flat saucer, then turn the lip of the glass in the salt, so the rim is coated.
Add vodka, Worcestershire sauce, lemon juice, horseradish, Clamato Juice and Tobasco and stir them all well to blend. Garnish with your celery stick, with the leaves hanging out the glass.
Spicy Scrambled Eggs & Fried Potatoes
Justin James | Vue de Monde
"This is not a refined dish. You want it greasy and cheesy. I start with the potatoes. Sliced around 1.5cm thick, I boiled them in salted water until al dente. Fry them up with onions and capsicum. Scramble the eggs with bacon, onion and chilli, then add chopped chives, salt and pepper. I usually top the dish with more hot sauce. The starch from the potatoes, the butter and oil, the spiciness, and the cheesiness just gets me sorted after a long night. And coffee, yes lots of coffee saves the day."
Ingredients
6 eggs
100g grated cheddar
1-2 red chili (deseeded and small diced) (depends on how spicy I want it)
4 slices smoked bacon or ham (diced)
½ white onion (small diced)
2T Chives (chopped)
6T Butter
Salt and Pepper
250g Kipfler potatoes
½ white onion
1 small capsicum
1T smoked paprika
1t onion powder
1t garlic powder
Grapeseed Oil
Salt and Pepper
Method
Start with the potatoes. Cut into slices around 1.5cm thick. Boiled them in salted water until al dente. Strain and set aside.
While the potatoes are boiling, cut all your produce (onion, capsicum, bacon, chili, chives). Grab two frying pans. Start with the potato pan. Add oil and sweat onions until tender, then add the capsicum. Cook for another minute. Remove onions and capsicum. Add more oil to the pan and add the potatoes, Fry them until golden brown and then add the onions and capsicum back to the pan. Season the whole thing with the spices, salt and pepper.
Once the potatoes are done. Get your egg pan hot. Add 4 tablespoons of butter and your diced bacon and cook to lightly brown, then add the onions and chili cook for another 3-5 minutes. Add about another tablespoon of butter, then crack your eggs directly into the pan and scramble with the bacon, onion and chili. Turn the heat down low and the cook the eggs low and slow. At this point, add the grated cheese. Once the eggs are cooked 90%, add the chopped chives, salt and pepper. Stir and allow the eggs to finish cooking from the residual heat.
Add more hot sauce, then serve with gusto.
'Squish' Burger
Monty Koludrovic | Icebergs, The Dolphin, Bondi Beach Public Bar
"It's got to be our 'Double Patty Bondi Matty' Burger, or 'Squish' Burger as we call it. It comes with our famous burger sauce, two chargrilled beef patties, Aussie bacon, cheese, white onions with a tomato/lettuce/pickle fresh-stick on the side. The key to the burger is in the squish. A firm press as the burger comes of the grill to set it all in one glorious slab of cheeseburger. Almost like a cheeseburger 'pate en croute'. Works every time."
Ingredients
Bondi Beach Bar Burger Sauce (or any good mayo-based sauce)
2 grilled beef patties
2 rashers of crispy bacon
Cheddar cheese
White onions
Sliced tomato
Oak lettuce leaf
Sliced dill pickle
Brioche bun
Method
You can only get the real deal at Bondi Beach Public Bar, but in a pinch, this is how you make it at home.
Grill your beef and melt the cheese over the top. In a separate pan, fry the bacon till it's nice and crispy. Assemble with some sliced white onion, tomato, lettuce and dill pickles. Squirt on some BBPB secret sauce you nicked the last time you were there.
Here's the secret. When the burger is still warm, squish it down using a flat (and preferably heavy) implement. You want to concentrate the flavour. Because there's no heat, the burger should stay soft—it'll just be squished down to size. Like so: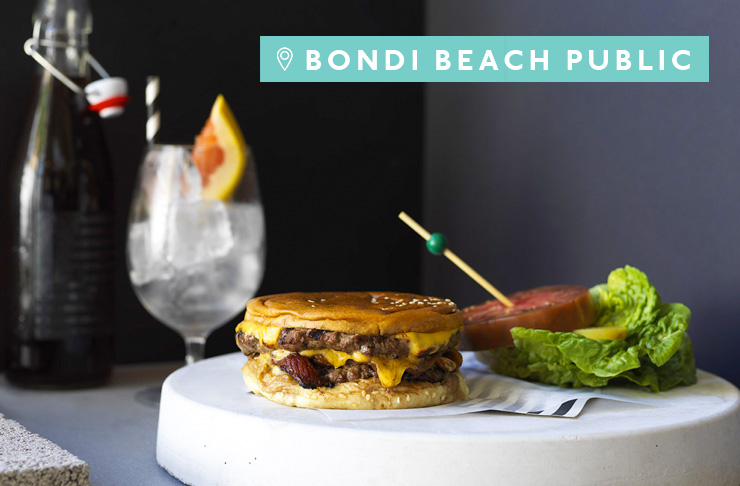 Sweet & Sour Pork
Daniel Wilson | Huxtaburger
"My ultimate hangover cure requires a little foresight & planning. It's cold Chinese takeaway sweet & sour pork, eaten directly out of the container from the fridge. The dirtier the better. I believe the combination of fat, sugar, salt and batter aids the congealed sauce in lining the stomach. Failing this, a litre of ice-cold coconut water followed by wonton noodle soup with lots of chilli oil also seems to do the trick!"
Rice Congee
Matt McConnell | Bar Lourinha
"I have two foolproof tonics to beat the overindulgence of the silly season. The first is a congee I first tried when living in Hong Kong many years ago. It's as simple as a bowl of yesterdays rice reheated in a good chicken stock, shredded young ginger and a few slices of chicken. Depending on the severity of the hangover I find a good siracha chilli sauce clears the head. The other is simple—a good old-fashioned lemonade icy pole. The freezing cold syrupy icy pole delivers rehydration and plenty of sugar to sooth the brain."
Ingredients
3/4 cup white rice
A handful of shredded chicken breast
7 cups chicken stock
2 thousand-year-old eggs
3 slices ginger
1/4 teaspoon ground white pepper
Salt to taste
Sriracha to garnish
Method
Be organised for this one. Wash and freeze some rice the night before. Whack 7 cups of water in a medium pot and bring to the boil. Add the frozen rice (no need to de-frost), stir to prevent sticking. Reduce heat t a simmer, cover and cook for about 15 minutes. Keep stirring so it doesn't stick.
Dice your egg (you don't have to add an egg, but it helps), some julienned ginger, and shred your chicken.
Add it to the cooked congee and stir. Add salt and pepper to taste. Drink with green tea (or a big Berocca). Squeeze on some sriracha if the hangover is terminal.
Potato, Onion & Jalapeño Hash
Nick Bennett | The Arbory
"Working in a bar its key to have a decent hangover cure! Breakfast at Arbory works well for me. The key is a good balance of grease, fried and pickled, a half size of espresso martini and a couple of magic's from our superstar barista, Noah! For food, it's got to be our old potato, onion & jalapeño hash, topped with a cheese Kransky, pickles and a fried egg. Add a few pickled guindillas in there for tang, and top it all off with burger sauce. Greasy, meaty and oh so satisfying."
Ingredients
HASH
1kg sebago potatoes
150g brown onion (caramelised)
100g Jalapeño (diced)
250g rice flour
Salt
Pepper
PICKLES
30g spring onion
50g celery
50g fennel
50g radish
50g daikon
60ml water
120ml white wine vinegar
10g sugar
7g salt
2 black peppercorns
2 coriander seeds
1/4 tsp mustard seeds
1/2 bunch dill
1 clove garlic
FOR SERVING
5 x cheese kransky from Meatsmith Specialty Butchers
150ml mayonnaise
10 pickled guandillas
5 eggs (fried)
Method
For the hash, Gently boil the potatoes until they are just cooked, allow to cool. Grate the potatoes into a large bowl, add the onions, jalapeño, rice flour, salt and pepper and mix well. Mould into rounds using an 8cm ring cutter. To cook, deep fry in begets oil at 160.C until golden brown.
For the pickles, combine the water, vinegar, salt and sugar in a large pot. Warm to just under boiling point. Place the vegetable into sterilised jars along with all the remaining ingredients. Pour over the hot brine and allow to cool to room room temperature. Store in the fridge.
Assembly time. Place the fried hash in the middle of a bowl. BBQ each kransky then slice lice each kransky into 3 slices and arrange around the fried hash. Add a spoonful of mayonnaise to each hash and place a fried egg on top. Arrange a selection of pickles around each dish.
Image credit: Gabriella Bjorklund