The Sunshine Coast Hinterland and Noosa Hinterland are a short drive away but feel like different worlds. Country towns, lush rainforests, misty valleys and cute-as-a-button cabins, they've got everything you could want for the perfect winter weekend getaway.
With your overseas trip for the year most likely put on hold due to COVID-19, we've made a super local getaway possible with the some of the best budget accommodation in the Sunshine Coast Hinterland.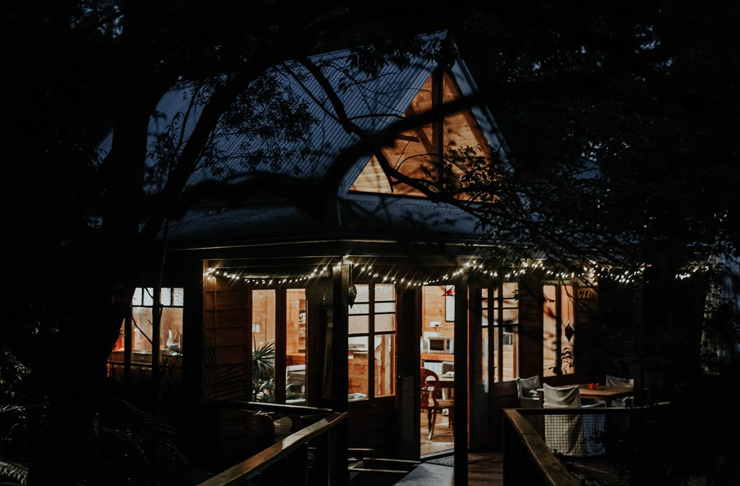 Rainforest Creek Cabin
Maleny
If you've always spoken about going on a digital detox but never have, this is your chance. A weekend in Maleny at this tiny creekside cabin will force you to totally switch off, thanks to no internet and no TV. Surrounded by rainforest, this rustic retreat has an outdoor shower—don't worry, it has hot water and is totally private—and an outdoor toilet. Only a short drive from town, we suggest stopping on your way through and arming yourself with fresh bread, cheese from Maleny Food Co., wine and a pack of cards for the ultimate relax-cation. For under 100 bucks, you can't beat this budget Sunshine Coast Hinterland accommodation.
The Bower
Wootha
We contemplated not sharing this with you, because we'd like to book it every other weekend for the rest of winter. But, you know what they say—sharing is caring. Tucked away in Wootha, near Maleny, The Bower is what you'd dream of if someone said 'romantic hinterland accommodation on the Sunshine Coast'. Loads of timber, comfy couches, fireplace, antique claw foot bath…need we go on?
Rustic Hinterland Retreat
Diamond Valley
You haven't seen rustic until you stay in this Diamond Valley shack. This cabin has a deck we just want to lounge on, a stone fireplace we want to snuggle up in front of and a lush, secluded location that'll make it impossible not to slow down. And the best bit is if you forget ingredients for dinner, the owners have a veggie garden overflowing with an abundance of fresh produce that you can purchase at wholesale prices. Sounds good to us.
Kaalba
Maleny
If getting back to nature is on your winter bucket list, stop the search. Kaalba is a self-contained studio nestled pretty much on Obi Obi Creek in Maleny. With views of the rainforest and more birds than your birdsong app will recognise, this cute-as-a-button cabin even comes complete with organic soaps from locally-made, nationally-acclaimed beauty brand Mukti Botanicals. It's this attention to detail that's putting Kaalba in our list of the best cheap accommodation in the Sunshine Coast Hinterland.
Garden Cabin
Doonan
Nestled in the forest, this gorgeous self-contained garden cabin is technically not in the Sunshine Coast Hinterland, but the Noosa Hinterland. With its own kitchen and bathroom, and friendly neighbours like wallabies, this is a spot you'd book if you want to get away from it all, without heading too far off the Coast. Close enough to Noosa and Eumundi for coffee runs or takeaway pizzas, but let's be honest, you won't really want to leave this cosy space once you settle in.
Image credit: Airbnb | The Bower