Step into the fast-approaching future at Fed Square's latest attraction, an ice cream bar run entirely by robots. If you think you're just going to any regular dessert shop, then you are about to have the socks blown off you.
With summer just around the corner, Niska has launched at just the right time to cure those steamy Melbourne afternoons with a cold treat fresh from a robot's hand. While having some funky flavours including the likes of peanut butter or apple crumble, they've also got all those who are gluten-free, dairy-free and vegan covered.
Founded by and named after Australian robotics startup Niska, the shop is home to three friendly robots named Pepper, Eka and Tony. Upon entering the futuristic bright and white space, customers are greeted with robots hard at work, each set to a different task of the serving process. After gaping at the extensive selection of flavours in 2 rotating refrigerated cylinders, the first robot takes your order and payment via an interactive menu screen. You can even create your own concoction by adding toppings, sauces and extras all with the guidance of a friendly mechanical face that speaks to you. We recommend the caramel flavour with gooey chunks of salty goodness.
Next, the second robot staff member will scoop up your flavour into a diner-style fully-recyclable plastic cup which is then passed to the final futuristic friend who delivers the final product to a glass kiosk. It'll ding the bell, old-school style, and all it needs is for you to scan your receipt and hey presto, there's your ice cream. Now, this all sounds like quite a long process when you're feeling a little bit hangry but don't be put off, it's a sight to be seen.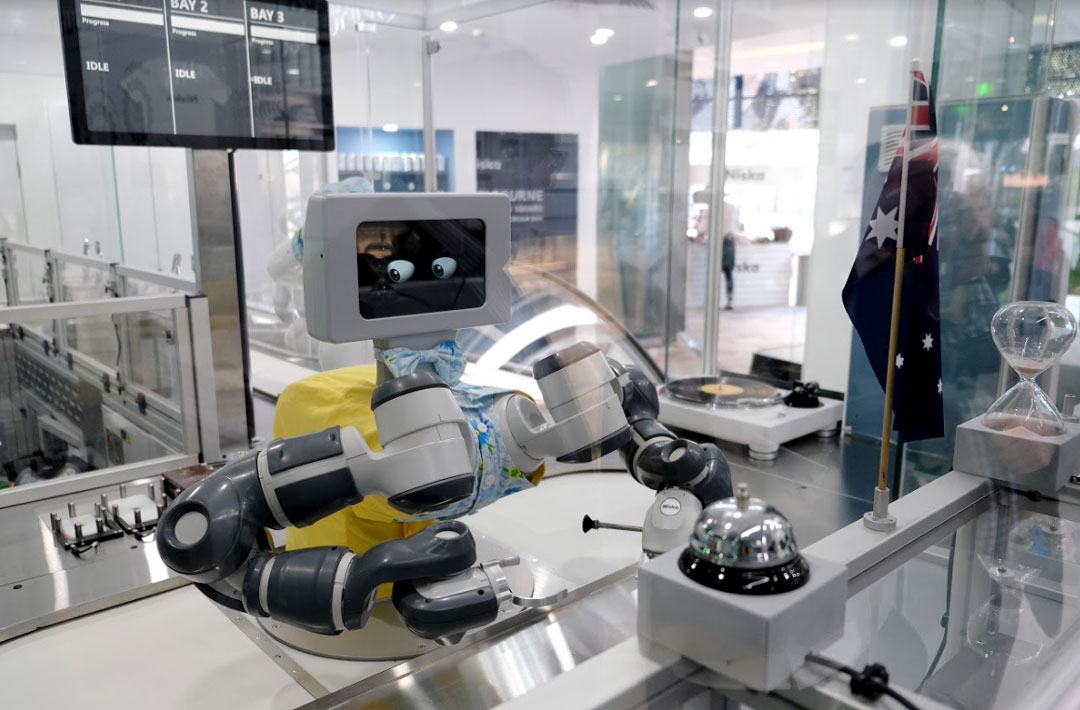 Don't stress, if anything goes wrong like they mistake your chocolate order for fig and mascarpone or the robot eats your creation, there is always a human staff member on-site to help.
This new shop is set to inspire other brands to get on board the robot train and take a new leaf out of Niska's book in getting technology to do all the work. Niska is in the spotlight, however, as Melbourne's first robot-run space and what's even better, they're selling everyone's favourite treat.
The minds behind the ice cream bar at Niska Robotics had a long-term dream to create a new type of retail where robots work alongside humans. Located in the heart of Melbourne at the iconic Federation Square, the shop is doing just that, bursting with locals and tourists queuing up to be served by the friendliest robots in town. So come and get your sweet tooth fix ASAP.
For more of the latest openings around Melbourne, head to our New Eats section.
Image credit: supplied