We're almost through the third quarter of the 2018 financial year, which means there are throngs of YoPros (a.k.a. young professionals) lugging millions of dollars worth of Apple products around Australia's major cities every single day. And what better to wrap your Macbook in than a coupla hundred dollars worth of designer threads??
We've rounded up our ten favourite laptop bags for 2018 and here they are.
Fossil Emma | $479
We're stepping it up in the price department now with Fossil's Emma Laptop Bag. You can use this little leather number as a briefcase or an across the shoulder satchel—the choice is yours. It comes with three compartments, four pockets and numerous slots for your pens and credit cards.
Crumpler Nebula | $99
This affordable (and stylish) little number is a versatile backpack that'll keep your 13" laptop snug as a bug on your daily commute. The Crumpler Nebula's got an internal pocket for small tech and accessories, weather protection and ultra-comfy back straps. Plus it's lightweight and easy on the eyes (and comes in four fab colours—we love Rapid Print Milky Way).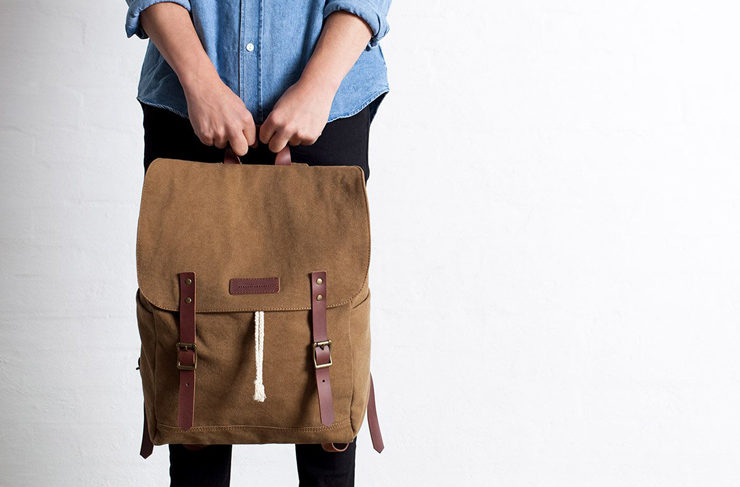 Photography: Status Anxiety
Status Anxiety Matter Of | $149.95
You've probably had your eye on one of Status Anxiety's gawj leather wallets for most of your adult life, but it might surprise you to know that they also have a line of very nice laptop bags. Our fave is the Matter Of in camel, which is made from thick cotton canvas that's pre-washed for softness and includes a padded 15" laptop sleeve, comfy back straps and numerous handy pockets.
Herschel Sanford Messenger | $189.95
You've probably had a Hershel's backpack glued to your torso since your first day of uni, now it's time to step it up a professional level. The Sandford Messenger is designed for tech-savvy commuters with its padded 15" laptop sleeve, two-way waterproof zipper, internal tablet and accessory sleeve, removable padded shoulder strap and EVA reinforced seatbelt webbing carry handles (we're not sure what that is but it sounds strong AF).
Forever New Eloise | $89.99
This little 9-5 number comes courtesy of one of Australia's favourite ~girly~ brand, Forever New. It's 15" laptop dimensions, dual carry handles, gold-tone hardware and detachable shoulder strap *scream* YoPro. Plus it's made from faux leather, so you can rest (and work) easy knowing no animals were harmed in the making of your new laptop bag.
Louenhide Rhodes | $109.95
Layer a red hot fashion statement over your workday outfit with the Louenhide Rhodes charcoal travel bag. It features a padded flat pocket and middle wall divider for your laptop, dual carry handles and even a ritzy gold zip, because the faux snake print isn't enough already.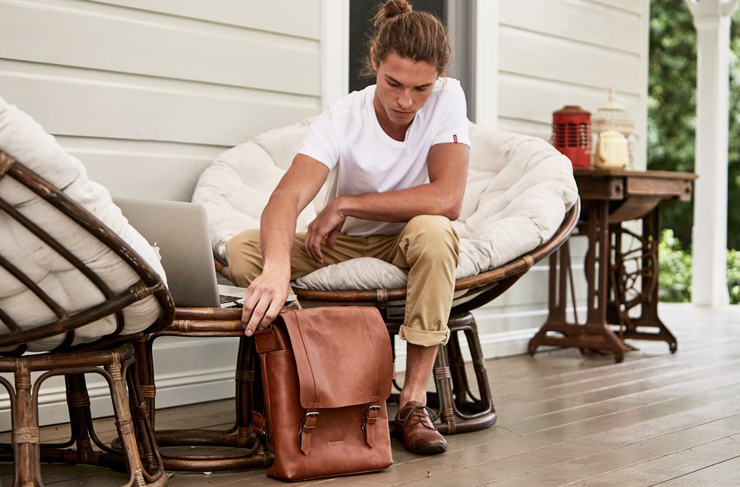 Photography: Stitch & Hyde
Stitch & Hide Ryder Messenger | $329.95
Tell your fellow computers you're a serious YoPro with the Stitch & Hide Ryder Messenger. It's made from 100% vegetable tanned leather and features an adjustable shoulder strap, two sizeable internal compartments and an internal phone pocket. Plus it comes with a bonus one year warranty—winner.
Topo Commuter Briefcase | $189
For the hardcore commuters out there, the Topo Commuter Briefcase is the ideal arm extension. It features stowable backpack straps, a detachable shoulder strap and two leather carry handles, which means you can rotate between three carrying styles as you please. It's internal sleeve will fit your 15" Macbook and its leather handles will ensure it never leaves your side.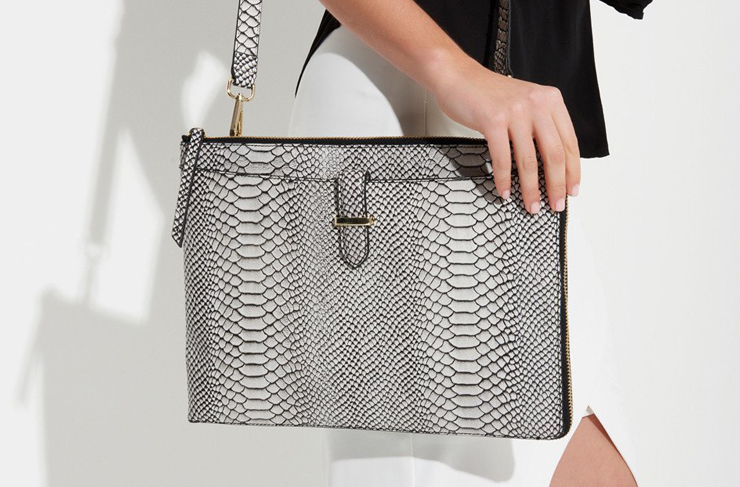 Photography: She Lion
She Lion The Tycoon | $299
Splash some cash and fork out the $299 for the She Lion The Tycoon tablet and laptop bag. It comes in black and white snake embossed calf leather and features an ultra ritzy folio complete with multiple compartments for all your day-to-day business accessories.
Toffee Combi | $299.96
This bad boy is normally $399.95, which means there's already one extra reason to whip your wallet out. This multi-purpose three-way work bag (that triples as a satchel, backpack and briefcase) is crafted from naturally milled leather, and features padded compartments for notebooks and tablets. Plus it's gawj as hell.
Here are a bunch of podcasts to make your commute less crap.
Image credit: Cynthia del Rio