John Parker (the luminary behind The Standard and Halford) is back at it with his latest venue, a 50 seater who goes by the name of fleur. Sitting within the iconic The Royal Hotel, which John opened back in November, fleur is smaller and more refined but she's impressive in her own right. While you might head to The Royal for a quick after work drink, fleur is the kind of place that deserves a few hours of your time so you can take in her beauty, linger over a mini cocktail and savour each delicious bite of the seafood-heavy menu.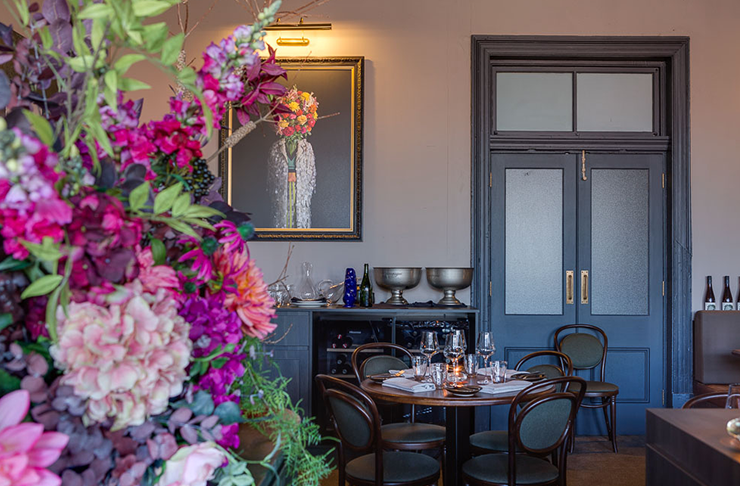 We visited on her second night open to the public but judging by the service you'd think they'd been open for months. The place runs like clockwork and the staff are clued up on every dish and drink, so you don't have to be. Just sit back relax and enjoy the ride.
If you can swing it, start your night off at the bar under the incredible floral installation with one of their tiny cocktails—the Mar-tiny feels right here, but feel free to opt for the Midori cocktail if that's more your jam—and a snack or two. Oyster fans should not miss the oyster topped with oyster cream, cucumber and yuzu, though purists can always go au naturel.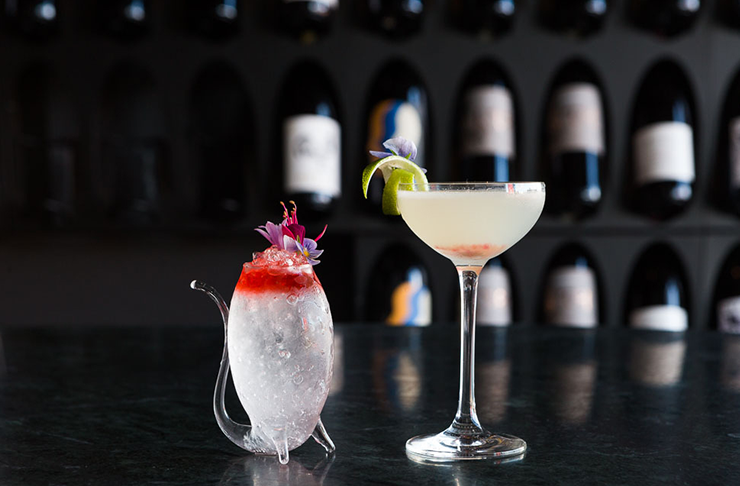 Once you've had your fun at the bar, head into the beautiful dining room (designed by John Parker himself) because it's time to get serious about the food. While all the dishes are amazing, the Skull Island king prawns are a total stand out. Topped with a chilli and brown rice vinegar which complements rather than masks the flavour, they are sweet, tender and delicious and quite possibly the best prawns we've eaten in the past year. You'll also want to sample the Abrolhos Island octopus (so tender), the torched beef tataki and the toothfish which really does melt in your mouth.
You'll notice the menu is littered with Japanese ingredients like yuzu, daikon, wasabi and miso, but this is certainly not your standard Japanese fare. The dishes are delicate but flavoursome thanks to fresh, local ingredients and a few magic touches from Executive Chef Chase Weber and Head Chef Shane Middleton.
When it comes to drinks, the wine list is extensive. You'll be able to find your favourites but if you're up for trying something new, the sparkling sake will go down a treat. It's naturally fermented so it's lightly sparkling, hugely refreshing and the perfect way to start off your meal. If that doesn't sound like your cup of tea, hand over the reins to your waitstaff and let them have a little fun. You won't regret it.
Check out more new openings in Perth.
Image credit: Emma Bryant