Gather 'round team because we're about to let you in on a little secret. Vis, the farthest island from the Croatian mainland, and it's only recently that foreigners have been able to discover this island. Which, ICYMI is a big part of why Vis is so damn special, it still feels unbelievably untouched.
Fast forward to 2018 and let us paint you a picture. First things first this is not a party island. This is where you head to chill the hell out and maybe even leave the phone behind (otherwise known as—Sign. Us.Up!). Vis is where you come to veg out in the sun, eat platefuls of fish and fruit, float about in the crazy clear turquoise water, and stroll along secluded beaches complete with roaming goats (don't freak out, they don't smell as much as you might think).
Filled with hidden gems, Vis has enough to keep you entertained after you're done with all of your important relaxing. The nearby Blue Grotto and epic Stiniva Cove are easily accessible via an organised tour, or get your own little boat for the day. both spots are perfect FOMO inducing Instagram fodder, but don't stop there, Vis has plenty more to see and do.
Here's how to spend 48 glorious hours on the Croatian island of Vis.
Day One
8pm
You'll be arriving in Vis town by ferry (either from Split or Hvar) and you'll want to quickly run to your accommodation. Once checked in, have a good wander around the small old town to find some dinner and drinks. Get some quick and easy pizza from Karijola. Sit on their terrace overlooking the peninsula and settle into island life (we're willing to bet you'll be a pro).
10pm
If you're wanting a boozy night out, then Fridays are the only time to do so. The old abandoned Fort George has been restored and turns into an open-air club on Friday nights. Dance under the stars and run around this heritage site while taking in the panoramic views of Vis and the surrounding islands. It's great fun, but plot twist, you can expect to spend a week's worth of your budget on overpriced drinks. We recommend a few cheeky pres beforehand.
Day Two
9am
Grab some fresh smoothies and coffee for brekkie from Bistro Frutarija, a tiny café nestled in a courtyard right on the water. You can even treat yo'self to some homemade waffles covered in fresh fruit. Take your time and do as the islanders do, #vislife.
10pm
Once you're ready, walk towards Grandovac Beach via the small scenic path stretching through the old part of town and along the coast. You can dive into the water at any point of this walk but be careful not to step on any of the sea urchins which hang around the piers— before you ask, yes you should 147% purchase those cheap sea booties (that look ridiculous, we know) before swimming at most (read: pretty much every) Croatian beach. But, if you're a rebel, you can go barefoot at Grandovac pebble beach without too much of a problem. Just don't antagonise the cute baby goats. They might come up and give you a little snuggle but otherwise they'll leave you alone. And, if you're lucky, you might just have this little stretch of coast all to yourself.
1pm
You can either spend all day along this side of the island, looking for hidden coves, or go back to town and organise a trip to the nearby Stiniva Cove, which is a must-see on the island. And there are two ways to access it. Firstly, you can hire a car or quad bike and drive over to it (just prepare for a very steep walk down some uneven slopes). The second and far more special route is to access it via the sea. You can hire your own boat for the day (only if you have a license of course) or pay for a cheap tour. But do prepare to find this space becoming a bit overcrowded in the peak summer season as the secret is out about this beautiful swim spot. Still, it's totally worth the visit.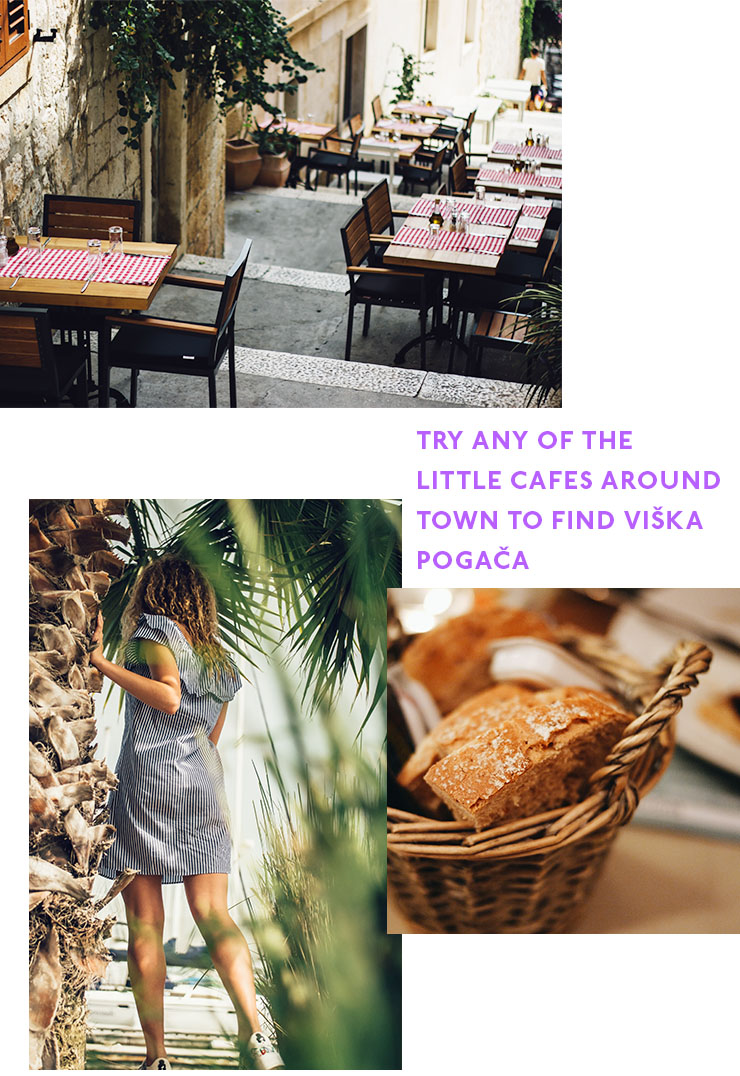 3pm
There is a tiny little café situated within the Stiniva Cove but you can also head back to Vis town to enjoy some proper grub. Try any of the little cafes around town to find Viška pogača. It is a local lunchtime treat here on Vis. It's a square of focaccia-like bread filled with sardines, tomatoes, onions and garlic. It's enough to keep you going till dinner time without being too heavy AKA forcing you into a midday nap. Although, a surprise nap in the shade is certainly welcome here.
5pm
If you're on Vis, then you cannot not miss a visit to Roki's. This restaurant/vineyard is located down in the middle of the island, surrounded by lots of small shrubs and trees and pretty much feels like you're having dinner in your best friend's grandmother's backyard. They are famous for making one of Croatia's greatest delicacies, peka. This dish consists of either meat or fish being slow cooked over coals for hours on end. But you must book and order in advance if you want to try it. Definitely try their octopus peka (it may just change your life!!). And as the owners are part Australian, they also hold cricket games out on the old military airport runway every now and then so you'll feel right at home here.
9pm
And as the sun sets, get a taxi or shuttle back into town and book a seat at Vis's outdoor cinema, Hrid. In summer, they run screenings most nights, showing both classics and blockbusters. Bring some wine from Roki's and relax in the balmy weather, having a chilled night out.
Day Three
9am
Vis has another well-known town on the other side of the island which is well worth a visit. Get some coffee and pastries on the go and jump on a cheap bus to Komiza. Here, you can wander around the old town's tiny laneways covered in creeping vines and laundry that's been left out to dry. You'll be filling up your gram with all sorts of quaint pics.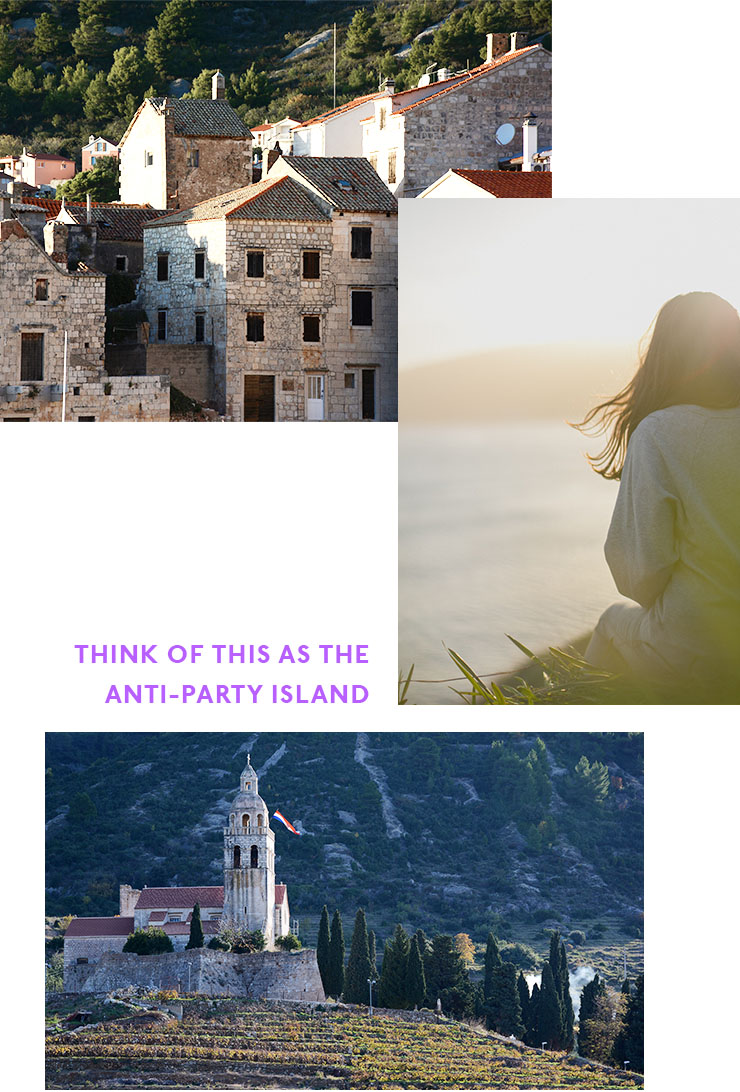 11am
There are beaches all over the place in Komiza. You can make your way over to Kamenice beach where the cool kids hang out (and where it turns into a bit of a party spot some nights) but we prefer going to the opposite side of the bay. Bile Stine beach is located right on the rocky forested hills with views over the old town of Komiza. Here, you'll find many little hidden swim spots where you'll most likely be all by yourselves. You can even take the trek up into the surrounding hills if you want more views and are in need of a little exercise.
1pm
From the port of Komiza, you can pay for some short day trips to the Blue and Green caves located on Bosevo, a tiny island right by Vis. These naturally iridescent caves are absolutely stunning but can be rammed in the peak season. Try to find a tour which will help you skip the queue so you don't spend all day lining up in the sun.
3pm
The rest of your day is all about floating about the bay, and walking through the small squares in town, sampling bits of street food and wine (Vis is famous for its wine). You can also hire a quad bike for the day and go far beyond the small town, exploring the surrounding hills and jagged coastline. Or you can just take a nap #priorities.
6pm
Vis has very little industry apart from fishing. And they do it spectacularly. Seriously, their fish is superb. You should really try some BBQ fish quickly cooked over coals at Konoba Jastožera. And if you really want to treat yourselves, then you have to spring for the lobster! It is amazing but understandably expensive too. At this restaurant, you can either eat on a budget or blow it all on one dish—it's up to you.
8pm
Head back to Vis town and catch a ferry to one of the neighbouring islands (Hvar and Brac are stunners) or spend a few extra days here on Vis, paddling around the coast and napping in the shade while sipping on a cocktail or two. You won't get bored of the beautiful little island anytime soon.
Why not check out the Ultimate 48 Hours In Paris while you're at it?
Design credit: Sarah Law