Is it just us or do the summer holidays feel like a distant memory? With winter fast approaching, what we (and you!) really want need is a holiday to look forward to. Whether it be a relaxing island getaway or an off-the-beaten-track adventure, we want it and we want it now.
Well, dream no more! Your next grand (and cheap!) adventure is just around the corner thanks to STA Travel's epic May sale. We're talkin' up to 60% off travel—hoooly! The only thing that's left to do is dig out the passport and get booking.
In need of some travel inspo? Here are eight budget-friendly getaways for when you're broke AF.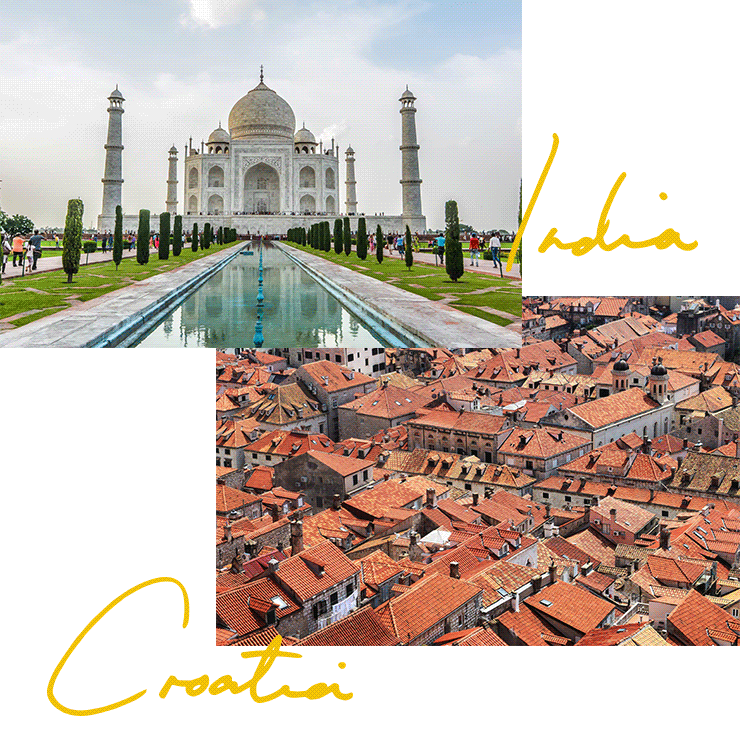 India
If you want to a) eat well and b) travel for daaays (if not months), then India is calling your name. From the beaches of Goa and temples of Gokarna to the desert of Jaisalmer and the tongue-tingling street food of Mumbai, you're totally spoilt for choice. Don't forget to bring your hiking boots to conquer the Himalayan trails in the north. Afterwards, refuel with a fragrant curry (or two) washed down with a spicy chai. Our advice? Quit your day job to make a reeeal adventure of things. If you can't be bothered with all that planning, STA's North India and the Ganges 16-day tour is for you. For a very reasonable $1,749 the tour includes a cruise on the mighty Ganges River, a stop in Delhi and an incredible Taj Mahal experience. Book here and get ready for more culture than 5,000 tubs of yoghurt.
Croatia
Contrary to popular belief: exploring Europe needn't be hard on the wallet. Allow us to introduce you to Eastern Europe and, in particular, the budget-friendly Croatia. The country is jam-packed with Roman ruins, Gothic cathedrals and bee-utiful coastlines. Save moolah by staying at hostels and eating like a local (hellooo fresh seafood and comforting goulash). You can also island hop on the cheap thanks to countless ferry services connecting you to stunning islands.
Mexico
If you've locked in leave and committed to long-haul life, then Mexico is an epic spot for a beachy, guacamole-filled getaway. Our pick is the laid-back spot of Tulum where most of the resorts are eco-friendly, the fish tacos are fresh, and the scenery is oh-so Instaworthy. And, when you're done lounging (and taken your token shot of the ancient ruins) then you can take Tulum by dark with an eclectic nightlife scene. What's better than a winter getaway? A winter getaway with guacamole, agreed? Agreed.
Indonesia
If all you're dreaming about RN is warmer weather and experiencing a new culture, then a Balinese getaway is hard to beat during winter. You can get amongst all the action in the city of Seminyak, filling your days at the beach clubs, the shops (no matter what your budget) and experiencing ALL the must-try restaurants. If Eat, Pray, Love is more your thing, then take a trip to Ubud for some Zen. If you're all about chasing the surf, grab your board and hit Uluwatu or Canggu's Echo Beach #letsgo.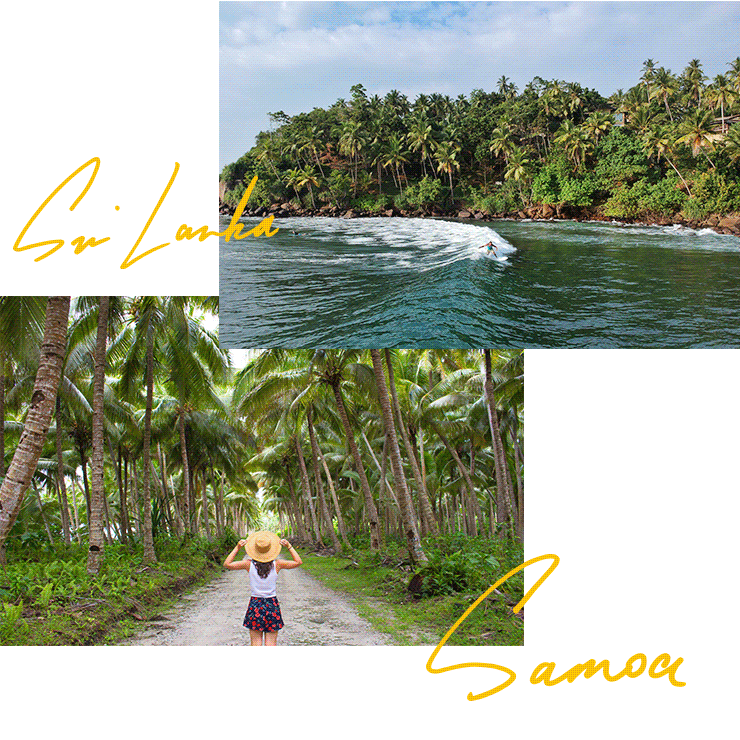 Vietnam
Do you love food, vibrant culture, food, breath-taking scenery and—you guessed it—even more food? Vietnam is the holiday for you! Work (read: eat) your way around the friendly country while you explore both bustling cities and tranquil scenery. Arrive hungry because the street food is pho-nomenal. Travel the country from top to toe (or, in this case, toe to top) with G Adventures' "Vietnam on a Shoestring" tour. The 12-day tour will take you from Ho Chi Minh to Hanoi and everywhere in between and it's currently only $799. Click here to book now!
Samoa
Sitting pretty in the South Pacific, Samoa is the perf destination for an island getaway on a budget. Our Pacific neighbour offers snorkeling (look out for turtles!), waterfalls and the famous To Sua Ocean Trench. Pro tip: save on accommodation by staying in a fale—aka a simple thatched hut. If you like your fale with a view, book Taufua Beach Fales on the stunning Lalomanu beach. Think: sandy white beaches and crystal clear waters. Bliss!
Sri Lanka
Sri Lanka is an island getaway that delivers big. Rich in culture, scenery and wildlife (did someone say leopards?), Sri Lanka was reopened to tourists again in 2009 and has since seen a huge boom in development. And it's no surprise with beaches that will take your breath away, ancient architecture and tea plantations where you can learn to brew like a pro. What's more, a bottle of beer will set you back just $2!
Thailand
Let's be honest, no list of cheap holidays would be complete without Thailand. The gem is known and loved for its Instagrammable beaches, spectacular temples and vibrant culture. The best part? You can grab dinner followed by a massage for less than 10 bucks! Explore the country's striking scenery with G Adventures' "Southern Thailand Soujourn". The eight-day tour includes hiking through the rainforest of Khao Sok National Park and the azure beaches of Koh Pha Ngan. Now just $695, sign us up.
Feelin' the wanderlust? We thought so. Book a getaway on the cheap thanks to STA Travel's May sale—there's up to 60% off! The world is calling your name.
Editor's note: This article is proudly sponsored by STA Travel and endorsed by The Urban List. Thank you for supporting the sponsors who make The Urban List possible. Click here for more information on our editorial policy.