Location mistaken, does the northern Gold Coast have venues as funky and hip as the Burleigh and Nobby Beach scene?
Well, no, it does not. While we wouldn't call it a "scene", and we won't even begin to tell you this is where all the hipsters have fled, but, there are some cool hangs uptown, and some hidden gems worth a gander if you're in the northern end of the Gold Coast.
Stretching all along the Coast, it's hip to be cool, and we've found the best hidden hang outs north of Surfers where you can leave your man bun clip-on behind, and just chill the funk out with the laid-back locals of the NGC.
Not Tonight
After a hard day's work, this trending watering hole is the go-to venue to loosen the tie, breath out the work day, and remind yourself, "I'm on the Gold Coast for the lifestyle." Fancy a boutique beer? Not Tonight have you covered, or mix it up with a cocktail while noshing on some tapas or grazing plates to share. Saturday nights and Sunday sessions are hot for dates and mates, so if hanging out among good vibes, good tunes, and super cool staff bringing the funk is what you're seeking on the northern end, this is the ultimate chill zone, right in the heart of Gold Coast's CBD. Not tonight? Well, any night will do.
Where: 50B Nerang Street, Southport

Blendlove
Blendlove has mastered the art of turning wholesome ingredients into mouth-watering, all-natural desserts. This is soul food at its finest. Take away a gorgeous gift pack of delicate raw delights, for a present, or yourself, or hang out with the divine staff over coffee, a spot of nourishing lunch, or a healthy spin on breakfast to start the day right! If this gem didn't make the northern GC's best funky café list, there would be riots from a healthy collection of NGC locals.
Where: Shop 1/253 Ferry Road, Southport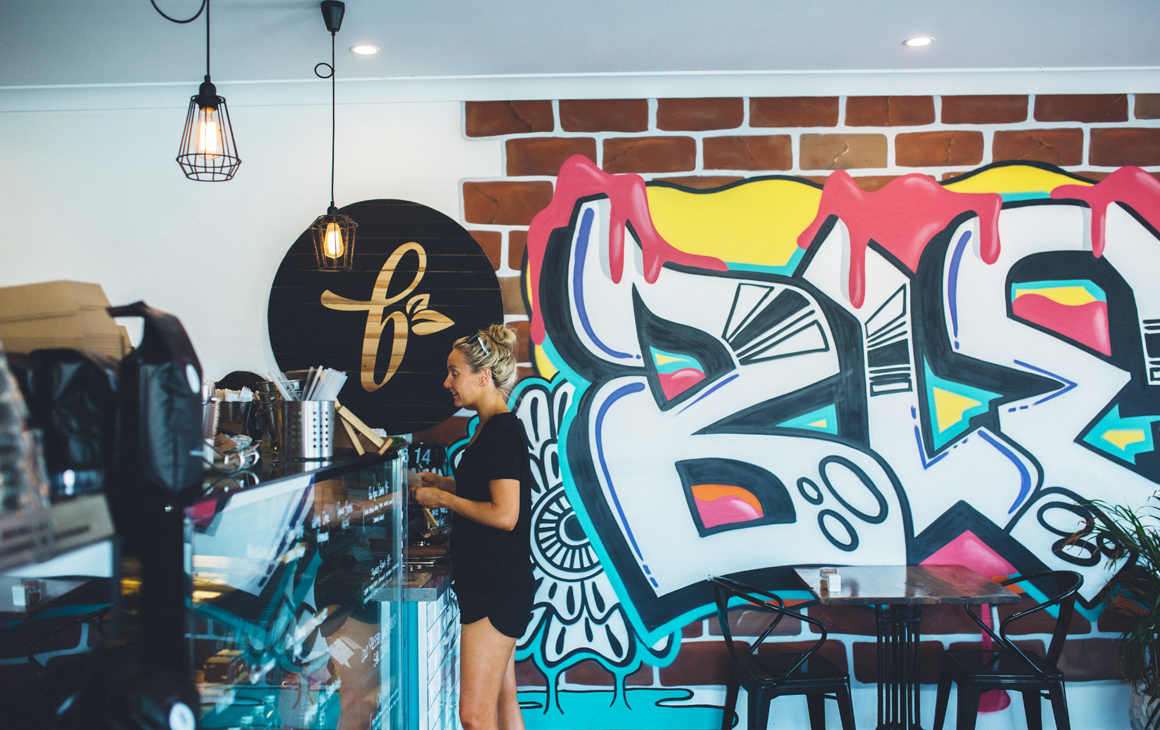 Giri Kana Café 
Giri Kana Café is health on a plate. Hidden under the H20 apartments in Southport, this café could slide right into Nobbys and have a swag of the seriously good-looking types lining out the door. Think flavoursome vegetarian and vegan fair, luscious salads, home-made veggie curries, bakes, koftas, super-green smoothies, and fresh herbs. If you skip the pre-made fair and order from the menu, the tofu burger is an absolute assault on the taste buds and their homemade raw desserts are pretty AND healthy. Find this place for an indulgent injection of goodness, and yes, the hot fitness folk like it here too, so anticipate some nice bicep perving on the side. You're welcome!
Where: 82 Marine Parade, Southport
Tonic on Chirn
Haven't heard of Chirn Park? Well, folks it's high time you hunted down this gem of a postcode. Chirn Park is lifting the bar in the northern Gold Coast. Drive along Musgrave Avenue too fast and you'll miss it, so pull over, and hunt down the sweet tapas and wine bar that is Tonic on Chirn. The setup includes crates of wine lining the walls, dim lighting, an open-plan kitchen, and a bench seat bar. Here you'll encounter, dare we say it, "professional" bar staff, the kind who know what flavours to mix before you've even asked for the drinks menu. Pair all this with an inventive tapas selection, and you have yourself a funky venue. We especially like how they tempt you mid-week, with $12 tapas plates. Mmm, Tinder-match Tuesday, anyone?
Where: Shop 1/37 Musgrave Avenue, Chirn Park
Madam Tojo Coffee Palace
Madam Tojo's will take you by surprise with its vintage flair. A little flamboyant with quirky artwork, antique finds, retro suitcases, and mismatched chairs that'll remind you of your nan's old place, the creative decor is mood lifting and will pleasure those most nostalgic comforts. Live music on Friday nights are worth checking out over a few coldies, but they are best known locally for their artistic homemade cakes, where self control can be left at the door.
Where: 23 Musgrave Avenue, Chirn Park
Daark Espresso
Okay, so one last hurrah for Chirn… We did mention that Chirn Park was representing up-and-coming urban trends on the northern GC, and Daark Espresso is no exception. Caffeine connoisseurs, bring your snubbiest of coffee friends (the brews are top notch) and chill out at the communal tables. Once you've tried one of the many blends on offer at Daark Espresso, we anticipate you'll be adding this to your list of the best cafes on the Gold Coast.
Where: 2/41 Musgrave Avenue, Chirn Park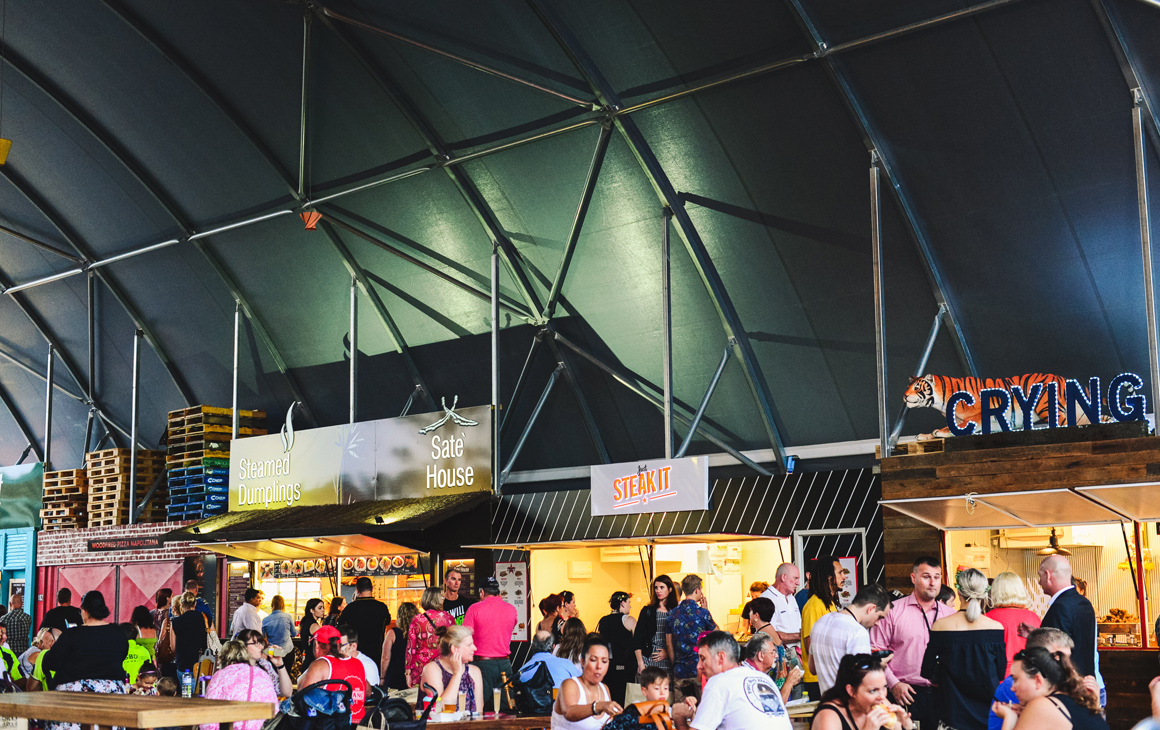 NightQuarter Night Markets
By now you may be thinking we've been banging on a lot about Helensvale's NightQuarter night markets, and that's 'cause they are seriously epic! While if coming from the south you almost need your passport to get there, the $3 entry is well worth it for the array of awesome food stalls (good luck deciding!), free live music, funky shopping, and wait, wind back, FREE LIVE MUSIC! If you haven't checked in to NightQuarter yet, you don't know what you're missing.
Where: 1 Town Centre Drive, Helensvale
Bare Food Café
A rare find in Paradise Point, Bare Food Café promises nothing but the best for your precious insides. If you're on the wave length that your body is a temple, or if you just appreciate wholesome food prepared with heart, this sweet little corner café has your name on it. Nutritious goodies on the menu include hard-to-find bone broth, guilt-free muffins, super smoothies, gorgeously crusty baked goods from Social Grains Bakery, and organic meat dishes (try the roasted organic lamb with potato hash, a red wine jus, and snow peas). Plus, if you want to balance all that healthiness with a cheeky tipple or two, Bare Food Café is licenced serving organic Mountain Goat Beer and wines by the bottle or glass. Need another reason to trek north to Paradise Point? The Village Markets pop up in the park on the last Sunday of the month.
Where: 14 Bruce Avenue, Paradise Point
Did we miss your faves among some of the best places to eat and drink in the northern Gold Coast? Let us know!
Photo Credit: Hayley Williamson and Brooke Darling for Metropolist