When it comes to why we love boutique hotels, well let us tell you. They're chic AF and in another life, so are we. Kind of. We're not going to lie, this list is basically just one big reminder that you're nowhere near as talented as an interior designer, no matter how many indoor plants you parent.
Apart from said interior perfection, these little gems also offer up a one-of-a-kind stay and service with less rooms than your major trailblazers, so you can get that 'all-about-me' experience you truly deserve.
Here are Sydney's best boutique hotels for your getaway pleasure.
Larmont Boutique Hotel
Potts Point
Because access to fitness studios, morning yoga and your pet is an absolute must when you're on vaycay (that means yes, they're pet-friendly here). The rooms here are pretty damn schmick with an in-room iPad to order allllll the room service on, and a serious vantage point to grab all the killer views Sydney has to offer.
The Hughenden
Woollhara
It's all fancy Victorian feels and pretty rooms here. Oh, and these legends also let you bring your furry friends too (which is a massive selling point for anyone with a four-legged companion of sorts). Plus the all-day menu in the restaurant means croissant French toast at 3pm is definitely on the cards.
Hotel Palisade
Millers Point
If you want to stay in a hotel with a party downstairs and a luxe AF guest room upstairs, walk right this way. Or, more specifically, walk right this way… to Hotel Palisade. This classic pub had a big fat facelift a couple of years ago and now it has multiple levels of luxe hotel rooms sandwiched between multiple levels of bars. Oh, and one of the best damn views in Sydney. 'Nuff said.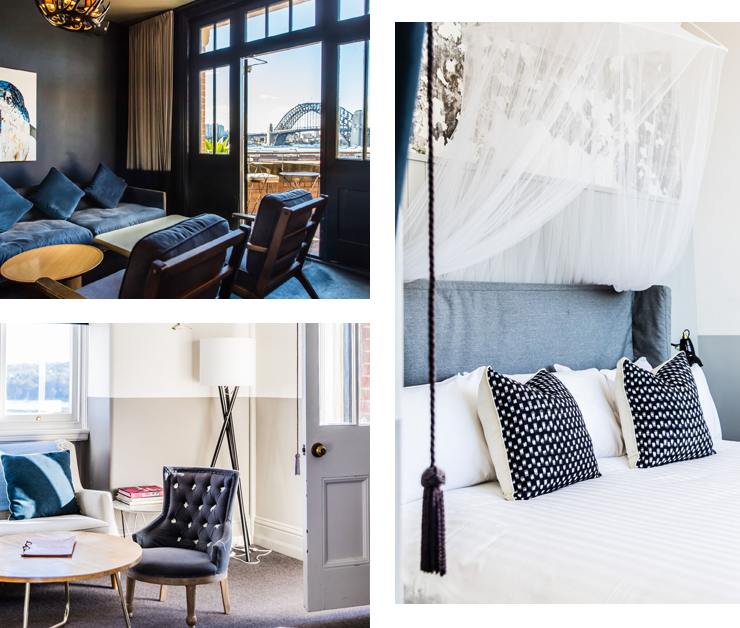 QT Bondi
Bondi
We're just going to come right out and say it—QT Bondi is the undeniable epitome of beachside luxury (because cue all the best summer bars, pubs and restaurants right at your doorstep). With 69 spacious suites and apartments, this bad boy is iconic for its eclectic design (thank Aussie designer Nic Graham for that) plus the team here will no doubt keep you in the loop of all the best events happening around town.
Medusa
Darlinghurst
For quaint and enchanting vibes, Medusa is your go-to. Located on Darlinghurst Road, you're literally walking distance from the CBD, Opera House (so a cheeky cold one at the Opera House Bar is a given) and a heap of bookshops and galleries.
Eventhouse
Cronulla
Look, we don't want to sound predictable but when there's 24-hour room service, we're sold (and don't lie, you are too). But if a lazy stay isn't your jam, you're still in the right place because whether you're keen to watch the sunrise (book the Ocean View Room for all the #skyporn ever) from your bed, or take a short lil' road trip to some of Sydney's best swimming spots (here's to you Royal National Park), Eventhouse has you covered.
The Old Clare
Chippendale
This shouldn't be new news for you. The Old Clare Hotel has really worked up a name for itself (hint: all the cool kids go here) and totally nails the inner-city hideaway. Trust us, you'll want to lounge around the epic rooftop pool and rent out their bikes for a city adventure (or tandem bike if you're feeling brave enough).
The Ovolo
Woolloomooloo
It's the location and their stellar freebies (that got your attention) and deals that everyone's harping on about when it comes to The Ovolo (and believe us, they're totally warranted). Studded on the Woolloomooloo Wharf, this luxe hotel lies in the heart of a plethora of bars and restaurants, which means you'll never go hungry (or thirsty). And heads up, they're all about those free continental breakfasts feels, WiFi, mini bars and snacks here too.
Spicers Potts Point
Potts Point
We'll be honest, Spicer Point is throwing up all the goods. Housing 20 rooms that are basically just Sydney heritage feels to a tee, this boutique baby gives you complete seclusion from the hustle of the city, and feels like your home away from home. It's total luxe and simplicity here and look, you may or may not want to extend your stay every time.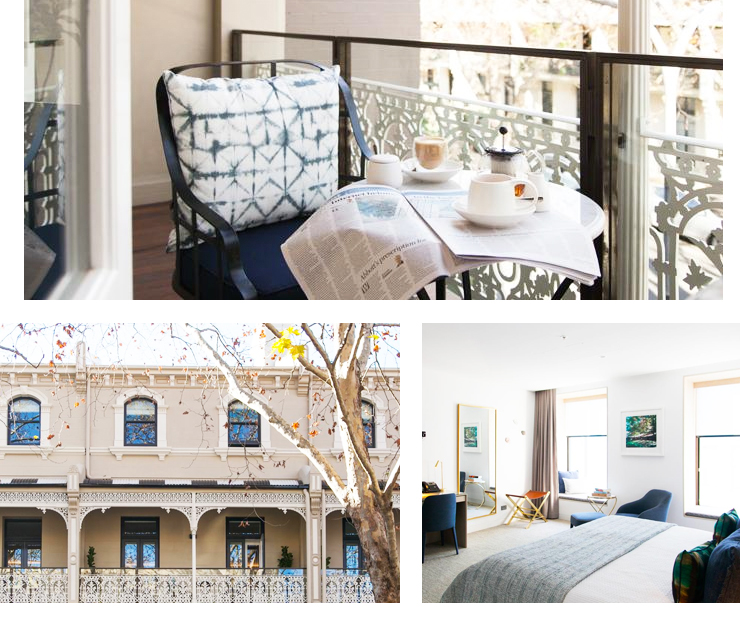 Adge Hotel
Surry Hills
Think bold, bright and an avid 'grammer's dream. From graffiti wall art and eccentric decor to hotel hairdressing (yes, you read that right) and a welcome cheese platter (because why not?), Adge Hotel is a fully-serviced dream. And if you can splash out, you should totally do the penthouse.
The Urban Newtown
Newtown
For more industrial vibes, The Urban Newtown is super close to King Street and of course, Enmore Theatre. You'll find free WiFi and minibar (no doubt one of the better combos life has to offer) stocked with local crafties.
Atura
Blacktown
There's one phrase that perfectly describes the sweet decor and design at Atura and that's funky AF (and in all the right ways). Not that we need to convince you anymore but the outdoor pool with striped brollies and palms is boasting all sorts of Miami vibes. And just to add the nosh at Roadhouse Bar & Grill are epic. Ok, we're done.
Pier One
Walsh Bay
Yep, this is about as close as you're going to get to the Harbour Bridge without actually climbing the damn thing. It's luxury vibes on the waterfront exactly how you want it and it's also home to legitimately the best #bathgoals ever (you'll know what we mean). If that's not enough, it's also pup-friendly and Gantry Bar, their in-house restaurant is home to some of the most delicious cocktails ever.
Hotel Harry
CBD
If you're all about a stay filled with culture and then some more, Hotel Harry is most definitely right up your alley. With speakeasy vibes echoed throughout all of its 20 suites, there's also free wifi, free access to the gym next door and the Brett Whiteley Studio, Carriageworks, Golden Age Cinema, and Prince Alfred Pool all within reach (just to name a few iconic places).
Heading a little further afield? This is how to spend 48 hours in Tulum.
Image credit: Hotel Palisade | Nikki To, Spicers Potts Point | Federica Portentoso