Noodles, soupies and curries galore. Get in our bellies, all of you! There's a fine art to balancing salty, sweet, spicy and fresh. But when we take a peek at the long list of Thai restaurants on the Gold Coast, a whole (coriander) bunch of them deserve our attention. Fresh and flavoursome produce topped with nutty goodness and crunchy sidekicks—be still our beating hearts! But most importantly, our insatiable cravings for noms are as happy as Buddha himself.
Pull up a stool, a bowl and a big ol' spoon. Here's our pick of the best Thai Restaurants on the Gold Coast.
Lucky Buddha
Mermaid Beach
You know what they say, the best Thai restaurants on the Gold Coast are hot spots for locals. And you'll find a whole bunch of them hidden inside the cozy Lucky Buddha. These guys have ripper lunch specials on the ready and pack their plates full to the brim (so bring that appetite of yours and don't say we didn't warn you). Best of all, they're BYO with the bottle shop just next door. Trust us, order the Crispy Skin Pork Belly, the moorish Massaman Curry or the Spicy Basil Chicken. Heck, "one of everything, please!"
Sticky Rice
Tugun
Smack bang in the heart of Tugun, Sticky Rice offers Southern Gold Coasters a refined and modern Thai menu—we're talking curries and cocktails people. Here you'll find a selection of small plates celebrating Thai culture with fresh and delicious flavours such as soft-shell crab with chili jam, salmon fillet with Penang sauce and whole Barramundi. And you can forget budget interiors of Thai eateries of the past, at Sticky Rice Thai meets tropical. Think bamboo-style seating, jungle wallpaper, hanging greenery and a thatched bar, it delivers luxe island vibes in spades and we dig it.
Greenhouse Canteen and Bar
Miami and Coolangatta
If there's anything we've learned from the gals at Greenhouse, it's that vegans know how to party. Dishing out a cleverly meat-free Thai Green Curry, we're dubbing it one of the best on the Gold Coast. Chickpeas, baked sweet potato, fresh green beans and tumeric rice scattered with spinach combine to make this one for the forks!
At Thai on Ferry
Southport
Decked out with their brand spankin' new interior, and uber cute neon sign out front, At Thai on Ferry is hands down one of the best Thai restaurants on the Gold Coast. An absolute Southport gem applauded regularly for their fresh meals and friendly staff, there's even a spot out front to bring your doggo along for a date too. Thai-rific!
Rick Shores
Burleigh Heads
Renowned for their eclectic pan-asian dishes, Rick Shores snuck a Thai crab and pork dumpling dish on their menu and the whole of the Gold Coast is going nuts for it. Settle in for a tasting feast of some seriously delicious Asian treats, and a mandatory cocktail or four. We mean, it just makes sense with that sparkling ocean view. C'mon, take some thai-m for yourself.
Chiangmai Thai
Broadbeach and Surfers Paradise
Well-known among Thai food buffs, Chiangmai is dedicated to rustling up authentic Thai food and transporting you straight to Thailand (gaudy neon glitter lights, water fountains, and all). Opening on the Gold Coast in 1993, these guys have been a favourite ever since. And now we've got two of the best Thai restaurants on the Gold Coast gracing our shores—one for the Broadbeach peeps and another for Surfers. It's a Thai!
Siam Orchid
Burleigh
An oldie but a serious goodie we just love the traditional and delicious Thai food at Siam Orchid. Housed in a large Queenslander home on the Gold Coast Highway, this eatery has been serving up moreish Pad Thai for years. You know what they say, if it ain't broke! They also cater to vegans, offering up delights like vegan noodles with chilli and basil and vegan chicken mince chilli and basil stir-fry with a vegan fried egg. Nice one guys. Oh and did we mention they're BYO…yea we'll see you there.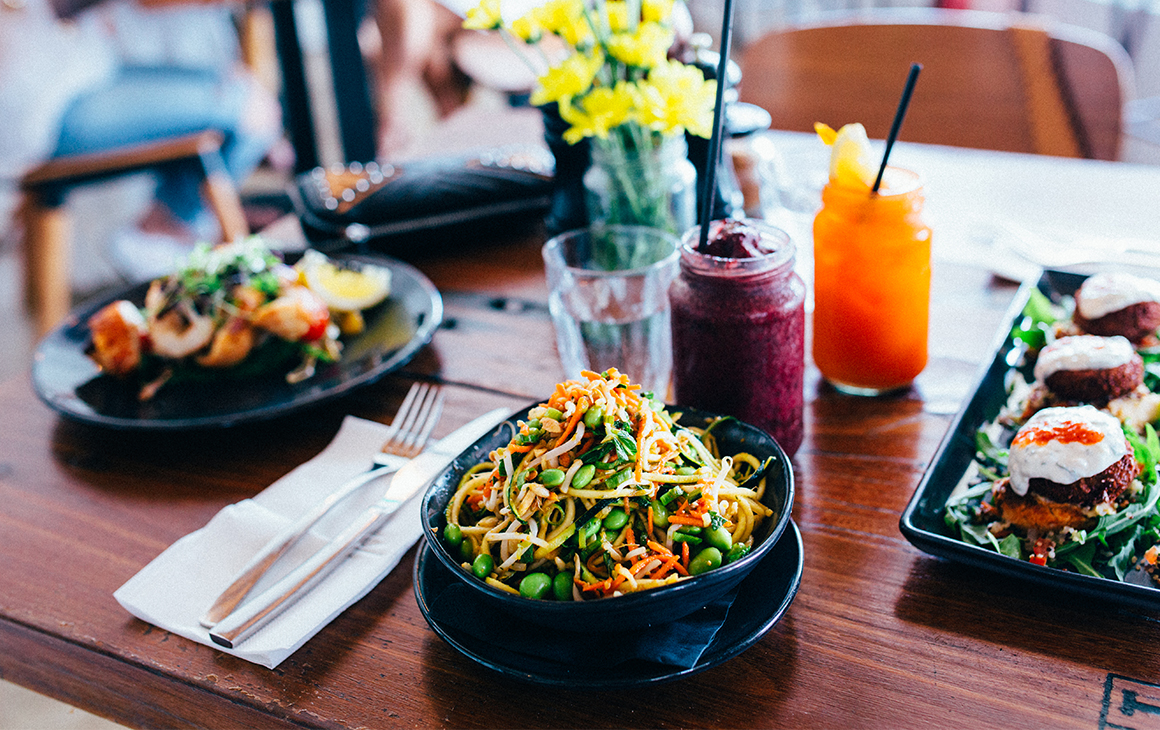 BSKT
Nobby Beach
Spinning a modern twist on Thai food, BSKT offer a vegan Pad Thai dish ready to satisfy your cravings all day long. And for the health fans among us, you'll be pleased to know this one's completely raw, letting the mind-blowing flavours of fresh ingredients and cashew nam jin sauce do the talking. Plus, zoodles take out your carb questions. Dig in!
Ready for kick ons post dinner? Check out our round up of the best rooftop bars.
Image Credit: Hayley Williamson for The Urban List