Hot damn Gold Coast, this is what we call an epic way to end the year.
The Collective, Palm Beach's stellar new dining marketplace and social hangout, has just announced their official opening, and it's soooo close we can hardly contain our excitement. Eek!
The first time we scoped out space at The Collective, only five short weeks ago, it was a massive construction site. So we pushed our imagination into overdrive to visualise the possibilities. Though, to be honest, it only took lingering where the breezy rooftop bar was being erected to know bloody good things were heading our way.
Well folks, we've just returned from our official sneak peek where the kitchens were fired up, the smiling chefs were there to say hello and tempt us with their finest street food, twinkle lights were being strung, lounges and potted plants were waiting to be positioned, retractable roofs were ready for installation, and finishing touches were being made to two massive bars. Sure there's still some work to do, but they've set themselves a deadline and you won't need to wait much longer!
They've officially announced opening day will be Boxing Day, from noon. That's on Monday! Yep, Christmas 2016 just keeps on giving, so you'd better be leaving some energy and stomach space, 'cause the silly season is not over yet!
If you missed out on our overly-excited speech last month—you can read all about it here.
Erin and Lucas from Easy Street Diner are ecstatic to bring their proper American burgers to the southern end of the Coast, with Luckies Diner serving all your faves like the Royale with cheese, loaded fries, pork belly nuggets, plus some intriguing new additions in the works. Jorge from Kirra's Bread + Butter has found a new permanent home for his wood-fired pizzas and antipasti operating as the The Italian Job. And the sweet Brodie from Two Seasons has returned to his market roots with a rustic coffee cart serving smooth brews, smoothies, and slices.
Today we were treated to a sample of tasty and top-value dishes from a handful of vendors. And let's just be clear, these are no pop-up market stalls, they're full-service kitchens serving dishes the same quality level as you'd expect from any well-established restaurant.
Vincent's new baby Umami (previously from Mamasan) gushed as he introduced his refined Asian street eats of Kung Pow Chicken, XO Beef Stir fry, and speciality Cereal Prawns, with all sauces made in house and dishes perfect for sharing among friends. Calavera served up samples of their tradition Mexican faves from spicy chorizo balls topped with jalapeno cremea, four-cheese stuffed sweet chilli peppers, ocean trout ceviche cooked in a lime and tequila dressing, or easy starter dishes like fresh guac, and our pick the chilli con queso dip.
The Kitchen at The Collective is the modern Australian offering of the bunch, with some seriously hearty breakfast dishes including pulled pork eggs benedict and Insta-worthy hot cakes topped with rhubarb and summer fruits. Breakfast at The Collective will be served seven days a week (officially starting on Tuesday, December 27). Add to that, home deliveries (by bike!) from each kitchen will start soon after opening.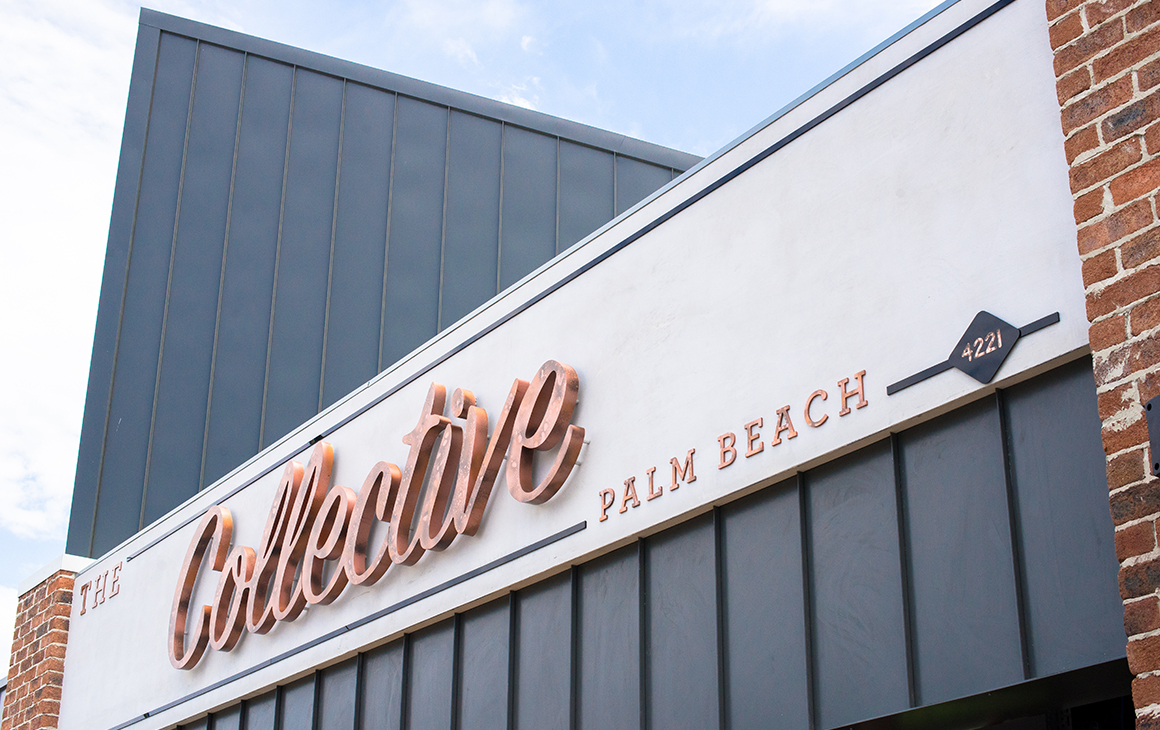 What makes The Collective different from the super casual night markets around town are options to either grab and go then eat at communal tables, or take a seat and be waited on for a small but super reasonable fee. There will be lounging areas, greenery galore, live entertainment most weekends, and plenty of space to socialise with a like-minded crew. We can't bloody wait to have that first drink on the rooftop bar—this place is going to be heaving on balmy summer weekends.
If you haven't made plans for New Year's Eve just yet, we reckon The Collective is going to be throwing one of the hippest parties in town. Palm Beach sure knows how to pull some cool cats these days, so round up your squad and grab tickets. For $120 per head you'll get a four-hour drinks package (8pm to midnight), canapés from all five kitchens, DJs and live musos, and general good times. Be sure to dress up folks, it's New Year's!
In the meantime, we're going to let the pictures do the talking. And just know that there's plenty more to discover for yourself. F*ck 2016 is ending with a BANG!
Where: 1128 Gold Coast Highway, Palm Beach
Opening Day: Noon on Monday, December 26
Hours: Seven days, breakfast from 7am; all venues open noon to 9pm.
Photo Credit: Brooke Darling for Metropolist