And the answer, folks, is a resounding… abso-freakin-lutely!
QT Gold Coast is sassy, youthful, and one of a kind. So cool in fact, many others have tried to emulate. And given imitation is the sincerest form of flattery, if funk, fun, and not taking itself too seriously is your idea of a fab holiday destination hotel, you're simply going to love this 1950s-inspired beach club.
First impressions always matter, and QT has that seriously dialled. Whether it's the vintage panel van with longboards strapped to the roof that's parked in the drive, the retro outfits worn by the friendly concierge staff, the complimentary iced tea and homemade lemonade station, or the sunny courtyard and pool that beckons through the foyer's massive windows. Hurry up and check me in already, the swim-up pool bar is calling my nameeeeee!
During a recent weekend staycation, Metropolist was treated to a massive one-bedroom king suite on the 12th floor, affording the most weak-at-the-knees view come morning as the sun beamed off the mirror-like Pacific Ocean. Did we mention it took our breath away? Yep, clichés aside, it was epic, as was the mini bar stocked with all manner of never-seen-before treats and the personal make-it-yourself lemonade stand. QT Gold Coast's zesty splash of colour carried through to the rooms, with vibrant lamps, throw cushions, and a massive black and white-tiled bathroom with views to the beach—instantly seducing us into a holiday mood.
Need extra help being seduced? SpaQ is a breath of fresh air in spa circles, where the thermal massage using red pepper and essential oils gave us a warming AND cooling sensation. Combined with plenty of deep penetration (like what we did there?), it blissfully melted away those tense end-of-working-week muscles.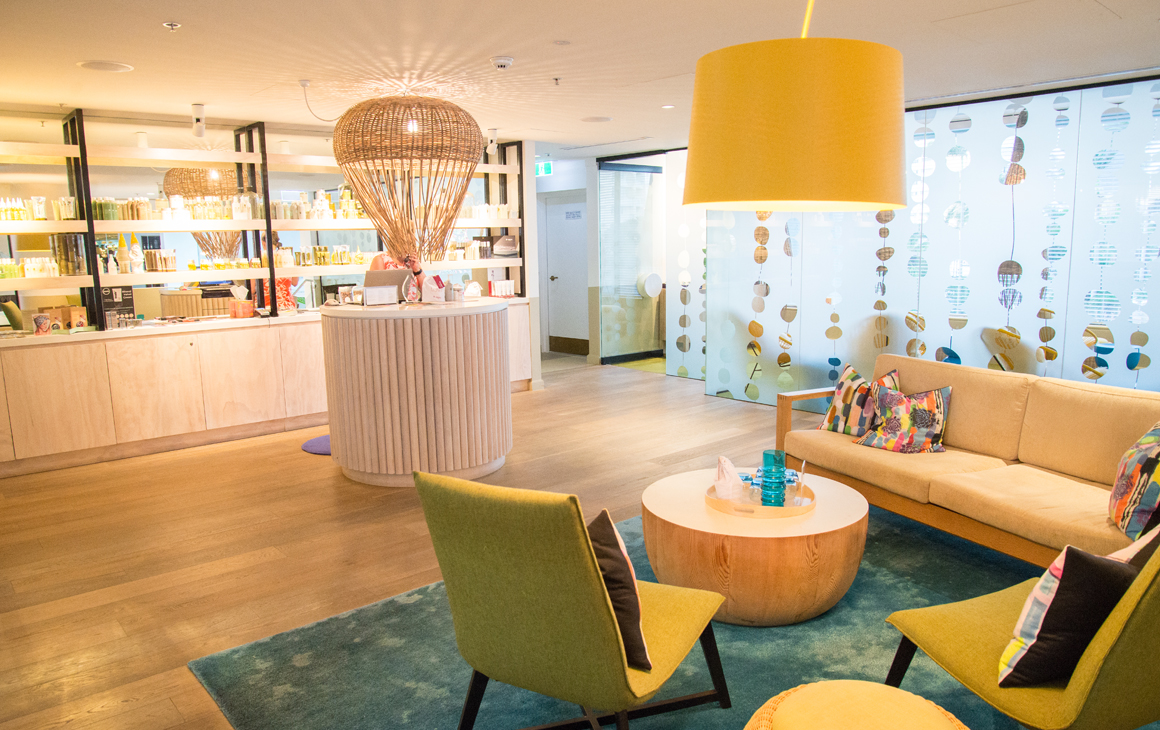 Located just a block back from the squeaky soft sand of Surfers Paradise Beach and with the GC's shiny new light rail pulling up at the end of the street (hello shopping trips to Pac Fair!), the boutique hotel is close but far enough away (a leisurely 10-minute walk) from Cavill Avenue and the throbbing nightlife scene that the northern end of the Gold Coast is famous for.
These days, the glitter strip is racking up a pretty sweet collection of eateries and watering holes but, conveniently, one of the best bars in Surfers Paradise is none other than QT's legendary Stingray Lounge. By day, the lounge is a quiet alcove to get cosy with your coffee while thumbing through your social feed (or going old-school and reading the paper). By night, Stingray morphs into a Cali slash Mexican-inspired cocktail bar, loved for its Taco Tuesdays and Thursday Tequila Appreciation Night (with an impressive 50 tequilas behind the bar). So you can order those extra margaritas with ease, knowing your comfy-as-a-cloud bed is only an elevator ride away.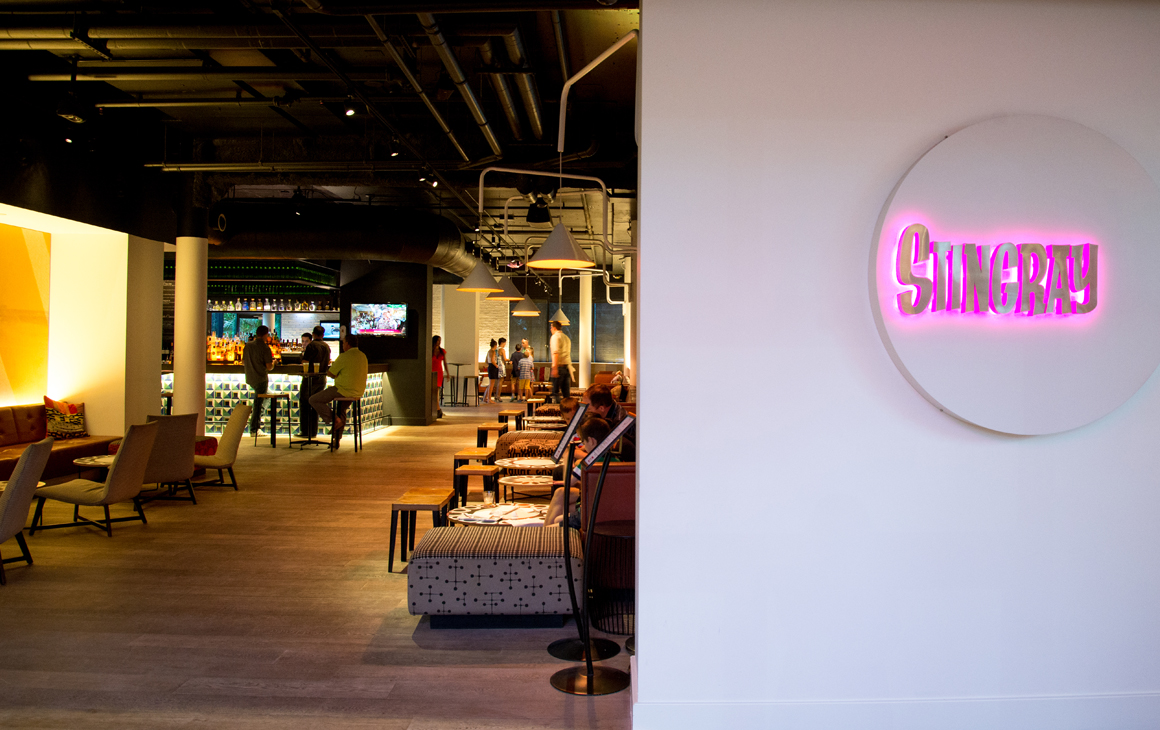 Want to sleep in? We don't blame you. Though once you've lusted over those wickedly delicious ocean vistas, and checked the real estate longing to wake up to that view forever, you've got a few choices. Beach walk? Bike ride on a complimentary cruiser? Leisurely long QTea in Fixx Café? (The hotel's quirky take on the classic high tea is ridic!) Or, like us, opt for what any food-loving crazy would do, and be gluttonous.
Having ourselves been subject to many sub-par hotel breakfast buffets through years of work travel, QT Gold Coast's generously succulent "interactive kitchen" (this ain't no buffet, they'll have you know!) otherwise known as Bazaar, is up there with the best. 'Cause an eat-yourself-silly breakfast is only a once in a blue moon kinda deal, start savoury at the antipasto station with cured meats, cheeses, and house semi-dried fruits; go nuts at the omelette station; dive into oodles of strudels and pastries (plus a few cheeky ones for later); head for the waffles, sugary doughnuts, and pancakes; bottomless fresh-pressed juices; or don't be afraid to pile your plate high with sweet corn fritters, hash browns, sautéed mushies, bacon, and house-made tomato relish. Drool.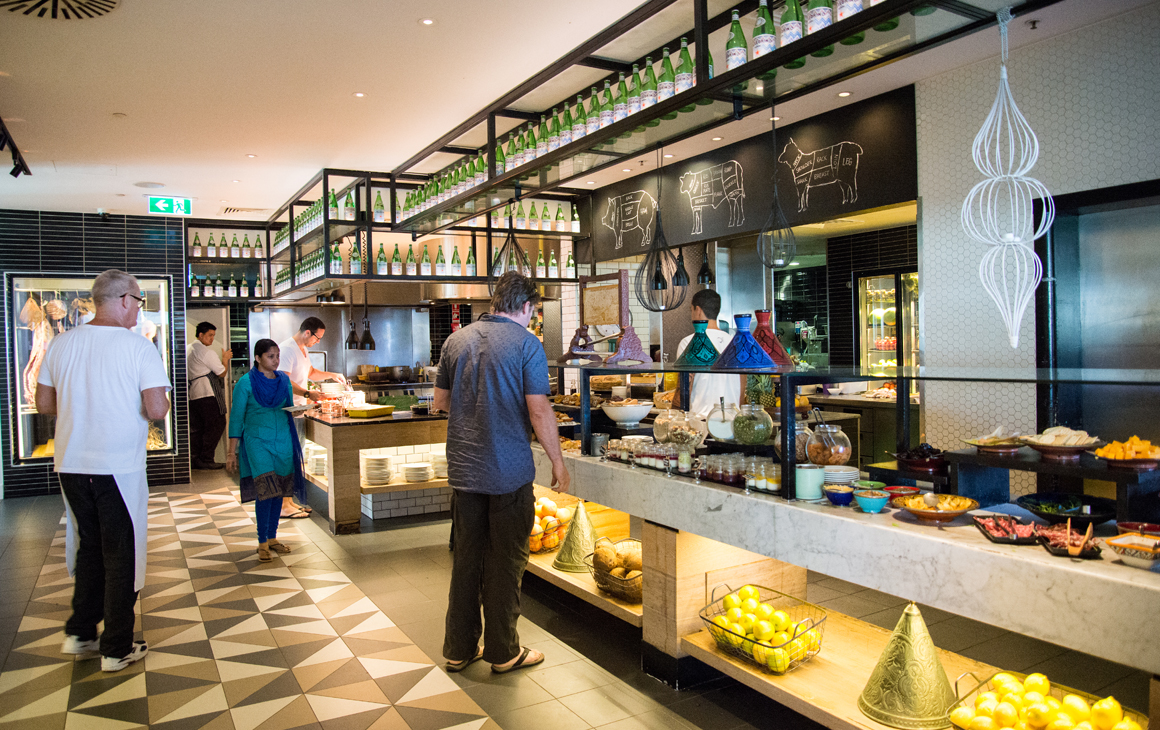 Did we mention Bazaar is also open nightly for dinner, plus lunch on Sundays? With rotating roasts, seafood galore, cooked-to-order steaks, wood-fired pizzas, an Asian station, and a dessert selection like you've never seen before—stretchy pants are essential. For us, that'll have to wait for a return visit because, yes oh yes, we will be back!
Regardless if you're flying from interstate or spoiling your lover to a staycation, after a few nights lounging around at QT Gold Coast, never again will you be content paying through the nose for a non-memorable hotel stay. You have been warned.
Where: 7 Staghorn Avenue, Surfers Paradise
Photo Credit: Brooke Darling for Metropolist

The writer was a guest of QT Gold Coast.