Let's be honest, no one vibes Monday the way they do any other day of the week. It's pretty much the black sheep of the weekdays and if you survive it, you're sure as hell not looking forward to it coming around again.
With this much distain, it's sort of obvious why Monday night isn't everyone's first choice for a dinner date and why it can sometimes be hard to find anywhere on the Gold Coast that's open. Well, we just happen to be Monday lovers and we're making it darn easy for you to find the perfect spot to eat your face off and start loving Mondays again too!
Hellenika
Your Greek feast awaits you at Hellenika. Surely one of their Greek-infused banquets is going to lift the mood on this Monday, and make it feel like it's at least a Friday arvo (maybe). Oh, and they're currently working on adding a rooftop bar—it's the restaurant that just keeps on giving. Opa!
Glenelg Public House
If you're craving steak but still stingin' from the weekend to actually cook something half-decent yourself, then head over to the steak experts at Glenelg Public House who have a steak-focused menu that's all about fresh produce and even offers gluten-free, vegetarian and pescatarian options. Tap into their top value two-course Sunset Menu between 5pm and 6:30pm and make life even better. Hands down one of the best restaurants on the Gold Coast open on a Monday.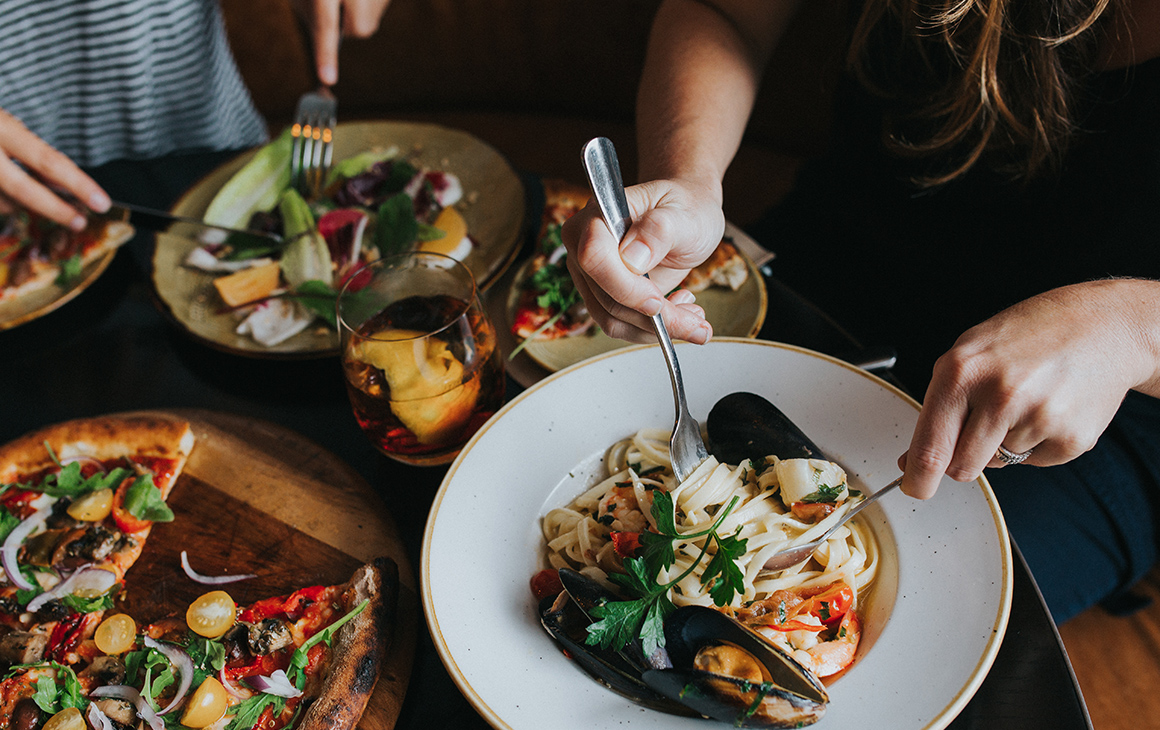 The Kitchens
If you can't decide what your tastebuds are searching for, then head to The Kitchens in Robina Town Centre. Everything in here is frigin' awesome, from the decor, the people and, of course, the food selections; imagine a luxury food court with 20+ restaurants to choose from? Actually, don't imagine, just go yourself and witness the magic with your own eyes. From Greek souvas to Teppanyaki, Venezuelan, Italian, Middle Eastern, South East Asian, and American, to vegan and even an espresso martini bar, you wanna lock in the rest of the week too, to work your way through everything else.
Etsu
Let's not waste a moment here; we'd start with Etsu's spicy edamame beans, follow with agedashi tofu, wait, maybe the haloumi, okay make it both. Ummm, the soft-shell crab, aburi salmon, kushiyaki skewers and a few Asahi coldies to wash it down with… Monday = sorted.
Miss Margarita
No one loves Mondays more than the Miss Margarita Monday Club! When Margi Mondays is an actual thing, well, you have our undivided attention. If you were looking for a new social club then why not join this one and enjoy two tacos plus a margi for $20 or a burrito and Sol also for an easy $20. Taco-about awesome.
The Collective
You can't go wrong at The Collective. Food options coming at you from every direction, which we feel is perfect when you have those indecisive Monday feels after an overactive weekend. No matter the choice, between Luckies Diner, The Kitchen, Calavera, Umami, and The Italian Job, your taste buds aren't going to be let down!
Balboa Italian
Hmmm carbs… Italian carbs. You know what? Italian is always a good idea and with a cool breeze sweeping its way over the Gold Coast, what better way to heat up a Monday night than getting stuck into Balboa's steaming, wood-fired four formaggi pizza or a gnocchi al pesto paired with a smooth vino. If that doesn't have you looking forward to Monday again, we don't know what will.
Jimmy Wah's
Lock in a table after 5:30pm with some of your pals, bring your chopstick skills, and get ready to smash some delicious, modern Vietnamese food. There's a sharing is caring vibe at Jimmy Wah's and if you're not sure what to order, ask the chef who will hook you up with their "Feed Me" seven-course option for $59. Easy done.
Cucina Mia
Yes, more Italian and quite possibly some of the best in the land. If you're settled somewhere close to the hinterland, then you must make time and get down to this local gem. Holy pasta, this place just knows. You can make your way through any of their traditional Italian dishes or even do a quick swing by and grab takeaway. Doors to Cucina Mia open from 5pm—yep, even on a Monday!
Mamasan
Looking for one of the best restaurants on the Gold Coast open on a Monday? Look no further than Mamasan. We're damn lucky on the GC, with so many Asian selections to choose from, and Mamasan always takes the cake for insanely delicious Asian fusion cuisine. Your traditional mix of favourites such as bao, sashimi and fried rice are all on the menu, with many modern creations at the ready, too. Grab a seat and some saké anytime from 12pm 'til late.
Easy Street Diner
You can't go wrong after 5pm on a Monday, with a classic American burger and fries from Mermaid's much-loved Easy Street Diner. If you're looking to keep it pretty casual after a long, hard day in the corporate world, or just because you don't like wearing any other footwear than your faithful Havis, then this is the spot for your Monday evening wind down.
Bin 72
Bin 72 is the perfect posi for a little Monday nosh and splosh on the southern end of the Coast. They've got a solid mix on their share plate food menu, with tastes from all over the world but, more importantly, they know a good drop and can match it perfectly to your dish. Your tastebuds stay happy and those Monday blues melt away, while you stare longingly out at another dreamy evening along the Coolangatta beachfront.
Justin Lane
When we found out Justin Lane was a Monday opener, our foodie love for the place rocketed even higher. Go treat yo'self this Monday with a cocktail, wood-fired pizza or an entire banquet to yourself, no judgement from us, because we would totally do it ourselves.
Bonita Bonita
Any place that has guacamole on tap from 5pm on a Monday has got to be a winner. Bonita Bonita kindly open their doors so you can forget about your Monday worries in a litre of sangria, guacamole, tostadas, burritos, and tacos; gosh, you name it they're going to be delivering it straight to your plate. Olé!
Photo Credit: Hayley Williamson for Metropolist