Spring has sprung and wedding season is officially upon us, so you know what that means—hen's parties!
Before she walks graciously down the aisle, chances are your bride-to-be won't want to be caught dead in a tight white dress and half keeled over on an Orchid Avenue sidewalk (with photos plastered all over the net as proof).
With that in mind, we've rounded up eight of the Gold Coast's best non-tacky hen's party ideas to give her bachelorette status the send off it deserves!
Gold Coast Brewery Or Hinterland Winery Tour
Depending on your bride-to-be's fondness for grapes or hops (and majority of your party's liquid preference for that matter), book your girlie group on a privately guided excursion of Gold Coast's epic new breweries or classic hinterland wineries. Key point here: you've also got yourself an obliging designated driver! For beer-lovers, Hop On Brewery Tours or Crafted Coast can sort you out with visits to Balter (hello hot surfers), Black Hops, Burleigh Brewing, Stone & Wood, and other craft beer bars, depending on your tour day of choice. Or, for a more refined afternoon without the influence of outsiders, Mount Tamborine Wine Tasting Tours will collect you from a local address and whisk you up to visit three or four hinterland wineries, a distillery, lunch, and mandatory cheese tasting. Hint: if you have a handful of eligible singles in your crew, the eye candy to be found loitering around Gold Coast breweries will be worth the beer bloat, promise.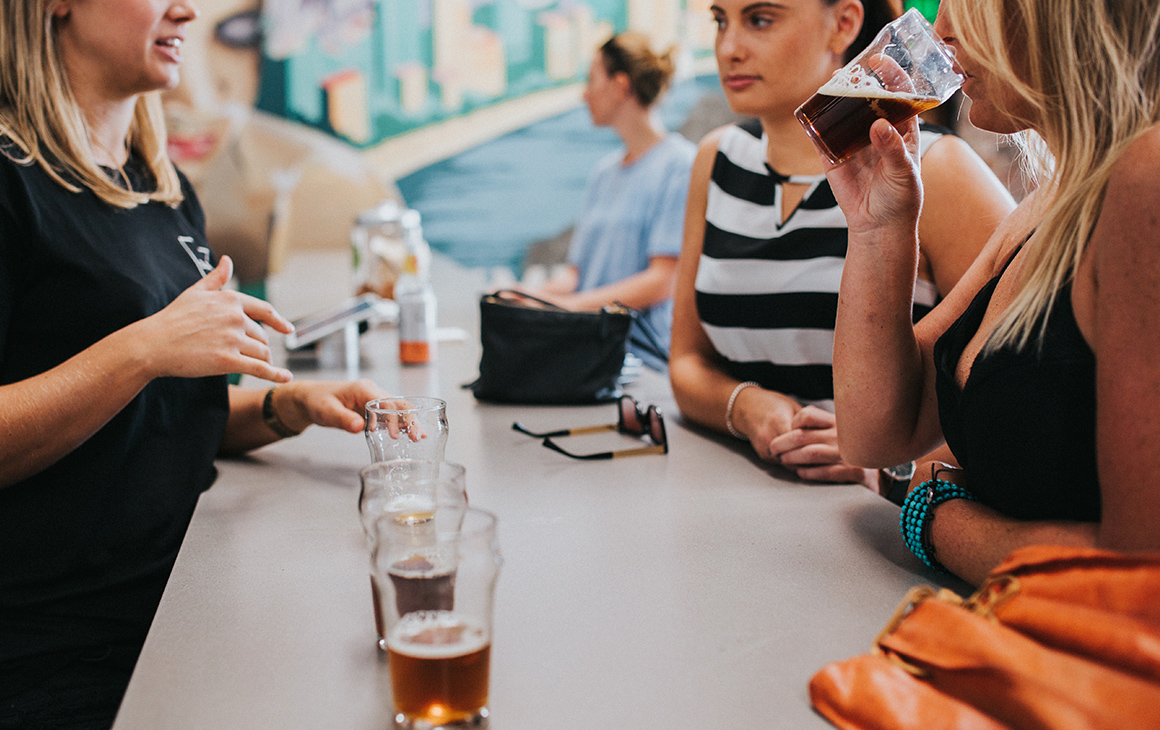 Rent A Holiday Home
Now, let's get this straight, holiday rentals on and around the Gold Coast are not party houses. Trust us, we've recently endured this experience and the introductory email guilt. So, first and foremost, there will be NO strippers, and if you squawk like seagulls after three too many bottles of bubbly, it's very likely you'll piss off the neighbours and get yourself evicted. All that aside, if you know how to act like ladies, there's simply no sweeter option for some serious quality time and oodles of girlie chats, hair braiding, pillow fights whatever tickles your fancy, than an intimate weekend shacked up together in a big house. By splitting the cost of accom, not only will you save money with BYO food and drinks, but you'll also make a whole weekend out of it, rather than just one boozy night on the town that your bride likely won't remember. Airbnb is always a good place to start—go local, or search within driving distance to the hinterland, Sunny Coast, or northern NSW.
Private Crafting Classes
There's no hiding that we adore the magical land of creativity and sharing that is The Craft Parlour. Apart from a gorgeous rotating roster of crafty classes for individuals, they welcome private group bookings and particularly love hosting hen's parties (both on and offsite)! Accommodating group sizes up to 20, book your hen and gal pals in to learn the art of macramé, flower crowns, ceramics, hand lettering, loom weaving, or you can even make a boho leather bag. Add to the festivities with BYO champers and nibbles, or catering options are also available. It's a sweet option if you've got a group of mixed ages too, and your hen's wedding guests will walk away with a nifty made-it-myself piece and, who knows, potentially a new hobby!
Gold Coast Foodie Tour
Eating, drinking, and hen's par-tays go hand in glove, but if sitting down to a civilised meal at a restaurant might not spell excitement-plus, that's where Gold Coast Food and Wine Tours comes in. On your private afternoon walking tour of either Burleigh or Broadbeach, you'll snack on delish eats and treats from up to six different cafes and restaurants; sip on vino and bubbles at each location; plus meet the chefs, producers, and mixologists for some cool behind the scene insights. Hosting group sizes from 10 to 20, tours take around 4 hours at a cost of just $89 per head. Here's betting you'll visit a few spots that you never knew existed. Sounds like fun, eh?
Petal Sister's Escape Luxe Girlie Weekend
We'll happily adopt Byron at any opportunity, and this luxe girlie retreat sounds simply magical! The Petal Sisters is a custom-packaged hen's weekend with a difference by professional stylists and event planners, Luna and Lace. It's not cheap at $440 per person (quote based on eight peeps), though the package includes two nights stay at the lust-worthy Byron Luxury Beach Houses, plus private yoga and mediation sessions, a tear-jerking sacred circle, flower crown making sessions, hen's games, use of polaroid camera, decorations, plenty of beautiful bonding time, and gracious hosts from Luna and Lace to ensure you barely need to lift a finger. All this within a stone's throw of Belongil Beach and a short skip to the heart of Byron Bay.
Flower Crown Workshop
For a bunch of dreamy selfies with your bride-to-be and her beautiful entourage, you'll want to be adorned with blooming flower crowns. We suggest looking up Crown of Eden, the thriving side project of florist, Eden the Flower Shop. You provide the venue, table set-up, cheese boards, and vino (here's your op to bring those Pinterest boards to life, gals!), and the ladies from Crown of Eden will come to you with all the blooms and equipment essential to host a whimsical flower crown-making workshops for your guests.
Private Charter A Luxury Yacht
Okay, so we didn't say this was a list filled with budget options… But this is certainly a memorable one that'll ensure you've got a bucket load of dreamy sunset-lit selfies on said yacht giving you new Facebook profile options for months to follow. A private three hour charter with fabulous new operator Crystal Blue Yacht Charters is our idea of a seriously cool hen's afternoon. With space for as many as 60 guests (though if you want room to sun lounge or boogie, we reckon you'll want to halve that), they can even organise a surprise stowaway to board when your hen least expects it. Prices start from $80 per head for 30 to 60 guests, next add a food and drinks package or BYO, then cruise the Broadwater, stop off at waterfront bars, and laze about on a multi-million dollar power yacht like it ain't no thing.
Life Drawing
So, it's not the nudity you're opposed to, per se… just the cringe-factor of a greased-up guy standing there in budgie smugglers. You need culture, dammit! At the Artful Hen you'll stretch your drawing muscles as the male models flex their bulging ones, with a trained artist guiding you through the basics of life drawing. And of course, the champagne will be flowing…
Maybe your bestie is newly engaged and still in search of a wedding destination? Help her out with our round up of nine of the best wedding venues on the Gold Coast.
Image credit: erica.lt and Carly Brown Photography for Lune and Lace; Hayley Williamson for The Urban List