Just in case you needed more proof that our humble beachside home is growing up…
Sharp, sexy, and sophisticated are all words that pop into mind when we think of this fab new eatery. Brought to us by the same team behind GC breakfast institution, Burleigh Social, for the past few weeks the gents have been working around the clock to deliver their newest venture and we are a little, okay A LOT, excited to be shouting from the rooftops—folks, get ready 'cause Society of Florida opens THIS WEEKEND!
Quite unlike the homely backyard get-up of corrugated tin and astro turf over at their beloved Burleigh Social, this time around the guys have gone for a super refined look. Think: polished concrete floors, a sleek combo of both shiny white and stone tiles, industrial elements, and tropical splashes influenced by Miami, Florida; creating a clean and fresh space which, no surprises, they've effortlessly nailed.
Out front, and continuing with their friendly mantra, communal tables ensure sociability is both encouraged and ingrained. Shout out to their talented buddy Woody from Wooden Collective (no shit, his last name is Wood), who has lovingly suppled the venue with custom-made tables and bench tops crafted from 50-year-old reclaimed hardwood.
Plenty of love has been poured into the menu too, with a modern Australian theme that's squarely focused on locally-sourced produce and is an inventive play with ingredients and flavour combinations.
While many of their tried and true dishes from Burleigh Social will also star on the Society of Florida breakfast menu (no complaints here), the new lunch menu is littered with delish gourmet burgers—um, pork schnitzel with Swiss cheese? Yes, please! Plus, salads, a daily pasta option, and easy-to-share pizzas such as, our early fave, the roasted mushroom with feta and truffle oil.
During our cheeky sneak peek, we also tried and devoured the pork belly with fennel jam and pickled beets; some ridiculously flavoursome beef croquettes set on cauliflower puree and topped with blue cheese and beef jus; plus, the charcuterie board loaded with cured sausage sobrassada, prosciutto, and house-made ham hock terrine, among other goodies.
Yet, what we're most stoked about, and something that's very new for the team, dinner has been added to the agenda and will be served Thursdays through Sundays from 5pm 'til late. We're already planning our return visit and have our eyes on the Scotch fillet with bacon and blue cheese butter; a Barramundi dish with roast cauliflower, cauliflower puree, and delicately balanced with the sweetness of grapes; or perhaps the mushroom lasagne… Okay, pretty much everything.
Also on offer on Thursdays through Sundays, a bar snack menu (hello wings!) will bridge any cravings between 2pm and 5pm, and includes a rotating charcuterie and cheese menu which is the eternally-perfect accompaniment with post-work vinos.
Speaking of wine… after 18 months of serving coffee and non-alcoholic bevvies over at Burleigh Social, the guys are pumped to add "licensees" to their resumes. A floor to ceiling wine rack is loaded with 15 or so all-Australian bottled options. Also sliding across the bar are cocktails such as the Strawberry Fields made with refreshing cold-pressed juice mixers by Solmix, and everyone's faves—Balter and Stone & Wood on tap. They're even hinting at plans for some exciting collab brews in partnership with their mates (and Burleigh Social neighbours) from Black Hops Brewery. We tell ya, it's bloody heart-warming to witness the comradery as this flourishing network of local businesses throws support behind each other.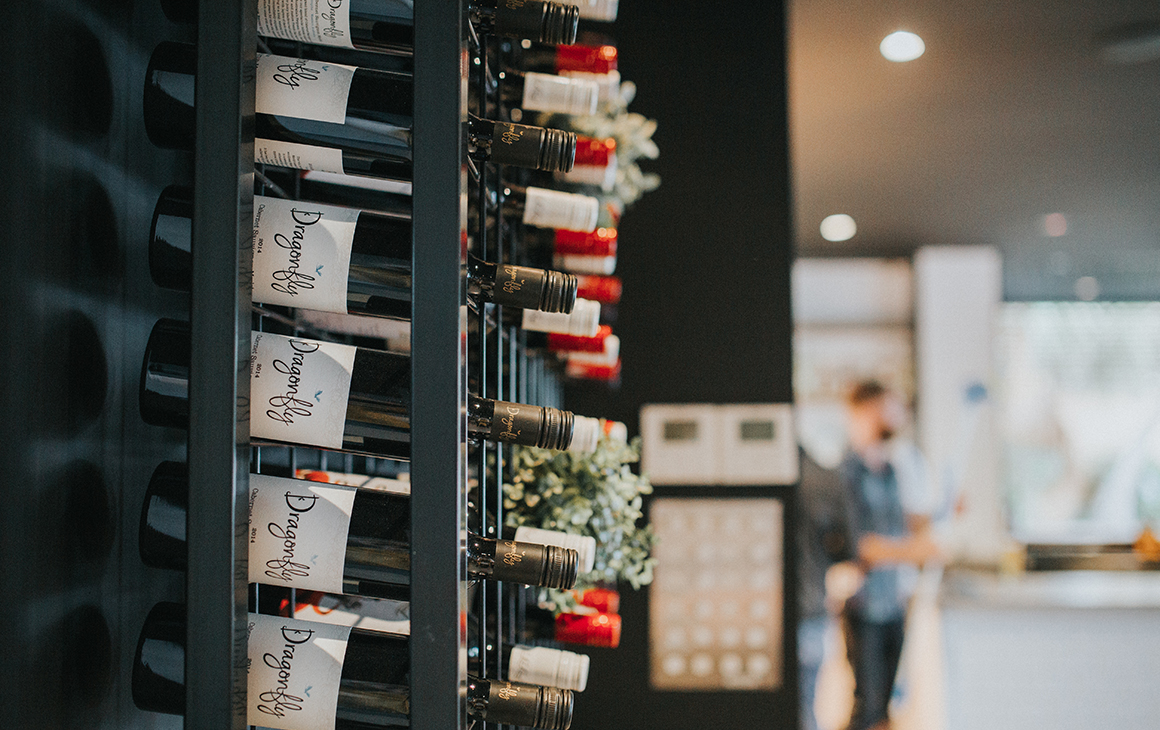 Are you sold yet?
Now, you're not going to stumble across this place by accident, that's why we're making it our mission to help the lads spread the good word. And fast! Tucked away in the 'burbs, hunting this new foodie destination down will be all part of the fun. If you need to get your bearings, Florida Gardens is one of those fancy residential "islands" in Broadbeach Waters.
But don't be concerned that their off-the-radar location might mean they'll struggle for business. Quite the contrary. Florida Garden's residents have been eagerly anticipating the launch of their soon-to-be new local, that's transformed a valuable but relatively underutilised commercial space.
We're quietly confident the immediate community will totally adore this place too, and, given Society of Florida is certain be be their new social hangout any night of the week, it's likely they'll fast become one of the tightest-knit gaggle of friendly neighbours too—if they aren't already. Plus, it's in stumbling walking distance for each and every one of them! #luckyducks
If the crew's fanatical social media following is anything to go by, we recommend you jump straight onto Insta and give Society of Florida a follow. This allows them to fill your feed with drool-worthy photos daily, until you jump in the car and track them down for yourself. Deal?
When: Open seven days from 6am (7am on Sundays); breakfast and lunch served daily 'til 2pm, Thursdays through Sundays bar snack menu 2—5pm and dinner from 5pm 'til late.
Where: 1 Naranga Avenue, Florida Gardens (Broadbeach Waters)
Photo Credit: Hayley Williamson for Metropolist