In years past, Palm Beach may not have been on the radar for a night out or Sunday brunch, but the times are a changin', with multiple noteworthy venues popping up along the sunny precinct.
So head south across the bridge from bountiful Burleigh, and spread the love at our pick of Palm Beach's best cafes, restaurants, and bars.
Barefoot Barista
Good coffee is worth the wait and the regular local crowd lining up outside is a solid indicator of the consistent quality drop served at popular Palm Beach cafe, Barefoot Barista. Hungry? The team have got you covered with a drool-worthy all-day breakfast menu featuring the likes of smoked and braised ham hock, cured ocean trout, ricotta hotcakes, or everyone's favourite–an organic acai berry bowl. What's more, the bean lovers at Barefoot Barista are so generous that they are committed to spreading their coffee-making fairy dust, sharing their expertise via regular barista workshops.
Where: Shop 5, Palm Beach Avenue, Palm Beach
Espresso Moto
A genius concept combining a love of cafe racer bike tinkering and coffee drinking, this hip Palm Beach cafe is also part bike restoration workshop. After a year of dreaming and scheming, the owners threw open Espresso Moto Cafe's doors to locals and drifters passing through, hungry for a refined and inviting space in Palmy with hearty meals and unpretentious, straight-up service (notably delivered by several finely bearded gents). In a crafty touch, menus are presented on retro license plates and bike-infused trinkets adorn the walls. Breakfast is served until close at 2pm and, if you're a serious eggs benedict connoisseur, Espresso Moto plates up one of the best bennies you'll find on the coast.
Where: Shop 2/1389 Gold Coast Highway
Feather and Docks
A project born as a mobile coffee truck keeping Gold Coast's dedicated market goers caffeinated, today a bricks and mortar establishment, Feather and Docks has quickly cemented itself as one of Palm Beach's best cafes. Palmy residents, the venue's passionate owners are proud to watch the city's cafe culture coming of age. Their lovingly brewed coffee is legendary and could confidently stand up against city slicker cafe kings in Melbourne, Sydney, and Brisbane. Grab us two Americanos while you're there, please and thank you.
Where: 1/1099 Gold Coast Highway, Palm Beach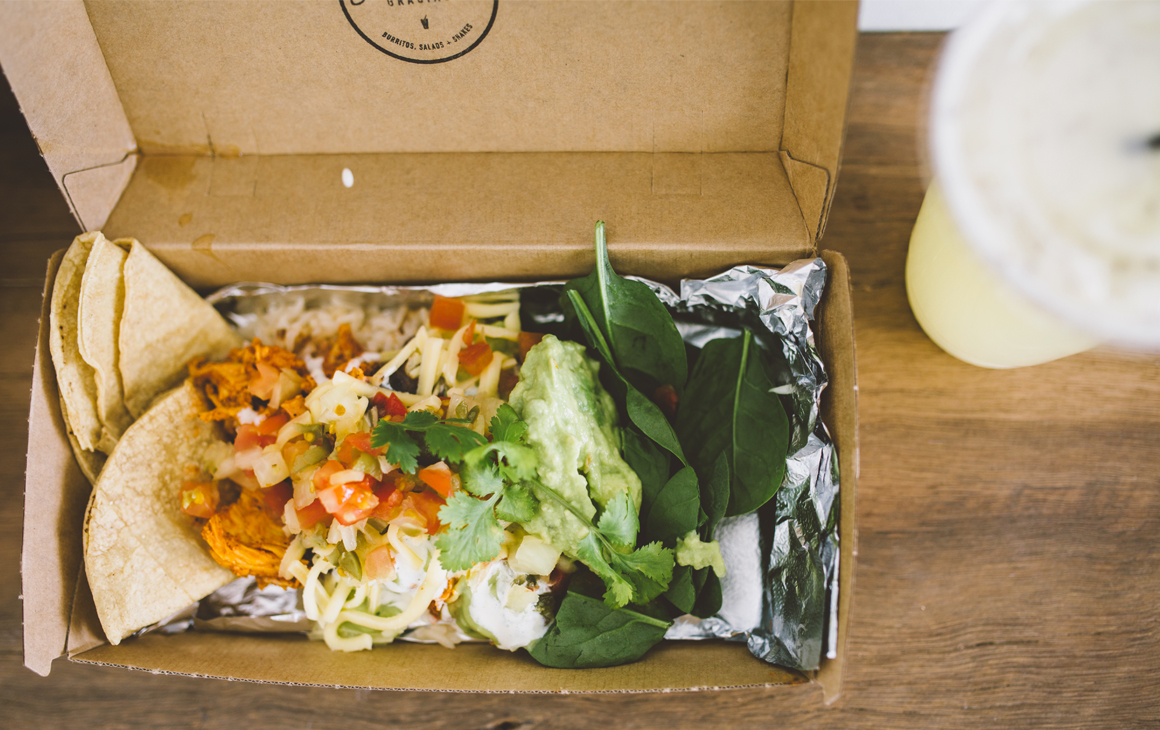 Goodness Gracias
Hola senors and senoritas! Driving down the ocean-side strip, you can't miss Palm Beach's hottest new casual eatery–whether it's the canary yellow facade or the sandy-footed patrons milling about out front. Finding a permanent home in Palmy, Goodness Gracias is a collaboration between the owners of transient market vendor, Pop Taco and interior style guru, Pacific Pillow Co. Specialising in vibrant Latin American fare and Mexican superfoods, while utilising the freshest local ingredients, skate in for menu offerings like to-die-for breakfast burritos, tacos, savoury burritos, ample vegetarian options, refreshing shakes, and muchos cervezas. In a hurry? Their revolving salad display is perfect for a healthy grab-and-go before or after hitting the surf or sun lounger.
Where: Shop 1A 1114 — 1116 Gold Coast Highway, Palm Beach
Burgster
Tucked several blocks back from the main beachfront thoroughfare, while Burgster may have only recently arrived on the scene, they are quickly establishing themselves as a contender for best burgers on the Gold Coast. These friendly kiwis hailing from across the pond know their shit and ain't dishing up any ordinary burger and chips (pronounced 'chups', bro). Beyond their classic beef and cheese burger, try a sandwich loaded with smoked brisket, pork cubano, or delish Morten Bay bug tails. Burgster's menu extends well beyond burgers too–the oysters, charcuterie, and inventive small plates are killer–washed down with a Stone and Wood off tap or any host of rotating craft beers. Swing by to admire the slick Americana tattoo-style street art, chalkboard mural sketchings, exposed brick, and industrial NYC-influenced design finishings, making for an intimate and welcoming space to devour some seriously flavoursome fare. Is this one of the best restaurants in Palm Beach? We think so!
Where: Shop 2, 4 — 10 Phillippine Parade, Palm Beach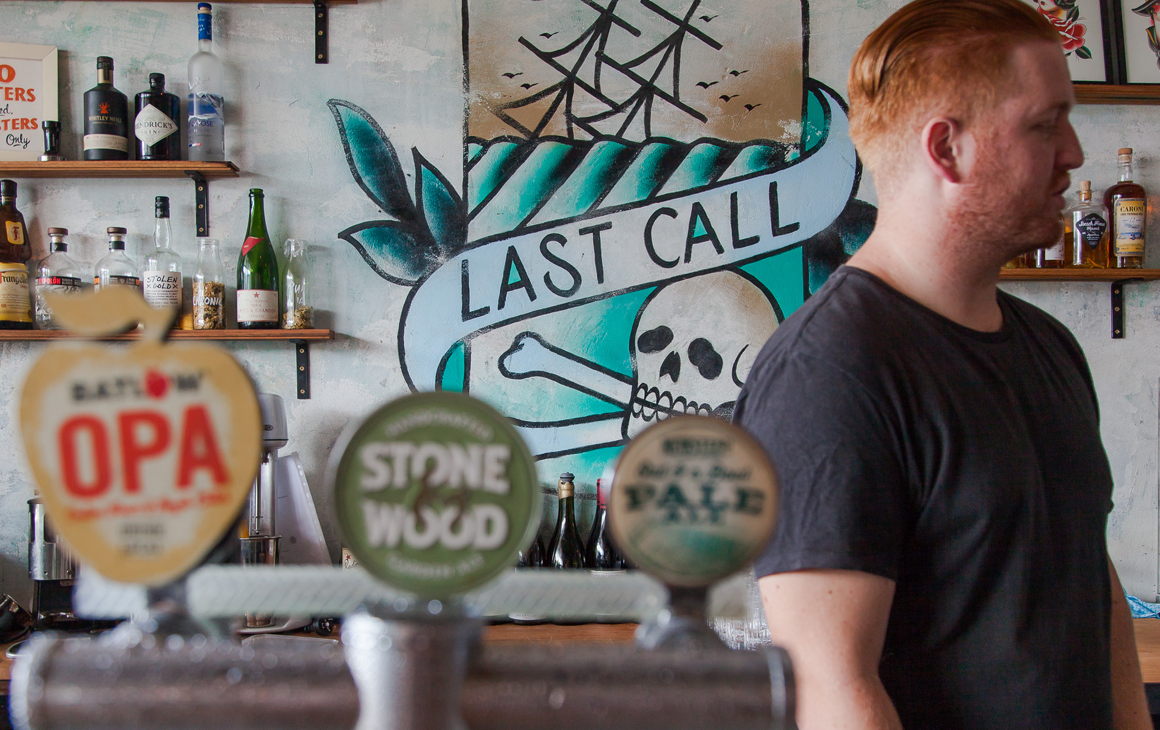 Lester and Earl
Another newcomer in 2015, Lester and Earl is leading the charge in reviving Palm Beach's dining and drinking scene. With American smoke houses making a resurgence in metro centres across the country, we're stoked to see the Goldy keeping up with the BBQ-lovin' trend. The 300-seat second floor venue packs out on weekends, so gather your mates and score a table on the wrap around deck with a sunny backdrop of stunning Palm Beach. Tuck into heaping plates of barbeque goodness including slow-cooked beef brisket, buffalo wings, burgers, grass-fed steaks and finger-licking smoked pork ribs. Don't be afraid to wear a bib and dig in until you smear sauce up your cheeks. Lester and Earl's banging western-influenced interior is decked out with rustic timber flooring, exposed rafters, vintage paraphernalia, and an impressive upcycled barrel bar. Their rotating craft beer selection is among the best you'll find on the coast and live music jam sessions will ensure you'll linger longer than originally intended. You best be ordering an Uber.
Where: 1097 Gold Coast Highway, Palm Beach
Photo Credit: Hayley Williamson and Claire Dryden for Metropolist.