Look out, Melbourne! The Gold Coast is making a serious splash when it comes to art and culture, with new murals, street art and graffiti popping up in our alleyways and backstreets.
Whether you're a lover of public art or just need a sweet background for your next Insta post, you'll want to hunt down these five spots for some of the coolest street art on the Gold Coast.
Water Walls Project
Hope Island
One of our favourite things to come from the 2018 Commonwealth Games was the amount of amazing new street art that was commissioned around the city. One of our top picks comes from talented GC local Kiel Tillman and his giant bird mural on Pendraat Parade. Anyone who can make a boring building pop the way he has deserves a place on this list.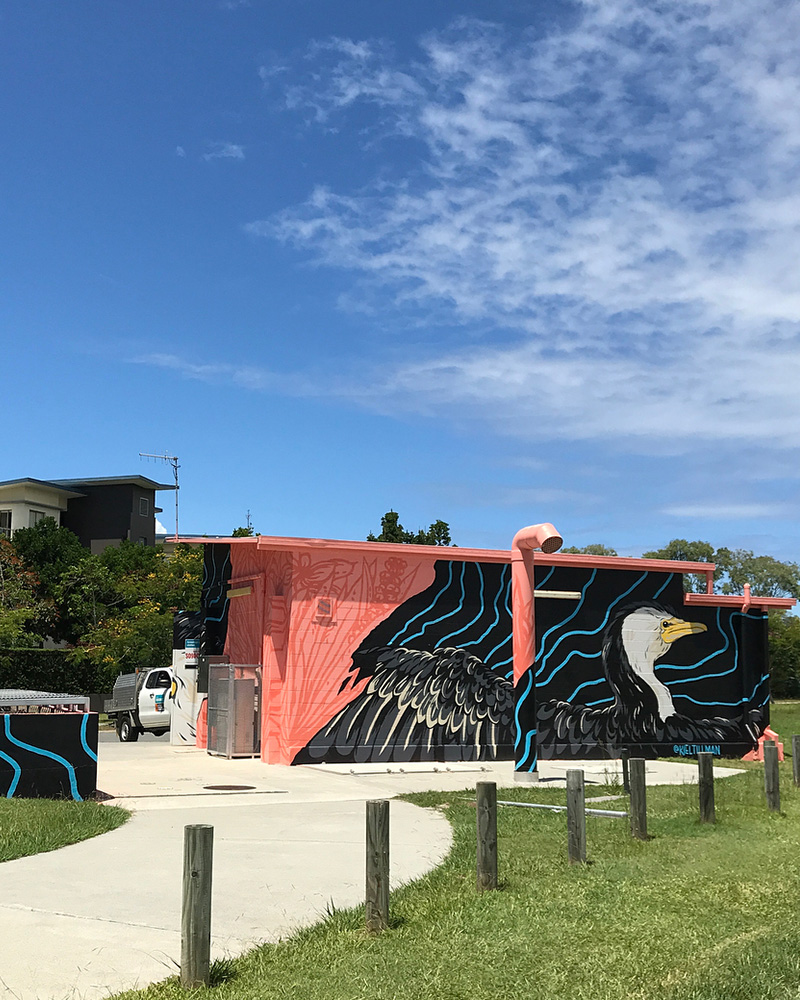 Southern Cross University
Bilinga
If you like your street art super-sized then you'll want to check out Southern Cross Uni's jaw-dropping 10-storey-high artwork. Brisbane artist Guido van Helten created the 43-metre mural, which depicts a man and woman looking back toward the campus. The stunning mural took 18 days to complete and wraps around two walls, easily making it one of our favourite pieces of street art on the Gold Coast.
Golden Walls
Various Locations
The uber-cool kids at creative agency 40/40 are passionate about street art, so much so that they launched Golden Walls. The arts-based initiative aims to connect artists and brands to produce memorable and inspiring work. You can check out their incredible work all over the Coast. Our faves include their jaw-dropping murals at the Davidson Lane and Chinatown in Southport.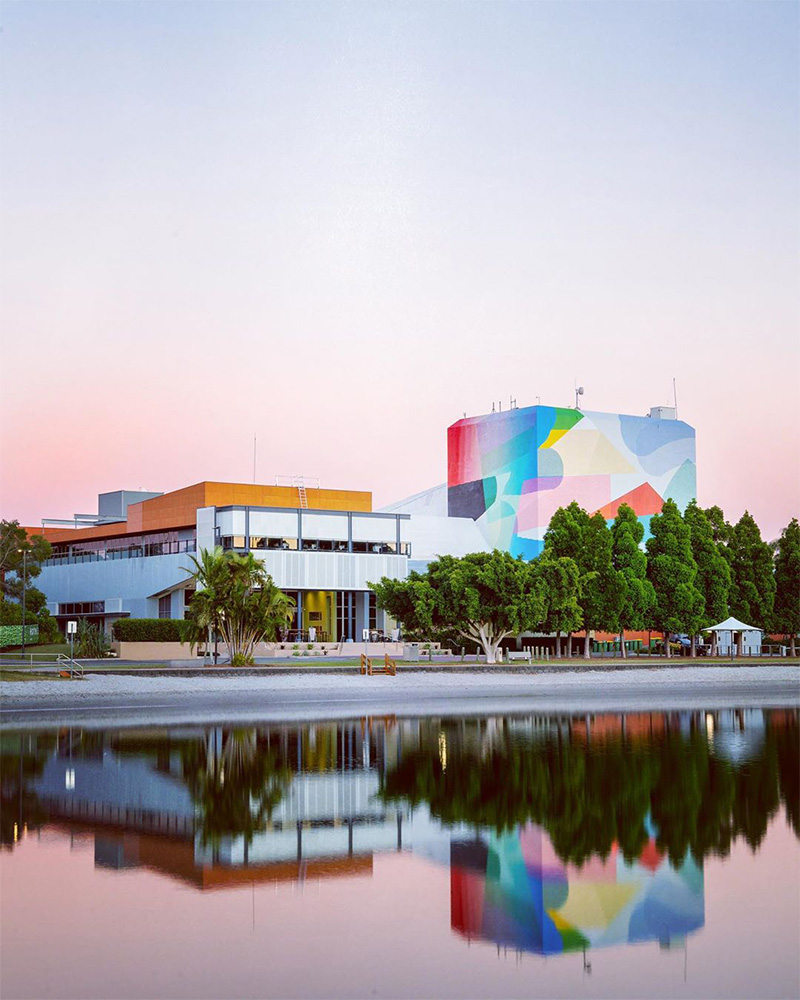 HOTA
Bundall
While the entire building of HOTA is a visual feast, be sure to pay special attention to two colourful outbuildings, created by Melbourne-based artist Mike Makatron, on your next visit. Even better, HOTA hold special creative sessions on the regular so you can grab the paintbrush and unleash your inner street artist.
Tugun Fruit Market
Tugun
Yet another piece from the uber-talented Kiel Tillman is this huge mural on Tugun's fave fruit market located on the GC Highway. The sprawling piece pays homage to the GC by featuring a range of local flora and fauna plus our contrasting landscapes from the ocean to the hinterland. It says a warm hello to visitors who touchdown at the nearby Coolangatta airport.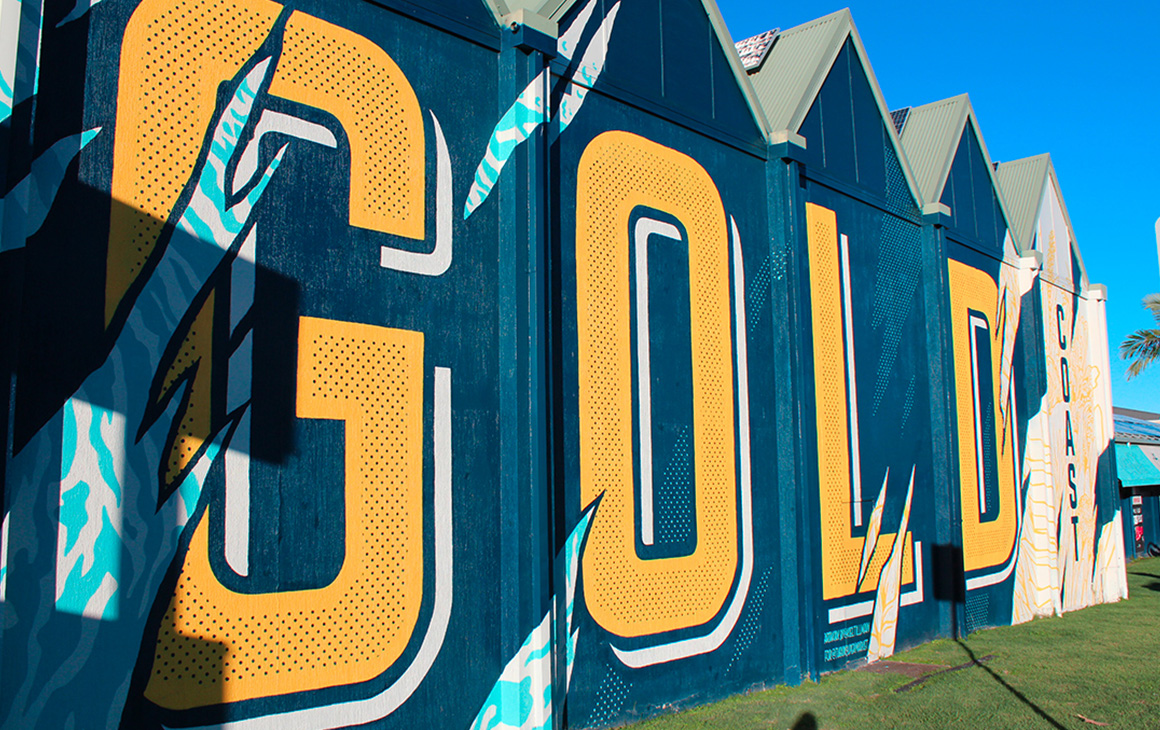 Niche & Co.
Tugun
While you're in this neck of the woods, be sure to pay Niche & Co a visit. While we don't need another excuse to go here (the moreish acai bowls, the beetroot hummus smash and the raspberry pancakes are all good enough reasons to go) you'll also want to check out the amazing mural on the side of the building. Think: a crisp white and bright yellow feature wall depicting all the things we love the most about the Coast. Our tip: get your mates to snap a pic of you on the surfboard.
Image Credit: 40/40 Creative, Kiel Tillman, Callie Marshall