Hola amigos! Are you ready for some seriously cool news to brighten up your week? Well, here goes.
This Thursday is the official opening of playful newbie Tacocat—a fun, not-so-traditional Mexico City-inspired cantina that's found a home in our beloved Burleigh.
Brought to you by the folks behind Easy Street Diner and Luckies at The Collective, owners Lucas and Erin Schranz had their eyes on this place for years. So when it came available a few months back, the timing was right and they snapped it up. But why Mexican? "I didn't want to just be the burger guy," Lucas explains. And fair call. These guys are all about delivering a vibrant venue that you want to hangout in and, fortunately, the food and drinks side just comes naturally to them.
As we said, this ain't your typical Mexican joint. There are no skulls, wood, dark paint, moodiness or sombreros hanging from the wall. They've given the indoor-outdoor James Street laneway space a bright white makeover, with animated lashings of pink, turquoise and lime green. It's super fresh and airy, and while they've yet to start adorning the walls with prints or paraphernalia, it'll only be a matter of time before it feels worn in and a funky wedge of Burleigh, soon to become just as much a ritual as your visit to Burleigh Hill or Justin Lane.
Kicking boring burritos to the curb with tradition and authenticity in all the right places, this casual eatery is serving up a range of starters, creative tacos, tostadas and quesadilla as well as Mexican desserts to round out the meal. Street food made for exploring is the name of the game here, with reasonable prices and bite-sized servings meaning you'll have scope to work your way through the menu in a few visits.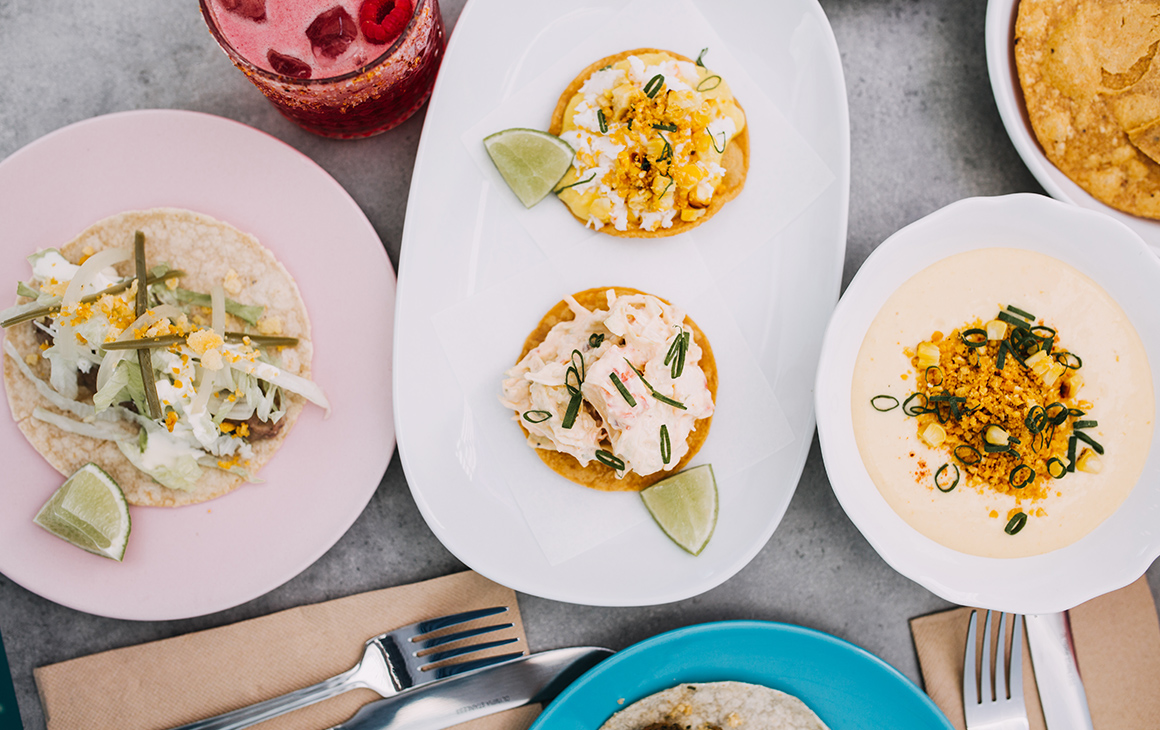 On our recent visit, we were treated to shareable starters like housemade guacamole spruced up with pork crackle, crispy chicken skin and corn crunch, as well as fresh tortilla chips piled with scoops of cheesy con queso dip, because cheese. The taco and tostado list is extensive too and with organic corn tortilla (that's tort-EE-a, kapeesh?) sourced from one of the country's best suppliers, it also means a large portion of the menu is gluten free.
Sure it's unpretentious street food, but there is no compromise on quality, with fresh-as seafood sourced from Ballina including the swimmer crab layered with sweet corn custard on your tostada, or the Kingfish toro poke served on a tostada shell and topped with avocado verde.
And when the time comes for tequila or mezcal (don't try to fight it), there is a knock-your-socks-off range. Ask the friendly bartender if you need some help choosing between options described as caramel, velvety and polished (the Calle 23) or rock 'n roll in a bottle (the Arette). Yes, we're talking about tequila. Fancy a verdita chaser with pineapple, jalapeno and herbs? They've got that too.
Beer lovers will also be happy. In addition to a loyal representation from the local breweries, there are cerveza galore from the Ambar 1900 pure malt Mexican pale to Tecate tinnies, Pacifico and our absolute fave, Negra Modelo.
Though it's Tacocat's tempting cocktail list that will have you putting away your keys and calling an Uber. With six margarita options, from the Melon Y Pepino with Tapatio blanco tequila, honeydew, cucumber, triple sec and lime to the Fresco Bayas with Tapatio reposado tequila, raspberries, blueberries and ruby grapefruit. If you've never tried a Michelada, sit down, order one and prepare to find your new favourite drink of the summer. If you can handle Clamato, that is.
Officially opening Thursday 3 August, during winter they'll be serving dinner Wednesday to Friday (5pm 'til late) and both lunch and dinner on weekends (noon 'til late). A fun and considered crowd pleaser with a distinctly different Mexican vibe, Tacocat is sure to be a hit with Gold Coast food-lovers. Go say hola!
The Details
What: Tacocat
Where: 6/26 James Street, Burleigh Heads
When: Wednesday to Friday, 5pm 'til late + Saturday and Sunday, 12pm 'til late
Looking for more top spots to eat in Burleigh? We've got your next breakfast date covered with these top Burleigh cafes.
Image credit: Hayley Williamson for The Urban List