"It's better to be full of whisky than full of shit." Have truer words ever been spoken?
Another weekend and another new restaurant slash bar slid open its doors on the Gold Coast. And this joint, folks, is truly exceptional. Yep, the moose is loose in Broadbeach, and we couldn't be more stoked to spread the word!
Being a Can-Aussie myself, and with a quintessentially Canadian name like The Loose Moose, I half expected to see genuine poutine and caesars on the menu—and I'm sure anyone who's spent a season or three in the Great White North will agree, eh? The caesars, we are told, are coming very soon and will be the clam-diggin' cherry on top for what is an insanely exciting addition to the buzzing restaurant scene in Broadbeach.
When you see the epic fit-out (we'll go out on a limb and say it's the best on the Coast), the seriously well-stocked back bar, and the sharp all-day menu, we think you'll quickly be forgetting about fries, gravy, and cheese curds…
While North American influences have been infiltrating their way up and down the Gold Coast for some time now, the concept that's been brought to life at The Loose Moose is a total stand out. No expense has been spared in what has been a labour of love for owners, including Patrick Gennari of popular GC restaurants, Koi and Glass. Patrick personally rummaged through antique stores in Melbourne and Sydney to find treasures such as a classic typewriter, gramophone, and period-specific photos to fill the cabinets and walls. But that's just the beginning.
The Loose Moose's styling is inspired by the moody speakeasy-style haunts of America's 1920s prohibition era when alcohol was banned (heaven forbid!) pushing the scene underground and out of sight of officials. Trust us when we say the attention to detail and décor is nek-level. From the dark leather banquette booths, copper and steel features throughout, custom-made steampunk wall art and clocks, industrial fans, roughened brick walls, piping around the kitchen to resemble an engine room, and, come dark, sexy-as-hell lighting of exposed globes, candles stuffed into discarded ammunition shells, and rusty steel drum downlights overhead. Not forgetting a nod to its namesake, a taxidermy Canadian-imported trophy moose head holding pride of place behind the bar. Mr Moose is yet to be named, so get your ideas in while they're open for suggestions.
We're totally digging the electro swing soundtrack too, which perfectly sets off the atmosphere the owner's team had envisaged.
Co-owner Patrick smiles as he describes The Loose Moose's extensive menu as "dirty food made clean". North American fare is typically heavy, so if you want heavy, there's plenty of that on offer. But, if you prefer light, they've got you covered with options such as tapas share plates, grilled Wagyu beef salad, or any burger in a bowl (sans bread). When we first popped by, breakfast was in full swing and left us drooling for the Red Velvet Pancakes and the Potato Rosti with pulled pork, poached eggs, and caramelised apple.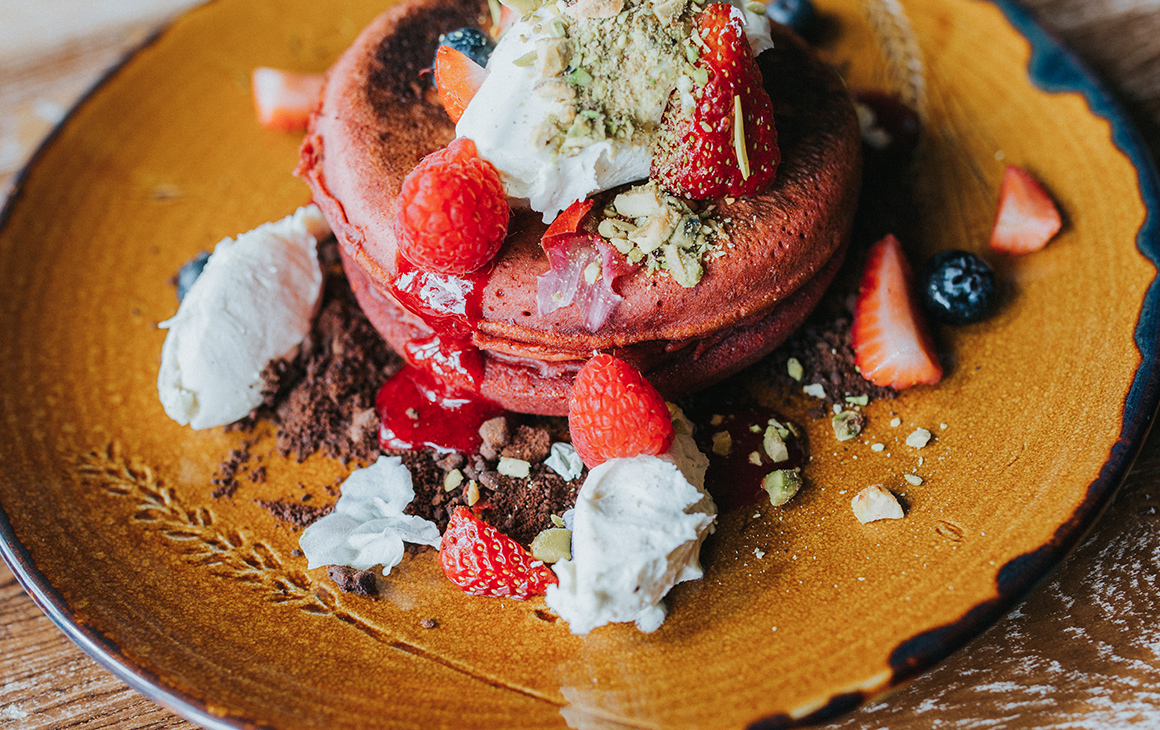 We lingered for a lunch consisting of the Crispy Crab Burger: beer-battered soft shell crab on an organic milk bun, and the Southern Fried Chicken: a juicy breast coated in southern spices and served with creamy mash and gravy. Oh so good! Add to that, the Snickers Ice Cream Cake with homemade malted vanilla ice cream, caramel, chocolate soil, and raspberry coulis was: To. Die. For. And you know we've got our eyes on the smokey slow-cooked pork and beef ribs, and the 24-hour baked brisket, 'cause we're sure as hell planning a return visit.
Aside from their highly-prized dry smoking machine in the kitchen, the other secret weapon The Loose Moose is beside themselves to unleash on the Gold Coast, is their beyond-talented bar manager, Billie-Jean. Hailing from Melbourne's Boilermaker House, 1806, and Brisbane's The Gresham, Billie-Jean has immigrated to our golden shores and will be fronting the most well-stocked back bar on the Coast with a mind-blowing 130 whiskies sourced from all over the world. Forget found-everywhere standards like mojitos and margaritas, you're gonna want to let whisky queen Billie-Jean slide one of her innovative new-age concoctions in your direction. Cocktails or whisky not your jam? Take your pick from 15 craft beers on tap and more than 60 bottles in the fridge.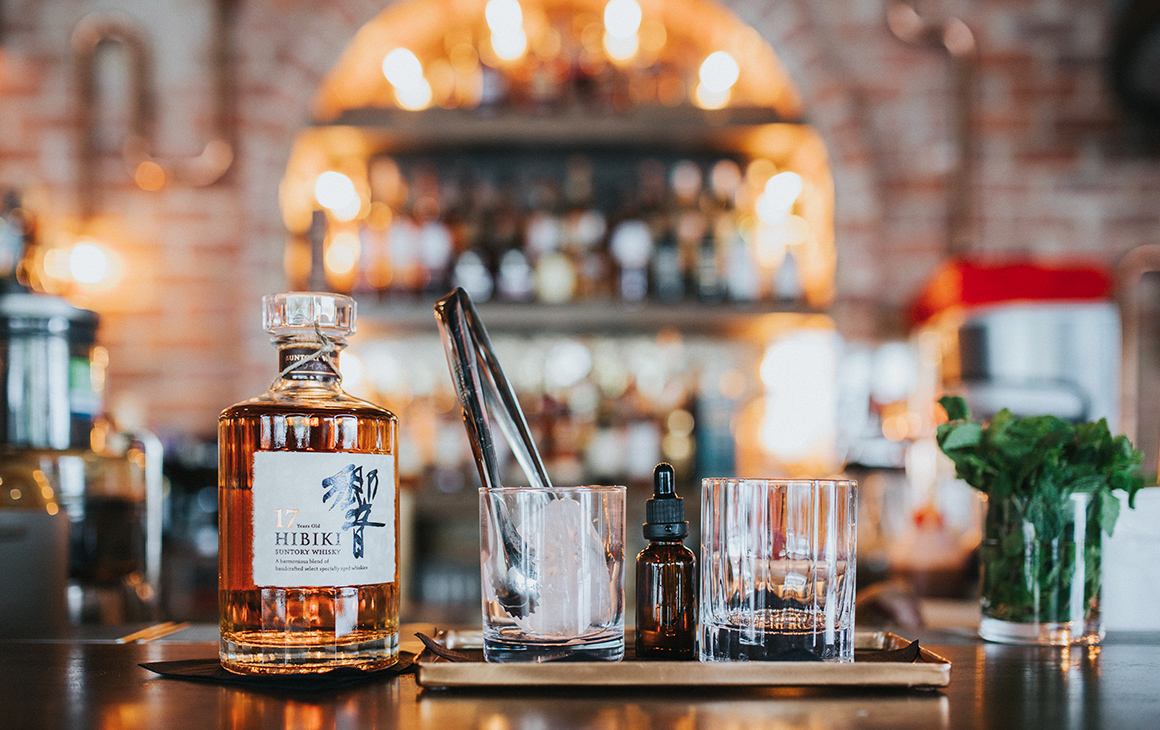 Not wanting you to eat and then scoot, they've thought of that as well. With a 16-seat sit down "feasting table" for groups that can be converted to a stand-up high top table that'll seduce guests into staying all night. Or not. Either way we reckon The Loose Moose is screaming for pre-cocktails and nibbles before seeking out the nearest d-floor.
For a restaurant that hadn't yet been open 24 hours when we visited, the service, vibe, and deliciousness of dishes being delivered to every table appeared effortless, proving The Loose Moose is already a well-oiled machine, yet again raising the bar on the Gold Coast. For some time, the focus had turned to the glittering restaurant strip along Oracle Boulevard. But, thanks to new vendors like The Loose Moose, Bin 89, Hatch & Co., and Aloha Bar hidden around the corner, the northern side of Broadbeach's dining scene seems to be finding its cool again. We can't wait to see what follows next.
Cheers guys, catch you back soon for caesars and maple bourbon buffalo wings!
When: Open seven days, 7am 'til late
Where: 75 Surf Parade, Broadbeach
Photo Credit: Hayley Williamson for Metropolist