If you're up the top end of the Coast and looking for things to do in Surfers Paradise, we've got you covered. Whenever there's a tonne of options, it's fair to say there's going to be those that are great and those that are pretty ordinary.
So, we've done you and your glitter strip holiday a major solid, curating a list of the actual best things to in Surfers Paradise for those visitors who are a little savvier than the average lobster-red tourist.
Sink Balls At Holey Moley—Gold Coast's Crazy AF Mini Putt Putt Bar
Now you can order an espresso martini with a side of golf! One of the best things to do in Surfers Paradise has to be Holey Moley. This is the place where cocktails and bar snacks collide with crazy putt putt golf, 10-pin bowling, karaoke and good times galore. Located in Circle On Cavil, nine holes here will set you back $15; just bring extra cash for beers and burgs.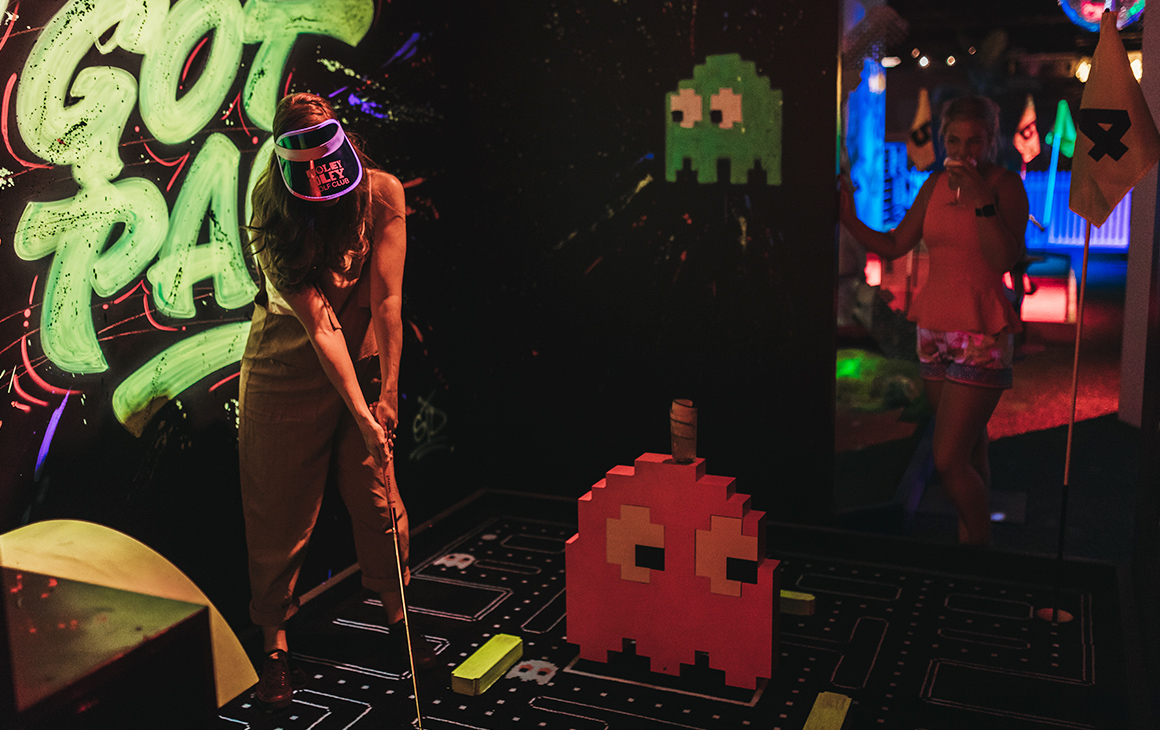 Sip While You Create At Brush & Barrel
Brush & Barrel is a super cute paint and sip concept that guarantees a fun time, every time! Gone are the days of the run-of-the-mill dinner and drinks routine—say hello to BYO booze and creating artistic masterpieces. Just book your session according to what painting is being created that day and enjoy a mindful two-hour escape from the daily grind (along with lots of drinks and laughs, obvs). One of the best things about Brush & Barrel is they'll provide all of the painting necessities, while you only need your favourite adult grape juice. Is this one of the best things to do in Surfers Paradise? You betcha!
Rooftop Hangs & Sunset Cocktails At The Island
A symbol for the changing face of Surfers Paradise, recently this dated backpacker underwent a staggering renovation at the hands of an experienced hospitality family. Today, The Island sits proudly at the beating heart of Surfers Paradise, where you'll wanna start your holiday with cocktails on the expansive rooftop, served with a side of salty sea breezes. Come for Gin and Jazz Thursdays (from 6:30pm) or DJ beat-filled Sunday sessions (from 1pm 'til late). As the sun dips, sashay downstairs for a contemporary Italian menu in The Island's bistro with wood-fired pizzas and generous local cuts of beef.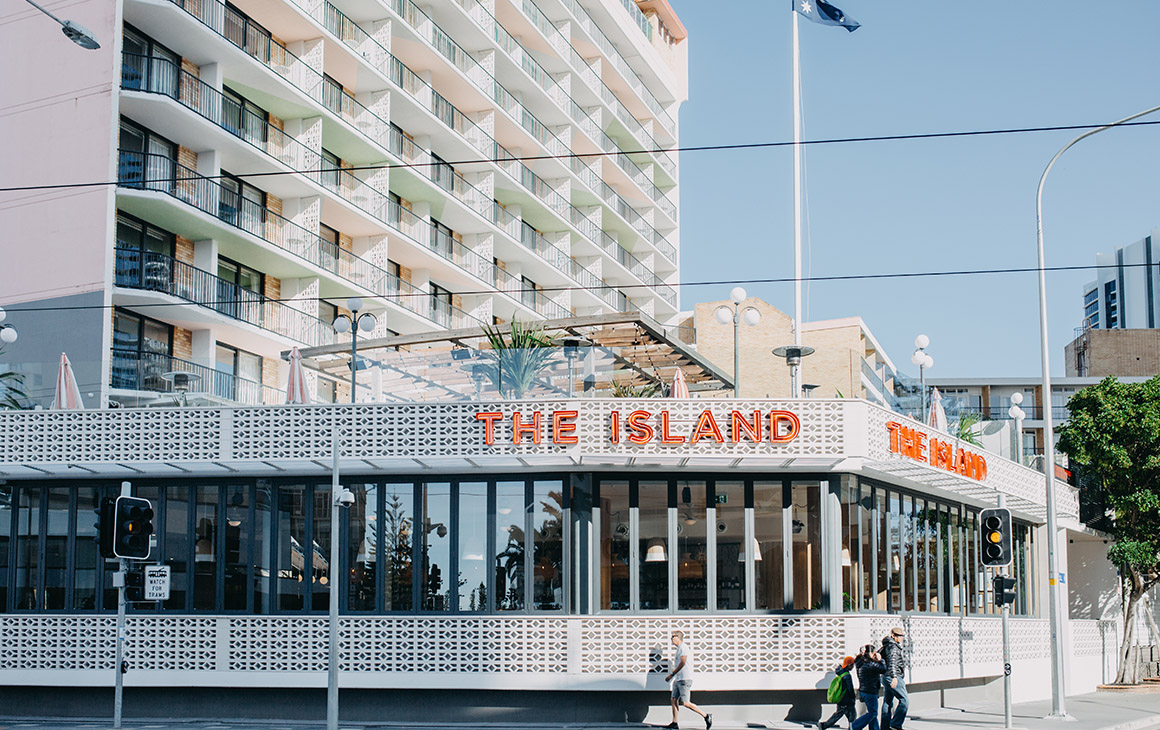 Cruiser Bike Ride The Beach Esplanade
Did you know the Gold Coast has a staggering 57 kilometres of coastline, intersected only by a few tree-covered headlands and crystal blue estuaries? Well, you do now. It also makes for perfect cruiser bike riding territory—past squeaky soft beaches and azure crashing waves. Pick up a beach cruiser at Bike Hire Gold Coast or Happy Hire (or perhaps try new bike share operator Mobike), then choose your route north to Main Beach and The Spit, or loop down to Broadbeach and back, stopping at cafes and surf clubs along the way for smoothies and acai bowls. Just leave enough juice in the tank to turn around and pedal back.
Don An Apron At A Pizza Or Pasta Making Masterclass
Fancy yourself as the next Jamie, Nigella or Gordon? One of our faves things to do in Surfers Paradise is to join a cooking class! From the Italian owners to the Italian staff, Salt Meats Cheese in The 4217 complex is about as authentic as you can get. Under the careful tutelage of one of their fantastic pizza chefs, you'll learn how to mix, roll, throw and stretch your dough; spread the tomato sauce and choose the perfect mix of ingredients to top off your pizza; complete with the careful science of pizza placement in the wood-fired oven. Finish off sitting down with your fellow learners with a glass of vino as you devour your creation and feel very smug indeed about what you've just produced. Also on offer are pasta-making classes, equally as fun and delicious, and a skill very much worth having, in our humble opinion.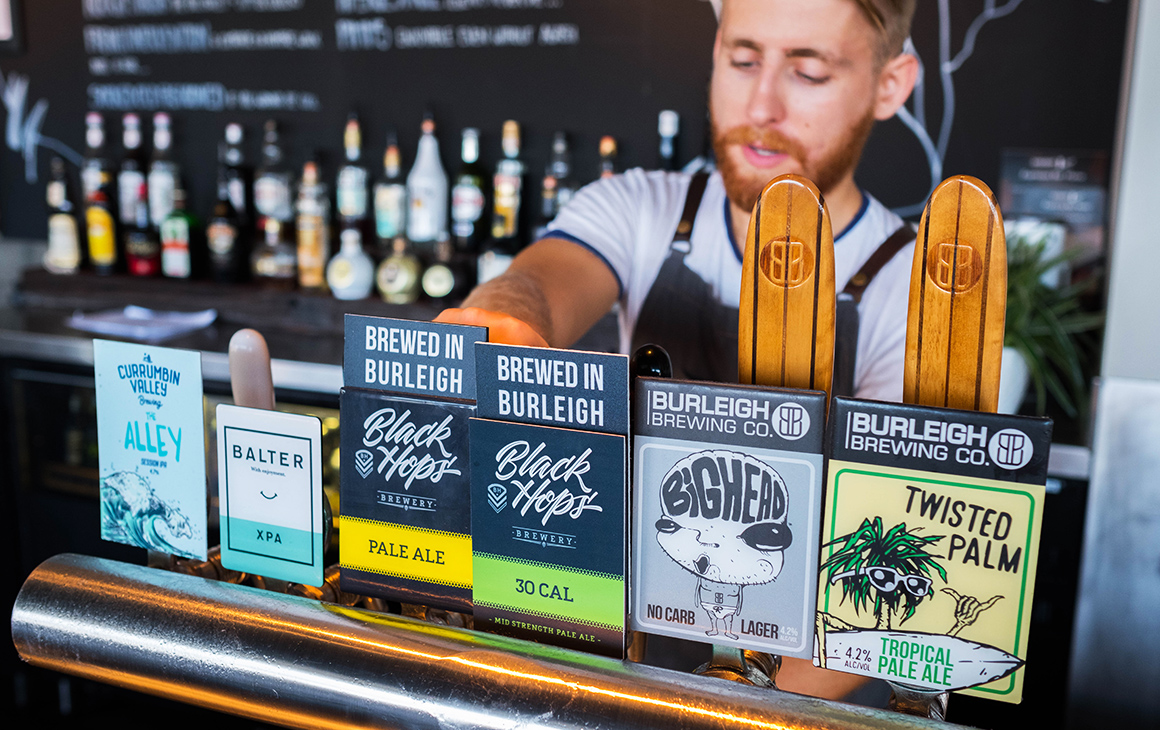 Take A Self-Guided Craft Beer Bar Crawl
Gold Coast's love for craft beer is boarding on an obsession. Hands up if you're guilty, too? Whether you're a seasoned beer swiller or just like a reason to get out and socialise, you're invited to whet your whistle while sipping on some of the Coast's best craft beers. Australia's new favourite brew, Balter, is brewed 30 minutes down the road in Currumbin (worth an Uber ride to see for yourself; cellar door open Friday to Sunday afternoons); or perhaps you've heard of Burleigh Brewing or Black Hops? If you love craft beer, you must get yourself along to Sandbar on The Esplanade with 100+ local, national and international craft beers in the fridge, or House of Brews on Orchid Avenue which features an impressive tap wall of 32 craft beers on tap for your holiday drinking pleasure. Woot!
Walk On Water With Stand-Up Paddle Boarding At Budds Beach
Stand-up paddle boarding took the waterborne world by storm in recent years, mostly because it's so damn accessible (even your mum could do it!) and makes exploring waterways effortless, while still working on your tan. Gold Coast's beloved Broadwater is a water sports enthusiast's playground, but it's also largely wind affected which is why you're best heading straight for Budds Beach behind Surfers Paradise, tucked in the protected southern end, on the Nerang River. If you're still a bit wobbly on your feet you'll find several schools available to help you work on your SUP skills. We suggest trying Go Vertical or SUP in Paradise. All that SUP'ing got you beat? Treat yourself with brunch afterwards at cute-as-a-button Budds Beach cafe, Bumbles.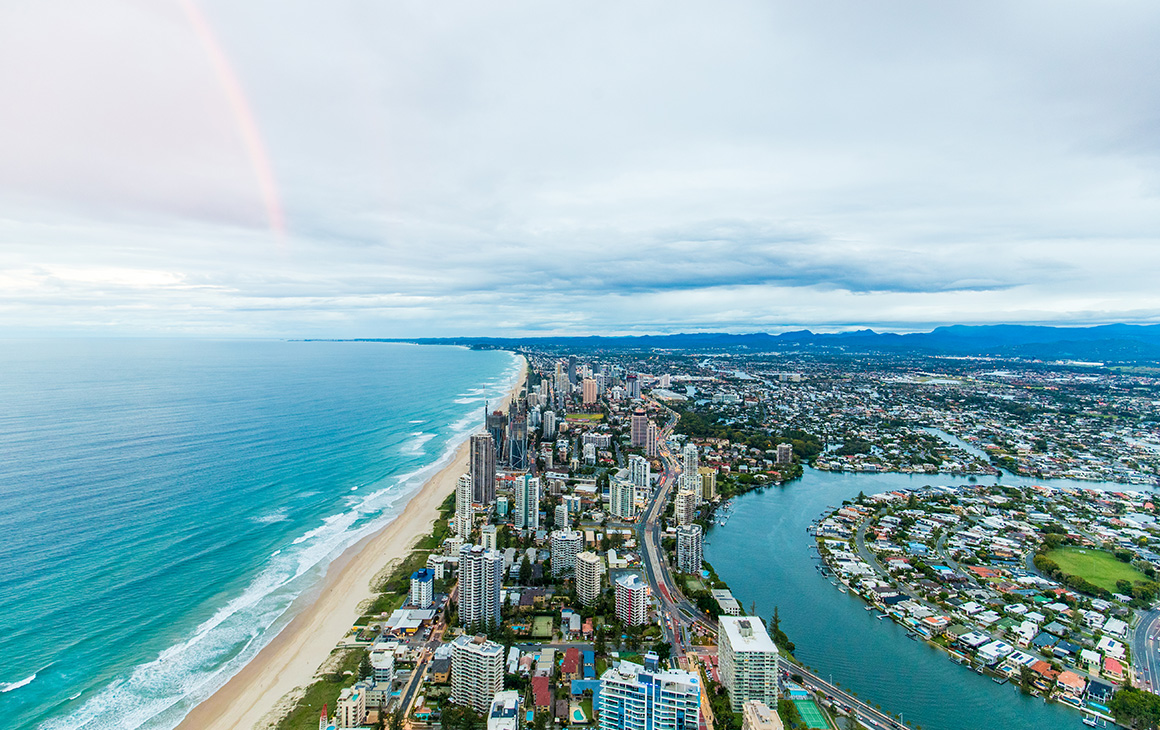 Get Your Bearings From The Clouds—Literally
It's one of the tallest residential towers in the world, which not surprisingly makes for some ridiculously fine views. Open all day, erryday, SkyPoint Observation Deck is situated on level 77 of Q1 Resort. Head up the elevator for uninterrupted vistas of the Pacific Ocean and the vast Gold Coast Hinterland to the west (which is overflowing with nature walks and waterfalls BTW, if you're up for a half-day exploration). Grab a cheeky mid-afternoon vino and cheese tower, while you get your bearings for the beaches and suburbs that form this sprawling coastline. Better yet, join a SkyPoint daytime or twilight climb outside. Just don't forget your camera! This is hands down one of the best things to do in Surfers Paradise.
Eat Your Way Around The World At Surfers Paradise's Best Restaurants
After all that adventuring, you'll be pretty hungry. So, eat your way around the world with our pick of some of the absolute best restaurants in Surfers Paradise. Yamagen is a funky izakaya with Japanese whisky cocktails and beautifully presented dishes that are seriously nek-level. Or fill up with American-inspired noms at Brooklyn Depot or Chevron Island's Tribeca NYC. For Italian, we love Cicchetti, Salt Meats Cheese or a short jaunt away at Main Beach, Fellini. Maybe you're just craving fresh local seafood? Seascape and Seaduction on The Esplanade or Glass at Marina Mirage have all your locally trawler-caught seafood needs covered.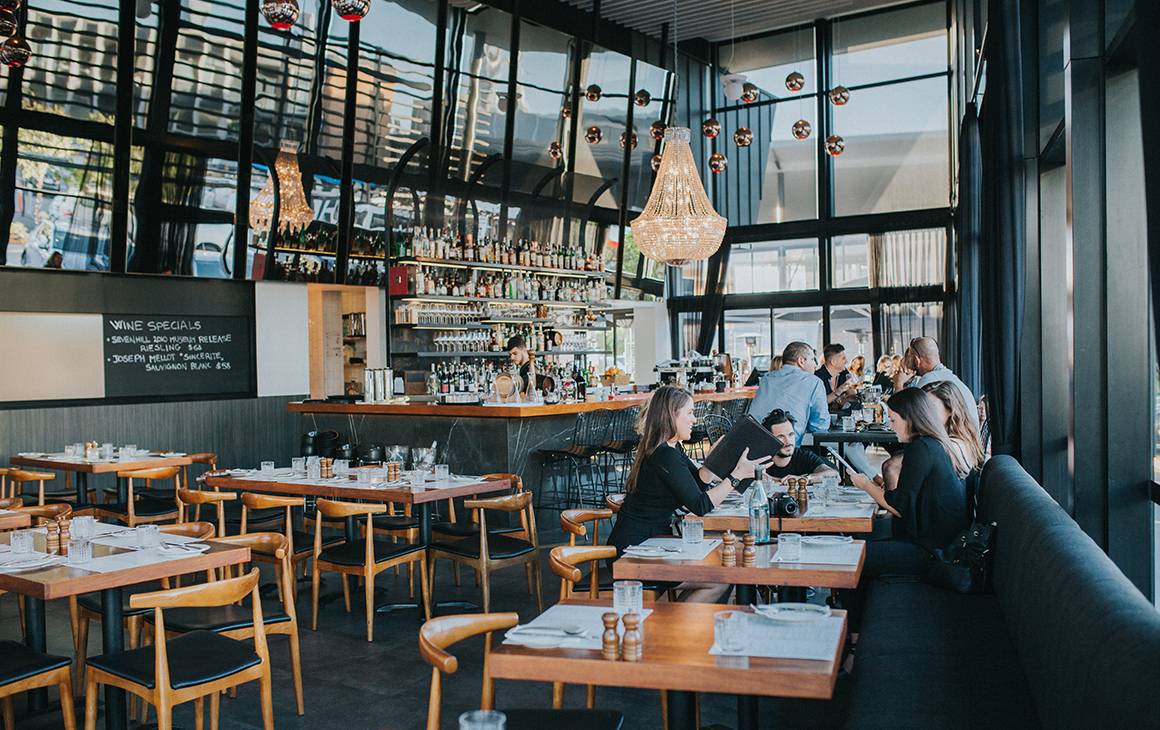 Learn To Surf In A Fair Dinkum Surfer's Paradise
So, the swell's up, you've got the board, the swimsuit or boardies (because let's be honest, it's the Gold Coast, who needs a wetsuit?) and you're all stocked up with sunscreen and wax. You've got EVERYTHING you need to hit the waves…except ANY kind of surfing ability. You need to pick up some surf skills, stat—so where do you go? Well, luckily, Surfers Paradise didn't earn its name for no good reason. While sometimes the waves are better left to the pros, there are plenty of smaller swell days where you can join a class (with a foam board for safety) and learn the basics from companies such as Get Wet Surf School or Surf In Paradise. It wouldn't be a vacay to the Gold Coast without having a crack and, with any kind of luck you'll be upright and coasting along the waves in no time. Shakas!
Sip High Tea—But Not As You Know It
It's an age old tradition that's survived all today's modernisms, 'cause who doesn't love an excuse to make a date with your pals, throw on a pretty frock and act all lady-like over finger sandwiches, tartlets, scones and steaming tea served from a dainty china pot? We know we do! Yet a curve ball of creativity has kicked cucumber ribbon sandwiches to the curb, the addition of bubbles has brought a whole new meaning to the long lunch. And hell, on the GC we even have the fellas covered with a very unique version just for the gents. In Surfers Paradise, you can indulge in High Coffee at Paradox Coffee Roasters (including espresso martinis at 10am!), or at QT Gold Coast you'll find a unique Man's Tea as well as one of the most creative high teas in town at QT's Fixx Cafe. Just remember, pinkies up!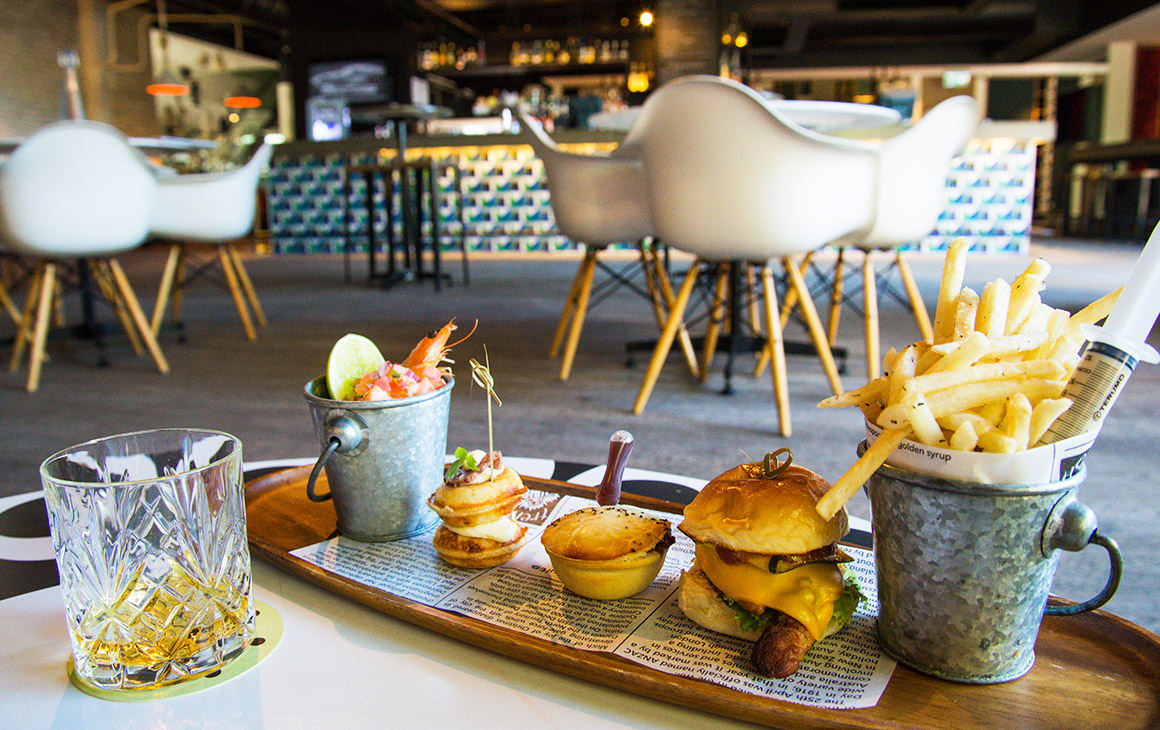 Play The Tourist Game With Slice Virtual Golf & IFLY
Most sports are weather dependant, right? So what on Earth is one meant to play on showery days? Welcome to Slice Virtual Golf, where not even hail and gale-forced winds can bring this party down. Tee off with your mates hitting real balls with real clubs, while interacting with a groovy camera slash entertainment system that teleports you straight to an international outdoor golf course. It gets better, there's a licensed bar and an in-house chef serving metre-long gourmet pizzas. Rather get high on your holidays? It's touristy, but still kinda rad, to check out iFLY indoor skydiving.
Cut Shapes On The D-Floor At Gold Coast's Fave Nightclub
Still going strong some 15 years on, Elsewhere is one of those rare Surfers Paradise nightspots where you can rub shoulders with the locals as you cut a rug on the d-floor. This little hotspot is a hub of alternative electronic tunes, a Saturday Night Fever-style dance floor and delightfully gorgeous hipsters. It's not unusual to catch a live gig from a small-time DJ for $10 on the door one night, and then end up seeing them ruling the EDM world a year later. Without question one of the best clubs on the Gold Coast, check it out if you dig that vibe.
Cue The Popcorn & Espresso Martinis At Palace Cinemas—Coming Soon
Coming to Surfers Paradise in late 2018, Palace Cinemas—the stylin' independent cinema brand with 22 venues across the country—is currently revamping a landmark old building in the heart of the glitter strip. With a knack for taking over characterful, underutilised buildings and breathing in new life, if their history is anything to go by (check out Sydney's Palace Central and The Astor in Melbourne), they're about to deliver a destination movie experience that'll definitely not be like your average trip to the flicks. Soon you can sink down into luxury leather seats, fuel up with sashimi, dumplings and other tasty noms, plus espresso martinis and craft beers served direct to your chair. Sounds like it'll be one of the best things to do in Surfers Paradise to us!
Looking for more rad things to do in Surfers Paradise? We've rounded up the best cafes, restaurants and bars here. How about venturing a little further south to hang with the locals? Burleigh is a vibing spot to explore next.
Image credit: Hayley Williamson, Grace Elizabeth, Desert Island Media and Brooke Darling for The Urban List