So you're barricaded in your bedroom, surrounded by towers of tinned food and toilet paper, ready to wait out the apocalypse, but all you can think of is what you didn't buy. Why didn't you load up booze? Did you even bother to check out the chocolate aisle? How could you have missed the essentials?
Say no more—we've got your back. Here are seven mostly delicious things you can get delivered on the Gold Coast.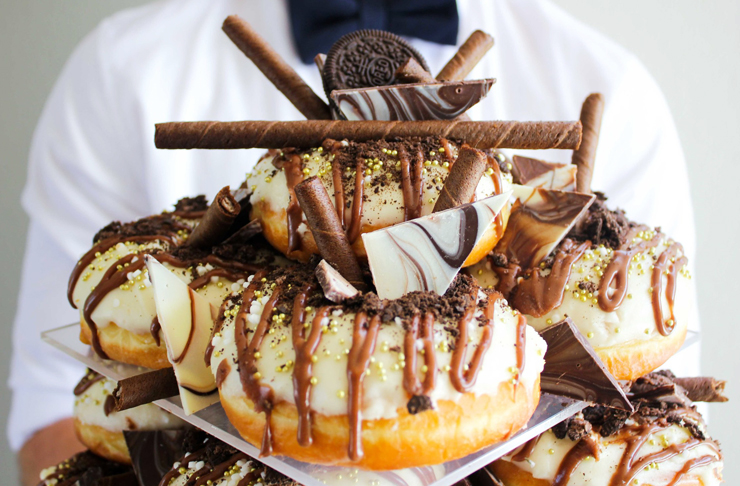 Doughnuts
Sugar Gathered specialise in all things doughnut—which should put this Gold Coast delivery service to the top of your list. Think adorable themed boxes, like "The I'm Nutelling You!" with five delicious filled doughnuts, mini pots of Nutella, two Nutella filled syringes and an assortment of candies—perfect for any Nutella addict. They also pump out doughnut bouquets and even doughnut cakes that are almost too pretty to eat. No matter how bad the world seems right now, no one can stay down for too long if they receive a Sugar Gathered pack at their doorstep.
Beer
Staying in? Sit back, pop a snag on the BBQ and crack a beer from Gold Coast brewery, Black Hops. The Burleigh Heads team are delivering crisp lagers straight to your door, if you place an order online. Is there someone's birthday or event you're going to miss while physical distancing? Send them a gift card or the ultimate care package for hop lovers—a mixed 12-pack featuring Black Hops pale ale, IPA and DIPA.
Coffee
Have no fear Gold Coast! If coffee runs through your veins, there's no need to go without your daily caffeine hit. Blackboard Coffee will happily post you a pack of beans, biodegradable coffee capsules or their specialty instant coffee. So you can breathe a sigh of relief knowing you still have access to their top-tier blends and that coffee delivery on the Gold Coast exists.
Ok. Wines!
Wine lovers, worry not. Thanks to Gold Coast-based Ok. Wines! you can be certain that you will never run out of wine. With a small but growing list of organic, biodynamic, minimal intervention and vegan-friendly wines on offer, these guys will have the good stuff on your doorstep in next to no time. And, even better, they're currently offering FREE shipping until the coronavirus chaos subsides. So make yourself comfortable, tee up whatever it is you're streaming, and get ready to have a glass in hand without even having to leave the house.
Locally-Made Soaps, Bath Soaks And Essential Oils
Now more than ever it's important to support local Gold Coast businesses, and Cedar and Stone is one of them. Tune out from the news for a while, relax and re-centre yourself with their range of calming essential oil blends, indulgent bath soaks and beautiful cleansing bars, all available to order online and be delivered to your home.
Indoor Plants
With workplaces around the Gold Coast (and Australia) currently opting to work from home, we're all faced with the sudden challenge of transforming our home into a multi-purpose sanctuary to serve as both an office and home. One of the quickest and easiest ways to do that? Plants. We're all aware of flower delivery services, but what you might not know is that the Gold Coast boasts a pretty lush indoor plant delivery service, thanks to online store The Botanica Box, by the team at The Borrowed Nursery. Delivering plants on the Gold Coast, Northern NSW and into Brisbane, you'll be levelling-up your home (or office) into a fresh, inviting and inspiring space in no time, without even leaving your house.
Cookie Dough
Everyone knows the most difficult part of making cookies is trying not to eat the dough before you bake it. But now, thanks to Doughy, we can eat all the cookie dough we want (minus the health risks) from the comfort of home. Whether you're a chocoholic or nutty for peanuts, Doughy has a flavour for every taste bud. Order at the start of the week for one-day shipping, and don't be afraid to buy in bulk—the dough lasts up to three months in the fridge, or 12 months in the freezer.
Looking for ways to show your support on the Gold Coast right now? Check this out.
Image credit: Ok. Wines! and Sugar Gathered