At The Urban List, we love cheese and Christmas equally (which, by the way, is A LOT). So what better way to combine our two loves than some delicious festive eating? Sure, we know how to rock a cheeseboard, but what about something a little different, but equally as cheesy, for the silly season?
We've teamed up with the cheese experts at Castello to bring you seven damn tasty cheese hacks for Christmas, so you can basically have cheese on everything. Merry Christmas indeed!
Castello have released two new cheeses just in time for Christmas—Castello Mellow Black and Castello White with Truffle (OMG truffle, you guys)—which has only to added to the fun.
Get busy, cheese fans!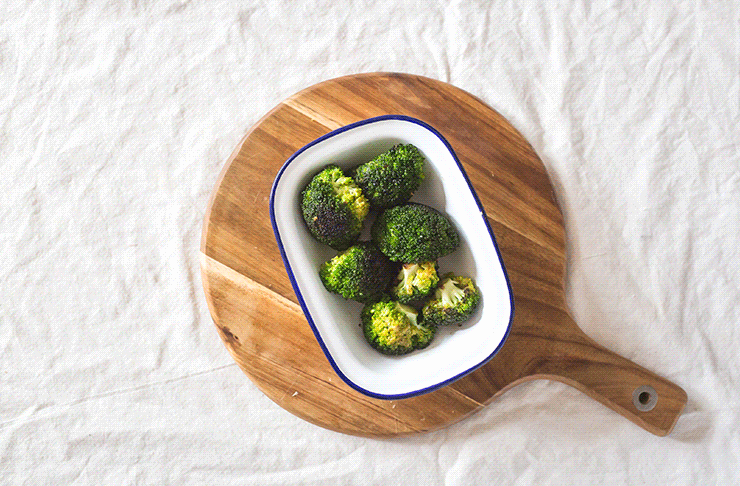 #1 Grilled broccoli with blue cheese and roasted hazelnuts
This dish will make the perfect side to #allthemeats and roast veggies on your table come Christmas Day. The zing of the blue cheese is a very welcome accompaniment to the grilled broccoli and, if we're going to be honest, makes it waaaaay better (because life is better with cheese).
Servings:
4 servings
Time:
15 minutes
Ingredients:
500g broccoli
2 tbsp olive oil
50g roasted hazelnuts
3 tbsp chopped parsley
Zest of 1 lemon
3 tbsp Japanese soy sauce
100ml olive oil
2 tbsp sesame seeds
Method:
Cut the broccoli into quarters. Brush with olive oil and place in a cast iron pan or a grill-proof dish.
Place the pan on the barbecue over high heat for approx. 10 min. Cover with cheese slices and let the broccoli finish cooking over indirect heat and covered for 5 to 7 minutes.
Coarsely chop the nuts and combine with the parsley and lemon zest.
Combine the soy sauce, olive oil and sesame seeds. Drizzle the dressing over the broccoli, sprinkle with the nuts and serve.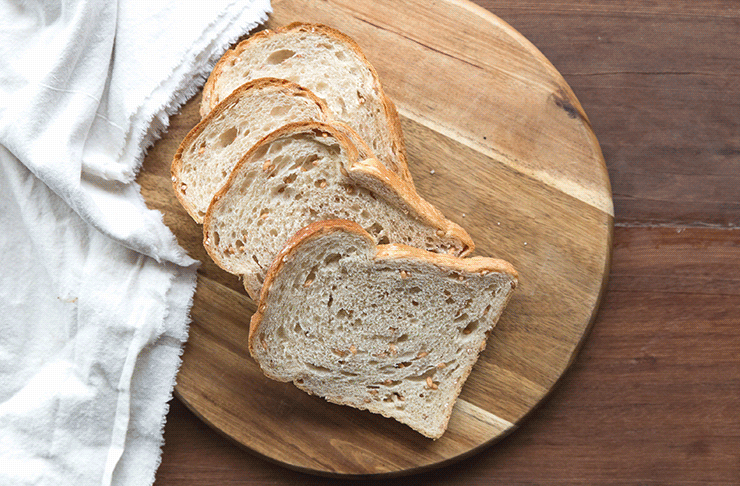 #2 Decadent grilled cheese with truffles
Some say you can't have grilled cheese for Christmas. Well you can if you've just finished cleaning up and are still mysteriously hungry. Reach for some leftover Castello White with Truffle (that you had on your killer cheeseboard) and strap yourself in for the best grilled cheese of your life.
Servings:
1 serving
Time:
10 minutes
Ingredients:
Sourdough bread
Japanese mayonnaise
Salt and pepper
Extra truffles, if desired
Method:
Get your pan to a medium-low heat.
Brush the outer sides of the sliced bread with mayonnaise.
Add slices of Castello White with Truffle to the non-mayonnaised side of the bread.
Place onto the pan and flip when one side is golden.
When the other side is golden and the cheese has melted, it's ready.
Eat immediately without shame.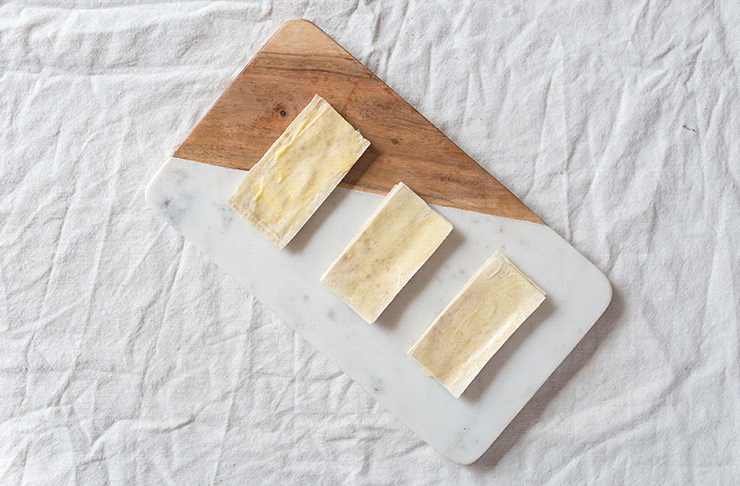 #3 Pastry fingers with cheese and roasted walnuts
This is essentially the cheat's recipe to nail Christmas canapés. It's super easy, super tasty, and your guests will think you're some kind of kitchen whizz. We know the truth, but that's okay, we won't tell anyone.
Servings:
1 – 2 servings
Time:
30min
Ingredients:
1/2 cup blanched, peeled almonds
25g butter
1 tbsp runny honey
1/2 pack of frozen flaky pastry dough, thawed
1 pear
3/4 cup walnuts
1/2 tsp sea salt
Endive salad
Method:
Preheat the oven to 200° C.
Mix the almonds finely in a blender. Add 25 g of butter and 1 tablespoon of honey and continue mixing until smooth.
Roll out the flaky pastry and divide it into equal sized "fingers". Place a baking sheet on an oven tray and grease it with some butter. Peel, core and slice the pear very thinly.
Lay the pear slices overlapping each other on top of the flaky pastry. Bake them in the middle of the oven until nicely browned (approx. 7 minutes).
Slice the cheese in less than 1cm thick slices. Add the cheese slices on the pastry and continue baking for 2 – 3 minutes.
Toast the walnuts in the butter and honey in a pan.
Stir in the salt. Serve the flakes immediately with the toasted walnuts and salad.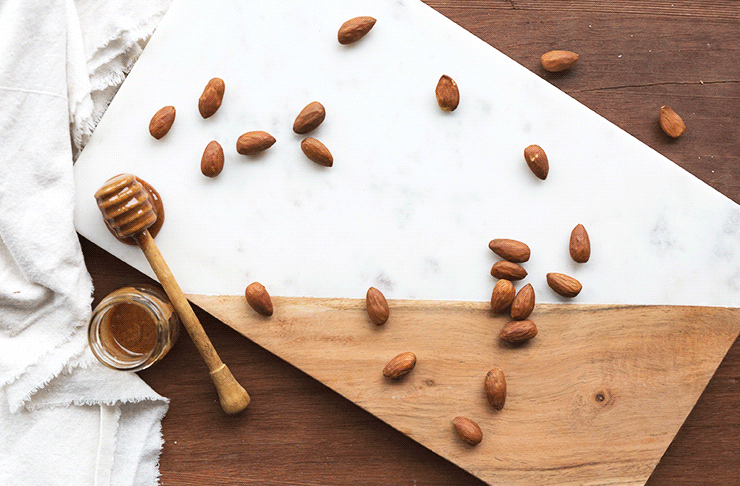 #4 Gingerbread cookies with blue cheese, fresh figs and honey
TBH, it feels a bit weird to eat gingerbread when it's not Christmas, so take advantage of all the gingerbready goodness with this cheesy take on traditional gingerbread.
Servings:
10 servings
Time:
1 hour 30 minutes
Ingredients:
125 g butter
60 g light syrup
125 g of brown sugar
2 teaspoons ground cinnamon
1/2 teaspoon ground cloves
1 teaspoon ground ginger
1/2 teaspoon ground allspice
250g plain flour
75g almonds
15 g of unsalted pistachios
1 teaspoon potash
1/2 tablespoons water
Fresh figs
Acacia honey (or whatever honey you have in the cupboard)
Method:
Melt butter, syrup and brown sugar in a saucepan over moderate heat. Mix cinnamon, ground cloves, ground ginger and ground allspice with wheat flour, almonds and unsalted pistachio kernels.
Stir potash with 1/2 tbsp. water. Mix the melted butter with the potash and flour mixture. Knead it all together into homogeneous dough without kneading for a long time. Form the dough into a rectangular cylinder of about 5 cm and wrap it in cling film. Place the dough in the refrigerator for about 3 hours.
Slice thin whole slices of dough and bake them on a baking sheet on cookie sheet at 180°C for about 10—12 minutes. Cool on a wire rack.
Cut the Castello Mellow Black in small triangles and spread on cookies. Garnish with slices of fresh figs and a little acacia honey.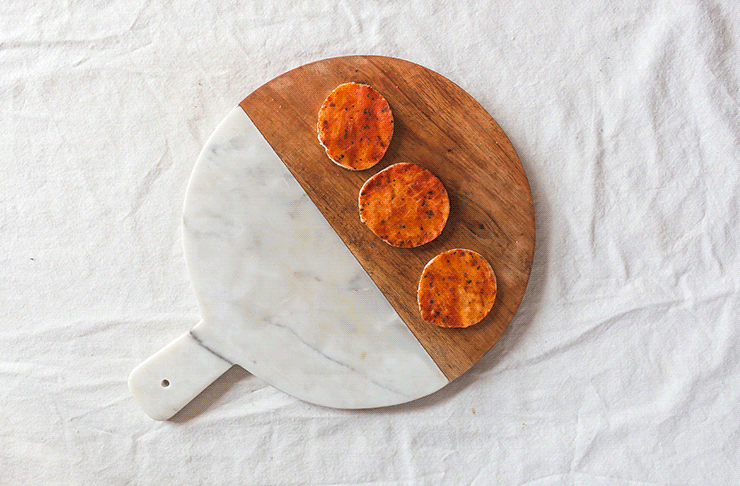 #5 Mini margherita pizzas
Mini pizzas are too cute to refuse when they make their way to you. Here's a simple recipe that will impress your guests because you made the dough yourself. Faaaaancy! If you're in the mood, add some Christmas ham to the pizzas to make it even more festive (way to use those leftovers).
Time:
1 hour 30 minutes
Ingredients:
Pizza dough
375ml (1 1/2 cups) warm water
2 teaspoons (7g/1 sachet) dried yeast
Pinch of caster sugar
600g (4 cups) plain flour
1 teaspoon salt
60ml (1/4 cup) olive oil, plus extra for brushing
Topping
1 can of whole or diced tomatoes
1 clove garlic
Fresh basil leaves
Bocconcini
Salt and pepper
Extra virgin olive oil
Method:
Pizza dough
Stir water, yeast, salt and oil until the yeast is dissolved.
Add the flour making sure to add only a little at a time. The dough should be a little wet (but not too much).
Knead 8-10 minutes. Let the dough rise about an hour to double size.
Divide into 7cm round pieces and arrange onto baking tray (leaving space between each pizza).
Topping
Pre-heat oven to 220 degrees.
Line a baking tray with baking paper or spray with olive oil spray
Combine the tomatoes with the garlic and half of the basil in a food processor or blender. Blend until it looks sauce-like—strain to make the sauce a bit thicker.
Spread sauce over pizza bases.
Top with a slice or two of bocconcini.
Bake in the oven until the cheese bubbles and the crust is nice and golden.
Top with fresh basil and serve.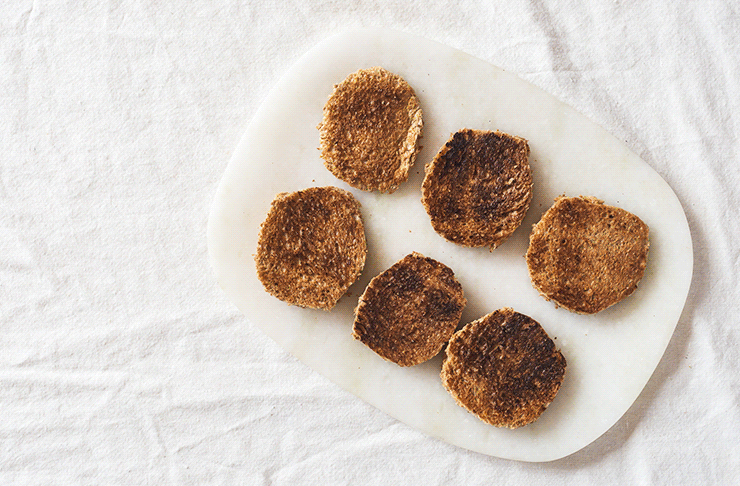 #6 Crostini with cheese and truffles
These little crostini make perfect canapés for your Christmas do. In our opinion, the more mini the dish, the fancier—take, for example, party pies and sausage rolls AKA God's finger food. Get creative with your own toppings, or stick with this tasty version that uses the brand new Castello White with Truffle.
Servings:
1 serving
Time:
50 minutes
Ingredients:
Bread (preferably a baguette)
Olive oil
3 large Spanish onions, sliced
2 tablespoons butter
1 tablespoon olive oil, plus more for brushing bread slices
2 tablespoons brown sugar
2 tablespoons Sherry vinegar
2 tablespoons truffled honey, or regular honey
Salt and pepper to taste
Herbs to garnish
Method:
Pre-heat your oven to 200 degrees and arrange a rack in the middle.
Melt the butter and olive oil over a medium high heat in a large sauté pan. Lower the heat to medium, add the sliced onions, and cook until translucent. Add in vinegar and brown sugar. Cook, stirring occasionally, for about 30 to 45 minutes or until the onions caramelise. Season with salt and pepper and put to the side.
While the onions are cooking, line a baking tray with baking paper and arrange the bread, brushing each with olive oil.
Place bread in your pre-heated oven and bake for 8 minutes or until golden and crisp.
Top each slice with the caramelised onion and Castello White with Truffle and grill until the cheese melts slightly.
Finish by drizzling honey and garnishing with some herbs.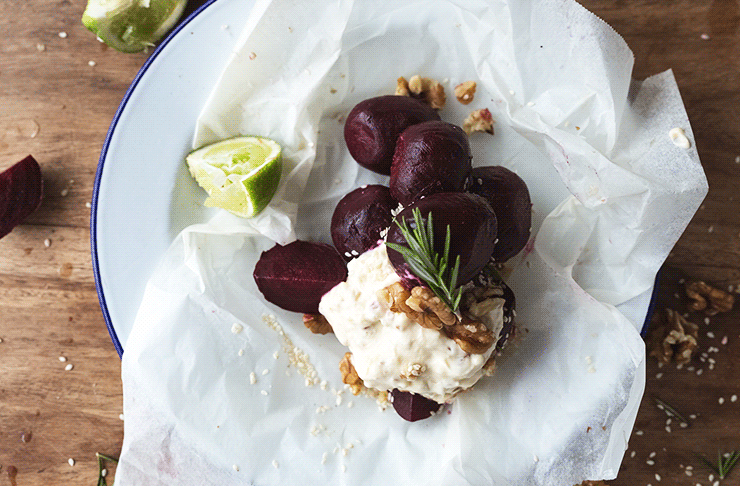 #7 Beetroots with blue cheese, honey and rosemary
This Christmas side is a guaranteed winner. The sweet beets mixed with the cheese, crème fraiche and honey tastes like a high five in your mouth. This dish is easy to make and looks great when brought to the table.
Servings:
4 servings
Time:
1 hour 15 minutes
Ingredients:
12 small red and yellow beetroots
150g Castello Creamy Blue
100ml crème fraiche
Zest of 1 lime
50g walnuts
1 tbsp chopped rosemary
2 tbsp runny honey
Method:
Rinse and scrub the beetroots. Wrap them individually in aluminium foil.
Barbecue them over indirect heat and cover for approximately 1 hour. Prick to check for doneness.
Mash the cheese and combine with the crème fraiche, lime and salt.
Coarsely chop the walnuts.
Heat the honey in a saucepan and add the rosemary and walnuts.
Open up the beetroot packages. Cut a deep cross in each beetroot and pull apart.
Place a dollop of cheese cream in each and drizzle with the walnut and rosemary honey.
---
Image credit: Jackielyn Powell
Editor's Note: This article is proudly sponsored by Castello and endorsed by The Urban List. Thank you for supporting the sponsors who make The Urban List possible. Click here for more information on our editorial policy.