We sure know how to live life right over here in the west. As an epic month of cabaret, comedy and circus fun comes to an end, we're greeted with another month filled with food and drink as far as the eye can see.
That's right, Eat Drink Perth is back baby and you better be excited because it's bringing with it bottomless prosecco, cheeseburger sausage rolls, pizza tours and Aperol spritz granitas—wrap your lips around that.
From Fringe to binge, here's everything you need to drink and devour in the city for Eat Drink Perth!
Cheeseburger Sausage Rolls
Flaky puff pastry, trusty ketchup and mustard, burger cheese and juicy pickles come together for Joe's Bakery's latest and greatest creation—the cheeseburger sausage roll. This little guy is so damn good it'll have you applying for jobs in West Perth just so you can eat one on the daily.

Bottomless Prosecco + Brunch
Bottomless Prose…where do we sign up?! (Right here.) The legends at Gazette are throwing a series of ladies nights that are going to go off, each one featuring two hours of bottomless bubbles, an all-fem DJ line-up and Gazette's tasty pizzas and salumi. Grab the gals and secure your table now!
Espresso Buttercream (And Ombre Layer Cakes)
Let's be honest, the icing is the best bit of any dessert. So when we heard that The Blonde Baking Mama is showing us how to whip up an espresso buttercream at Tiisch this March we screamed (coffee + icing = best ever). Not only will you learn how to decorate a textured ombre layer cake, you'll get to eat some too. It's all happening on 25 March, mark your diaries!
Pizza, Pizza And More Pizza
Get a slice of culture with your pizza on an awesome new Pizza & Peddle tour by Oh Hey WA. Let the sculpted calf muscles of the OHWA team cart you all over town in your very own rickshaw as you stop off at four of Perth's top pizza spots—Alfred's, Cheeky Sparrow, Dough and Comet. All your slices are included in your ticket and you'll even score discounted drinks. Hop to it, we predict these tours will sell out fast!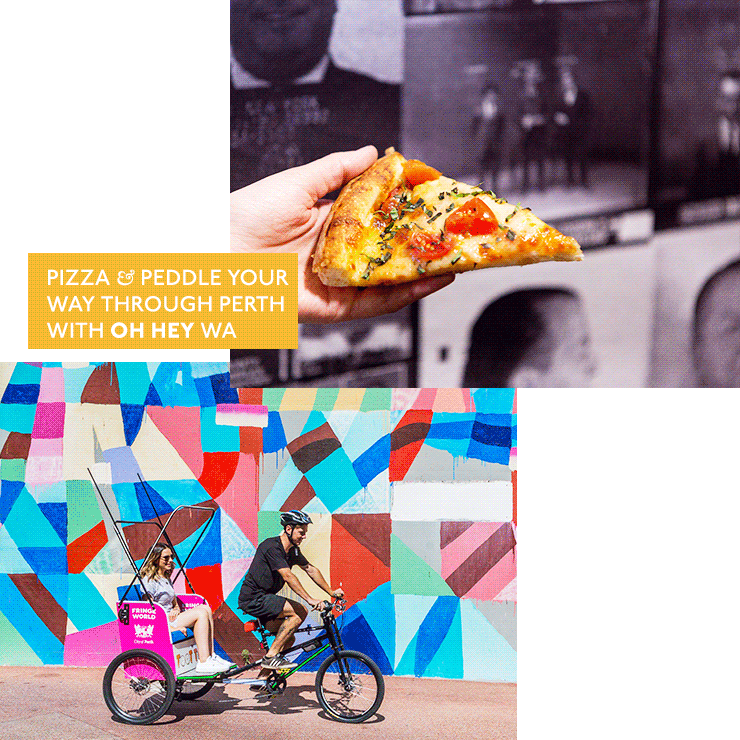 Cheese And Cider
Put down your wine glass (just for a sec), cider tastes good with cheese too! Head down to the sacred Fromage Vaults underneath Fromage Artisans on 13 March and you'll be in for a delightful evening of cheese and George The Fox cider pairings. Get tickets here.
Bloody Mary's And Dumplings
While we weren't watching The Melbourne Hotel has undergone a transformation and opened De Baun & Co, aka their brand new pub. And to celebrate the opening on 24 March they're serving a $14 Bloody Mary and dumpling special. You'll find all of the details here.
Middle-Eastern Burgers And Beers
$20 will get you The Hummus Club's brand new Mid-Eastern burger creation, along with one of Lebanon's favourite beers during Eat Drink Perth. A soft milk bun sandwiches together a juicy lamb kefter patty, pickled green tomatoes onion and cos lettuce with a good dollop of special sauce and THC's tasty, herby chilli sauce. We'll be devouring at least one a week!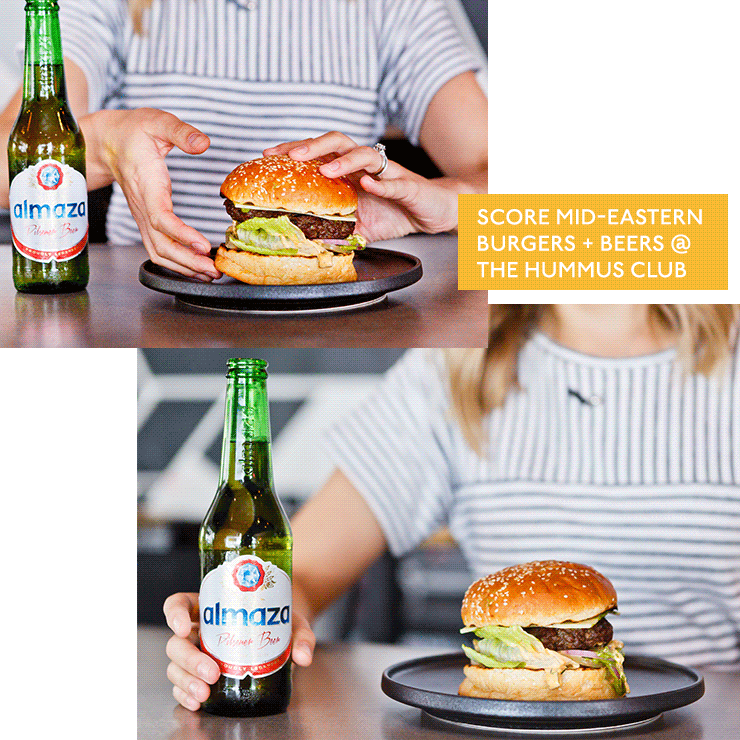 Aperol Spritz Granitas
First, frosé stole our hearts, now it's time for the Aperol spritz granita to steal the show. The clever little munchkins from Chicho Gelato have put their own spin on this Sicilian dessert, but it's only available until 31 March. Don't miss out!
Red Wine And Red Meat
In case you missed it last year, Cabernet & The Carnivore is back again for Eat Drink Perth. Wine enthusiast Foni Pollitt and butcher Greg Ryan are teaming up on 14 March to throw a red meat and red wine pairing dinner. Buying tickets ahead of time is a must, book here!
Super Bowls And Smoothies
Life's all about balance and after all of the sausage rolls, burgers and pizzas you'll be eating you'll want to skip right over St Georges Terrace to Primal Pantry for their Power Lunch deal. Order any super bowl, smoothie and a raw treat and you'll get 15% off. Bonza!
You'll find more feasts for the eyes and the stomach (over 150 of them to be exact) on the City of Perth website.
Image credit: Emma Bryant
Editor's note: This article is proudly sponsored by City of Perth and endorsed by The Urban List. Thank you for supporting the sponsors who make The Urban List possible. Click here for more information on our editorial policy.