We Perthites are certainly not faced with a shortage of great date spots to choose from—in fact if anything, we are spoilt for choice. These days, the only thing harder than getting a date is choosing where to take them.
Dinner dates aren't necessarily the same as they used to be. We don't really want the white tablecloths or the dim, candlelit lighting any more—we want places with energy, flair and, most importantly, lots of talking points. With that in mind, here are Perth's best date night restaurants!

Old Lane Street Eats
Northbridge
While neighbouring Billy Lee's might hold nostalgic memories of late-night drunken feasts, Old Lane Street Eats definitely trumps as a date spot. A bit quieter than some of the other bustling Chinese restaurants in Northbridge and giving the trending decor of the day their best crack, Old Lane Street Eats' food is as delicious as it is copious. Do not miss out on the Roti John, which consists of sloppy (in a good way) minced beef, egg, onion and Sriracha in a bun. Another favourite is the tasty pad thai which comes out encased in an omelette. And yes, it's BYO!
Tiger Bao
Northbridge
Housed among the retro Chinese decor of the Old Shanghai Markets, Tiger Bao is setting itself apart—and not just with their delicious baos and tasty chippies. The modern yet minimalistic fit out gives Old Shanghai a much needed prod of new energy. They're not BYO, but you can treat your date to a beer on a budget from Bar Shanghai.
Tiger Bao | Image credit: Louise Coghill
Nasi Lemak Korner
Como and Mosman Park
For a slightly more upscale date (maybe the third one), head to Nasi Lemak Korner in either Como or Mosman Park. At both, you'll find authentic Malaysian favourites dished up with a contemporary twist. The menu features a selection of traditional Nasi Lemak, plus other favourites like satay, mee goreng and rendang. The house sambal will knock your socks off and they'll happily load you up with more for free if you're really trying to impress your date.
Francoforte Spaghetti Bar
Northbridge
This one tops the list of date spots whether you're on a budget or not. Francoforte is hip but unpretentious, intimate but easy-going and, above all, the menu is short but uncompromising on quality. You literally cannot go wrong here, but the kale pesto with cacciatore sausage and the porco rosso are absolute game-changers. Plus, it's BYO! You can even take the date to a whole new level by hitting up Tre Amici (in winter only, keep an eye out No Mafia's Facebook page to find out when it's coming back this year) where for $35 you can have entrees at No Mafia, mains at Francoforte and dessert at Chicho Gelato. Date night sorted, for life.
Pinchos
Leederville
This place was practically made for date-goers on budgets. Transport your date to Spain by heading to Pinchos, where you can enjoy delicious morsels made up of white anchovy, pickle and olive, or sausage, honey and goats cheese for as low as $1. Yes, one damn dollar. But don't worry, the more substantial menu items don't increase in price exponentially—so treat yourself to the albondigas (meatballs) and the beetroot and chickpea salad, both of which are exquisite. Order as you go and have some fun with it!

Lucky Chans
Northbridge
There aren't many nights of the week where Lucky Chans doesn't have a line out the door—but far from making this a place to avoid on date night, it makes it the spot you should definitely be going! The place screams 'good times': from the quick wait in the front, decked out like a Chinese laundry, to the intimate tables and fun-loving bartenders, all the way to the punny menu and flavour-packed food. Cross your fingers for a table on the rooftop, order The Crab Pot and thank us later!
Little Creatures
Fremantle
Never has there been a more obvious spot to go on a first date. Little Creatures is always bustling full of laid-back atmosphere, the staff are chatty and accommodating, and the food and drinks are easy pleasers. It's a divine combination. When that fresh Freo breeze, the lapping water of the dock and twinkling lights come into the equation, the second date will be a lock.
Clarences
Mount Lawley
Never impartial to a good mid-week deal is Clarences, a much-loved neighbourhood joint offering a variety of drinking and dining options. Chill in the courtyard with a beer and some chips, tuck yourselves away at one of the high tables and enjoy some share platters, or go for a full sit down dinner in the dimly-lit, street-facing restaurant. The burgers are epic, and can be made a bit more date-appropriated if coupled with one of their mouth-watering cocktails.
Clarences | Image credit: Nancy Hanna
The Local Hotel
South Fremantle
Another contemporary pub that lends itself quite nicely to a date, The Local Hotel is a one-stop-date-night-shop. Drinks in the front bar followed by eats in the Local Garage, Restaurant or Dining Room, topped off with a night-cap from the Whiskey Bar. Each space offers its own unique feel—think fun and hip in the garage, intimate but casual in the dining room, and vibrant in the restaurant.
Neighbourhood Pizza
Mount Hawthorn
Housed in a refurbed, extremely spacious warehouse, Neighbourhood Pizza is a no-brainer for a date. The place is incredibly relaxed, and the inventive pizza toppings will provide for much conversation (or debate, depending on which way you each lean toward potato, maple syrup and rosemary on pizza). If that's not enough to get you there, it's BYO. Done.
The Modern Eatery
Fremantle or Mount Lawley
Bringing fine Japanese sushi to the people of Perth is The Modern Eatery, who specialise in Aburi Sushi which is the kind that's seared with an open flame. Both the Fremantle and Mount Lawley restaurants are beautifully fitted-out, promising to impress. Share some 'Japas' (yeah, Japanese tapas) or go straight for the Aburi 'feed me' option.
Lulu La Delizia
Subiaco
We hope your date likes pasta, because here's another list-stopper for ya'. Lulu La Delizia is a quaint little eatery and wine bar specialising in premium fresh, hand-made pasta. Here, you can practically taste the love that has been put into carefully creating each bowl of pasta served, so how can love not abound on your date, too? The space is small, intimate, and homely, striking the perfect balance between romantic and relaxed.
Lulu La Delizia | Image credit: Elle Borgward
Lady Of Ro
Subiaco
You can see why this list was hard to narrow down. Lady of Ro is the definition of laid-back elegance, what with it's dim lighting, marble bar and menu that's chalked-up nightly. Choose literally anything from their grill (the prawns, if they're on offer, are insanely buttery and delicious) and don't forget the wine, because this lil' gem is BYO. P.S. Order the souffra for dessert if you want extra points!
Canteen Pizza
Cottesloe
Canteen Pizza is like the date spot for the kids of the people who go on dates at Il Lido, its parent restaurant up the road. In all seriousness though, Canteen is bringing new credibility to the date suggestion of, 'we could grab pizza?'. They serve up literally the best pizza in Perth which goes down nicely at sunset with an Aperol Spritz in hand. The place has a wine menu heavily inspired by that of Il Lido's, so you know you're in for some good liquid accompaniments, too. Don't leave without splitting the tummy-bustingly good tiramisu.
Rice Baby
Subiaco
Come for the fun vibes, stay for the espresso martinis. A date at Rice Baby should secure another regardless, but won't be complete without the sweet and sour chicken. Or the slow cooked beef curry. Or the honey glazed roast pork mini baos. You know what, you can't really miss anything. Come for a quadruple date and order the whole menu to share.
Rice Baby | Image credit: Nancy Hanna
El Publico
Mount Lawley
If you're date could require a bit of a tequila blanket, look no further my friends. El Publico is a fun and energetic spot for a date, and their Tommy's Margarita is, undoubtedly, the best of its kind. Choose from the a la carte menu—the duck carnitas are a non-negotiable—or go for the 'feed me' menu which will see you buried in chicharron, street corn and tacos for just $39! P.S. The hot sauce is seriously hot, don't derail the date by going too hard.
Kitsch Bar
Leederville
Think hot, sweet, spicy and sour flavours in a laid-back but charactered joint. Kitsch Bar is traditional Asian street market inspired food meets cocktails reminiscent of the bars of Bangkok, Singapore and Malaysia. Don't miss the lamb massaman curry, green papaya salad or the crispy skin pork belly—though the menu changes frequently, so be sure to get adventurous, too. Also, if you're wishing you were still reading the 'budget' category, these guys do weekly specials— read: Pad Thai Tuesdays for $17 including a beer.
La Cholita
Northbridge
Sitting up at the La Cholita bar or people-watching out their front window makes for the stuff of truly great dates. The place is full of energy and the food always full of flavour. Combo up your guacamole (their crispy flour tortilla chips make the dish), the baja fish tacos, a quesadilla and any one of their inventive, infused margaritas for a seriously good meal.
Cantina 663
Mount Lawley
This is casual dining at it's finest! One of the original Beaufort Street dining spots, Cantina is still holding strong as a beautiful spot to take a date. Start things off with a glass of wine—ask for their recommendation—and the pate with caramelised onion and charred sourdough—it'll blow your mind. For dinner, it's hard to go wrong, but the gnocchi is pretty exceptional if you're struggling to decide!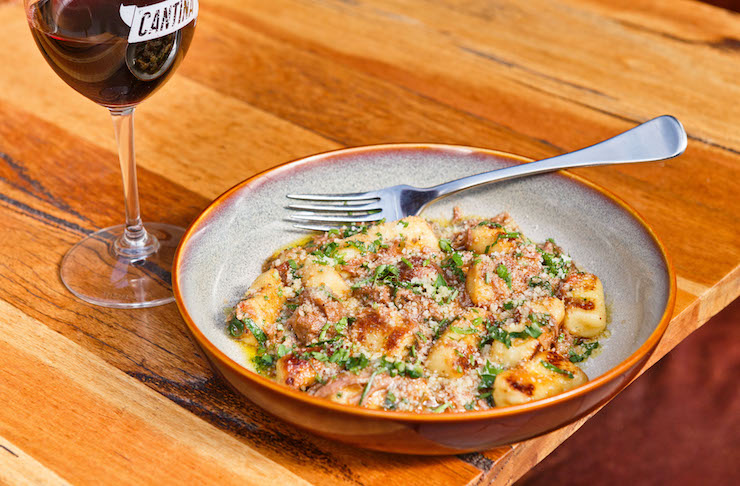 Cantina 663 | Image credit: Emma Bryant
The Apple Daily
Perth
An all-time date spot for fun-loving yet-to-be couples is Apple Daily, named after Hong Kong's popular daily newspaper and serving up some of the best Asian eats in town. The papaya salad, saltwater duck, drunken noodles and sticky short-ribs are all must-orders. Or, for a throw-back to the budget list, go for their 'feed me' menu and enjoy a bunch of Apple's greatest hits.
Propeller
North Fremantle
This cool little spot pretty much defines North Freo casual fine dining. Built into an old bus garage, Propeller is effortlessly chic, modern and vibrant, and dining here is, simply put, a really nice experience. Go for something easy like the pizzas, or ask for the tasting menu and let the incredible kitchen team decide how to feed you.
Habitue
North Fremantle
Neighbouring Propeller is another North Freo gem, Habitue. Oozing Freo cool, but relaxed and romantic, Habitue is dishing up delicious mediterranean fare made from fresh, local produce. Their 'thing' is char grill cooking, so expect some tantalising smells and flavours to emanate from the kitchen!
Habitue | Image credit: Elle Borgward
Lalla Rookh
Perth
This delightful modern Italian eatery has been a long-time Perthling favourite for a reason. Lalla Rookh's il Capo menu (chef's selection) is highly trustworthy—it features six seasonal specials as a series of shared plates. Otherwise, go for the crab spaghetti or the smoked pork neck—you won't be let down either way.
La Vida Urbana
Leederville
Fun and Mexican food seem to go together in this city. La Vida Urbana is a newish addition to Leederville and we're hoping it stays forever. The nachos are insanely good and shareable, and you can't go wrong with literally any of the tacos. A couple rounds of cocktails at this place should score you another date.
The Mantle
Fremantle
Not a restaurant per se, but a collective of restaurants that is geared perfectly toward date night! One of our fave spots to grab a bite inside The Mantle is the South American inspired Don Tapa (order the beef tataki and the pork tacos), but be sure to pop down to Alter Ego for a drink afterwards, too.

Il Lido
Cottesloe
If you really feel like treating yourselves, do it at this ever-reliable neighbourhood joint-cum-world-class-eatery. Il Lido's beachside location, tall ceilings and familiar service ensure it never feels too fancy, while their award-winning wine selection, contemporary fit-out and expertly crafted food secure its spot as a very fine place to dine. Our recommendation? Book a Sunday date and split the lasagna—it's so luxurious, the sugo almost warrants plate-slurping!
Bread In Common
Fremantle
Built into a beautiful heritage listed building on Pakenham Street, Bread In Common has been running since 2013 and their menu is showing no signs of failure. The open kitchen makes for great date discussion, and the farm to table food will delight and surprise. If the flourless chocolate is on offer for dessert, don't leave without treating yourselves to it!
Long Chim
Perth
It's hard to go past Long Chim for date night, not least due to its irresistibly cool location (the basement of the State Buildings) and excellent fit-out. It cannot be overstated how good Long Chim's menu is. From the chicken lamp and the Chiang Mai sausage, to the papaya and watercress salads, to the prawn and fish dumpling laksa, the roast duck, and the beef massaman curry, you will leave here wanting to come back for lunch and dinner again the next day, and every day after that for the rest of time.
Long Chim | Image credit: Nancy Hanna
Petition Kitchen
Perth
The State Buildings ooze romance, character and fun, so it's hard to go past any of their restaurants for a good date. Petition Kitchen serves up rustic, Mediterranean-inspired food that is uniquely Western Australian, showcasing some of the best local produce there is. Order a delicious assortment, or just go straight for the Arkady lamb shoulder and be done with it. (Jokes, still order heaps of delicious smaller eats because they're all delicious).
Tsunami Ko
Mosman Park
So continues our love affair with great food that lies behind inconspicuous doors. Tsunami Ko is the epitome of exclusive dining, and could represent the peak of experiencing teppanyaki in Perth. The place only fits 16 people, all seated around the iron plates, so you've got pretty much full view of the teppanyaki theatrics from wherever you're seated. You can order straight from the teppanyaki menu, or go for the Omakase, which is a chef's selection. Make sure to accompany your meal with one of their fifty different sake varieties or a Japanese whisky, if you dare. Being entertained by the incredibly skilful, knife-wielding chef makes for a really fun (but still sophisticated) date-night.
Want more date night ideas? Here are 8 date ideas that aren't dinner and drinks.
Image credit: Nancy Hanna