Getting away with the girls is what life is made of. Whether it's a road trip complete with ancient iPod sing-alongs and chicken salted chips, an inner-city staycation topped off with cocktail bars, galleries and sleep-ins, or anything in between, a good girls weekend can really rejuvenate the soul.
Fortunately, we Perth femmes have a lot of diverse options when it comes to planning a weekend escape. Find repose in one of our many boutique hotels, or head north, south or east to find new treasures and truly get away. From pamper seshing and wining and dining, to camping, hiking and beach combing—these one's are for the girls!
Here are the best girls weekend escapes from Perth.
Rottnest
Just a hop, skip and a ferry ride across the channel from Perth lies one of the greatest weekend escapes for any gal, no matter what you're looking for. Whether it's secluded beaches and crystal clear water to float in 'til your soul is whole, long walks and bike rides or some pretty serious below sea level experiences that constitutes your ideal girls escape, Rotto's got it.
Oh, and soon they'll have glamping so, there's that. While you're out making life-long memories, go get some classic snaps at the island's most insta-worthy spots.
Margaret River Region
It seems obvious, but there's a reason why almost the entire population of Perth chooses down south as their destination for getaways. When it comes to a girls weekend away, you literally cannot go wrong down here.
If you wanna treat yourselves to some pampering or relaxation, head straight to Injidup Spa Retreat and bunker down for the whole damn weekend (barring delicious brunches at Albert & Nikola and Wild & Woods of course!).
Also seriously good to escape to is Hilltop Studios or Redgate Beach Escape, both of which will keep you well away from any hustle and bustle and come complete with incredible views.
Unpack the meaning of life with the girls over a glass of wine or three as the sun sets over the ocean, bushland and vineyards—you won't forget it. The Saturday morning farmers market should set you in good stead to be full of delicious treats for the rest of the weekend, and you can head to a bunch of our favourite wineries and breweries too.
Albany And The Stirling Ranges
If your girl group's idea of an escape is hiking up mountains, going for long oceanside walks and getting totally immersed in nature, head to Albany stat. The best part is, that after you've slugged yourselves up Bluff Knoll and completed at least one of Albany's incredible walk trails, you can head back into town and grab dinner and cocktails at one of the charming restaurants like Liberté, Mean Fiddler, or Dylans on The Terrace!
By the way, when it comes to those walks—we recommend Emu Point to Ellen Cove for something easy and close to the beach, Albany Wind Farm to Little Grove for something slightly harder but more picturesque, or if you're really crazy you could get all the way out to Bald Head, but be prepared for a 16km round-trip.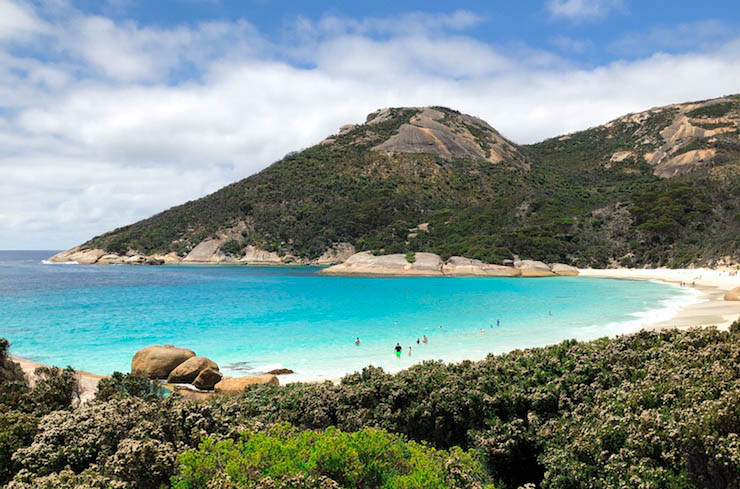 Swan Valley And The Hills
For the perfect combination of comfort and exploration, head east to the darling scarp. If the Swan Valley Food and Wine Trail excites you, then go no further than the Rose & Crown or The Vines for an overnight stay that gives you access to some of the area's most delicious eating and drinking!
Otherwise, go deep into the hills and stay at Hidden Valley Eco Lodges & Day Spa for some serious reprieve among the Jarrah trees. Be sure to walk up to Lesmurdie Falls and head to Core Cider House, or if you cruise into Kalamunda there's a bunch of local cafes and eateries that'll have you feeling very good inside—try Jack & Jill or Haynes Street Larder. Still need more to do? See our top picks for everything to eat, drink and do in the are!
Fremantle
What better place to escape to than our fair port city—accessible by train, traversable by bike and bordered by the river and the ocean? Head to the Tradewinds, where you can swap your daily grind for river views and a standalone bathtub. Bunk in with the girls and order one of their bar carts—espresso martinis and negronis all round! If you do venture out, you're around the corner from George Street where there's a bunch of seriously good places to eat including Ari & Esmay and George Street Quarters!
If you'd prefer to be right in the cultural heart of Freo, head to The Hougoumont: you can do breakfast at The Attic, peruse New Edition bookstore all morning, analyse some art at PSAS and do dinner and drinks at Bread in Common all within a stone's throw.
Or, if South Freo is more your jam, stay in a beautiful little modern pub room at The Local Hotel and roam South Terrace all weekend. We're thinking Port City Roasters for brunch, Ruocco's Pizzeria for dinner, and a bit of sun and salt at South Beach in between. While you're planning a Freo escape, check out all the restaurants you need to try, fifty things you should do and the hidden cafes you might not find without us!
Staycay
If you want the escape without the fuel expense, head no further than our very own city centre my friends! For a park-side escape full of King's Park walks and picnics, head to Tribe, a gorgeous little boutique hotel with simple but stunning rooms that may convince your Instagram followers you've jetted across to NYC. You can hire bikes and head for coffee and brunch at Gordon Street Garage or for a stretch at The Yoga Space. Or, if you'd rather not leave, just lap up your park view and eat at the extremely non-cliche in-house bar and restaurant for the perfect and uninterrupted city escape.
If that doesn't sound like your thing, try Alex Hotel in Northbridge where you can have a girls weekend full of culture, food and cocktails as you lap up everything this locale has to offer. Seriously gals, it's built literally on top of Shadow Wine Bar, next-door to Mechanics, and across the road from PICA and the Art Gallery—need we say more? While you're there, eat your heart out at these incredible Northbridge restaurants!
Of course, for something seriously upscale there's always Crown Perth (that day spa though…) or COMO The Treasury.
Kalbarri And Monkey Mia
If you want a weekend escape that requires a solid road trip (aka opportunity for girl anthem sing-alone), head up to Kalbarri and Monkey Mia! With national park hikes galore and some incredibly blue waters to swim and snorkel in, this part of our dazzling coast is not to be overlooked for the ultimate girls weekender.
This is a true escape from city life: think camping (preferably in some kind of cool van), cooking your own food and drinking wines in the sand at sunset. Don't leave without us!
Looking for a great spot for cute friend dates? Click here.
Swan Valley |Image credit: Lamonts in the Swan Valley, Elle Borgward in Fremantle, Anna Franklyn in Albany and Rottnest