In case you hadn't noticed, Barrack Street has gained some serious street cred (hah!) over the past year.
Spurred on by the opening of the State Buildings last year, there are plenty of new cafes, restaurants, bars and shops opening, plus lots of old faves that we cannot forget.
Heading to Perth CBD? Here's why you need to take a stroll down Barrack Street, stat!
Recess On Barrack
Kicking off with Barrack Street's newest addition, Recess On Barrack is serving up delicious coffee, bagels, pastries and lots of other goodies. The polished concrete floors, colourful coffee cups and #allofthegreenery will draw you in the first time but you'll be back time and time again for the coffee.
Alfred's Pizzeria. Small Bar
There was a giant pizza-sized hole in the Perth CBD until Alfred's Pizzeria stormed onto the scene earlier this year. An American gangster themed pizza bar, we go absolutely crazy for Alfred's pizza by the slice, delicious cocktails and cognac. Owned by the same legends as Frisk. Small Bar, you know you're in for a treat!
COMO The Treasury
Home to some of Perth's best restaurants, COMO The Treasury has a lot to do with the revitalisation of Barrack Street. Whether you're in the mood for French influenced fare at Post, fine dining with a killer view at Wildflower or ultimate relaxation at COMO Shambhala Urban Escape, a visit the COMO The Treasury is always a treat.
Long Chim
Journey to the depths of the State Buildings and you will find David Thompson's incredible Thai street food restaurant, Long Chim. On the menu you'll find tasty Thai eats like cumin and turmeric beef skewers, garlic and pepper squid, roast duck with pickled ginger, crunchy pork with Chinese broccoli and the must try banana roti.
All Of The Petitions!
Whether you're a foodie, wine lover or beer drinker, Petition Kitchen, Petition Wine Bar & Merchant and Petition Beer Corner has you covered. Head to the Kitchen for breakfast or lunch, make your way over to the Beer Corner for a few arvo bevvies and then enjoy a glass of vino to cap off the day at the Wine Bar. Best day ever?
Halford Bar
Another goodun tucked underneath the state buildings in the safe room of the old Titles Building, Halford specialises in martinis. They've also got a selective, yet quality wine list, and tasty bar snacks including some pretty incred jaffles.
Telegram Coffee
Coffee lovers follow local barista Luke Arnold around town like 14-year-old girls follow Justin Beiber, so thankfully he's found his new home in the restored State Buildings at Telegram Coffee. Here they serve cups of joe from boutique roasters like Dukes and Loaded for under five bucks.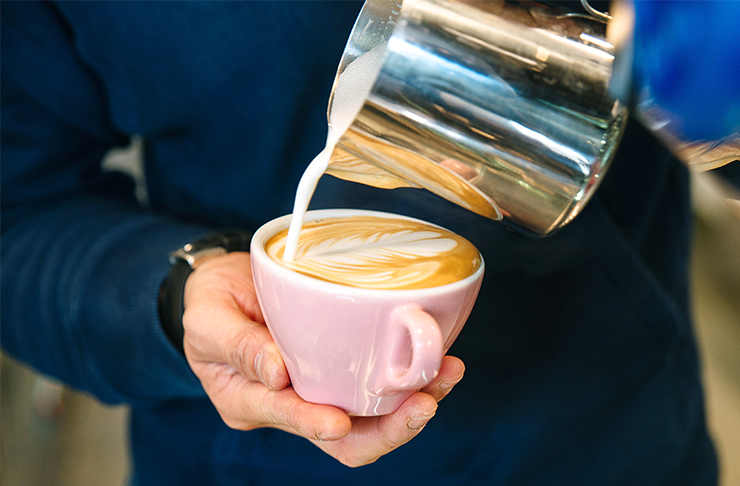 Bailey Nelson
All the cool kids get their specs from Bailey Nelson and a boutique has finally made its way to Perth so we can try these bad boys on in real time. With an optometrist on sight and loads of stylish frames to try, head here first when you need to get your prescription renewed.
Clean Slate
Treat your body and your senses to some of Perth's best skin care. Clean Slate is a delightful little store beneath the State Buildings which stocks everything from cleansers and moisturisers to scrubs and perfumes. The perfect spot to pick up a gift for a friend (or yourself), Clean Slate also run some fun workshops.
Pepper Lunch
If you enjoy DIY meals you'll love Pepper Lunch where they serve tasty Japanese fare which you cook on a piping hot 260 degree teppan at your table. Our favourites have to be the signature beef pepper rice and the salmon pepper rice, served with Pepper Lunch's unique margarine, corn and...you guessed it...loads of roasted black pepper. Mix it all up to cook to your liking and add some sweet or garlic sauce (or both) and enjoy, just don't burn your mouth!
Le Vietnam
It's all about the banh mi at Le Vietnam on Barrack Street in Perth. This Vietnamese-cum-French Cafe frequently changes up their menu, you're likely to find tasty fillings like pulled pork and soft shell crab—but whatever you order, it will be delicious.
Toastface Grillah
While it's not technically on Barrack Street, you'll find Toastface Grillah tucked down a grungy alleyway off Barrack. Home to some of the best toasted sandwiches in Perth, make a beeline for Toastface the minute the clock strikes noon as it fills up fast with CBD lunch breakers.
Milktooth Coffee Dealers
This compact little shop with rustic decor, blackboards and mini succulents will leave you wanting more all day, errryday. The coffee is next level amaze-balls and their sweet treats look even better. Home to Perth's favourite Top Dup doughnuts, the coffee lords at Milktooth serve up the perfect brew to go with it. They are also known for their delicious toasties and the latest and greatest, cold brew coffee!
Zensaki
Another Japanese goodun on Barrack Street, you'll find delicious sashimi, ramen, sushi, salads, bento sets and katsu at Zensaki. The best bit? They're licenced, so you can knock back a cheeky sake on your lunch break. Winning!
Honey Creme
Ice cream sensation Honey Creme has taken the world by storm and Perth has been lucky enough to get the first store in Australia. Made with fresh local milk and sweetened with organic local honey, Honey Creme is certainly not your average soft serve ice cream. With flavours like bacon and chocolate, organic cotton candy, popcorn, churros, macarons and, our personal favourite, the cereal milk, you'd be crazy not to get down there asap!
Did you guys know Subi is cool again? Here's the proof!
Recess On Barrack | Image credit: Nancy Hanna