I love yoga. Not in an annoying I'm-going-to-talk-about-yoga-all-the-time kind of way. But I like it. It's challenging and relaxing at the same time, and great for someone like me who's a desk jockey. Plus don't get me started on all the fun yoga clothes I can buy "for exercising" in.
But what is this aerial yoga business that kept appearing on my Instagram feed and talked about at dinner parties? Me, being the ever-curious exerciser, had to see what this was all about. Was it going to be a bit too circus for my liking? Would it be fun? And most importantly, would I fall flat on my face? I headed to Sky-lab to find out for myself.
I turn up to class after work on a Tuesday night. There are a number of people milling about in the waiting room. Past them I can see hammock-type things hanging from the ceiling. Hammocks, eh? If it involves me just hanging around for an hour, this is the kind of work out I could get used to. Spoiler: it's not.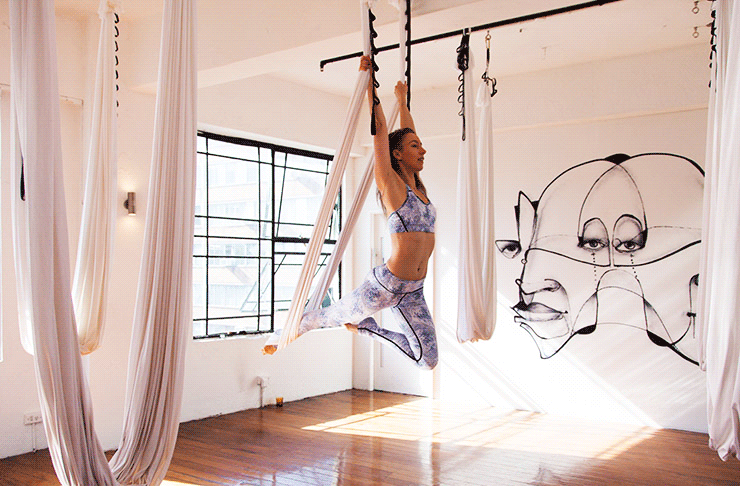 We go into the studio and I strategically find a hammock—the middle row and to the right (so I can see what's going on but not at the front because I'm not ready for everyone to see me fumble my way through class). Shari Vietch, the teacher and owner of Sky-lab, takes her place on the red teacher's hammock at the front of the class. She's got an awesome Vie Active outfit on and a rock hard dancer's body. Damn, maybe she's onto something with aerial fitness! She's all smiles and her positivity sets me at ease even though I don't know what the hell I'm doing.
Shari takes her time to show us how to do each of the moves, and it's all quite fun—if not a little terrifying when you go upside down for the first time. There's a lot of strength involved with this class and I can see me getting stronger doing this more often. Helloooooo toned arms!
We do all sorts of poses, we swing a bit (watch out for your neighbours), and there's a lot of hanging upside down. Here's something… when you're upside down, you lose understanding of up and down, left and right. So prepare to feel a little thrown when she says to move your hand forward or to the left, because WHICH WAY IS THAT?!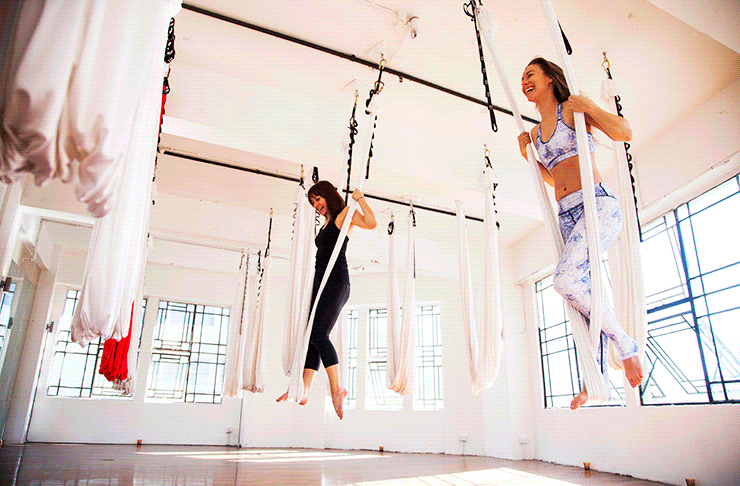 An hour goes by quickly and before I know it, we are lying in our hammocks, like little caterpillars in cocoons ready to emerge as perfectly toned butterflies. After class has finished, I know it sounds cheesy, but I do feel lighter. It's probably partially do to the being upside down part, but it feels good. I also feel like I got a full body work out and know that I will probably be that good kind of exercise sore over the next few days.
There's nothing quite like aerial yoga out there, and it's a whole lotta fun too. Yep, I'm converted. And yep, I have kind of turned into one of those talk-about-yoga-all-the-time people. Well played, aerial yoga. Well played.
Still want more? Read all about the time we tried Retrosweat.
Image credit: Federica Portentoso