Despite our penchant for dirty crunkin' tunes, OTT doughnuts and discounted makeup, we LOVE any chance that comes our way to get dolled up in our fanciest rags and sip champers all day long.
So, when we heard Bentley Polo In The Valley was returning to Perth this April we nabbed ourselves some tickets right away, and now we're letting you in on all the hot deets, because we're selfish like that (but also because we want to party with you).
Returning to Duncraig Stud in the Swan Valley on Sunday 8 April, this year's Polo In The Valley is just about as luxe as an event comes. As always, it's not all about the polo (although we're not going to complain about hot guys riding horses), there are plenty of ticket options to suit just about anyone.
For the fanciest pants out there, the G.H. Mumm VIP Marquee promises a seasonal sit-down lunch, Mumm champers, Pimms and other delightful libations in an exclusive marquee and garden lounge, while the Youth Focus Marquee tickets include canapes and two courses matched with premium WA bevvies. The Telethon Marquee tickets will see you rub shoulders with your faves from the 7 Network as you nibble on canapes and sip on drinks all day long, while the Tanqueray Polo Lounge is the only place gin-lovers will want to hang out with free-flowing polo cocktails.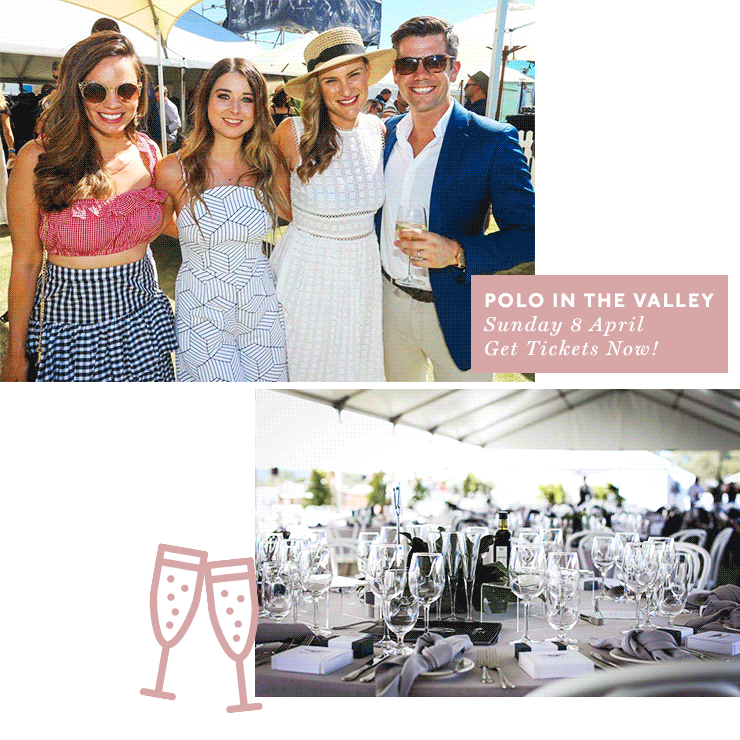 If you like the sound of your very own luxe picnic cabana (and you clicked on this article so you most definitely do), you're going to want to secure one right now. These field-side bays allow you to bring your own picnic hamper, but if you're feeling lazy you can always pick one up on the day when it's your turn to buy a round from the field-side bar. The best bit, your car will be nearby so you can always duck into the passenger seat for a nap!
After all the excitement of food, drinks and picnic cabanas we almost forgot the main event. Aussie and International babes (ahem, horsemen) will take to the fields for a day of polo action all in the name of charity, with some proceeds from this year's event going to Telethon and Youth Focus. Just in case you need to brush up on the rules of the game, there's a handy guide here.
Be sure to buy a couple of raffle tickets (there are two Qatar Airways business class tickets to Europe up for grabs), hit up the Pamper Marquee hosted by Bodhi J Spa, watch the Adam Heath fashion parade, try your luck at winning the Fashion on the Field comp (winners get a custom piece of Rohan Jewellery) and do your best Julia Roberts/Pretty Woman impression as you take part in the Divot Stomp.
With less than a month left until the event, you best pick up your tickets here before they all sell out (and they will).
Image credit: Provided
Editor's Note: This article was produced in partnership with Bentley Polo In The Valley. To find out more about who we work with (and why!), read our editorial policy here.