Perth, say hello to the new centre of town! While the Terrace will always have a place in our hearts, there's a new spot in town that's bringing the best of Northbridge and the city together—Kings Square.
Right on the doorstep of Perth Arena, Kings Square boasts some killer cafes and restaurants, covering everything from burgers and ramen to cocktails and delish share eats. Pre show feeds are now looking extra fabulous, as are after work drinks and dates, and you don't need to worry about forking out the dollars for a taxi ride home because the bus port is right next door.
If you haven't yet stopped by, prepare to be amazed, here are just a few of our favourite eats and drinks to get your taste buds excited.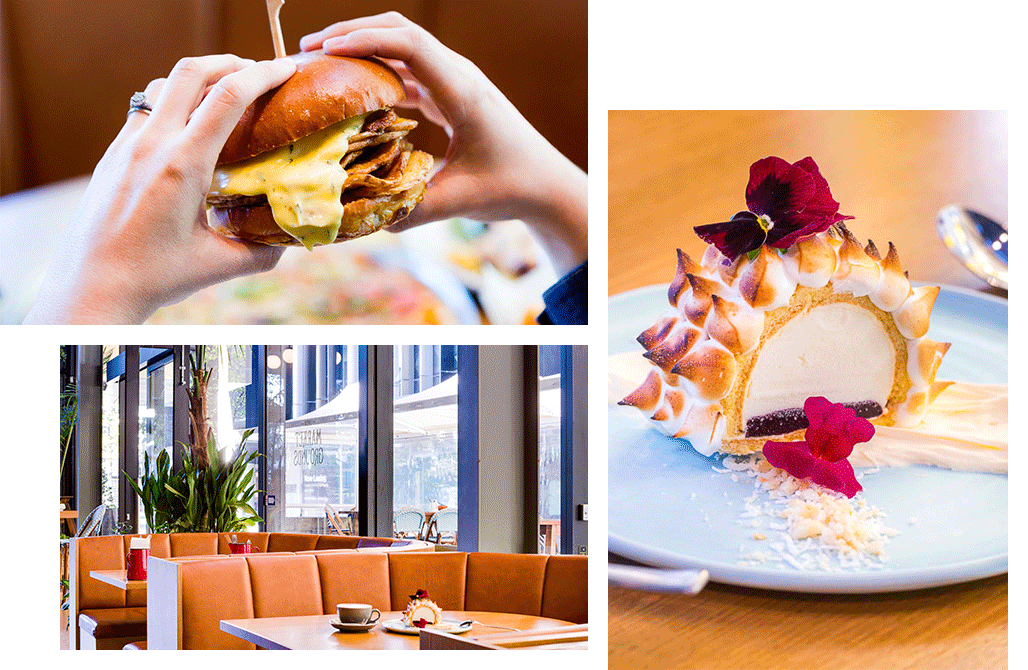 Market Grounds
Chip Butty
When is there ever a problem with carbs on carbs on carbs? We think never! The chip butty from Market Grounds is the pub-goers dream. A brioche bun is filled with layers of crispy royal blue potato chips, cultured butter, tomato relish and herb hollandaise. We think this is the perfect pre-game fodder to get you geared up for a game of B-ball at the stadium.
Pizzas
Pizza is our favourite food group and the doughy stuff they're dishing out at Market Grounds is really good. There's a whole menu to choose from, but we quite fancy the traditional fresh pomodoro with san marzano tomatoes, oregano, baby basil and mozzarella and the prosciutto with oyster mushrooms, stracciatella and rocket pesto.
Bombe Alaska
Over in the restaurant they're serving one of our all-time fave desserts in Perth. Once you've made your way through the extensive menu be sure to order the Bombe Alaska (or just go ahead and make it the main event). A perfect semi-circle of frozen yoghurt, macadamia and blueberry is perfectly piped with meringue and served with mascarpone and coconut.
Bloody Beetroot
Seeya bloody mary, there's a new cocktail in town that we just can't get enough of. Market Grounds' signature Bloody Beetroot is made with smoked vodka, beetroot juice (duh), mascarpone, lemon, tabasco and salt and it's to die for.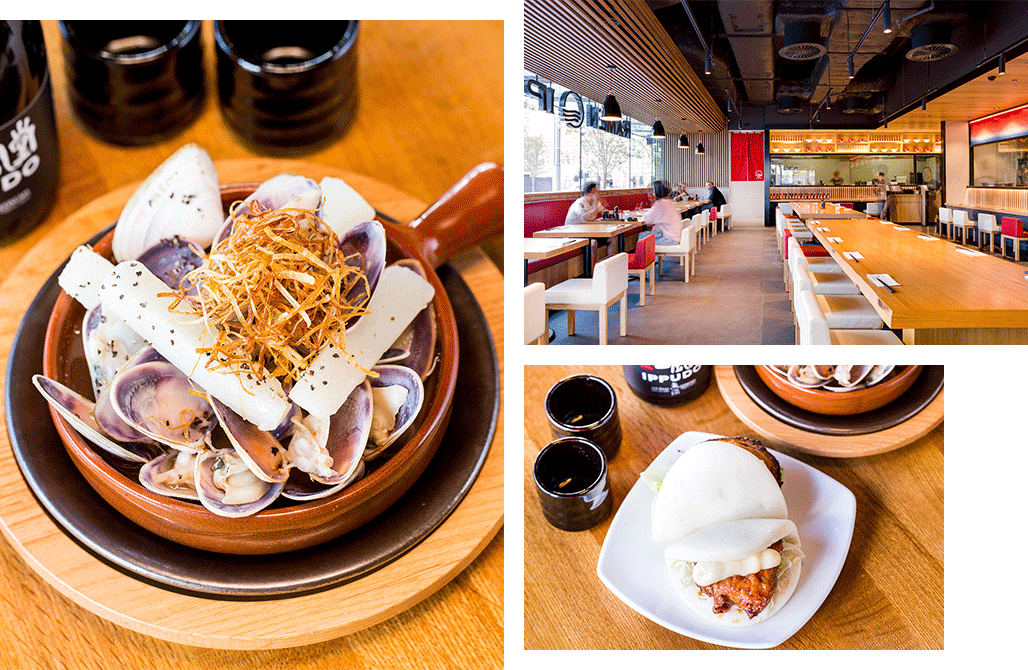 IPPUDO
Ramen
ICYMI Perth just got a new ramen joint/sake bar hybrid and we're so excited because ramen is life. IPPUDO is one of the most popular ramen spots in the world, with stores in 13 countries across the world, and you're sure to be blown away by their noodly, brothy goodness. The akamaru shinaji made with IPPUDO's signature tonkotsu broth is the dream.
Pipi Clams
If you're a big seafood fan and quite partial to sake, the Sakamushi Pipi Clams are going to be your jam. They're steamed with sake and served with daikon radish and fried leek.
Beef Sagari Yaki
The perfect share dish, this guy involves sliced tender angus beef drizzled in a moorish oroshi ponzu sauce topped with fried enoki mushrooms and chives.
Matcha Cheese Tart
It's no secret to anyone that we love a cheese tart, and the one that's being dished out at IPPUDO is no exception. Matcha-infused cheese sits atop an almond base and it's served with chocolate ice cream—delightful!
Steamed Buns
While you're at it, you're definitely going to want to try IPPUDO's signature buns. Their tasty pork bun is an international best seller and comes filled with melt-in-your-mouth chaschu pork or crispy chicken karaage, and both varieties come with iceberg lettuce and creamy mayo.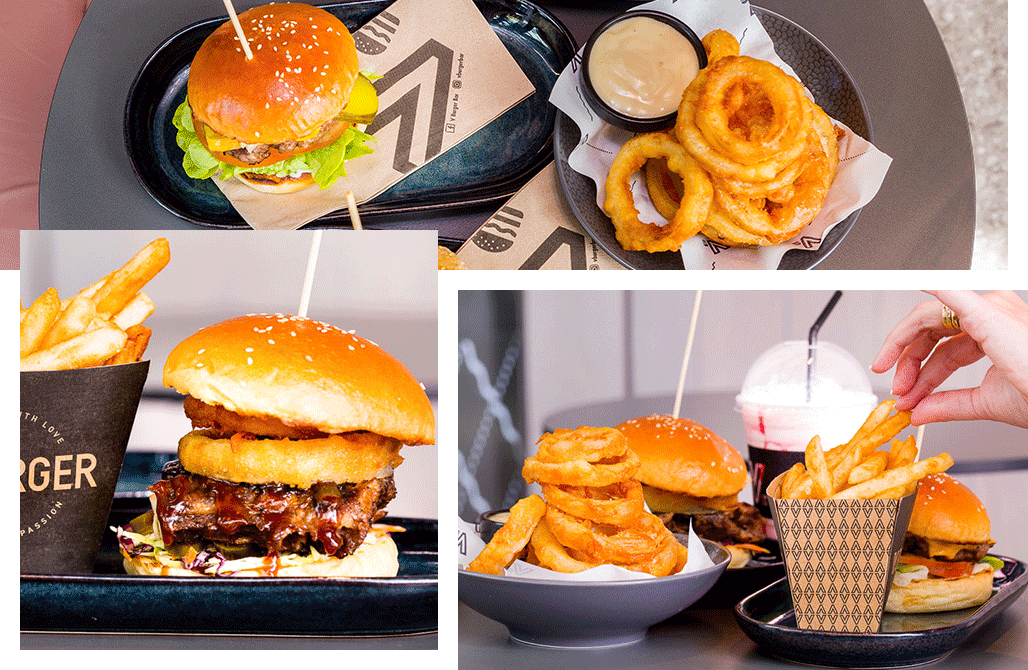 V Burger
Americana
V Burger's most popular bun, the Americana is exactly what you want when you're craving a traditional burger. A grilled prime beef patty, pickles, American cheddar, tomato, lettuce, fried onions and house aioli are sandwiched with two soft buns ready for you to sink your teeth into. We recommend adding some bacon just for a little extra oomph!
Piggy Back
A rib/burger hybrid, the Piggy Back burger is stuffed with off the bone, tender AF pork ribs, house aioli, BBQ sauce, a pickled jalapeno slaw and crispy onion rings. It's basically everything you love about BBQ in a burger.
Guacaloumi
Yes, the Guacaloumi definitely lives up to its title. In case you can't figure it out, this guy is loaded with grilled halloumi and guacamole, but inside you'll also find plenty of other veggie goodness including mushrooms, lettuce, tomato, onion and house aioli. Being vego's not so bad after all!
The Sides
Onion rings, battered chips and milkshakes—the guys from V Burger do their burgers justice with epic sides. Their chips are crazy crunchy and they're got loads of tasty dipping sauces to keep everyone happy. Oh, and did we mention they've got halloumi bites too?!
Adding to all of that deliciousness, be sure to stop by Eat House, Degani Cafe and Brew Ha for brekky or lunch.
Editor's Note: This article was produced in partnership with Kings Square. To find out more about who we work with (and why!), read our editorial policy here.
Image credit: Emma Bryant