We found a healthy Snickers pancake in Perth and they look almost as epic as they taste!
Hidden in the quaint streets of Carlisle, Little Raw Deli is your one stop shop for a healthy fix. Established by raw dessert queen Chris (the mastermind behind Raw by Chris treats), Little Raw Deli has restored our faith in buckwheat pancakes with their delicious and nutritious Snickers pancakes. Hallelujah!
Nestled next to a pooch groomer, we spent a blissful Saturday morning dog watching and enjoying some of Little Raw Deli's delights. There are only 10 seats in the dog-friendly cafe, which continues to remain a local secret (until now, woops). The warm and gooey pancake stack is only available on Saturdays, and at a ridiculously cheap $12.50, we think it might become your new weekend ritual.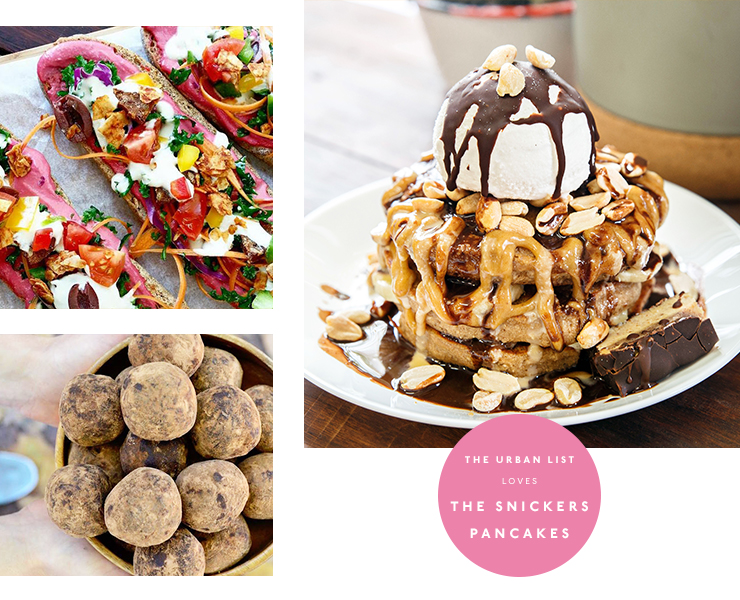 The Insta-worthy pancakes had us drooling from the moment they hit the table. They are vegan friendly, gluten free, dairy free, refined sugar free and taste absolutely delicious. Impossible? Apparently not. Chris has managed to create a piece of sweet and salty magic. Cooked with raw Snickers bits inside and layered with banana, peanut butter and caramel sauce, topped with vegan vanilla coconut ice-cream, peanuts, chocolate and even more raw snickers—every bite was like an indulgent warm hug.
The pancakes aren't the only menu item that will have you coming back for more. Chris and her crew create healthier versions of all our guilty pleasures like Mars Bars, Twix, brownies, cheesecakes, cupcakes, truffles and more. Some of our faves are the black forest cheesecake, chocolate caramel cupcake and yummy protein balls.

If you aren't a sweet tooth, there are plenty of lunch options from smashed avo and hummus, raw pizza, spring rolls, salads, soup or curry.
They also stock some scrumptious granola to take home. We like the sound of the Matcha Fields—kale, matcha green tea, spirulina, activated buckwheat, coconut flakes, cashews, chia seeds, dates, pumpkin, ginger and plenty of other good stuff.
When it comes to drinks they have a huge smoothie and mylkshake list including pina colada, apple pie and berry nice cream on the menu, plus a bunch of superfood lattes. Don't worry coffee fanatics, they also serve a small batch of organic brew coffee too.
With endless healthy options that taste amazing, we have a feeling this deli won't remain a little secret for long.

Image credit: Nancy Hanna