Christmas, how the hell did you come around again so quickly? If you are the sort of friend/family member that exchanges gifts then don't overlook the home made variety. Particularly when said gifts mean you don't have to face the angry shopping crowds, you can sort Christmas at your local corner store. Besides, there's no better gift than a tasty little something made with love. Naw.
Peanut Butter, Choc Chip & Salted Caramel Sauce
320g brown sugar
300ml pouring cream
1/2 a cup peanut butter
80g coarsely chopped butter
40g golden syrup
Sea salt flakes to taste
Choc chips
For the caramel, stir the brown sugar, cream, butter and golden syrup in a saucepan over low heat until the sugar dissolves. Bring to the boil and cook until thick and syrupy (5-10 minutes). Add a generous pinch of sea salt flakes and the peanut butter. Stir continuously until thoroughly incorporated. Pour into sterile jars, allow to cool slightly and top with choc chips. Some of the chips will drown and melt, others will stay on top creating this gloriously indulgent chunky sauce. So, so good. Alternatively you might like to gift with the chocolate chips separate with instructions to add once warming the sauce.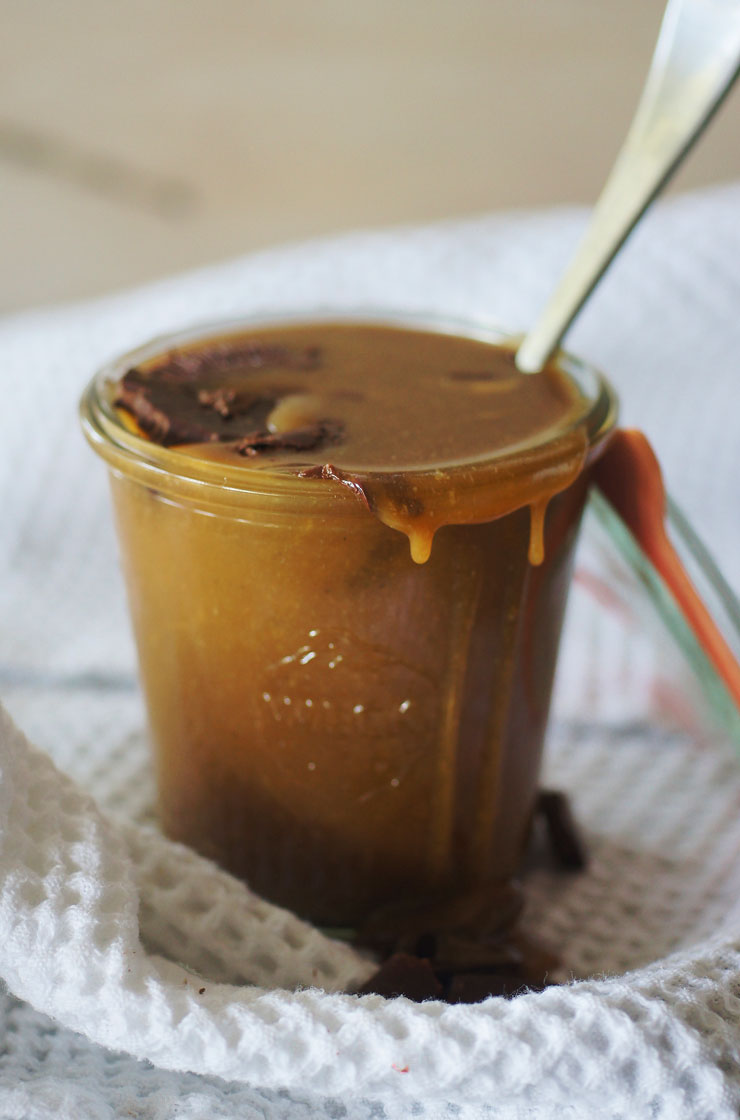 Christmas Cake Granola
4 and a 1/2 cups rolled oats
200g apple puree
8 tsp mixed spice
1/3 cup golden syrup
1/3 cup honey
1/3 cup brown sugar
150g pistachio kernels
100g walnuts
100g dried figs, roughly chopped
1 and a half cups mixed dried fruit (cranberries, Christmas fruit mix, sultanas, currants)
1/2 cup mixed seeds such as linseed and sunflower
Preheat the oven to 170C. Line two baking trays with baking paper and set aside.
For the granola combine the oats, apple puree, spices, golden syrup, honey, sugar, nuts and seeds in a large bowl and using your hands, mix to ensure everything is evenly coated. Spread the mixture onto the prepared trays and toast for 20-25 minutes. Remove from the oven, stir and return to the oven to cook for a further 20-25 minutes until fragrant and an even golden colour. Allow to cool. Stir in the dried fruits.
Fills about 8 small/medium cellophane bags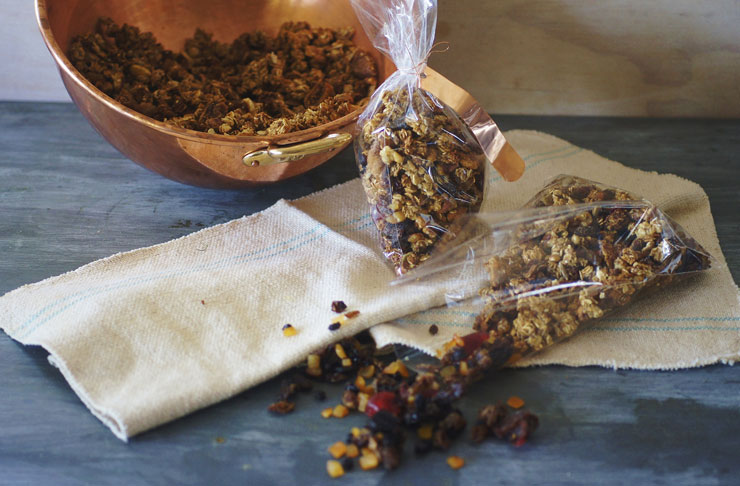 Spiced Ginger And White Chocolate Brownie Biscuits
Makes about 20
1 tbsp grapeseed oil
10g unsalted butter
2 cups white chocolate chips (use best quality you can find)
2 large eggs
3/4 cup soft brown sugar
3/4 cup plain flour
1/4 tsp baking powder
Generous pinch of salt
1 heaped tsp freshly grated ginger
1 tsp mixed spice
Preheat the oven to 180C. Line two baking trays with baking paper and set aside.
Melt the oil, butter and 1 cup of the white chocolate in a saucepan over very low heat, stirring constantly to prevent catching. Allow to cool. Add the eggs, sugar and vanilla, stirring until well incorporated. Add the remaining ingredients and stir to combine. Place the saucepan in the freezer for 10 minutes or until the mixture becomes quite firm, you want it to be scoopable.
Dollop dessertspoons of the batter onto the prepared trays, about 10 per tray. Bake for 10-12 minutes until the tops are cracked. Cool completely on the tray then transfer to a wire rack once cooled.