Of all forms of exercise, yoga is probably the least about looks and the most about feels. But we can't deny there's something about surrounding your practice with true beauty that just elevates the experience. If you want to try yoga in a place that's even better looking than you are, come salute the sun with us in these fine studios.
Balanze
Claremont
With polished concrete flooring, high ceilings, white exposed brick walls and gleaming floor to ceiling mirrors, Balanze is as aesthetically pleasing as they come. Offering Yin and Yoga Beats classes, you won't be able to stop yourself from 'Gramming the interiors here.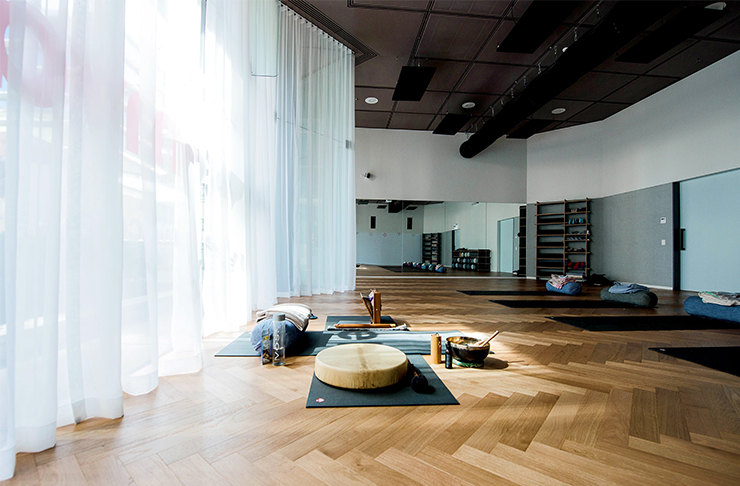 Myall Wellbeing
Perth CBD
A welcome escape from the busy hustle and bustle of the city, Myall Wellbeing's yoga studio looks out into a serene courtyard with billowing curtains that diffuse the light. Stunning parquetry wood flooring, mirrors, plants, high ceilings, this spot has got everything you need for a blissful, eyeball pleasing yoga session.
The Yoga Vine
Perth CBD
Tucked below St Georges Terrace in the Ashton Chambers, The Yoga Vine blocks out the buzz of the daily grind, allowing you to relax in its cool, moody confines. Think wood floors, white walls and dim lighting, coupled with the coolest tracks to stretch out to.
Mind Body Heart
Wembley
Co-owners Dean and Nat aimed to make their wellness and yoga space into a magical wonderland where guests would be reminded of their childhood, when we were more flexible in both the body and mind. With billowing parachute pinned ceilings, softly draped curtains blocking out the outside world and an enchanted forest feature wall, this studio is ethereal in its beauty. The finer details compound the experience with chandeliers, a butterfly mural in the bathroom and raw-finished timber framed mirrors adorning the room. Walk in and float out, friends.
Beyond Being
Subiaco
This pocket rocket of a studio is regularly packed to the gills with yogis and it's easy to see why. The studio is mostly simplistic in décor but the massive 'namaste' graffiti wall that greets every forward-facing posture makes it a standout. The rocking soundtrack throughout the practise and lavender-scented room spray that gently descends over the class throughout meditation makes yoga here a sensual feast.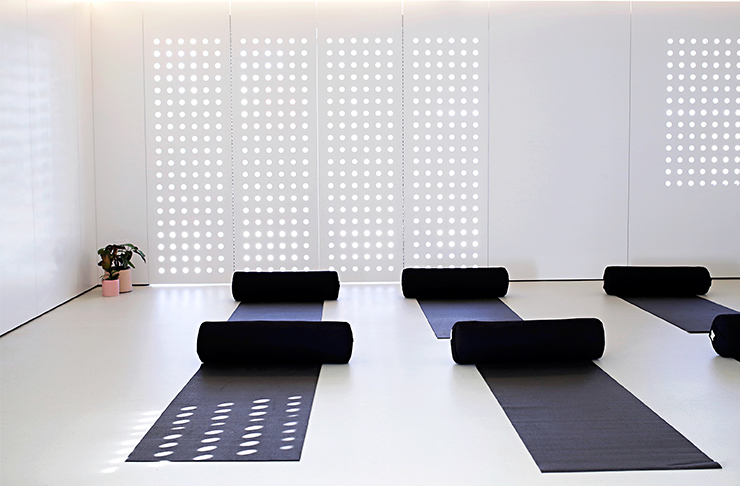 Clear Mind Studio
Inglewood
From the post-yoga relax room decked out with a swinging chair to the minimalist yoga studio with light streaming through the circle cut-outs on the walls, Clear Mind Studio is a stunning place to practice your downward dog. There are loads of classes on offer, from hatha and slow flow to yin and nidra. Things take a moodier turn when you head down their long, dimly-lit hallway for a massage, infrared sauna session or float; check it out.
YogaLab
Fremantle
If you can drag yourself past the cabinet of raw goodies (they'll taste better post-yoga anyway), head upstairs to the beautiful yoga space on Raw Kitchen's mezzanine level run by YogaLab. Dark timber floorboards contrast with the rustic white walls in this large, open space with potted ferns adding a splash of green. Head downstairs after savasana for a smoothie to round out the best morning ever.
Bodhi J
Highgate
This Perth day spa is absolutely stunning, so it's not surprising that the yoga studio is too. Offering Vinyasa Flow, Yin & Yang and mindfulness classes, we recommend going in the morning when they open the big doors to let the morning sun in.
Yogahub
Mount Hawthorn
In a similar vein to Raw Kitchen, Yogahub has got the warehouse vibe going on, as they're stationed in an original sawtooth warehouse. White brick walls envelop this studio with chestnut floorboards underfoot and high ceilings opening the space. Vines tumble down from the high windows giving the studio a slightly wild, natural feel. They do a class called Yin and Tonic, which surprisingly doesn't involve cocktails, but it'll make you feel relaxed just like gin does.
Rooftop Yoga
Northbridge
Your yoga practice just had a whole new dimension added to it at Rooftop Yoga where the sky is literally the limit. With soaring skyscrapers as the backdrop, a few palm trees stretching their branches beside you and endless blue sky up above, Rooftop Yoga is a space to stretch out those limbs, feel gratitude and dream on, dreamers. A seasonal class, check Rooftop Yoga's website for class times and dates.
Kookaburra Creek Yoga Centre
Bedfordale
From the beach to the forest, this gorgeous studio is like practising yoga in a treehouse. Propped on stilts, the natural wood yoga centre allows you to admire the surrounding trees from a higher aspect as you gaze over your hand in warrior two.
Looking for the perfect midday workout? Here are Perth's Best Lunchtime Workouts.
Image credit: Nancy Hanna and Elle Borgward