As if Perth wasn't pretty enough already, a bunch of talented street artists went and made it even prettier with their creative masterpieces. From Fremantle through to Mount Hawthorn and out to Victoria Park, Perth is covered in glorious street art that makes us swoon.
For those of you not sure where to start, we've scoured the streets to bring you some of Perth's best street art, so open Google Maps, plan the perfect route and seek out some eye candy, stat.
Bassendean
Anya Brock's mural outside Holly Raye's cafe—which is of the owner's dog no less—is adorably wonderful. Making things even better, the cafe is dog-friendly too.
Como
Outside the art deco Cygnet Cinema in Como you'll find a grayscale mural of Alfred Hitchcock by Nils Westergard on a light pink wall. Fitting.
Fremantle
Fremantle has got to be the street art capital of Perth—you can't walk three steps without seeing some spectacular street art splashed over buildings. Our favourites are on the exterior of the East West Design building, the ocean mural near South Beach Cafe, the zebras outside Ootong & Lincoln and the giant octopus that greets you as you arrive in Freo from Queen Victoria Street. For more of your grungier art, the dilapidated Woolstores building has you covered.
Highgate
The back streets of Highgate hide away some of the most colourful street art you will find in Perth. Some of our favourites can be found in the laneway behind the Mary Street Bakery and on Mary and Harold Streets.
Inglewood
You'll find more of Anya Brock's glorious street art outside Sugar & Nice on Beaufort Street in Inglewood. There's also a colourful tribute to trams outside Mondo Butchers and a beautiful seascape behind the vet on the corner of Beaufort Street and Central Avenue.
Victoria Park
More amazing street art dons the walls of Vic Park, just drive along Albany Highway and you'll be treated to many visual delights.
Leederville
You'll find street art almost everywhere you look in Leedy, especially along the back alleyways and side streets. One of the standouts is the huge mural of giant people outside Luna Leedy along Vincent Street. We also love the pink haired girl outside Bunn Mee, the swirling water outside the Water Corp building (how appropriate) and pretty much everything along the laneway outside The 21st Amendment.
Maylands
Maylands' stand-out street art has to be the incredible mural on the corner of Whatley Crescent and Ninth Avenue which features a girl with dreams entangled in her hair. We also love Anya Brock's Giraffes on Eighth Avenue and everything outside Studio 281.
Midland
Combining plants and street art, AKA two of the best things, Brad Eastman's work outside Midland Gate shopping centre is worth the trek out east alone.
Mount Hawthorn
You'll find loads of glorious street art in Mount Hawthorn, including more visual masterpieces by Hayley Welsh in Anvil Lane (right by Neighborhood Pizza) and heaps of cool stuff off Coogee Street.
Mount Lawley
Right near the intersection of Vincent and William Streets in Mount Lawley you'll find some of the most beautiful street art in Perth commissioned by the homeowners of the property (we wish they were our neighbours). And proving that good things are hard to find, Grosvenor Laneway is awash with some more incredible street art. It certainly pays to wander off the beaten track.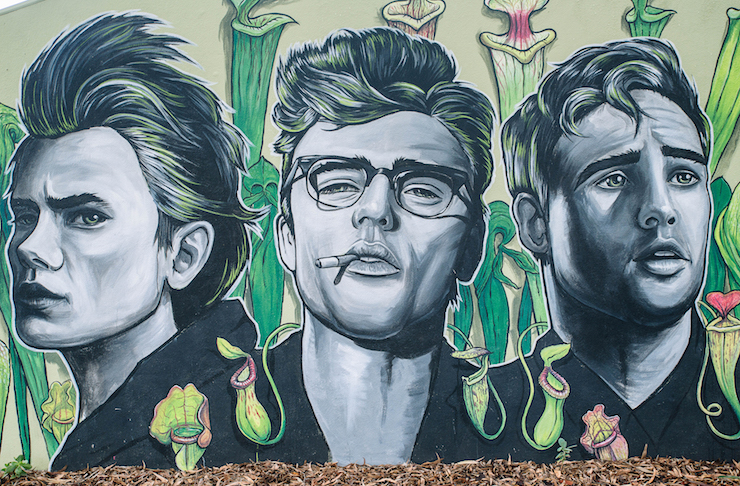 North Perth
Angove Street has got it all, great cafes restaurants and bars, cute shops and cool as a cucumber street art. It's too hard to choose favourites so we're not going to.
Northbridge
Another street art mecca of Perth, Northbridge has got a lot to offer arty aficionados. From the giant murals on the Central Institute of Technology buildings to the colour splashed walls along William Street, there's something to suit all tastes in this cool and crafty hub. Scope out Erricheti Place for a stunning mural by Melski (in the same laneway as Flora & Fauna).
Osborne Park
Hidden away in Osborne Park is the mindbending mural by Graeme Miles Richards. You'll find it on a substation near the Decmil building. Can you spot the bin chicken?
Perth CBD
The CBD does not disappoint when it comes to street art. We love the colourful walls in Wolf Lane, Grafitti's shop front and the beautiful roses outside His Majesty's Theatre.
Subiaco
Someone must have sent out a memo to all Subi street artists because almost everything is pink and we love it. The Moroccan-inspired wall behind Meeka is ace and the walls of the Little Wing Corner Gallery are filled with goodies too. Our favourite? The piece by Okudart at Forrest Square featuring a bright, geometric koala and kangaroo.
Want more? Check out Perth's best laneways.
Image credit: Nancy Hanna, Elle Borgward, Holly Raye's, Graffiti On King