If you're a Shelley local, I'm sure you've already heard the news—The Tribute has opened in your 'hood and it is absolutely amazing. Walking in for Sunday brunch I was blown away by how many people were there. A full venue with a line out the door is no mean feat for a neighbourhood cafe that's only been open for a couple of weeks.
Everything about The Tribute is b-e-a-utiful—the interiors were done by North Freo design team, designlincd, and the space is light, bright and filled with greenery (just the way we like it). But it's not just the cafe itself that is easy on the eyes. The presentation of each dish is stunning and even the coffees are Insta-worthy (and delicious—they get their beans from Grand Central Coffee Roasters and their head barista, Caleb is a total boss behind the coffee machine).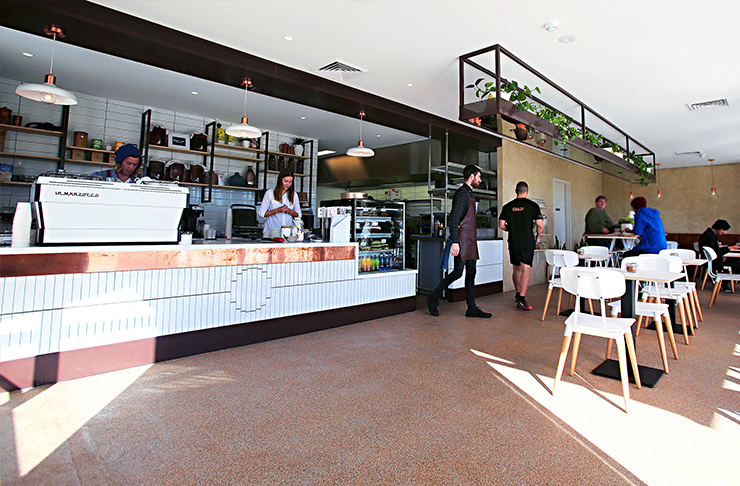 The premise behind The Tribute is all about using business to do good for the community. Inspired by a stint in India working for a not for profit helping women and their families get out of the sex trade, cafe manager Caleb (another Caleb, not confusing at all) realised that business could be used to do good and decided to leave his career in project management to open The Tribute with three of his friends. What a legend.
All four of the guys grew up close by, with Caleb living down the road and working at the service station that used to be on the site of the cafe. Talk about going full circle. The wives of two of the owners, a GP and a nutritionist, designed the menu to make sure The Tribute was the kind of place that people could eat at as often as they pleased. But don't let that fool you into thinking the food isn't phenomenal.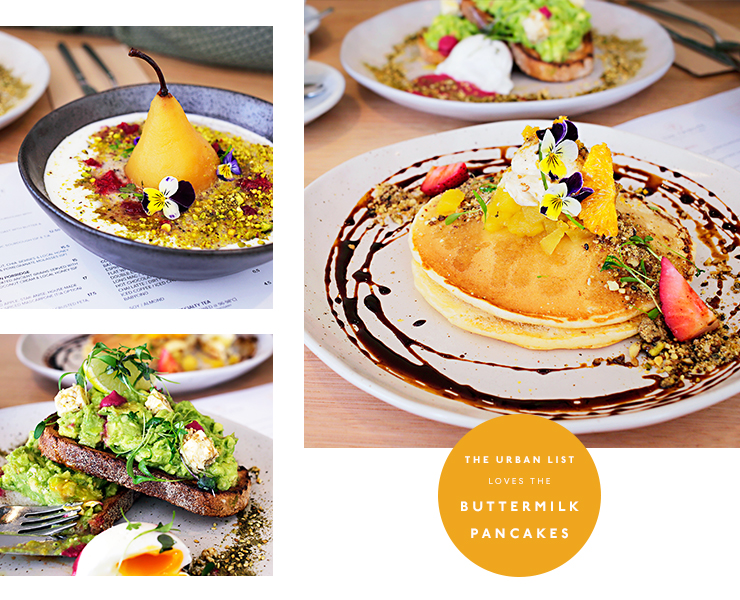 With what must be the youngest head chef in WA, Nathaniel was only 20 when they first brought him on and he is an absolute gun in the kitchen. He was previously at Restaurant Amuse (no wonder all the dishes look like works of art) and his Middle Eastern background is scattered throughout the menu.
The smashed avo is taken to new levels with dukkah crusted feta and beetroot puree, but it's the pancakes that got us really excited. I'm not much of a fan of sweets for breakfast, but I was convinced to try the pancakes and was pleasantly surprised that these aren't too sweet at all. Loaded with cardamom infused apples (there's even apple in between the two layers of pancakes—best surprise ever!), sweet dukkah, vanilla spiced mascarpone and finished with pomegranate molasses, these are the actual best!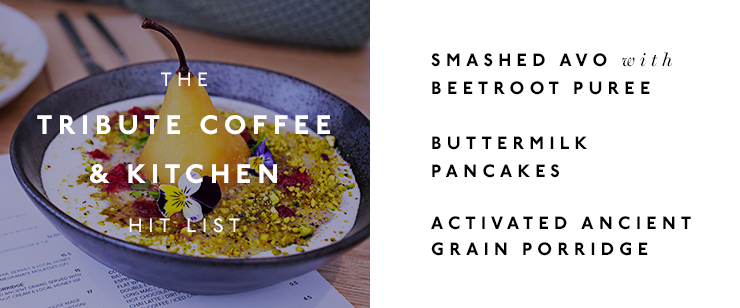 If you're after something savoury, the wagyu brioche burger and the breakfast sarnie (which is really a burger) are both just as impressive to look at as they are to eat—those charcoal buns get us every time! I also got a glimpse of the mushrooms and all I can say is I'll be back to give those a try soon!
The coffee is epic (and you'll get a 40 cent discount if you BYO reusable cup for takeaway coffee), they brew their own kombucha and the cake cabinet looks pretty impressive if you can manage to fit anything else in after your breakfast.
What more can I say, apart from I wonder how much the apartments upstairs are?

Image credit: Elle Borgward