If there is such a thing as a skin whisperer, Kim Tran is it.
With an almost investigative approach to skincare and the magical results that can follow (if you are disciplined with the 'beauty homework' she assigns you!) Kim is a wealth of skincare knowledge. She is also hot property in Perth beauty circles for her ability to transform tricky skin into a flawless, filter-free masterpiece. The woman knows her stuff!
On first meeting Kim, I was not only struck by how incredible her skin is in person (it's her best advertisement), but also by how kind, thoughtful and passionate she is.
Having opened La Belle Peau in 2007 at the age of 19, her understanding of formulas and ingredients, her passion for skin and her curious mind also make her one of the most sought after estheticians in Perth.
We took two minutes with Kim to talk skincare mistakes, her fave treatments and where she gets her caffeine fix in Perth.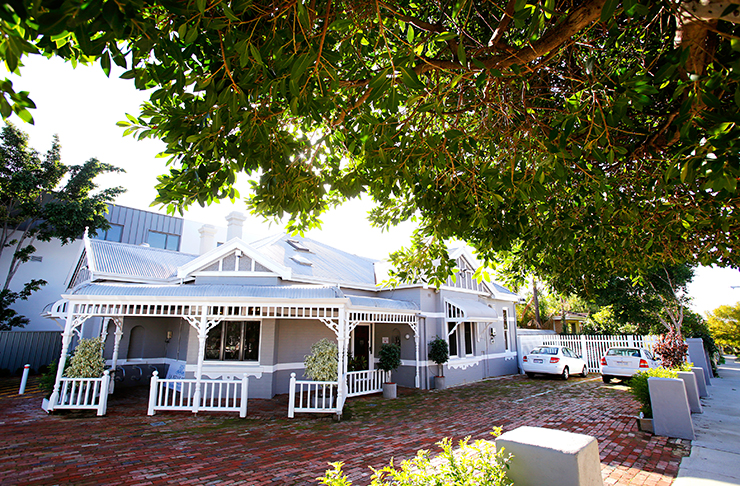 HI KIM! WHAT SPARKED YOUR INTEREST IN SKINCARE?
My own personal struggle with acne as a teenager.
WHY DID YOU SET UP YOUR BUSINESS?
While studying cosmetic dermal science, I realised there was a need for paramedical skin treatments to be offered at a less intimidating environment than a clinic. I wanted to create a difference by offering effective medical strength treatments within a beautiful relaxing environment. I also wanted to offer customised treatments to my clients instead of following rigid treatment procedures and the only way I could do that was if I worked for myself!
WHAT DO YOU THINK IT IS ABOUT YOUR APPROACH THAT SETS YOU APART FROM OTHER THERAPISTS IN PERTH?
I think what sets La Belle Peau apart is that we don't have set procedures for our skin treatments. I continuously invest in my team's professional development, provide them with state of art equipment and the latest technology, and let them use their knowledge and skills to create the most effective treatment for each person. I believe that is the best way to treat skin and I am proud that my team and I have transformed thousands of people's lives through what we do.
WHICH SKIN ISSUES DO YOU SEE MOST OFTEN IN YOUR CLINIC?
We see a lot of common skin issues such as teenage acne, adult acne, thickened congested skin with open pores, pigmentation, ageing skin, and sensitive skin. Over the past few years, we have also seen more and more men come to us as they start to realise the importance of looking after their skin.
WHAT ARE THE COMMONLY BELIEVED SKIN MYTHS YOU HEAR FROM CLIENTS YOU'D LIKE TO DEBUNK?
The biggest skin myth is exfoliation gets rid of blackheads! The most effective way to get rid of blackheads is by squeezing it out using a proper extraction technique so that you don't damage the skin. This is one of our most popular treatments at La Belle Peau and the most effective way to prevent your pores from enlarging. This leads to another popular myth that you should never squeeze a pimple. If the pimple is infected, you must squeeze the infection out of the skin before it 'eats' into your collagen and skin tissue, leaving a depression in the skin.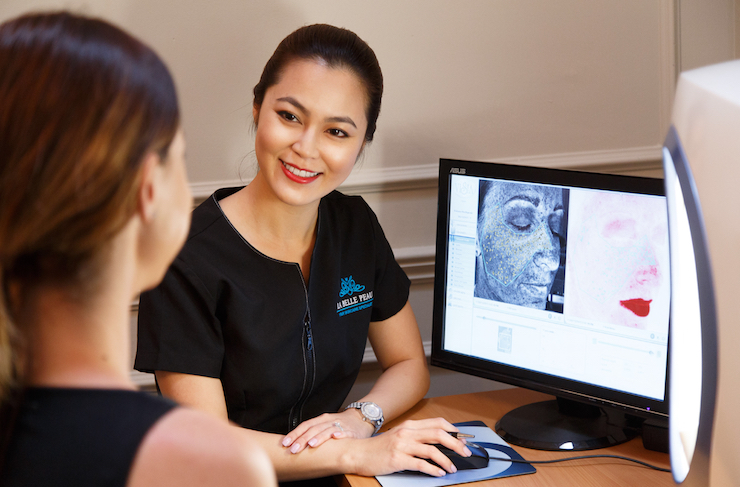 IF YOU COULD RECOMMEND JUST ONE PRODUCT TO EVERY WOMAN, WHAT WOULD IT BE?
Ultraceuticals B2 Hydrating Serum. This is the best hyaluronic acid product I've ever used. Enriched with strengthening Provitamin B5 and anti-ageing vitamin B3, this is a must-have for all skin types (including very oily skin types!)
WHAT'S THE MOST IMPORTANT THING PEOPLE SHOULD KNOW ABOUT THEIR SKIN?
Your skin is a direct reflection of your inner health. It is important that both you and your skincare specialist understand this link and use a holistic approach to effectively address your skin concerns.
WHAT ARE YOUR FAVOURITE TREATMENTS?
I am absolutely obsessed with Clear+Brilliant Laser, but my all time favourite treatment has got to be our Extreme Skin Workout Facial. This is a complete overhaul for the skin which combines five powerful treatments into one for a total skin transformation with both instant and long-term benefits. It's amazing!
WHAT ARE YOUR TIPS FOR SLOWING DOWN THE AGEING PROCESS?
Reduce your sugar intake! Sugar attacks your skin cells and collagen fibres causing a loss of elasticity. It's also a good idea to reduce your stress level, wear sunscreen everyday, live a balanced lifestyle and think happy positive thoughts.
WHAT ARE THE BIGGEST SKINCARE MISTAKES YOU SEE WOMEN MAKE?
Using the same skincare for a long period of time. Your skin changes with age and from season to season. Your skin also gets used to the same products so it's important to mix up your skin care routine regularly to continue getting results. On the opposite scale, us women always seem to get sucked into purchasing the latest thing we see advertised. At La Belle Peau, every time our clients finish a product we reassess their skin condition and recommend the best and most effective replacement product for them.
WHAT'S NEXT FOR YOU ON YOUR SKINCARE JOURNEY?
I have recently taken on a role with ELLE Vietnam as their skincare expert to educate their readers on the treatment and management of acne, a topic I hold very close to heart due to my own suffering as a teenager. Being able to reach out further to help more people regain their skin health and confidence is really a dream come true.
YOUR FAVE PERTH SPOTS FOR:
A drink? Long Chim
A coffee? Slate Cafe
Brekky? 8 On The Point
Dinner? Kuza Urban Japanese Food
A massage? Bigfoot Professional Massage Health Centre
Looking for more Perth beauty? Search beauty in The Directory!
Image credit: Elle Borgward and Charlie Octavia