Smoult's Continental Deli | Image Credit: Louise Coghill
Spring and summer are the perfect times for a picnic and Perth has some pretty epic picnic spots, not to mention delicious food options to bring along with you—and no, a quarter chicken and chips from Chicken Treat consumed in some random park does not constitute a picnic. We're talking gourmet meats and cheeses, loaded up toast and pastries, huge gourmet rolls, healthy salads and a few sweet treats thrown in for good measure #balanceddiet.
We've scoured the Perth lands and come up with six of the best picnic spots in Perth and what to take along with you. Now you just need to find the perfect picnic companion (or dog) to enjoy it with!
Bayswater Riverside Gardens | Smoult's Continental Deli
Smoult's have got this whole picnic thing down pat! Call ahead one hour and they will put together a picnic of epic proportions which includes Australian double cream brie, farmhouse cheddar, gourmet salamis, dips, antipasto, a Parisian baguette, crackers, drinks and a few sweet treats. For a bit of extra European flair, you can get Smoult's to pack all of this into a pretty picnic basket (for a small, refundable hire fee), and they'll even throw in a blankie. Naw! The best bit, it'll only cost you $75. Smoult's picnics are best enjoyed under a tree in the Bayswater Riverside Gardens.
South Beach foreshore | The Black Truffle
The Black Truffle's gourmet hampers are the perfect addition to a picnic on the lawn at the South Beach foreshore. Featuring local and seasonal produce, the hampers are best shared between two but can be jacked up for extra people if need be. With three to choose from, the Sunset Selection, Picnic in the Park and Under the Stars, and packed with goodies like mini arancini, roasted garlic hummus, stuffed mushrooms and double cream brie there's something to suit all levels of hunger and greediness. Packed away in a hamper or cooler bag with disposable cutlery and napkins included, all you need to bring is the picnic blanket (and maybe a cheeky bottle of wine).
Hyde Park | Chu Bakery
Grab some of Chu Bakery's takeaway toast and head across the road to Hyde Park for a breakfast picnic. They've got tasty options like avo and whipped fetta with Sriracha, hummus cucumber chilli and kaya banana coconut. Much better than your regular Vegemite and butter, amiright? Plonk yourself down under a big Morton Bay Fig tree and enjoy…then skip back over to Chu for an éclair!
Kings Park | Re Store
Have those wonderful European wizards from the Re Store whip you up an epic gourmet roll, grab a few Italian sodas and chocolates and take a drive to Kings Park for a picnic at the Pioneer Women's Memorial (or be totally cliché and head to the equally beautiful grassy spot off Fraser Ave). Spring is the best time to visit the Pioneer Women's Memorial as the wildflowers will be in bloom. Head to the far side of the lakes near the rotunda for river views.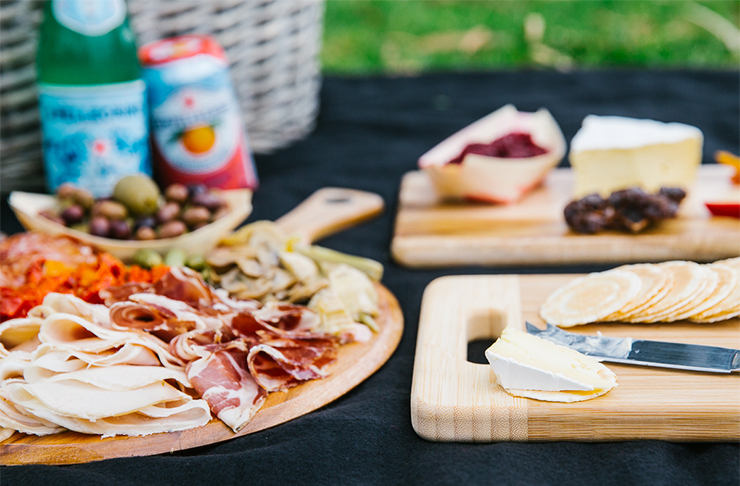 Cottesloe Civic Centre | The Boatshed
You can have all of the things in your picnic hamper from the Boatshed Market in Cottesloe. Just pick out your favourite supplies, pay for them and a box and the Boatshed will package it all up for you while you grab a coffee from Vans around the corner. Then make tracks to the Cottesloe Civic Centre, pitch your picnic rug and enjoy all that gourmet goodness on the perfectly manicured laws as you Instagram the heck out of the view #thisisthelife.
The Hills | Haynes Street Larder
Grab a muffin, some salad, a smoothie and maybe a raw treat or two from the Haynes Street Larder, head to the Zig Zag lookout in the Perth Hills and enjoy a healthy(er) picnic watching the chaos of the city below. Stay till sunset, pop some bubbles (it's not street drinking if you're not on the street, right?) and watch the twinkly lights of the city turn on. Then pop the question to whoever it is you're sitting next to because twinkly lights are super romantic and stuff.
For more things to do in Perth, click here!