This Saturday 7 July marks the most wonderful day of the year. It's World Chocolate Day, which means you're more than justified to eat your bodyweight in any kind of smooth, velvety chocolate you can get your hands on.
To help you out, we've found 15 of the best places to celebrate world chocolate day in Perth.
Gazette
Perth
ICYMI, Gazette has gnocched our socks off with their latest creation—chocolate gnocchi. It's made from Valrhona chocolate and topped with white chocolate shavings and raspberry.
Print Hall
Perth
Once you've finished your chocolate gnocchi, head next door for one of two amazing Print Hall cocktails. Take your pick from the Bounty cocktail—hot chocolate with coconut rum, chocolate syrup and shredded coconut—or their Chocolate Black Forest Sour—cookies and cream syrup, dark chocolate and blackberry liqueur.
Cioccolato Espresso / Botanical Lane
Applecross
Fancy a spot of plant shopping with your chocolate? Of course you do. Head to Botanical Lane and enjoy one of Cioccolato's hot chocolates—made with real chocolate shavings—amongst the plants.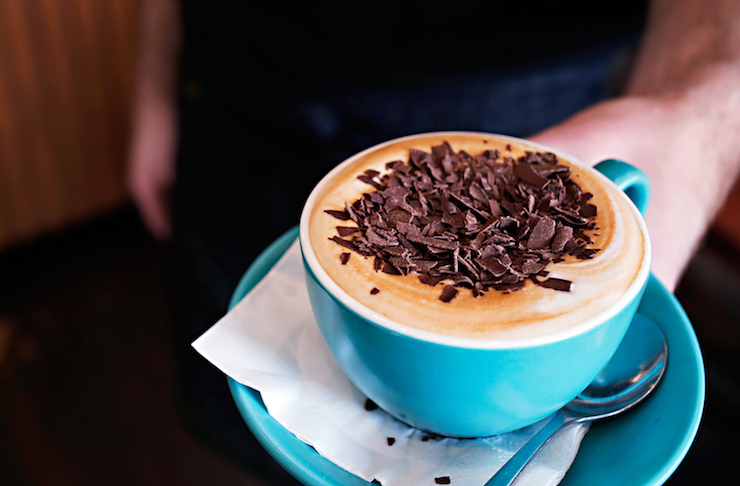 The Camfield
Burswood
If you haven't been to The Camfield yet then you should be ashamed of yourself. Don't worry, we'll forgive you if you head in on Saturday for their decadent chocolate & raspberry brownie. It's served with chocolate sauce, toasted marshmallow, candied popcorn and vanilla ice cream and it's deeee-freaking-licious.
Bib & Tucker
North Fremantle
Bib & Tucker are celebrating World Chocolate Day all day long. Ring in this magical day with a triple chocolate muffin, or treat yourself to their new mandarin dessert—mandarin & earl grey custard wrapped in a chocolate cylinder and served with mandarin sorbet. Yes please.
Get Chunky
Mount Lawley
If you think you're a chocolate fiend, then go and prove it at Get Chunky. If you can polish of the triple chocolate cookie stuffed with a Nutella sweetox injection and one of their incredible quad hot chocolates, then you deserve a medal.
Mary Street Bakery
Perth, West Leederville and Highgate
If you're looking for value for money, head no further than Mary Street Bakery and order the chocolate combo. You'll get their special chocolate doughnut and a batch choc milk or a small hot chocolate for $7. It's available at Allendale square on Saturday or West Leedy and Highgate on both Saturday and Sunday.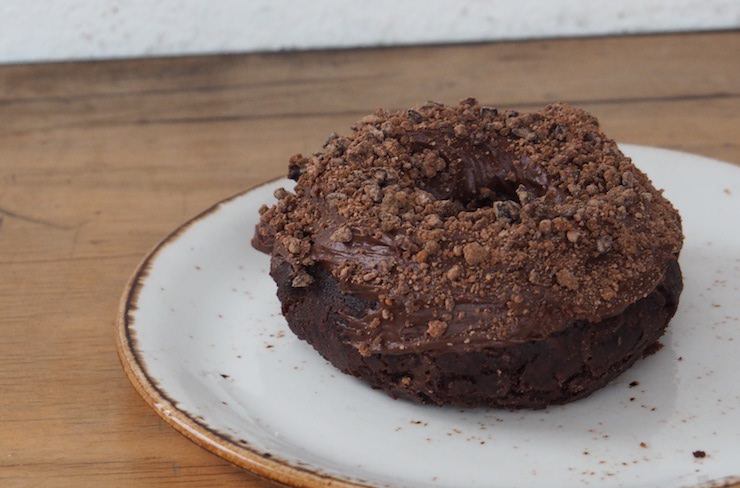 Market Grounds
Perth
This has been on the menu at Market Grounds for a while, but it's still worth a mention because it really is that good. For this very special day, we're going to suggest you look past the incredible bombe Alaska and get the Valrhona chocolate tart at Market Grounds. Served with sea salt, whey caramel, pecan crumble and double cream, you won't regret it.
Measure
Mount Lawley
If you're serious about chocolate then you need to go to Perth's only true dessert bar, Measure. Their chocolate marquise is a rich chocolatey dessert made with dark chocolate, topped with espresso sorbet and hazelnut praline... And guess what boys and girls, it also happens to be vegan. Which means you can order three.
The Shorehouse
Swanbourne
A recent addition to The Shorehouse menu and the perfect way to celebrate World Chocolate Day, the soft chocolate ganache with bitter lemon curd and lemon crème fraîche ice cream will have you drooling. Avoid the fork fight and order one for every person at the table.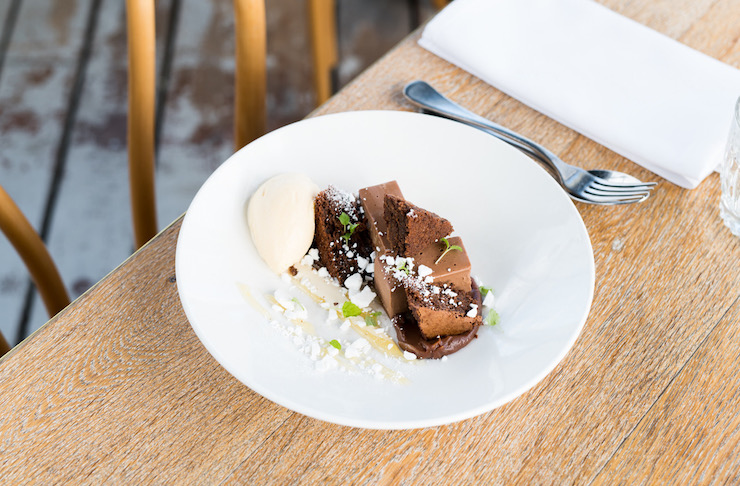 The Aviary
Perth
If the chocolate cocktails at Print Hall don't tickle your fancy, maybe one of The Aviary's boozy hot chocolates will. They've got three flavours to choose from—Southern Comfort, white chocolate and pumpkin, spiked Nutella—made with vodka, Nutella, cinnamon and Frangelico—or the mint slice which is made with chocolate, mint schnapps and tequila just in case you feel like getting crazy.
Sweetwater
East Fremantle
If you find yourself East Freo way and in need of a chocolate hit, drop into Sweetwater for their insanely rich chocolate dessert. Think chocolate, biscuit, marshmallow, sour cherry and raspberry all in one devilishly delicious dessert.
Little Way
Nedlands
If you're still reading, we're guessing that death by chocolate sounds pretty good to you. If so, make your way to Little Way for dinner and finish up with Death by Chocolate—a chocolate tasting plate for one.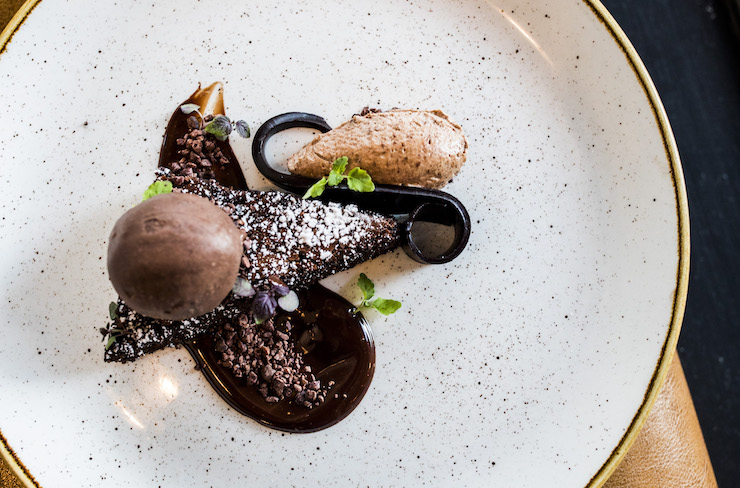 The Reveley
Perth
If you're more of a white chocolate fan, The Reveley's XXX Passion cocktail might just be up your thing. Vanilla vodka, white chocolate, passionfruit and vanilla, it's fresh but indulgent all at the same time.
The Stables
Perth
Can't decide between dessert and drinks? Don't. Live your best life and go for the Dark chocolate torte with Sambuca sorbet at The Stables.
Want more chocolate? Check out Perth's best chocolate everything.
Market Grounds | Image credit: Supplied, Elle Borgward at Cioccolato, Danika Zuks at Little Way