Unless you got an A+ in Japanese at school, it's likely you've felt out of your depth while looking at a menu at a Japanese restaurant before.
But fear not, we've partnered up with the legends at Sakura Sake to bring you all the Japanese food terminology you need to know to order like a pro.
Home of the one-metre sushi platter, Sakura Sake is one of the best Japanese restaurants in Perth thanks to their top-notch food, incredible sake list offering and cosy booth seating. Once you've significantly improved your Japanese, you'll want to make a booking at Sakura Sake, stat!
Aburi—Ah-Boo-Ree
If you're ready to pop your sashimi cherry, first try aburi (flame seared) sushi.
Agedashi Dofu—Ah-Geh-Da-Shee
Not to be confused with Black Lace's 1984 smash hit Agadoo, agedashi dofu (and yes, it's dofu, not tofu) is lightly deep fried tofu and does not involve pushing pineapples or shaking trees.
Bento—Ben-Toe
If you don't know that bento is a boxed meal it's possible you've been living under a rock for the past 20 years, but we'll forgive you so long as you order one stat.
Chashu—Cha-Shoe
Chashu is one of our favourite accompaniments to ramen. It's braised pork, go figure.
Daikon—Die-Con
If you see pickled daikon on the menu order it because it's pickled white radish and it's delicious.
Donburi—Don-Booh-Ree
Most commonly served with beef, chicken and fish, donburi means rice bowl.
Gyoza—Gy-Oh-Zuh
Pan-fried dumplings anyone?
Ebi—Eh-Bee
Ever heard the phrase, "throw another ebi on the barbie, mate"? Didn't think so. But it's our way of telling you ebi means prawn in Japanese.
Edamame—Ed-Ah-Mah-May
Green soybeans traditionally served in their pods—hands up who discovered how to eat these the hard way by biting into the entire pod? How embarrassment!
Hashi—Hah-Shee
Next time you go to a Japanese restaurant, ask the waiter for some hashi and they'll be mega impressed with your Japanese know how—before they find out you're rubbish at using chopsticks.
Ika—Ee-Kah
Ika. Kinda sounds like ink. Which will make it much easier for you to remember that it's squid.
Ikura—Ee-Coo-Rah
If you're not a fan of caviar you'd best steer clear of this one, it's salmon roe.
Izakaya—Iz-Ah-Kai-Ya
Izakaya is not only a fun word to say, it's also a fun place to hang out in because it's a Japanese pub. Pass the sake!
Kaitenzushi—Kai-Ten-Zoo-Shee
The Japanese name for sushi train. Sounds a lot more civilised, eh?!
Kakiage—Cah-Key-Ah-Geh
Vegetarians take note, kakiage is what you want to be ordering—it's vegetable tempura!
Kakigori—Kha-Kee-Goh-Ree
Dessert and sushi don't always go hand in hand, unless it's the shaved ice goodness that is kakigori.
Karaage—Car-Ah-Jeh
Karaage might as well translate to delicious because it means battered and deep fried.
Katsudon—Cat-Soo-Don
Hands up if you know a basic bitch. This is probably the most basic meal you can order at a Japanese restaurant, but we'll forgive you because it's delish. Katsudon is rice topped with a deep fried cutlet and we quite fancy the chicken kind.
Matcha—Mah-Cha
Sah healthy and sah green, we're massive fans of matcha—for those of you who aren't familiar with matcha it is finely ground green tea leaves.
Mazui—Mah-Zoo-Ee
Mazui is a word you don't want to ever have to use when it comes to Japanese cuisine as it means unpleasant tasting.
Miso—Mee-So
Most are familiar with miso as a delicious precursory soup to lunch or dinner. In case you want to get technical (which we do), it is fermented soybean paste.
Mochi—Moh-Chi
Mochi, aka glutinous rice cake, should be one of the seven wonders of the world it's that tasty.
Nabe—Nah-Beh
Who doesn't love a hot pot? The beef nabe from Sakura Sake is particularly scrumptious.
Nigiri—Nih-Gih-Ree
Nigiri is pretty much the same as aburi sushi, except the fish is kept raw, offering a different flavour and texture.
Nori—Nore-Ee
Nori = dried seaweed. You probably already knew that.
Ocha—Oh-Cha
If you're the designated driver you're going to want to sub out the sake for some ocha (tea).
Oishii—Oi-Shee
Next time you have a really good Japanese meal, thank the chef and tell them your meal was oishii, aka delicious.
Okonomiyaki—Oh-Kon-Oh-Mee-Yah-Key
A pancake of the savoury kind, okonomiyaki means grilled as you like it. And we like it. A lot!
Omakase—Oh-Mah-Cah-Seh
When you can't be bothered with ordering, opt for the omakase (chef's selection).
Onigiri—Oh-Nee-Ghi-Ree
Sticky rice wrapped in nori (see above). It's simple and delish.
Panko—Pan-Koh
Lighter, airier breadcrumbs.
Ramen—Rah-Men
Ramen is the noodle soup of life.
Sake—Sah-Keh
No it's not pronounced "sayk" you uncultured swine. This Japanese rice wine is traditionally poured into a shot glass until it overflows into a larger square wooden box to signal the wealth and generosity of the restaurant.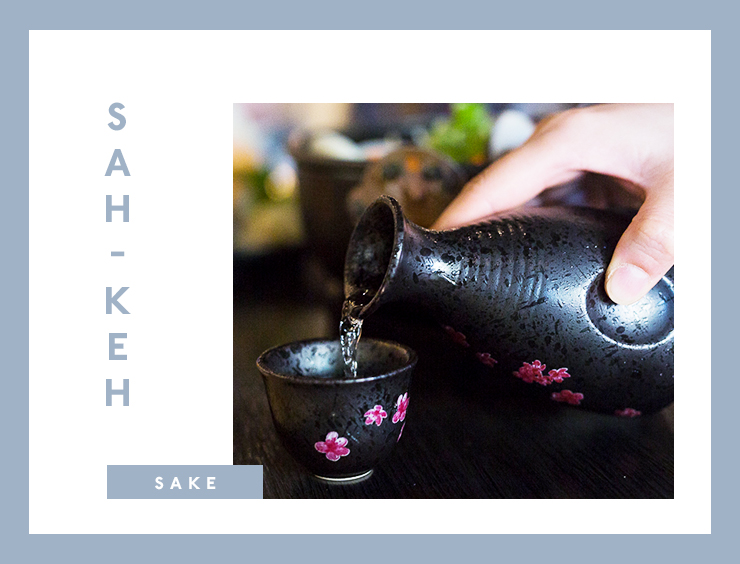 Sashimi—Sah-Shee-Mee
Sliced raw fish. Dip it in some soy sauce and you're set.
Sencha—Sen-Cha
Also known as green tea made from leaves, sencha sounds better though.
Setto—Set-Oh
If you want your meal with a drink and a side you better make it a setto (set meal).
Shio—Shee-Oh
Salt. And the most traditional way that ramen soup is served.
Shochu—Sho-Choo
A distilled beverage you will enjoy very much.
Shoyu—Sho-You
The more exciting way to say soy sauce.
Soba—Soe-Bah
Buckwheat noodles, aka the healthy way to enjoy noods.
Sushi—Sue-Shee
Vinegared rice served with meat, vegetables, seafood or egg. Sushi sounds better though.
Tako—Tah-Koh
Octopus! It's pronounced the same way as taco just to make things confusing.
Takoyaki—Tah-Koh-Yah-Kee
Battered and fried balls of octopus. Once you pop you can't stop, you've been warned.
Tamago—Tah-Mah-Goh
Egg, or a good name for a Tamagotchi.
Tataki—Tah-Tah-Kee
Lightly seared meat.
Tempura—Temp-Ooh-Rah
Basically anything that is battered and deep fried.
Teppanyaki—The-Pan-Yah-Kee
A style of cooking whereby your food is cooked on an iron griddle, quite often right before your eyes.
Tofu—Toe-Foo
Soybean curd.
Tonkotsu—Tong-Cot-Zoo
We might be about to burst a few bubbles because your favourite ramen broth, tonkotsu, means big bones. But don't let that turn you off, it's tasty AF.
Udon—Ooh-Don
The less healthy variety of noods. These bad boys are made from wheat and they're super satisfying to slurp up.
Unagi—Ooh-Nah-Ghee
Eel. Cue Friends joke.
Uni—Ooh-Nee
Sea urchin, not and educational institute.
Wakame—Wah-Kah-Meh
The seaweed that's often found in miso soup and ramen.
Wasabi—Wah-Sah-Beh
A spicy root vegetable, not to be confused with horseradish which is what we commonly know to be wasabi.
Yakiniku—Yah-Key-Nee-Coo
Grilled meat.
Yakitori—Yah-Kih-Toh-Ree
The above served on a skewer, ala a satay stick.
Yasai—Yah-Sigh-Ee
Vegetables.
Yuzu—Yoo-Zoo
A tasty citrus fruit with a lemon-like flavour.
Image credit: Louise Coghill
Editor's note: This article is proudly sponsored by Sakura Sake endorsed by The Urban List. Thank you for supporting the sponsors who make The Urban List possible. Click here for more information on our editorial policy.