If you're anything like us, one scroll of your feed and you're lusting after far-off destinations. But with 2019 drawing to a quick close, it's time to stop travelling vicariously through the 'Gram and book a trip before the year is out.
We're pretty lucky to have some of the worlds most culturally-rich destinations right at our fingertips, and since you can get there from Gold Coast Airport, it's never been easier to tick a few destinations off your bucket list.
From K-pop bars and ancient temples to sipping cocktails in the world's largest rooftop infinity pool, we've partnered with Gold Coast Airport to help you revamp your dusty bucket lists with these six must-visit cities.
Hit The K-Pop Bars In Seoul
This 24-hour city is serving up the perfect balance of tradition with cutting-edge technology. Pairing ancient temples, an electric nightlife, soaring mountains, K-pop bars, and damn good food—one thing's for sure—you'll never be bored in Seoul. Spend your days exploring Bongeunsa, a Buddhist temple founded in 794 or lace up the boots and hike Namsan, a mountain peak with stunning panoramic views of the city skyline. Refuel at one of Seoul's many themed cafes like the famous Blind Alley Cafe where you'll be sipping coffee with racoons (yes, really), or find out what all the fuss is about over the massive Korean BBQ trend and tuck into some sizzling bulgogi. Head to Seoul's nightlife district, Hongdae where you'll spend your nights singing karaoke and skipping between K-pop bars. Forget New York, this is the city that never sleeps and it's just a short flight direct from the Gold Coast Airport starting 8 December.
Explore Singapore's Fantasy Gardens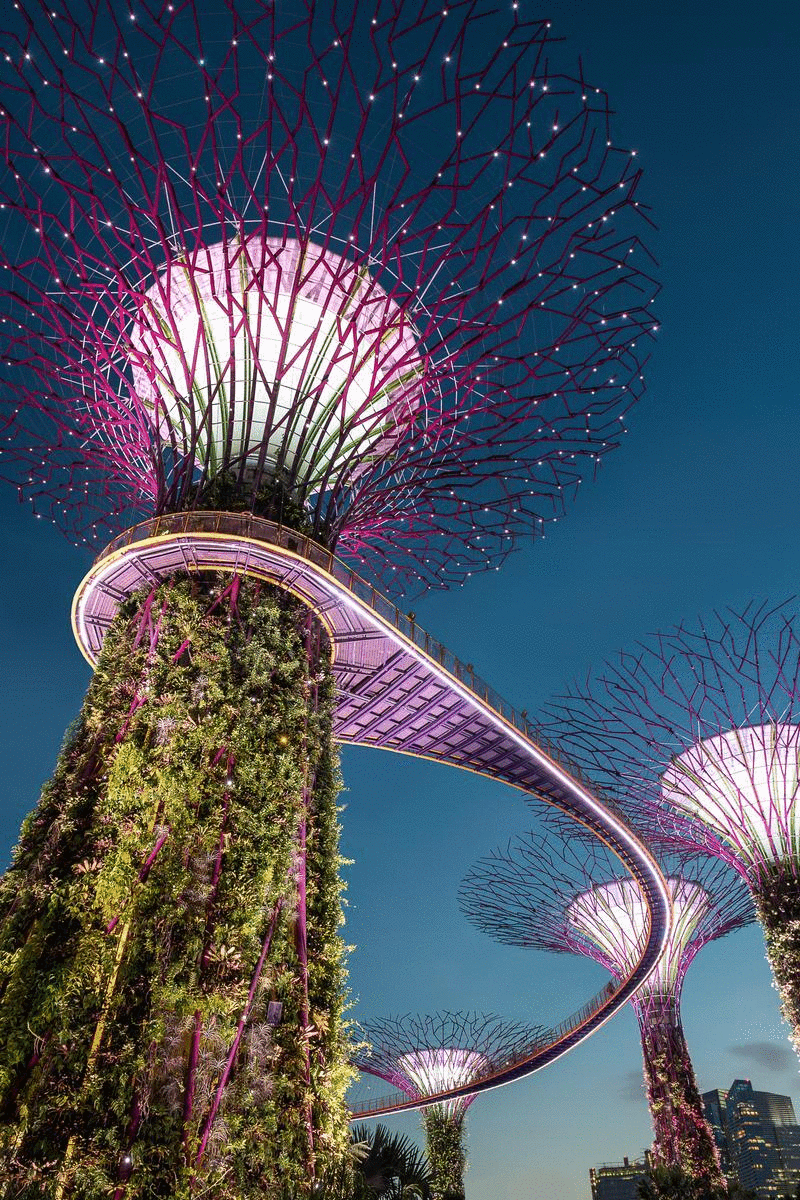 This hyper-modern city will leave you in awe. Regularly touted as safe and clean with the ultimate mix of natural wonder and high-tech entertainment, Singapore is one of Asia's top destinations and rightly so. There's a lot going on in this thriving metropolis but a good place to start is at the famous Gardens By The Bay. A fantasy land consisting of mesmerising Supertrees, a magical Cloud Forest, and a Flower Dome where it's spring all year-round. Switch nature for Singapore's trademark over the top grandeur and groundbreaking architecture at the world's largest rooftop infinity pool at Marina Sands Bay. And since it's only open to guests, why not splash out and check into this baller hotel? Trust us, you'll never want to leave.
Tuck Into Takoyaki In Osaka
As Japan's third-largest city, Osaka has quickly become a hot contender for the top spot on every traveller's hit list. Boasting an epic food scene and laid back vibe, it's no surprise this underrated city is taking the spotlight from popular hotspots like Tokyo and Kyoto. For a totally unique experience in Osaka, hit up the retro-cool Shin-Sekai neighbourhood. The area dates back to the 50s where one half of the area was modelled after New York and the other half after Paris. Today Shin-Sekai is a nostalgic playground with gaming parlours, eateries and shops on every corner waiting to be explored. Once night falls, head to Dōtonbori, Osaka's entertainment and nightlife district where tiny laneways are illuminated with neon billboards and eateries slinging takoyaki (octopus dumplings) line the streets. Skip between vendors to get a taste for Osaka's famous food scene, just don't forget to wash it down with a Kirin beer.
Grab A Famous Mystery Meat Burger In Kuala Lumpur
Food lovers, listen up. If you're chasing incredible eats on your next holiday, Malaysia's capital city Kuala Lumpur cannot be beaten. Brother John Burgers is to KL what Shake Shack is to New York. You'll find this iconic eatery on just about every neighbourhood corner, usually close to a servo or 7-11. Order up the Malaysian Ramly Burger made up of mystery meat, mayo, chilli sauce, cheese and egg in a soft white bun. It's perfection. Next, hit up the eclectic Jalan Alor night markets for some cheap street eats. Once you're ready to work off those calories, climb the Rainbow Staircase to Batu Caves, stroll through the beautiful Thean Hou temple, and step out over the glass observation deck at Kuala Lumpur Tower.
Step Into An Adorable Cat Cafe In Taipei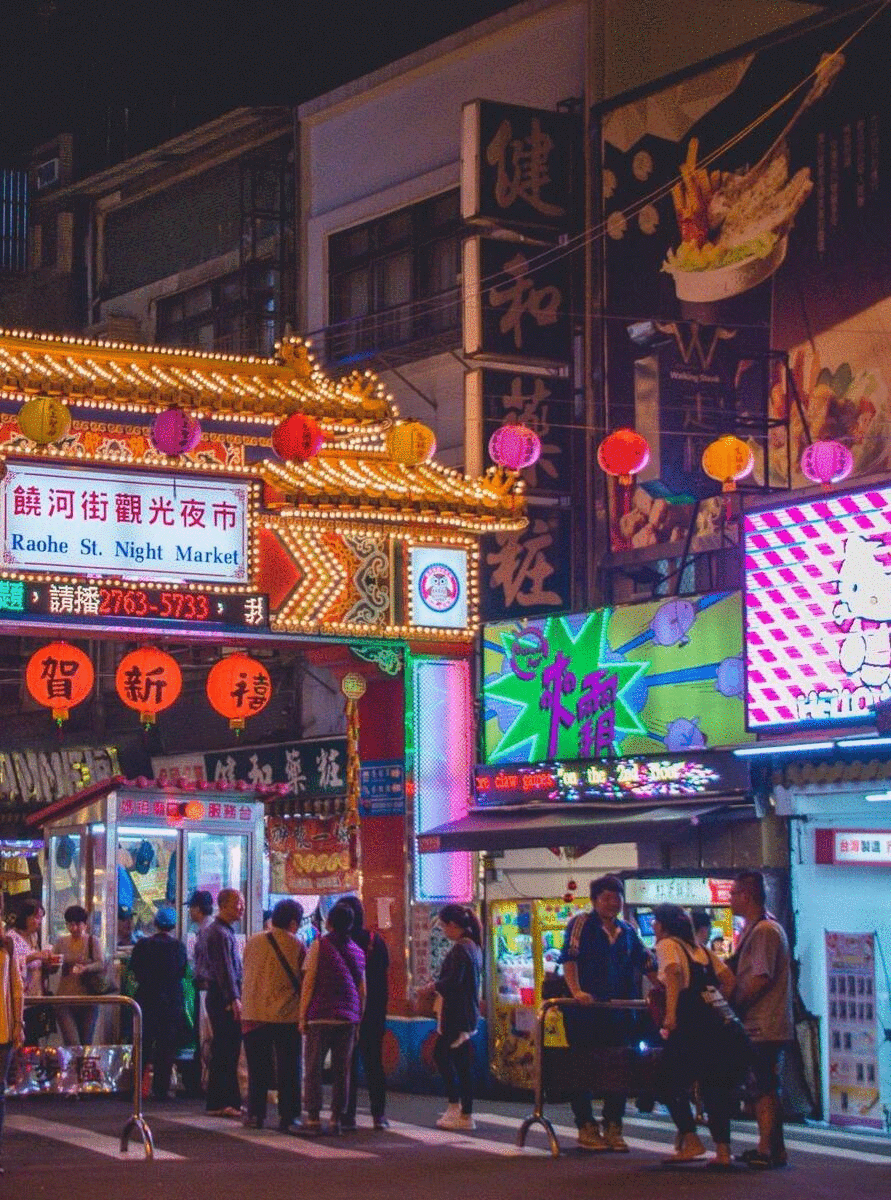 This 300-year-old city is a curious blend of Chinese culture with Japanese, South East Asian and American influences, so naturally any culture-craving traveller should send Taipei right to the top of their bucket list. In this food-obsessed city dining out most nights of the week is regular practice thanks to affordable tasty eats, so much so that most apartments don't have kitchens. Hit up as many night markets as your stomach can handle and sample everything from oyster omelettes and bubble tea to stinky tofu (this is only for the brave). Taipei has adopted Japan's cutesy Kawaii charm and was the OG city to open a cat cafe more than 20 years ago, so you can't visit without stopping into one like the adorable CAT.jpg Cafe. Taipei is also full of weird and wonderful things to do like eating ice cream from a toilet bowl at Modern Toilet, having your fortune told by a bird at Taipei's Lungshan Temple, or eat a horrifyingly realistic puppy cake at Sowing The Sweets. Book your flights immediately because there's nothing quite like a trip to Taipei.
Sip Cocktails Sky High In Shanghai
A sprawling megalopolis of skyscrapers lining both banks of the Huangpu River, China's largest city certainly has something for everyone. Best known for its countless department stores, there's no denying Shanghai is a serial shoppers dream—but you may be surprised to know it's not all luxury brands. There's plenty of boutique pop-ups, indie markets and vintage troves to explore like the Common Rare markets or the funky specialty stores lining the streets of Tian Zi Fang. With countless skyscrapers lining the horizon, it can be difficult to choose which rooftop deserves your time for a cheeky nightcap post shop but Vue Bar has got to be one of the coolest. Found atop the swish Hyatt Hotel, this bar is serving up an epic cocktail menu and dazzling views of Shanghai's skyline. There's also a hot tub smack bang in the middle of the bar. Are you game?
Ticking these destinations off your bucket list just got easier with flights from Gold Coast Airport—it's officially your gateway to the rest of the world.
Editor's note: This article is sponsored by Gold Coast Airport and proudly endorsed by Urban List. Thank you for supporting the sponsors who make Urban List possible. Click here for more information on our editorial policy.