Turns out that Anna Hamilton and Kate Samson from Cedar and Stone are brimming with talent because they've just opened up a stunning new venue and it's not what you think.
Brand-new kid on the block Nectar Juice House is making waves just over the border in Cabarita and it's got both locals and Gold Coasters hooked. And don't be fooled by the name, this is not your regular juice bar and no, we're not exaggerating.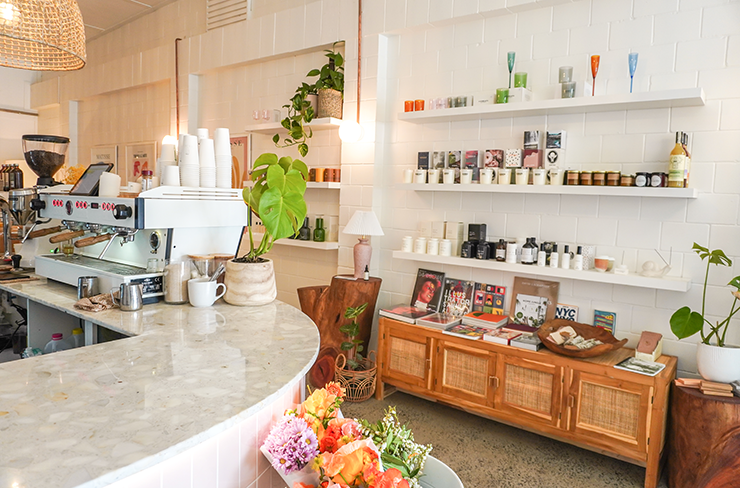 With the freshest sandwiches we've ever had the blessing to gobble down, don't be alarmed when you realise that Nectar is THE lunch place you've needed all your life. With healthy carnivore and veggie options galore, these sandwiches will satisfy even the most tenacious hunger pangs.
All the sandwiches are made with the tastiest sourdough, with local, farm-fresh ingredients that make all the difference.
If you're feeling veggie, we strongly recommend the Jim Morrison (veggie pattie, greens, toasted coconut, avocado, lime, sprouts, and green goddess dressing) or the Janet Jackson (pulled jackfruit, greens, cucumber, sprouts avo and mayo). And if you're not vego, then you might want to tuck into the Janis Joplin (smoked chicken, lettuce, celery cheese and roasted garlic aioli) or even make your own sandwich; yep, that's an option, too.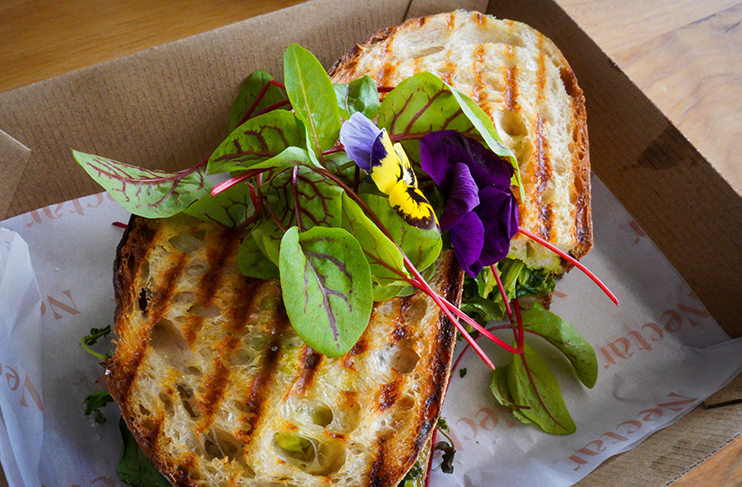 Fresh sandwiches? Check. Delicious, fresh juice? Check? Crazy vitamin-rich shots that'll cure any hangover? Check.
"They're supposed to taste gross," co-owner Anna Hamilton laughs when we ask her about the shots. "They taste gross but they're good for you."
And while some of the shots did rattle our taste buds a little (we're lookin' at you, Liver Cleanse Shot), they're nothing to be afraid of: just some good ol' vitamin explosion that'll definitely wake you up from even the worst hangover.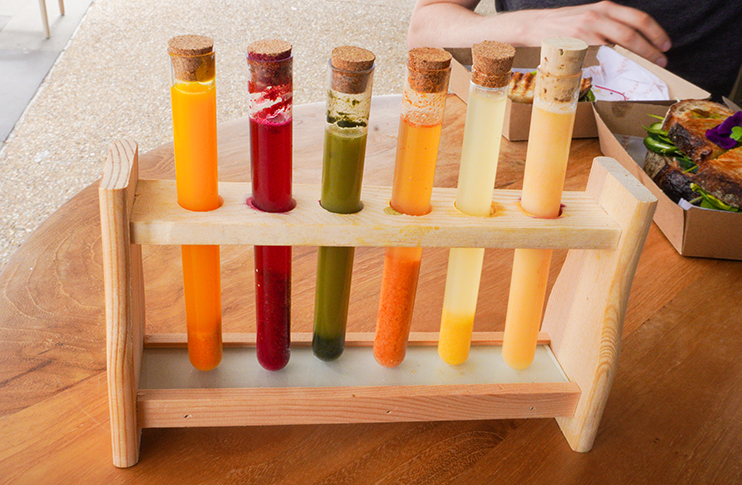 If you're more into traditional juices than straight up vitamin shots, the variety at Nectar won't disappoint; from coffee, tea, to green juice to immunity boosting concoctions like their Immunity juice (orange, carrot, turmeric, lemon and ginger), you definitely won't go thirsty. Besides, we could all use more immunity boosting goodness in times like these anyway.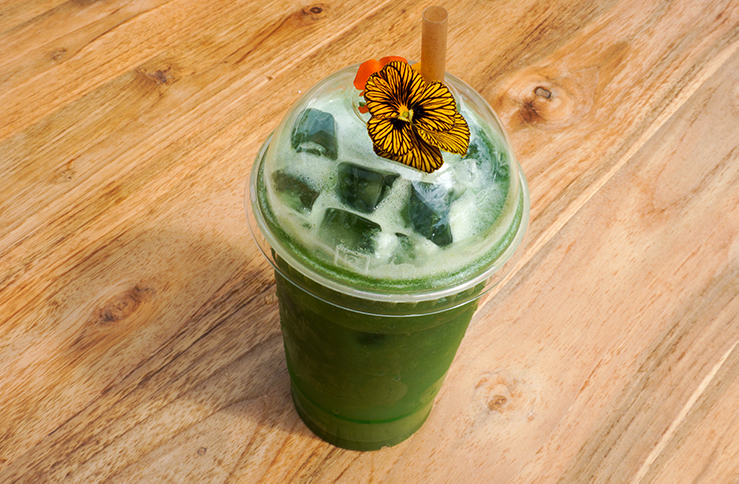 You can also sip on some pretty darn delicious smoothies; we're big fans of the Lunar Love, which contains Nutra Organics Lunar Latte, Banana, coconut milk, vanilla protein and honey but there are heaps more to choose from. And yes, like the custom sandwiches, you can make your own juices and smoothies if you've favourites that you just can't part with.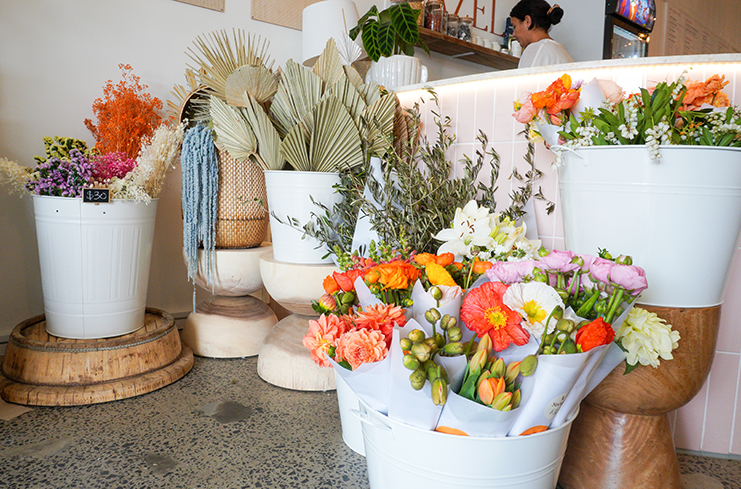 And because Nectar is the brainchild of owners who definitely know what they're doing when it comes to aesthetics, it has been transformed into a dreamy little spot. The light pink tiled counter, cute decorative neons and adorable little touches (like ceramic pinkie-holding salt and pepper shakers) really take a mundane lunch experience to the next level.
And while you're there, you can also browse a small selection of cute homewares, fragrances, beautiful flowers and even smoke all the bad vibes away with their dried sage bundles.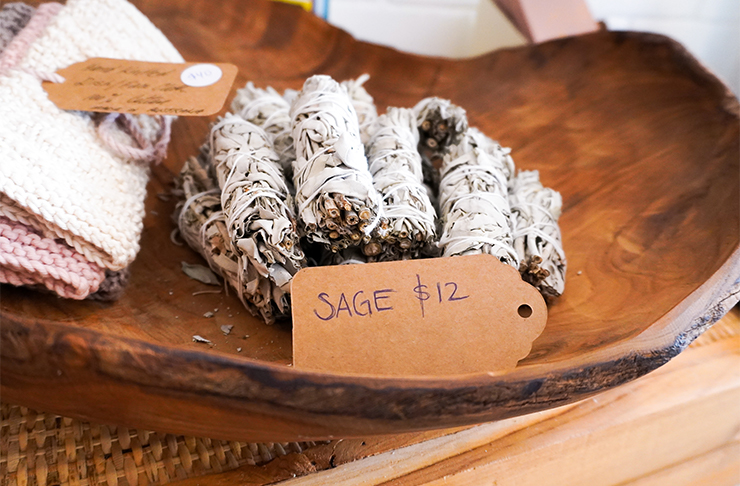 To be honest, the fact that Nectar is over the border is probably a good thing, otherwise we'd seriously be there every day. Nectar is open every day from 6 am to 3 pm and while walk-ins are welcome, you can also order your grub ahead of time.
The Details
What: Nectar
Where: 34 Tweed Coast Rd, Cabarita Beach
Speaking of cafes, have you been to Burleigh's fabulous new brunch spot yet?
Image credit: Ioana Dragnef