Don't take your eyes away from Palm Beach for a moment, folks.
Wildernis Cafe + Bar is the sunny precinct's third new opening in less than two weeks, with more still in the pipeline. These guys have been keeping their efforts on the DL from the rest of the Gold Coast, though anyone living in the area will have eagerly watched the massive fit-out unfolding over the last few months. Crawling with tradies at all hours of the day and night, there have been some creative juices flowing to shape the chill new day-to-night venue of Wildernis.
If you remember the location, previously occupied by popular spot Little St. Kilda, trust us, you will NOT recognise the space now. Wildernis is the project of two born and raised Palmy boys, Josh and Andy. These two jovial gents are the first to admit this is their first foray into the demanding world of hospitality, but they've wisely surrounded themselves with an experienced crew of chefs, baristas, bartenders, and managers who are helping to deliver the goods. With a construction background, Josh and, self-confessed deliverer of good times, Andy are pouring their time and energy into this career change and challenging new lifestyle choice. And you'll be bloody glad they did.
Drawing inspo from their globetrotting days and mixing some of their fave design elements, they've created a one-of-a-kind eatery that's adding even more sparkle to the blossoming Palm Beach commercial district. A dramatic sunroof with honeycomb-patterned support beams will be first to draw your attention, followed by an exposed clay brick bar that's lined with all manner of boozy thirst quenchers. Dappled by natural light, an impressive Staghorn fern, hanging Devil's Ivy planters, nautical portholes, and a Merbau timber boat deck-like floor are all contrasting design features, that somehow manage to work together nicely.
Palmy's newest coffee and brunching spot morphs into a tapas bar come sundown, and if opening weekend is any indication, it'll become a fave after-work drinkies hangout for local tradies or nine to fivers, and post-salty surf sessions come weekends. Opening at 5am for coffee, smoothies, and juices; you'll find a few usual suspects on the breakfast menu plus other dishes we're eager to try like the Smokin' Salmon (with rosti, asparagus, avo, chutney, and balsamic baby beetroot) or the nourishing Garden Breakfast (loaded with spinach, broccolini, asparagus, quinoa, kale, eggs, avo, and sprinkled with beetroot dust). Beetroot dust? Oh la la.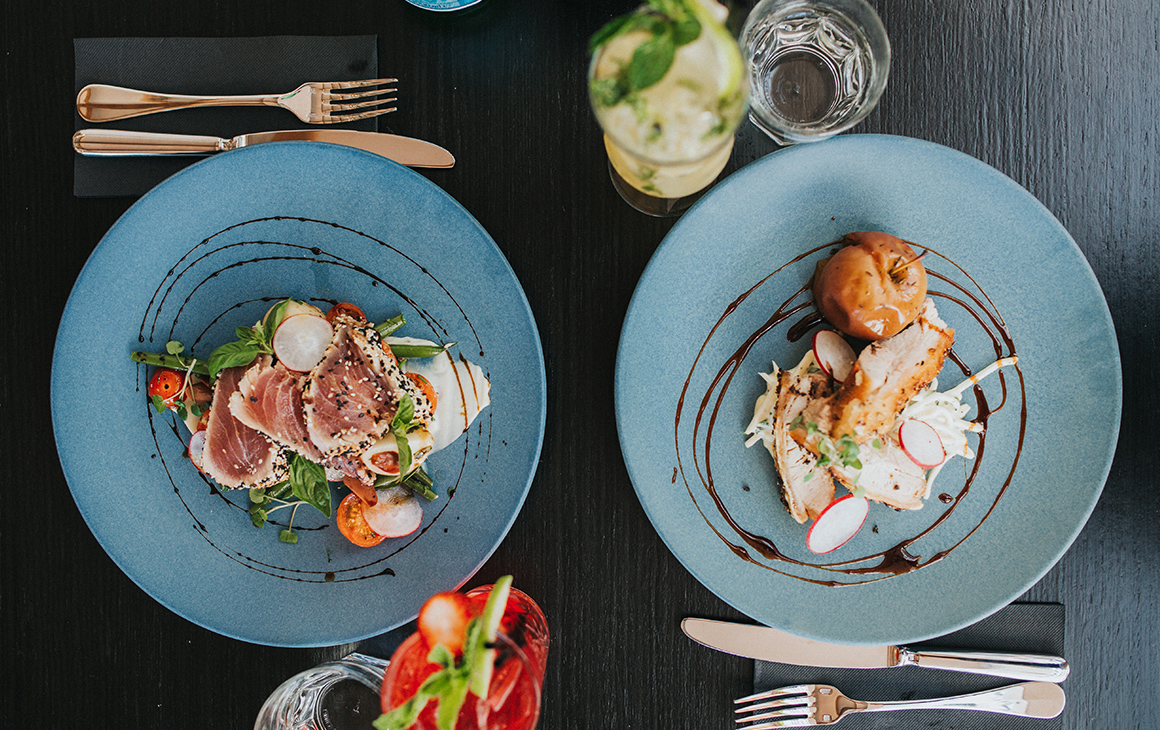 Come lunchtime, Wildernis is dishing up crowd pleasers including grass-fed beef burgers, house-smoked salmon on pancetta croquettes, or a balsamic baby beets salad for something lighter. We were impressed with dishes we devoured: the rare seared Yellowfin tuna and Bangalow pork belly served with a roasted whole apple and perfectly crisp crackle. It's a smart move for the boys and their team, where Palm Beach lunching and afternoon venues are thin on the ground, as are places to order a decent coffee post 3pm on weekends.
As the sun dips, it's all about share plates and socialising, with a tapas menu smattered with grilled halloumi, karaage chicken, seared scallops with chorizo, king prawns, pancetta and parsley croquettes, or the Wildernis charcuterie board. Targeting the low-maintenance drinking crowd, they've got seven craft beers, a cider and ginger beer pouring on tap, with $6 VB and XXXX stubbies in the fridge for the easy-to-please tradies and reasonably priced wines, averaging $8 a glass.
Now the doors are open, the handy lads are moving onto phase two of the Wildernis build-out, renovating an upper-level space with plans for a pizza oven and some major re-modelling. What this space!
All this is bloody good news for southern Gold Coasters, who can now save the cost of an Uber to Nobbys or Broadbeach to spend on #allthedranks. With Wildernis joining old-timers Pablo Pablo and Lester and Earl, plus sexy newbies 8th Ave. Terrace, Bstow, and (coming soon) Balboa, Palm Beach is now a legitimate foodie and bar-hopping destination after dark.
Seriously peeps, who would've thought this is where we'd be at the end of 2016?! We likey!
Where: Corner Seventh Avenue and Gold Coast Highway, Palm Beach
When: Open seven days for breakfast and lunch, plus dinner Thursday to Sunday
Photo Credit: Hayley Williamson for Metropolist