The things we do for you guys...honestly.
Well, it's official: Balgownie Estate has ruined camping for us. Hell, they might have ruined glamping for us. How can we possibly go back to regular tents after this? It's like the day when you finally get bumped up to Business Class—Economy is never the same again.
If you haven't heard of Balgownie Estate, it's a family-run winery on the western edge of Bendigo (they also have a vineyard in the Yarra Valley—please don't get these confused on Google Maps. We learned that lesson the hard way...)
Balgownie has built up a rep over the years for A-Grade Cabernet Sauvignon and Shiraz—the mild Bendigo climate produces some brain-melting Reds. This year though they've launched something pretty special: 15 luxury glamping tents with views over the vines.
Now we've glamped before. Extensively. We've done the St Jerome's thing (RIP, old friend), and we spent a happy few weeks road-testing this list. But Balgownie might take the cake. Hands down one of the nicest glamps we've ever seen.
Let's start with the tents themselves. As any glamping pro will tell you: a good glamp relies on little details. Which is why we were stoked to unzip our Twin Bell Tent and find split-system air con, fast WIFI, a fridge (!!) stocked with wine, soft drink and snacks, an electric kettle, plus tea and coffee, a couch, plush linens and warm Edison bulbs. Not to mention robes so soft they must have been made from snow leopards (NB: they weren't made from snow leopards. We checked).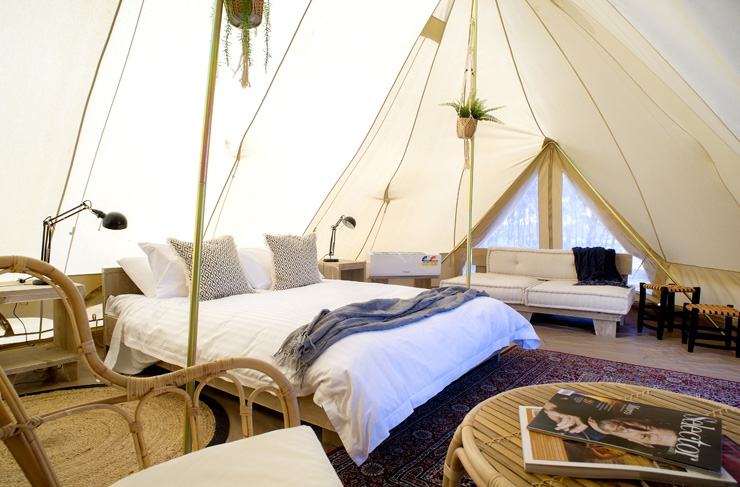 The décor is on-point too. Balgownie hasn't tried to swing for the fences here. The palette is neutral rather than quirky: creams, grays and whites, a little Turkish rug at the entrance, hanging plants and contrast-textures. We were fighting an urge to smuggle the pillowy doona into our luggage...
Depending on how deep your pockets are, you can kick back in a Bell Tent (your standard glamping model), a Bell Twin Tent (much bigger, plus you get a couch, outdoor lounge and spa bath) or the Big Kahuna, a Luxury Safari Tent (four poster bed, private ensuite, kitchenette, the works). The prices are pretty reasonable, considering what you get: $275 for the Bell Twin Tent on weekends is a steal. Worth it just for that dawn view over the Bendigo hills...
Balgownie has thought of the little things too. The communal bathrooms are nicer than most apartments'—think hot water, showers and toilets that aren't terrifying when you need to pee at 3am. They've even built a swish little path that links all tents to the bathrooms, so you don't need to get your slippers dirty.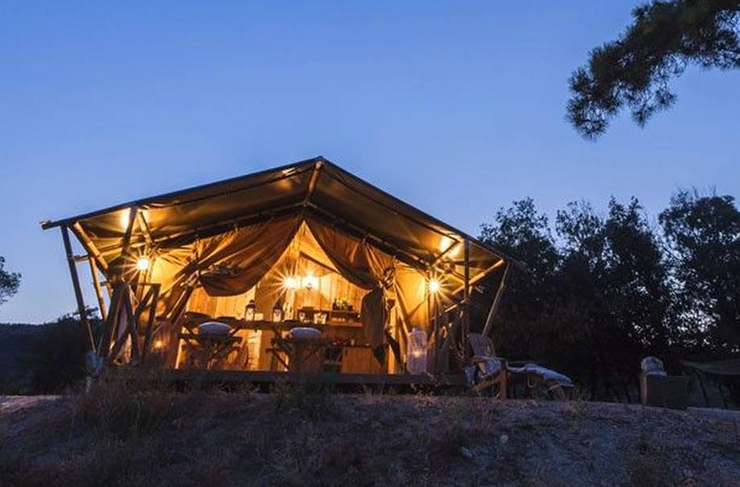 Likewise the transport. The tents themselves are about 100m from the winery homestead, but Balgownie doesn't expect you to walk. They have a fleet of golf buggies to whisk you straight to the tent door. You even get to sit facing backwards, like station wagons in the 1990s (we're basically giant kids, if you didn't already know).
Of course the winery itself is still a fully-functional vineyard. It's a popular spot for weddings on weekends, and if you drop by for dinner you'll see why: the canopy out front is strung with hundreds of fairy lights, which look magic after dark. Rae's Restaurant serves classy bistro fare, and the wine was (as you'd expect) excellent. We tried the Scotch fillet with red wine jus, potato batons and mustard-coated watercress, which was plate-lickingly good. The bread is infused with olive oil, and comes from a local bakery in Castlemaine.
If glamping isn't your speed, Balgownie have also just launched some new homestead accommodation. Luxe vineyard hotel pads, ranging from single rooms to fancy courtyard suites. We didn't get to check these out on our visit, but the pictures are looking pretty speccy. You can get more info on the new digs here.
As for camping anywhere else, we think we might be dunzo. Tents without well-stocked minibars and air-con just don't do it for us anymore...
Image credit: Balgownie Estate