Family time, Christmas trees, fairy lights, Christmas music, the exchanging of gifts. Whether you're an avid participant or just wish it would all be over soon, we all know that Christmas isn't really complete without that essential component: food, food, and more food.
We teamed up with urban marketplace The Kitchens at Robina Town Centre, one of our fave foodie hubs for artisans, chefs, providores, and food lovers (AKA us), to put together 12 days of bucket list holiday eats. If ticking off as many indulgent, Christmas-time dishes as possible during the food—sorry festive—season is your game, then read on.
Day 1
Head to Barbosa Fine Food Deli to pick up some delicious imported delicacies and create yourself the mother of all adventurous snacky platters. We're talking gorgeous olive oils, ridiculously good cheeses and hearty chorizo. Founded by a cafe owner and a naturopath, their 'real food' philosophy means everything is of next-level quality, perfect for impressing guests (or just treating yo'self).
Day 2
Cinnamon and orange are quintessentially Christmassy flavours, and even though there's no snow falling outside, making these orange and cinnamon crème brulees will give you all those traditional festive feels. Plus anything that requires a blowtorch in the kitchen is just fun.
Day 3
Speaking of Christmas flavours, the pumpkin pie pancakes topped with spiced roasted pecans, nutmeg ice cream, maple syrup and crystalized ginger from Coming Home Co is a brunch that couldn't be more Christmassy if it tried. Not to mention delicious—in fact, there's no sense in limiting yourself; we'd be in here every day if we could.
Day 4
With all the pressure that Christmas can bring, it's time you treated yourself to a drink. A festive, indulgent, insanely delicious drink that simultaneously relaxes you and gives you a festive kick, like Crafted Coffee Bar's Cherry Bomb Espresso Martini—Malibu, cherry brandy, Bailey's, Signature espresso and roasted coconut. Cheers!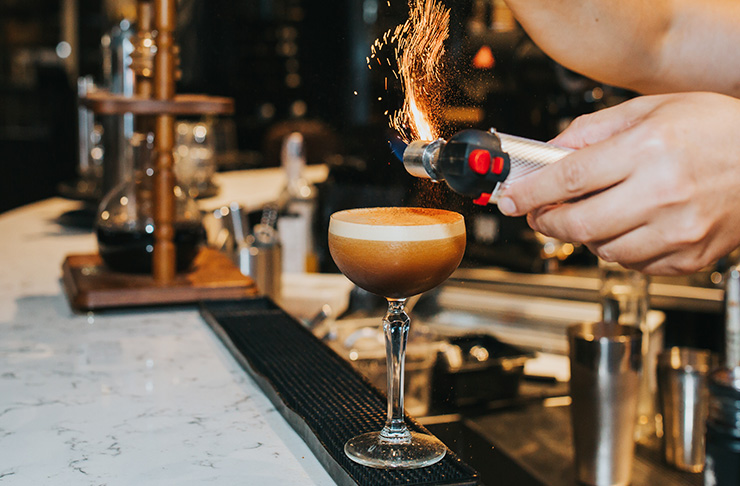 Day 5
You've been working hard all year, so Christmas is a time where you're allowed to take things slow. And by slow, we mean a slow-cooker of course, because we're never not talking about food. Pick up some lamb from the GC's first certified organic butchery, Pure Meats, and make this droolworthy slow-cooked lamb shoulder with figs and olives: think sumac, pomegranate, and luscious Middle Eastern flavours.
Day 6
All this Christmas-ing is exhausting, which is why you need to make sure you're fuelling yourself correctly (meaning carb loading, naturally). Head to Lucky Luciano's Italian for rustic but refined handmade pastas, woodfired pizzas, house-baked bread, and, just casually, a walk-in artisanal cheese room. Because everyone knows Christmas-time calories don't count, right? (Right?)
Day 7
'Tis the season for indulging, and what better to treat yourself with than delicious, colourful, light, chewy macarons from Mark Daniels Patisserie. Choose from pistachio and white chocolate, popcorn with salted butter cream, mango crème, and cherry and coconut confiture… or, you know, just grab an entire Nutella cheesecake.
Day 8
Hey, since you're on the sugar train, why not just keep steamin' along? Poppy's Chocolate has cabinets brimming with all sorts of specialty chocolate morsels, perfect for fuelling your shopping sprees, bringing out on Christmas Day, gifting to friends and family, or accompanying your holiday-mode Netflix binges.
Day 9
A key item in everyone's Christmas food itinerary should definitely be pudding. Not everyone's a fan of the traditional Christmas pud, though (even when it's drowned in custard—weird), so making Middle Eastern milk-based pudding muhallabia is a lighter, creamier option. Head to Earth Markets for produce to make it pretty with Christmas-coloured pistachios, pomegranate, raspberries and mint.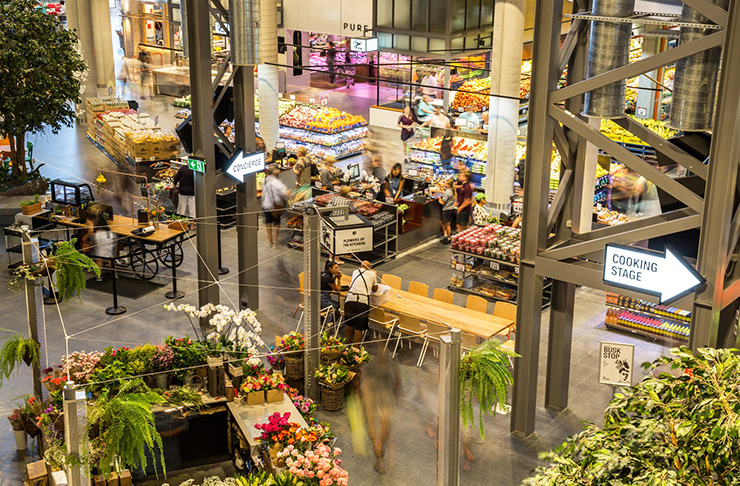 Day 10
Add some spice to your festivities over a catchup with pals at Venezuelan street food eatery, Fiery Deli. We're obsessed with the Arepa: the heavenly love child of a taco and a burger. These crispy cornmeal pockets filled with combinations of pulled meats, black beans, lime avocado salsa, creamy chicken and veggies are totally the type of parcel we're down to open this Christmas.
Day 11
Just because food is healthy doesn't mean it can't be indulgent! Vegetarians, vegans and anyone thinking even slightly ahead to maintaining that summer rig should head into plant-based restaurant and bar Elixiba to try the Memory Parcel: crunchy house-made probiotic pastry filled with a creamy rosemary, garlic and gotu kola sauce, with grilled jackfruit and kale. Have it with the house sangria (mandarin juice, cinnamon oil, red wine and a herbal punch) to complete the plant-based Christmassy feast.
Day 12
Christmas is a carb-filled time, and we see no reason to stop once you've started. Pop into Mr Pig's Bakehouse to make all your bread-laden dreams come true: loaves, baguettes, bloomers and more, all created in the open, woodfired oven for a delicious rustic flavour. Settle in and enjoy a tasty burger or sandwich for lunch before you make off with a loaf or five to take home.
Image credit: Hayley Williamson / The Kitchens Robina
Editor's note: This article is proudly sponsored by The Kitchens Robina and endorsed by The Urban List. Thank you for supporting the sponsors who make The Urban List possible. Click here for more information on our editorial policy.