Time to loosen those belts, because an epic all-you-can-eat Mexican night is coming to the Gold Coast. Prepare your body for an overload of tacos, burritos and quesadillas, all brought to you by Burleigh Heads favourite Margarita Cartel, a bright Mexican eatery with quality eats and drinks to keep you going all night long.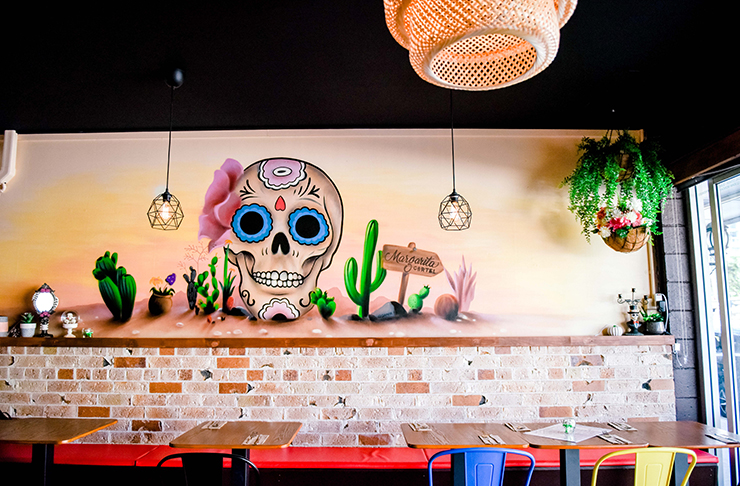 For just $19.99 per person, Margarita Cartel is serving up unlimited Mexican eats for an hour, so race against the clock to see just how much your stomach can handle, and how much bang you can get for your buck. The only condition is you need to purchase a drink, which we're guessing won't be that hard, when you're stuffing your face silly with delicious tacos.
And we're not just talking run-of-the-mill standard tacos either. This feast includes tacos in flavours like chili con carne and agave sticky pork, quesadillas stuffed with chorizo and piña, and burritos with all your favourite fillings. Expect these traditional flavours to come with a slightly South American twist, coming from the international team that has perfected street food.
Don't worry that you'll have to choose just one dish, oh no—Margarita Cartel will let you mix and match, so you can pair grilled steak tacos with chicken and cheese quesadillas and finish off with pork burritos. Not to mention, Margarita Cartel's all-you-can-eat menu includes vegetarian options in all three categories, so grab your best vegetable loving friend as well.
Pair the feast with a decent amount of flowing margaritas, and the satisfaction you get from knowing you couldn't possibly fit in another mouthful of food, and you've got yourself a cheap and filling night out on the Gold Coast.
The Details
What: All-you-can-eat Mexican Night
When: Every Sunday
Where: Margarita Cartel, Shop 2, 1840 Gold Coast Highway, Burleigh Heads
Cost: $19.99 per person (must purchase one drink)
Image credit: Kaitlin Maree Photography