The wait is over.
That's right folks, after tempting us for what seems like forever, this weekend Balter HQ are finally sliding back the sleek barn door to welcome us all inside for a looksee and a cheeky brew or two, direct from the source.
Now this might not be a word you first associate with a brewery, but on our initial visit (and second, and third), for us, it certainly was—Balter's slick new brewery is SEXY. As hell. It's the kinda cavernous warehouse loft you'd dream of filling with furniture and making your home.
Yet this one includes a 12-tap bar with endlessly flowing beer. Um. Fantasy home then, perhaps?
What started as a conversation between mates back in December 2014, in Hawaii on a lay day from the Pipeline Masters, has quickly evolved into a reality. The crew, local pro surfing legends Mick Fanning, Joel Parkinson, Josh Kerr, and the man who first initiated the vision, Bede Durbidge, together with a handful of long-term friends cum new business partners, have brought their dream to life and are now inviting us in to meet their baby. Gee whizz Gold Coast, we're so spoilt!
Balter HQ will also be the place for exclusive samplings of limited-batch test brews.
This weekend we can expect endless tank-to-tap Balter brews for purchase, food trucks for lining the stomach (Easy Street Diner on Saturday and Baracca Portuguese on Sunday), tunes gracing the Sonos sound system, hot-off-the-press merchandise—starting first with logo t-shirts, and general good times with good friends. What's best, this weekend Josh Kerr and Bede Durbidge will also be making an appearance behind the bar pouring the good stuff just for us lucky beer-lovers. Cool, huh?!
And like you needed more reason to make this your regular watering hole, Balter HQ will also be the place for exclusive samplings of limited-batch test brews. Like the Alt Brown that's on tap as we speak—a German Alt and American Brown mix that's malty yet not sweet, or more affectionately described as "nutty, toasty, and roasty". Meaning visitors to Balter's Currumbin-based brewery will be the first to taste test new brews and seasonal additions, with the best going into full production on the grand-daddy system.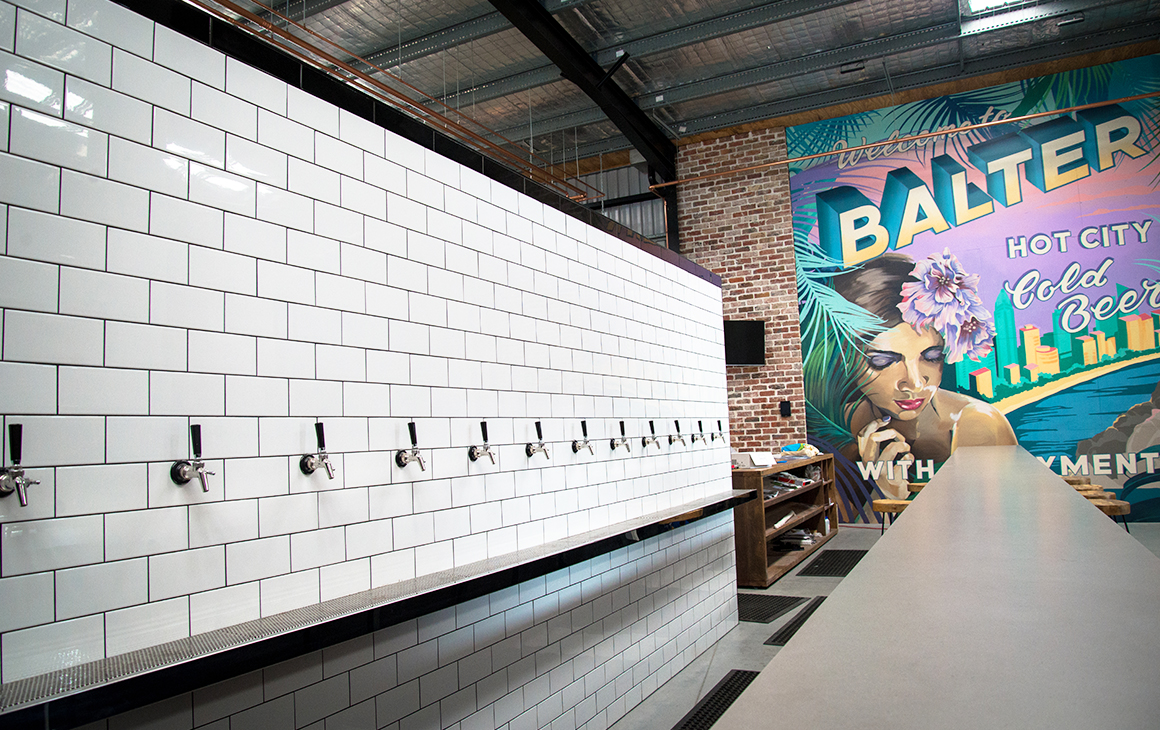 Since launching their first ever beer to the public last month, the Balter brand has been going from strength to strength with the fruity and floral XPA already pouring in a whopping 35 venues (and counting) from Yamba to Brisbane—read the full list here—with further afield venues to soon follow suit.
Plus, after a few test runs of their new canning machine (those tinnies likely lasted a total of two seconds!), the canning line has just been kicked into full production mode. Balter's distinct XPA cans will be hitting bars and restaurants in the weeks ahead, together with takeaway off-sales at Balter HQ; and cases set to commence selling in select liquor stores by mid May. Phew… officially killin' it, guys!
As wisely stated by spokesperson and co-founder, Stirling Howland, the past 16 months getting to this point have been a sprint and "now the marathon begins". Yet with distribution already spreading like wildfire and a solid-as-hell brand from the outset, the future of Balter is lookin' damn rosy. And us Gold Coaster's should be proud as punch to call them our own.
So peeps, clear your diary this weekend, grab your mates, and swing on in to give the Balter crew, including head brewer (aka The Man) Scott Hargrave, a solid cheers for beers!
When: Opening week* hours include 3—7pm Friday and 12—6pm Saturday and Sunday
Where: 14 Traders Way, Currumbin
*Hours are set to change in the weeks ahead, so check Balter's Facebook for details.
Photo Credit: Brooke Darling for Metropolist