As the old saying goes, if it ain't broke, don't fix it. But try telling that to Gold Coast power couple, Liz Ennis and Dean Hyland. This pair has never been one to rest on their laurels, taking any opportunity to evolve and expand while always managing to stay unpretentiously competitive.
Barefoot (Barista) has long been lauded as a pioneering coffee culture crusader on the local scene—the Palm Beach cafe seemingly pumping since the day it opened nine years ago. Originally starting out as a simple barista bar, which over time spread into every neighbouring nook and cranny; morphing into the hip cafe we've adored for all these years. So, what gives?
Simply put, they outgrew the space and the layout, while endearingly characteristic to us, was not as much fun for the busy-as team while servicing their loyal clientele with some of the best breakfasts and most consistently smooth caffeinated brews in town.
So they've closed the roller doors one last time and have moved!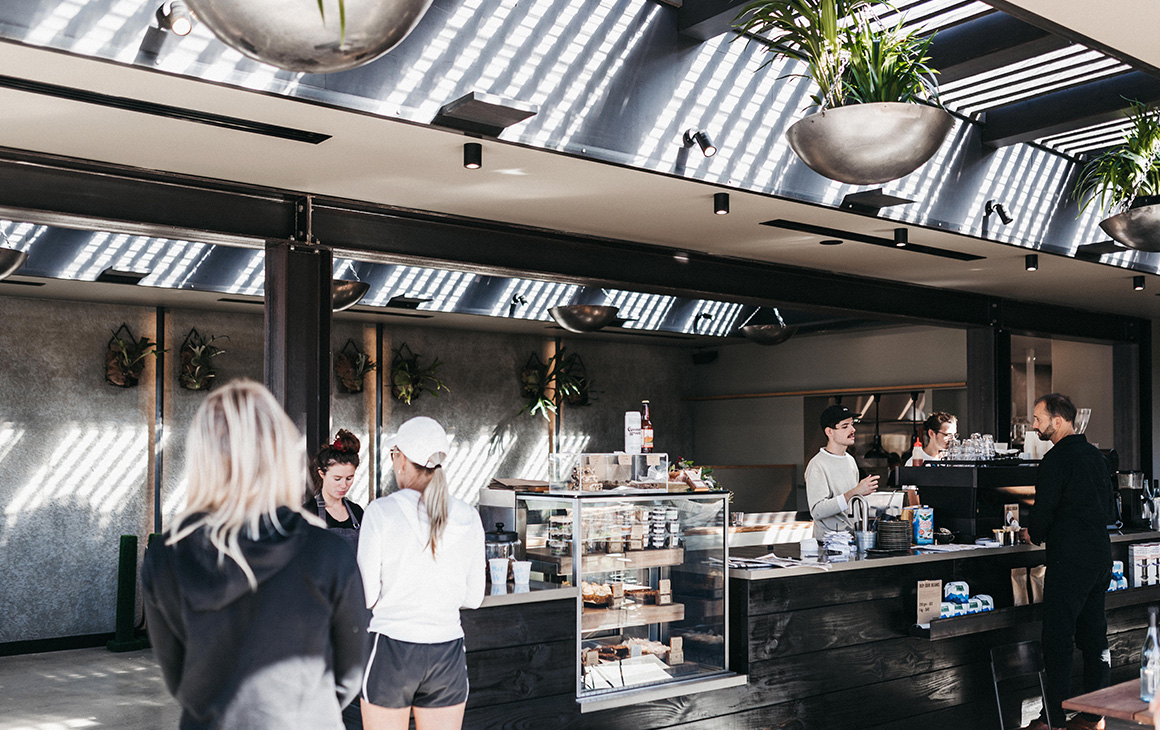 After checking out their new digs this past weekend, the cavernous and city stylin' design could not sit in greater contrast to their original home. Drenched in dappled sunlight thanks to a custom slatted roof, floor to ceiling windows and concertina doors, Barefoot (Barista) 2.0 has a similar contemporary vibe to its newest sibling, Mermaid Beach's Background (Barista), while still retaining elements of its original aesthetics. Picture concrete floors, signature wood accents, an industrial colour palette, staghorn ferns, hanging planters and sunny outdoor seating plus a soon-to-be-added pergola.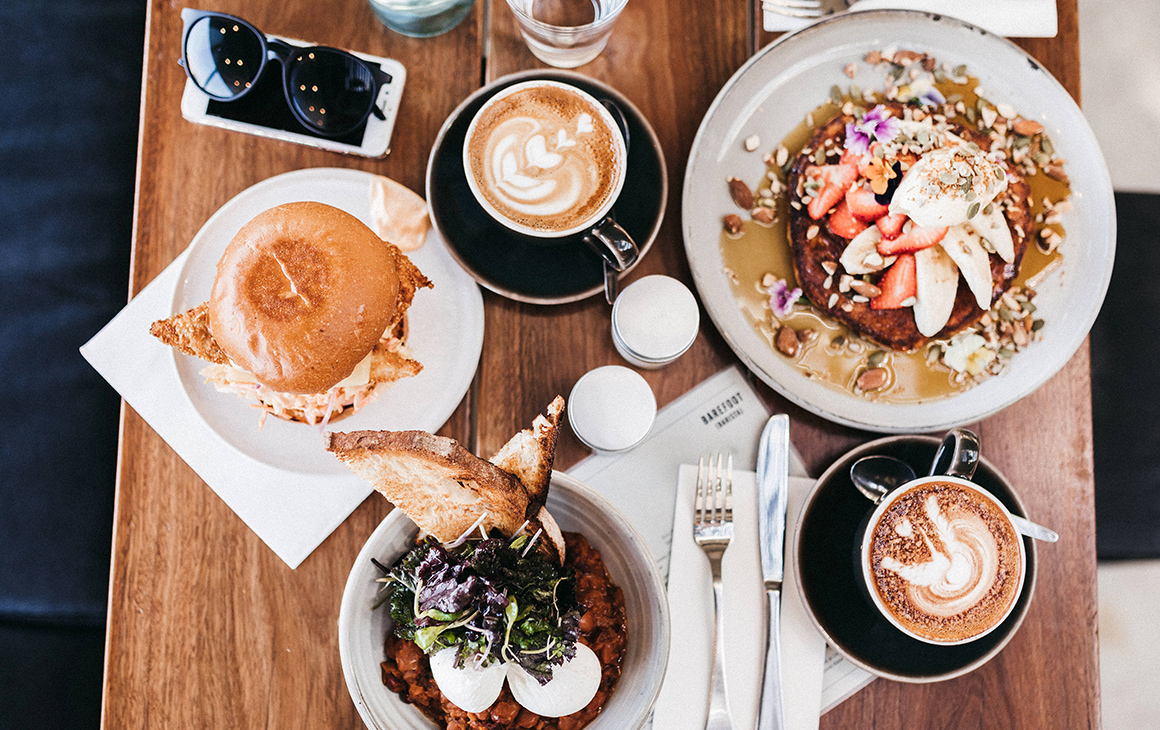 With three 'Barista' venues in the family (Barefoot in Palm Beach, Borough in Burleigh and the recently opened Background in Mermaid Beach), we've worked our way through a fair share of the generously portioned and meticulously presented dishes. And we've no qualms making the bold claim that this team delivers one of the Coast's most outstanding cafe menus.
A new feature on the menu is the wintery Boston Beans with slow-brewed rich pork based Boston beans, poached eggs, baby kale and Meredith goat's cheese. Though, thankfully, all our tried and tested favourites are still there. Like the Crispy Potato Hash with bacon, water cress and mustard hollandaise; or the crunchy fresh Corn Board and gluten-free ricotta hotcakes with Canadian maple and mascarpone. We also can't go past the flavour-packed lamb salad and chicken schnitzel burger with house slaw and red jack cheddar, available post 11:30am.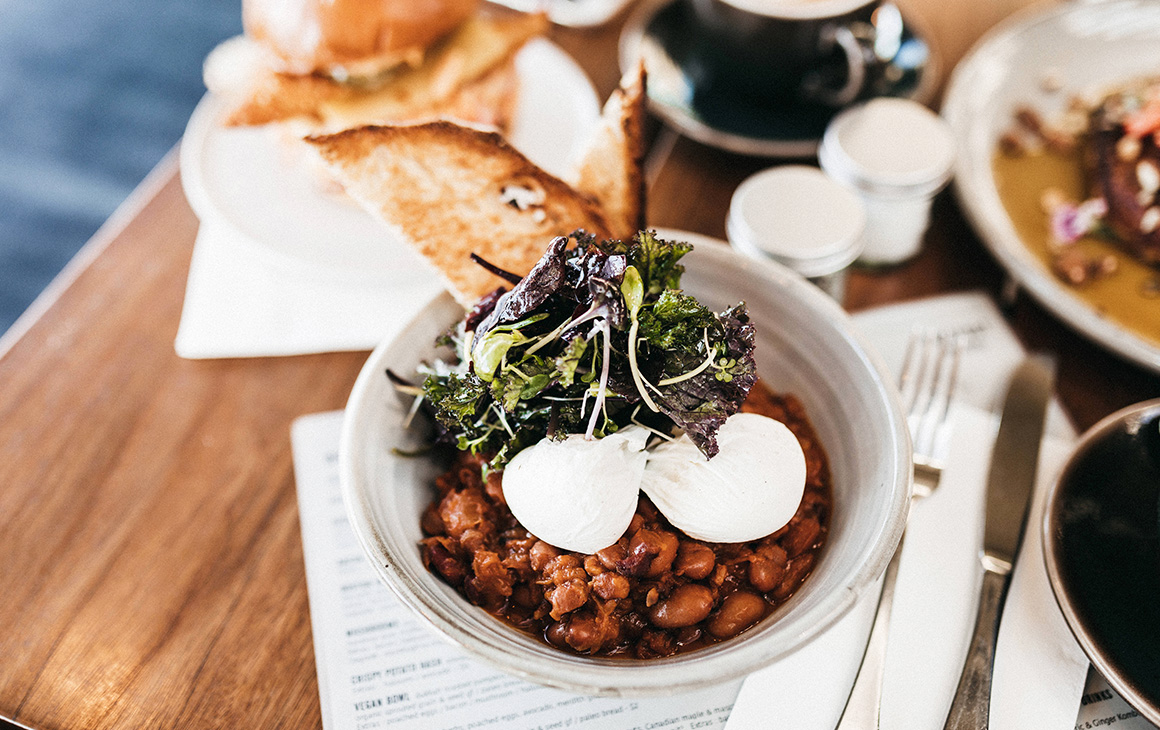 At Barefoot, everything is focussed around what's in season and farmed in close proximity. These guys are passionate about supporting local small business supply chains and we've often spotted Liz and Dean at the Palm Beach Farmers Market hand collecting boxes of freshly-picked greens and produce early on a Saturday morning.
They're well and truly set up for the 30% increased seating, too. Even on a super busy Sunday, with every table at capacity and a line up out the door, our coffees and scrumptious breakfasts were at the table with impressive speed.
Similar to their slick Mermaid Beach cafe, the new and improved Barefoot (Barista) has one of the Coast's most envy-inducing barista stations, taking pride of place at the cafe's heart. Featuring Gabriel beans and boasting a high tech i-milk system (meaning less wastage), they're efficiently serving your milky faves alongside batch brews, cold brews or for the serious connoisseur, the Aero Press.
And you don't have to look far either. Walk across the road and west a half block and you can't miss this fresh, humming local hangout. If Barefoot (Barista) 2.0 is any indication of the direction Gold Coast's cafe scene is continuing to head, #brunchlife has never looked brighter.
The Details
What: Barefoot Barista 2.0
Where: 15 Palm Beach Avenue, Palm Beach
When: Open seven days; 5am to 4pm (3pm on weekends)
Looking for more Palm Beach goodness? We've rounded up our fave places to eat, drink, shop and things to do here.
Image credit: Hayley Williamson for The Urban List