Inspired by the south of Italy, BASKK Italian has popped up on the Southern Gold Coast with gusto and is full of authentic flavours and bang-on woodfire pizzas.
At the helm of the BASKK rejig is General Manager Tom Torchut. Formerly of Gemelli and Arc Brisbane, he's brought his Neapolitan pizza chef along for the ride to ensure the flavours of the south are replicated perfectly.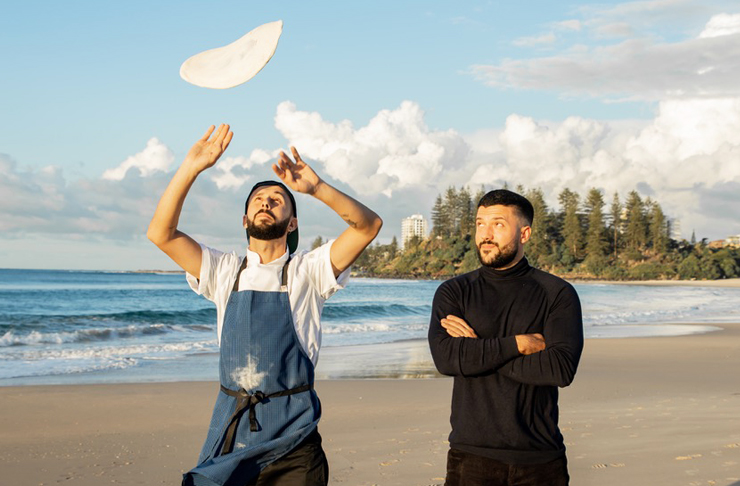 We popped by this spacious beachside eatery and headed straight for the bar that is bursting with tasty cocktails. Trust us when we say, you should not leave without trying the El Patron; a blood orange, silver patron with fresh lemon, passionfruit and pineapple.
The casual dining menu has all the Italian bases covered, including the Cooly Polpo—chargrilled octopus, garlic, lemon and parsley—to the best burrata in town from the lads at Byron Bay Mozzarella, simply doused in olive oil.
Let's talk pasta. The testament to any good Italian is their pasta (and pizza) and the team at BASKK Italian don't disappoint.
Take your pick from vegetarian options like pasta al tarufo with black truffle oil, mascarpone and button mushrooms to a firm favourite gnocchi con zucca, featuring homemade gnocchi, gorgonzola and creamy pumpkin. Yum!
For the meat lovers, you'll struggle to go past the polpetta del nonna, with traditional wagyu meatballs, an intense tomato sauce and extra long spaghetti. And when you can literally see the sea from your table, you have to try a seafood dish like the linguine ai gamberi, full of marinated prawns and lashings of olive oil and garlic.
But wait, there's more, and it's all about the pizza. With a built-in woodfire oven adjacent to the lobby dining area, the pizzas here are smoking and bursting with flavour. Keeping it simple, we chose to finish with a classic margherita di bufala mozzarella, coated with a San Marzano tomato sauce, and topped with fresh basil and olive oil.
We get the nod to leave room for dessert and are tempted by the giant profiterole with housemade local gelato (FDL gelato) and a rich chocolate pour-over. Accompanied by a crisp Italian Pinot Grigio, we're officially sorted.
As dusk is falling, we head from the sunny deck to the warm insides where the Sunday session is in full swing with live DJ tunes. BASKK is a venue that has a plethora of dining options, making it the ideal place to host a party or long lunch with the ladies (or gentlemen).
The new kid on the Italian block, BASKK has transformed into an authentic, tasteful eatery and we are convinced that with Tom and co. at the helm, this little beauty will be frequented by locals and visitors well into the future.
BASKK Italian is now open Wednesday and Thursday from 5pm, and Friday to Sunday from 12pm.
Looking for more new spots to check out post-covid? Check out this brand new brewery on the Gold Coast.
Image credit: Supplied