Any Gold Coast local or regular visitor worth their salt knows that Burleigh Heads is where the magic happens. Here, all that is pure and true about life on the GC collides in one delightful little pocket. From a fragrant gum-filled national park headland, that's a world away from high rises, a pulsing right-hand point break, to Pandanus palm-lined Burleigh Hill—the ultimate picnic possie.
When you next find yourself in this neck of the woods with a thirst you need to quench, call on our pick of the best bars in Burleigh.
Justin's Rooftop
Burleigh's star attraction is the sultry rooftop bar at the Justin Lane Establishment. Come for the sun-drenched patio and hopping outdoor bar, misting stations, people-watching and booths with views to Burleigh Beach; stay for Justin's (pina) Coladas and handmade sourdough pizzas. Without question one of the best bars in Burleigh, if not the Gold Coast, this is where the beautiful folks gather. Is it the weekend yet?
Lockwood
In true speakeasy spirit, until you're in the know, Lockwood, Burleigh's secret bar, is not easy to hunt down, and even when you do know where to look, you still must request entry via text message. Pull up a stool at the bar where stylish bartenders are dressed in ties, waistcoats and flat caps, and ready for a banter while they mix your Rob Roy (a stiff Scotch whisky version of a Manhattan). Seductive mood-inducing blues and rockabilly tunes, think Creedence and John Lee Hooker, set the tone for an intimate night behind closed doors. If you're looking for one of the best bars in Burleigh well, you've found it.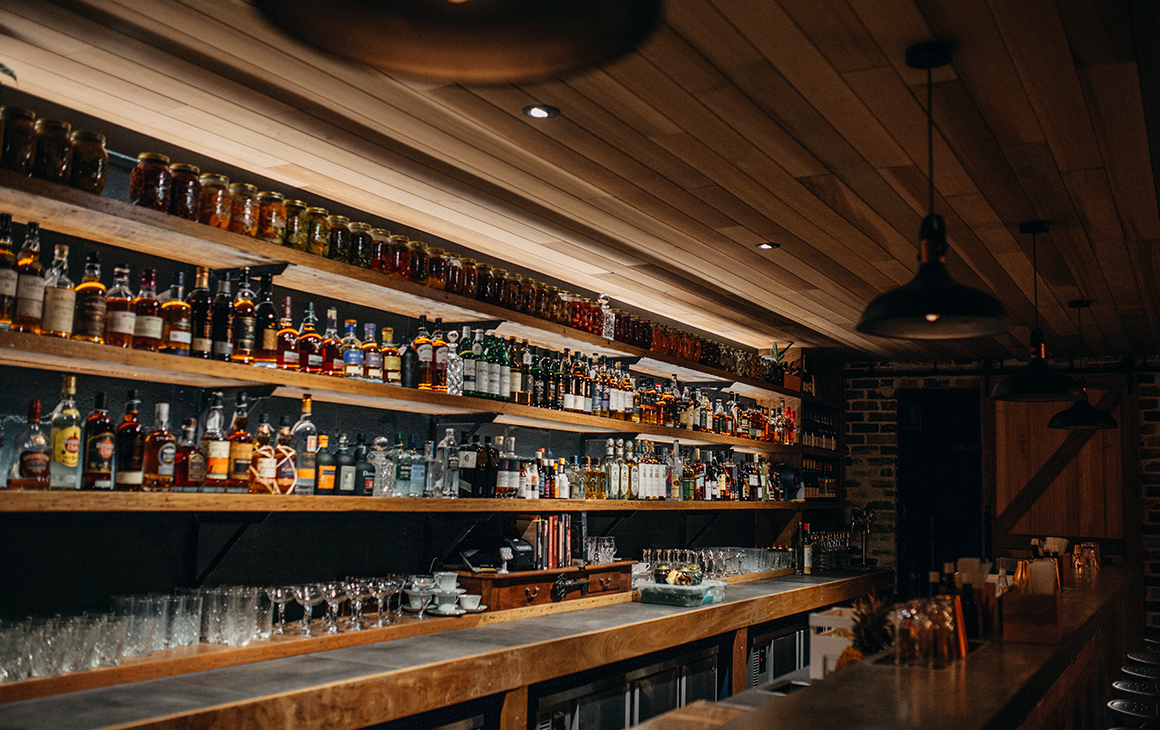 Iku Yakitori & Whisky Bar
The latest addition to the best bars in Burleigh, Iku Yakitori & Whisky Bar's rear bar is where things get really interesting. Here, be seduced by flawless ambient light, surrounded by panels of dark, aged hardwood, a cobblestone-topped bar and a totally sinkable blue velvet lounge with ample room for the whole gang and then some. You'll find Gold Coast bartender extraordinaire himself, Adam Bastow, bringing his insane mixology skills to the table, delivering a weekly cocktail menu with a focus on whatever is in season at the time. And, of course, the Japanese whisky selection is bonkers. With an effortless touch of dinner theatre and intimate jazz band appearances on occasion, we can foresee many intentions for 'just one drink' ending in a long, entertaining night tucked away back here. When you're done? Slip outside via the rear barn door entrance to cool back alley speakeasy, Lockwood.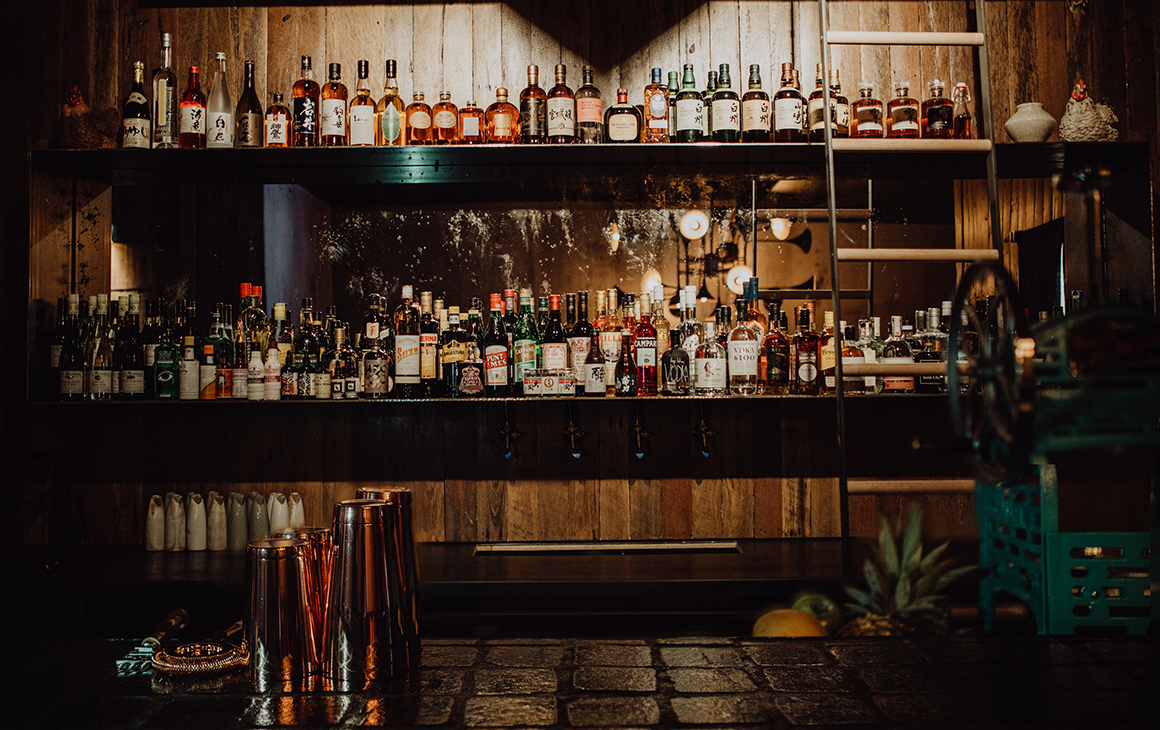 Ze Pickle
Infamous around these parts, Ze Pickle coaxes you in with some of the Gold Coast's best burgers (screw health, these guys are all about being outrageously UNhealthy), before you realise, you'll be lingering to hang with the cool staff, listening to funky beats and downing frosty craft beers (they've got 12 rotating on tap). These guys have unearthed the recipe for success, taking their madness to Brisbane and next dominating the burger-bar scene in Sydney's Surry Hills. But we can be proud knowing the Ze Pickle empire started right here in a once-musty, second-hand Burleigh bookshop.
Nightjar
Secreted away in a back alley carpark in much-loved Burleigh Heads, Nightjar, a grungy dude's den, has got all the industrial feels. Drawing inspo from the existing roller doors, exposed red clay brick, Besser blocks and naked concrete floors, they've used the rawness of the space to create a gritty garage dive bar. With a small bar licence, do not come expecting food (there is no kitchen) but instead settle in with beers, rum drinks and sessionable cocktails. Ready to get your drinking shoes on before the sun sets? They offer an unbeatable happy hour between 4pm and 6pm, where all tap beer, house wine and basic spirits will go for a tiny $5 each. Live music, with a heavy focus on rock ballads, happens Thursday through to Sunday nights, so chances are you'll hear Nightjar before you stumble across it.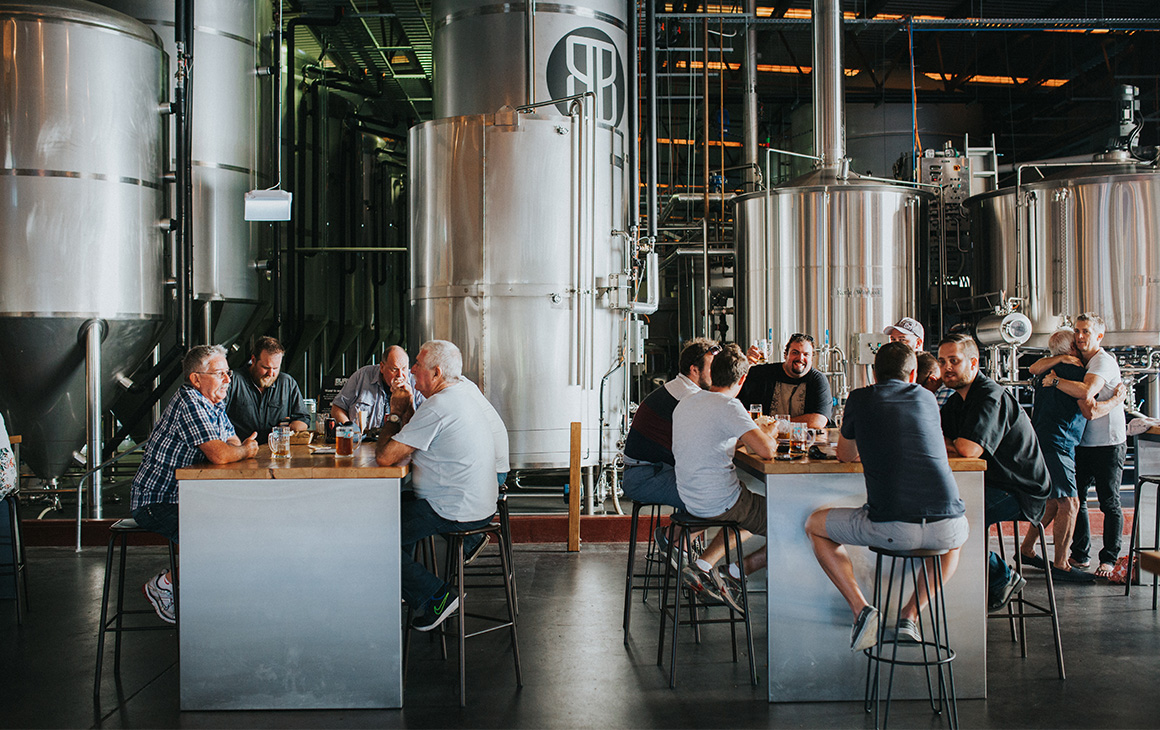 Burleigh Brewing Co.
For hops lovers, there's nothing comparable to that tank to tap to pint glass experience, and at Burleigh Brewing's seriously impressive brewhouse, you can do just that. After over a decade in business, it's fair to say these guys helped revolutionise the local craft beer scene that we know today. Burleigh Brewing HQ is open to the public four afternoons each week with live music and food trucks on weekends, and is totally worth a jaunt into the Burleigh industrial area to try their famed brews such as Twisted Palm, Hef, Bighead,and 28 Pale Ale, as well as limited edition concoctions from their trial system. Tell them we sent you.
Black Hops Brewing
Founded by three everyday local lads who've played out every man's dream, Black Hops' brewhouse has a super welcoming cellar door that's open to the public seven days a week. One of the best bars in Burleigh, if you appreciate knowing exactly where your beer came from, you'd best be making tracks to this friendly neighbourhood watering hole found in the northern end of Burleigh Heads. Our pick to drink? The tasting paddle, so you can sip your way through a select handful of their weird and whacky creations, including the beer on which the dream was born—the Eggnog Stout. Cheers!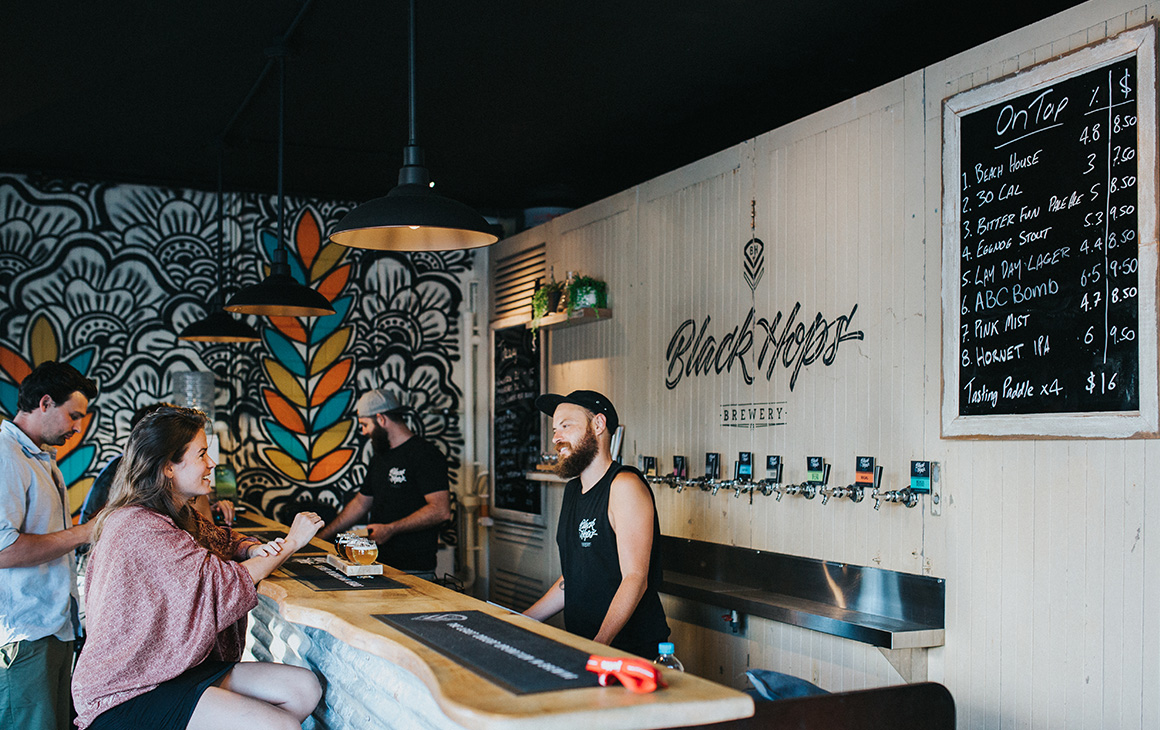 Burleigh Heads Hotel
A long-standing Burleigh favourite, you can count on the Burleigh Heads Hotel for a schooner or three while still donning your dripping-wet boardies and double pluggers. Without any fancy business, Burleigh Heads Hotel feels like it's always been there and if a footy broadcast or major UFC bout is on the telly, the TAB will be standing room only, shoulder to sweaty shoulder. Fair dinkum, this joint is as Aussie as they come, mate.
More To Whet Your Whistle...
Restaurant first, and bar second, here's another handful of rad joints to slip inside for a cocktail or vino…
Rick Shores
At Rick Shores, pair your carefully-crafted cocktail or chilled vino blanco with their delicate South East Asian 'bar snacks' and we promise you'll be head-over-heels impressed. An outdoor patio table come sunset is hands down one of the hottest seats in town. And the view? Priceless.
Harry's Steak Bistro
If you don't have the stomach space for a juicy steak, or even if you do, Harry's Steak Bistro is one kick-arse venue to swing in for an evening brewski. Grab a seat at the bar and make sexy eyes at the bartender or snag one of the high top tables on the sidewalk overlooking the majestic Moreton Bay fig—either way, we bet you'll end up lingering longer than intended.
Zullaz Bar & Eating Place
A few steps down a happening little James Street arcade will transport you to Zullaz. It's a local institution where the bartenders concoct some seriously creative cocktails, often to the soundtrack of toe-tapping live tunes. Hungry? Zullaz eclectic menu will take you around the world and back again.
Hail Mary
Secreted away in a nook off James Street, funky Hail Mary is an all-Mexican affair. Come for the tacos and tostadas and stay for the Micheladas (that's cerveza with Clamato and spices), jugs of sangria and every type of margarita under the sun. Hola!
Before you work your way through the best bars in Burleigh, you've got to eat! Here are our absolute fave Burleigh restaurants.
Image credit: Hayley Williamson for The Urban List