Nothing quite says 'Straya like day drinking, and with the dreaded lockout laws looming it seems only logical that we embrace this Aussie pastime and start drinking earlier on the reg.
We're here to guide you to the best bars on the Gold Coast that will satisfy your daytime thirst and make the most of that beautiful natural sunshine for those obligatory Instagram posts, 'cause lezbehonest there's no filter like strategically-angled sunlight.
Garden Kitchen and Bar
With a name like "Garden Bar" it's pretty clear this place will be epic for day drinking—and it is. Pretend you're a woodland pixie while you sip on cocktails just as pretty as the setting, featuring lush and plentiful greenery, wooden beams, and white-on-white styling. What's best, Garden Kitchen and Bar has a sprawling outdoor area where you can really embrace day drinking bathed in uninterrupted afternoon sunlight. But our advice: in such a stunning venue remember the words of Ron Burgundy, "Stay classy!"
Where: Jupiters Hotel and Casino, Casino Drive, Broadbeach
Balter Brewing
It's not every day four pro surfers get together and live every man's dream: opening their own brewery. Local Gold Coast lads, Mick Fanning, Joel Parkinson, Bede Durbridge, and Josh Kerr launched their first beer, Balter XPA in March and it's already selling is 50+ venues between Brisbane and Northern NSW. One hell of a sexy venue, Balter HQ is located in the industrial area of Currumbin and is a stellar spot for day drinking on Friday through Sunday afternoons. Who knows, time it right and you might just find a pro surfer behind the bar pouring your direct-from-the-source beer.
Where: 14 Traders Way, Currumbin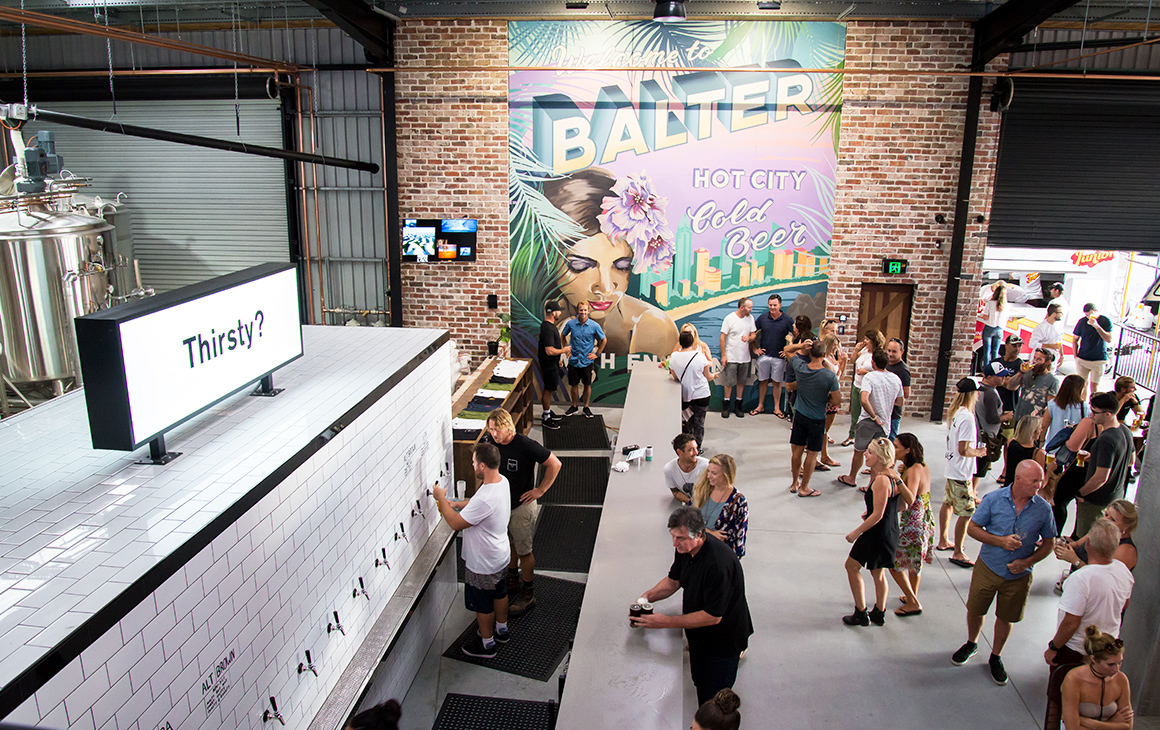 Little Mermaid
This hotly anticipated venue has just opened, and the hype has been totally justified! Formerly our beloved K-Bar, Little Mermaid has undergone a huge renovation and ticks all the boxes for a fabulous day drinking spot; full of greenery, beachy vibes and… hanging chairs! It's kinda like combining the best parts of childhood and adulthood—the child within can swing on the chairs (okay, but gently you hear?), while the adult can do the same while holding a specialty cocktail or craft tap beer. Winning!
Where: 2557 Gold Coast Highway, Mermaid Beach
Glenelg Public House
Nothing inspires day drinking quite like astro turf and picnic tables, and there's not many places donning this decor locally where it's actually legal to drink. Glenelg Public House are your hookup here, where you can feel totally free to spend the weekend daylight hours sampling cocktails and tap beers while soaking up some rays with friends.
Where: 2460 Gold Coast Highway, Mermaid Beach
Lester and Earl
With a rustic wrap-around deck overlooking gorgeous Palm Beach, you can imagine you're in a tropical paradise while sipping on a delish cocktail or one of Lester and Earl's many alternative beers. An afternoon here, at one of the best bars on the Gold Coast, is the perfect way to take advantage of the sizzling weather while remaining a normal shade of human.
Where: 1097 Gold Coast Higway, Palm Beach
Burleigh Brewing Co.
Where better to day drink than an actual brewery? It's every Aussie's dream come true, us Gold Coasters are a lucky bunch! Recently unveiled, the legends at Burleigh Brewing Co. have vastly expanded out of sheer necessity, and you'll be so glad they have. Take a tour, taste test their award-winning beers, and let your deep and unconditional love for this liquid gold shine strong. The best time to take it all in? Fridays from 3pm, with live music, a food truck or two and, of course, craft beer perfection.
Where: 2 Ern Harley Drive, West Burleigh
Komune Hotel
Komune Hotel is pretty much the only licensed venue on the Gold Coast where it's not douchey if you take your shirt off. Lay poolside with a drink while you soak up the local talent #ifyaknowwhatImean, revel in the downright cool atmosphere, and later embarrass yourself in a game of pool volleyball. Komune is one of those places where you look around and think to yourself, "Wow, life is good."
Where: 144—146 Marine Parade, Coolangatta
Justin Lane Rooftop
With a huge array of cocktails and a truly electric vibe, Justin Lane Establishment is one of the best bars on the Gold Coast and has always been a fabulous place to drink, morning, noon, or night (ok maybe not morning). But with the recent addition of a rooftop bar that's light, bright, and full of greenery and pretty lights, it seems unreasonable that they'd expect us to stay tidy whilst providing such a hospitable day drinking environment!
Where: 1710 Gold Coast Highway, Burleigh Heads
Cocoon Lounge Bar and Dining
If you want to drink where the beautiful people drink, Cocoon Lounge Bar and Dining is scenic in more ways than one. Overlooking the Nerang River, this Surfers Paradise gem features a contemporary white fit-out and is littered with angelic cabanas draped in flowing white chiffon. Waterside venues are always especially stunning during the day, but Cocoon's location, mirrored by upscale properties and reflected sunlight really is a day-drinker's paradise. Lock down a cabana with a drink in hand while listening to some funky beats, and you'll never want to leave.
Where: 58 Cavill Avenue, Surfers Paradise
Rainbow Bay Surf Club
If day drinking in double pluggers and a crushed t-shirt is more your preference, its cool, we won't judge. It may be as casual as they come, but it still has our hearts; Rainbow Bay Surf Club is totally worthy of an extended lunch loaded with frosty pints or a mid-week sesh when you can synchronise a cheeky sickie with your mates. Good thing you've got Uber when it's time to cut yourself off. And that view? Priceless.
Where: 2 Snapper Rocks Road, Coolangatta
Think we missed out on some of the best bars on the Gold Coast for day drinking? We're all ears!
Photo Credit: Hayley Williamson and Brooke Darling for Metropolist; Jupiters Hotel